Aquamarine Gold Plated Cuff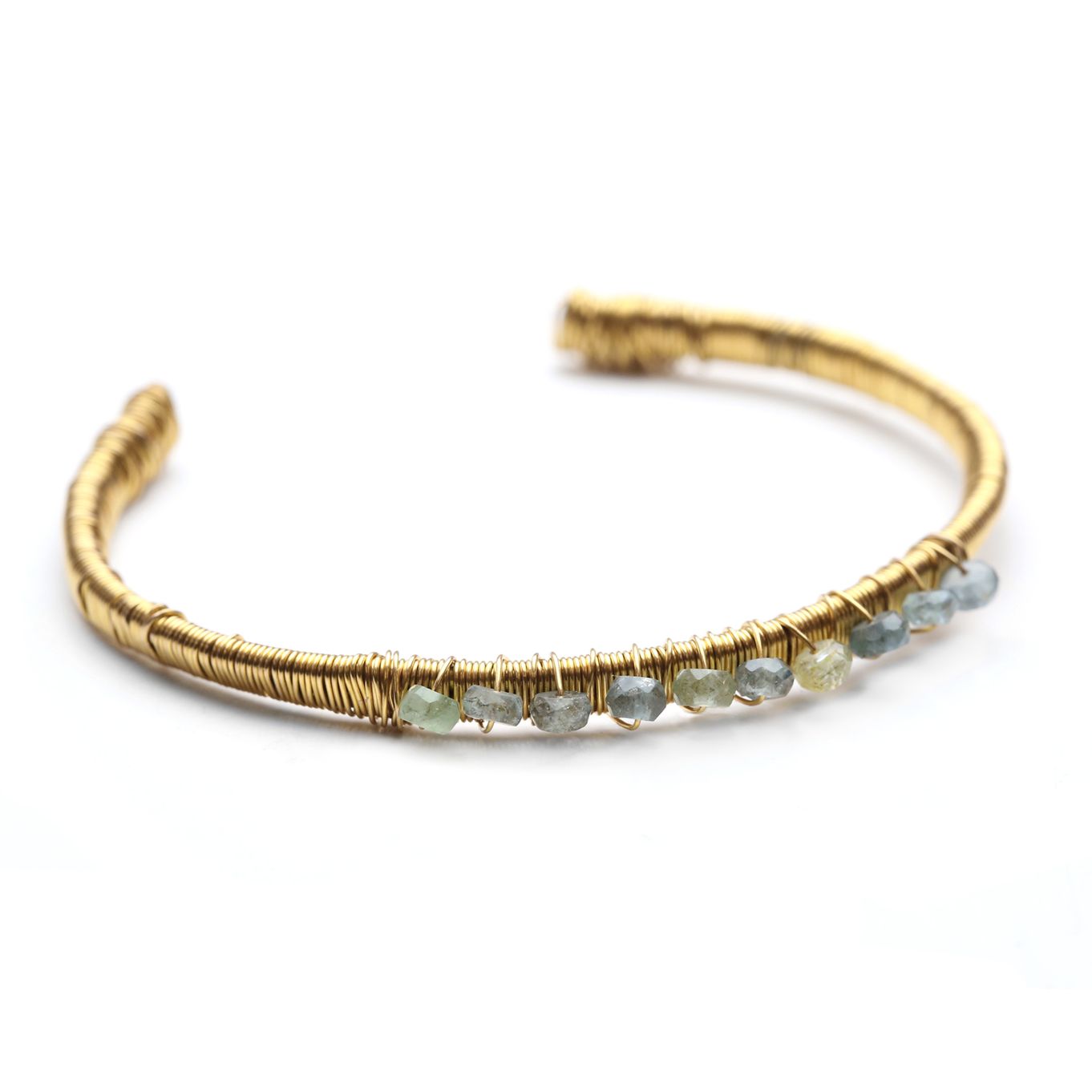 This pretty cuff is made with a thick wire copper core and wrapped with a fine 24ct gold plated wire.
To complete the look we've added some moss aquamarine rondelle beads, but you could use whichever beads take your fancy for this project.
Step By Step Instructions
Firstly you will need to measure out your wire for the core of the bracelet.
Cut two equal 15-16cm lengths (depending on your wrist size) of the 1.5mm copper wire, you can use metal shears or a piercing saw to do this.
Then using either snipe nose pliers or half round pliers, shape both pieces round to create a 'C' cuff shape, you can test these on your wrist to see if you're happy with the fit.
You then want to fix the two matching shaped wires together to create a thicker cuff.
To do this place one of the pieces on a flat surface, mix up some of the Devcon Epoxy Glue and apply a fairly generous layer to the top of the wire.
Stack the second piece directly on top of the other. The glue will start to go tacky quite quickly which is handy as you may have to use some tweezers or your fingers to hold it in place while the glue sets if it doesn't stay in place on its own.
If you don't get it in quite the right place straight away you can adjust it slightly whilst the glue is still wet then just clean off any glue transfer with a damp cloth. It doesn't matter if the glue is visible as it will be covered with the thinner wire.
(Alternatively, if you'd prefer to, rather than using the glue you can solder the two 'C' shaped pieces together)
Once the two pieces are joined together, use a file to smooth off the ends so they won't scratch when you take it on and off.
Now you have your base ready to start wrapping.
This will use quite a bit of the 0.4mm gold plated wire so it's best to just wrap it straight from the coil.
Bend the end of the gold-plated wire to a right angle and place it against one end of the cuff, if you do this on the underside it will be less noticeable when the piece is finished.
Hold this in place and start to wrap the wire around itself and the cuff core as tight as you can so it stays in place on its own. It looks quite nice to have the ends slightly thicker wrapped so don't worry if it takes a few more layers to keep it in place. (If you're struggling you can always use a small amount of glue to help).
Continue to wrap the fine wire around the cuff tightly. Try to make sure there are no gaps between the wire wraps otherwise the copper coloured core will show through. You can do a few wraps at a time then use your fingers to push them together to ensure they're nice and snug and even.
Repeat this until the whole cuff is evenly covered in the gold plated wire and make the end the same thickness as the side you started on. You can use your snipe nose pliers to help tuck the loose end into the wraps to secure it and make sure it doesn't poke out and scratch when being worn.
Once you've got to this stage, you can choose to add a small inconspicuous amount of glue to the underside where the wires begin and end as extra security if you think it may undo; if wrapped tight enough it should hold on its own.
Now take the moss aquamarine rondelle beads and arrange them on a table in the order you would like them to be on the cuff.
Cut a 40cm strip on the 0.4mm gold plated wire and then just over a third of the way up, start wrapping the wire over the cuff to secure it to the band, it should only take about 3 wraps around to secure it in place.
Once the wire is attached in the right place start to wrap the wire around and add a bead positioning it on to the top of the cuff. Wrap the wire around the cuff once or a few more times before you add the next bead.
Keep wrapping and adding beads until you have created a look that you are happy with, but make sure you have enough wire left to finish the wrapping securely, any excess you can cut off, but it's better to have a bit extra.
If you find the beads aren't in the right place you can unwrap them and start again but will need to straighten the wire first or use a new bit once you've undone it. Nylon jawed pliers are great for straightening wire without marking it.
A good way to finish the wire wrap is to loosely wrap the last few loops around the cuff and thread the loose end of your wire back through the loops and pull tight with a pair of snipe nose pliers.
Your cuff is now finished!
Smaller sized beads do tend to work better for this project, but bear in mind depending on the bead the odd hole size may need enlarging as these can sometimes vary slightly. A bead reamer is a perfect tool for this.
Why not try it in silver too? you can switch out the gold plated wire for silver plated in the same size to mix up the look.
Suggested Tools For this Make
Snipe nose pliers or half round pliers
Customise your kit
Make the design your own by using your favourite jewellery supplies
Helpful pages
How to use Devcon Epoxy Glue for jewellery making
Read beading and threading advice pages
Books That May Interest You
The Encyclopedia Of Wire Jewellery Techniques - Sara Withers
---
Kernowcraft's jewellery making kits are aimed to inspire you - therefore the step by step instructions are available online only with a shopping list, where you can easily customise the design to suit you. We recommend printing or bookmarking this page ready to follow.
The suggested products used in this project are suggestions to inspire you. Products used were compatible at the time of making but do be aware that gemstones are natural and hand cut stocks can vary, so do use your own common sense as to the compatibility of each item when making.
Your Shopping List
There are one or more items out of stock at present.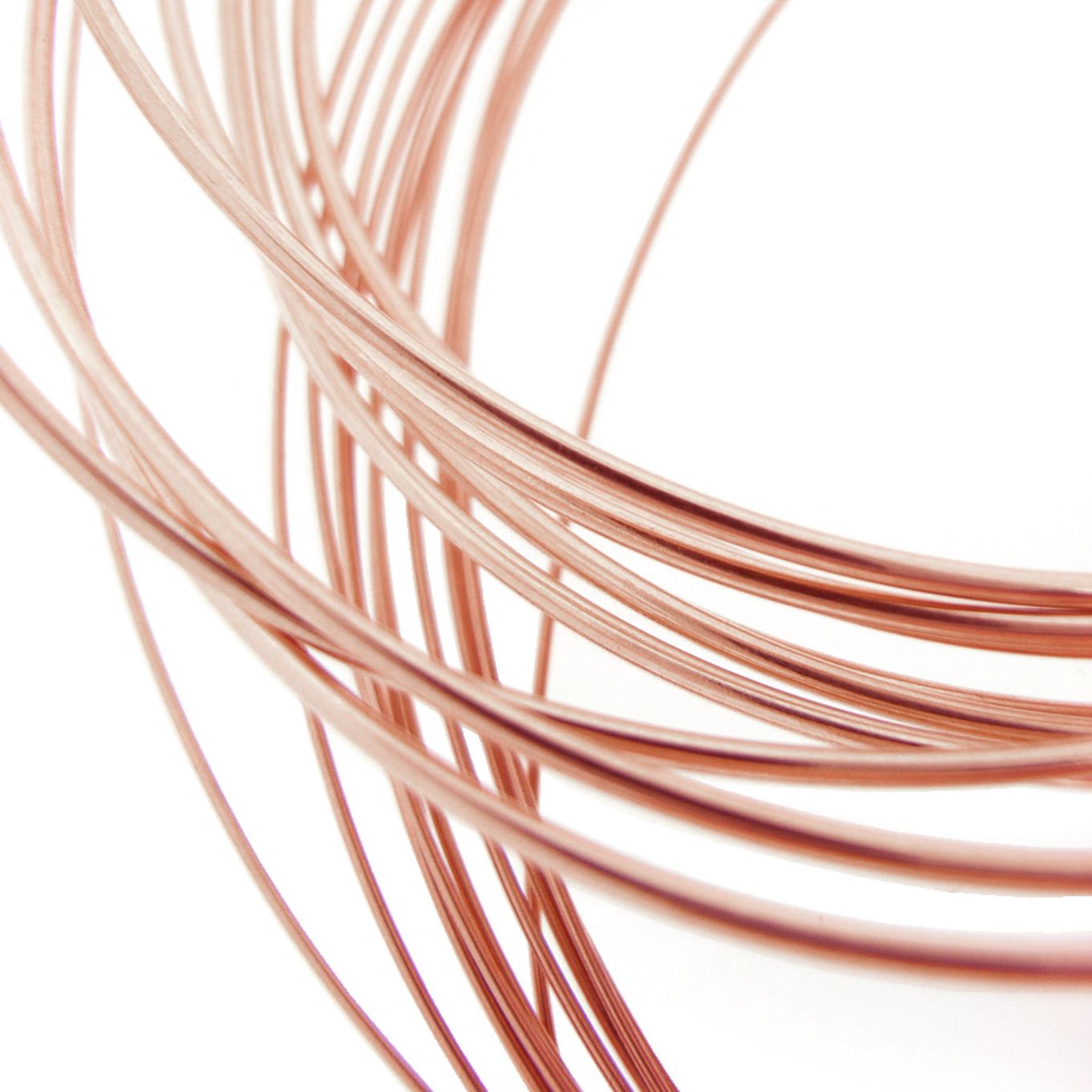 Copper Wire (1.5mm (approx 1.75m pack))
Quantity: 1
Total price: 2.85
Sorry, this item is currently unavailable.