Top 12 Best Selling Gemstone Cabochons
We take a look at our most popular gemstone cabochons and share some interesting facts about them!
What is a cabochon? A cabochon stone is a gemstone that has been shaped and polished to be a dome shape on top and has a flat bottom. You will usually find that opaque gemstones are made into cabochons whereas transparent stones are turned into faceted stones. The hardness of the stone is also considered - if stones are more likely to be scratched they are best suited to cabochon stones. You will also find that cabochons will often have natural markings and inclusions. Read our advice page for more information: what is a cabochon & faceted stone
Cabochons are our best selling stones and are most often seen in a bezel setting. We also stock a large range of beginner friendly cabochon settings including flat plate (glue-on) settings and gallery wire settings. We also stock loose bezel cups, which are a great choice for providing a neat and professional finish, simply solder to your design and rub over the bezel over the stone using a bezel rocker.
At Kernowcraft, we pride ourselves in stocking a large collection of high quality gemstone cabochons from trusted suppliers. You'll find so many beautiful shapes and sizes to choose from for your handmade designs!
Now, let's dive right into our best sellers - maybe you'll discover a new gemstone to use in your designs?!
Discover Our Best Selling Gemstone Cabochons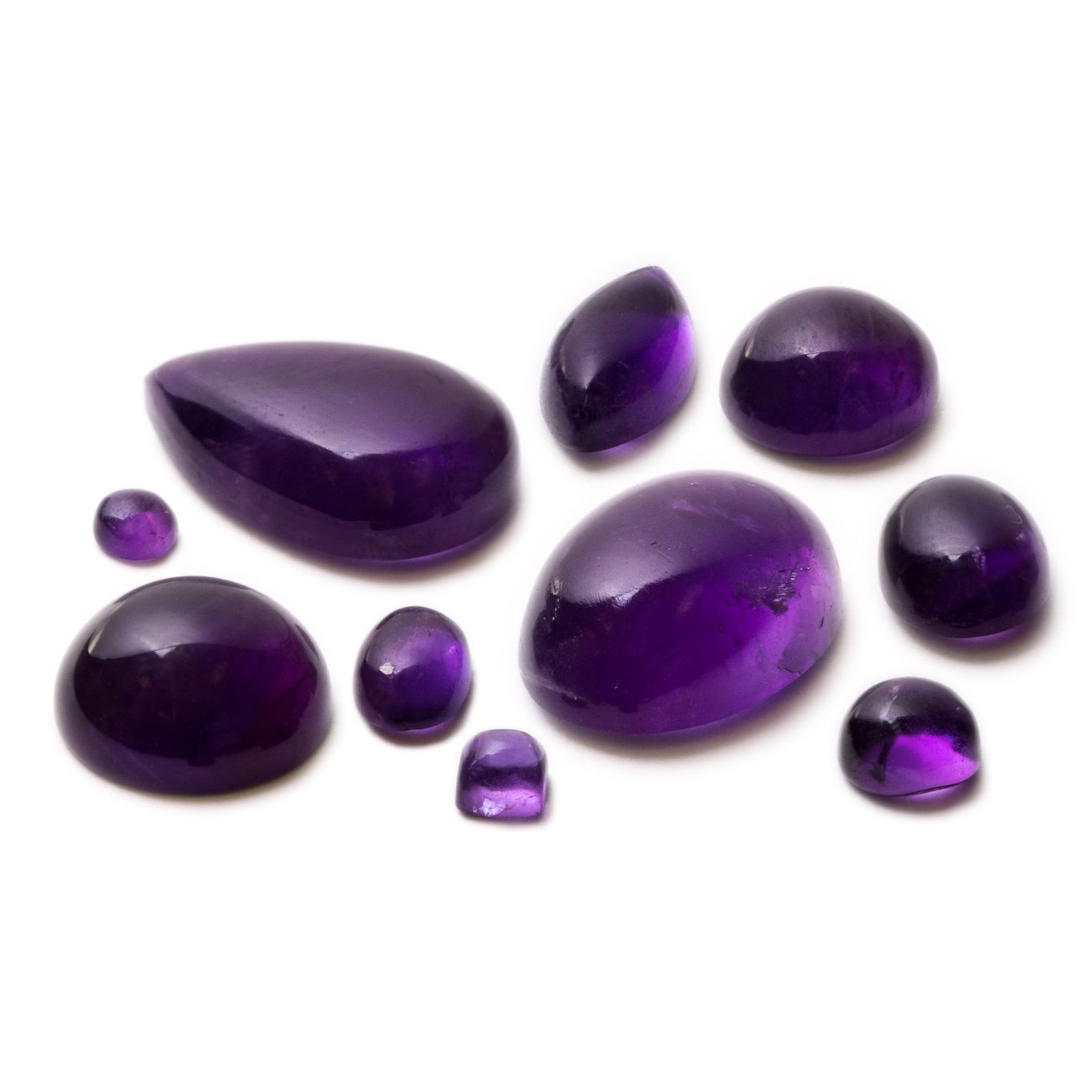 Our top best selling cabochon is the enchanting dark amethyst. These natural, African amethyst gems have a rich, dark purple colouring and are perfect for those mysterious and eye catching designs. Did you know that amethyst is February's birthstone? Amethyst is thought to have soothing qualities, relieving fears, anxiety and negativity.
Mohs Hardness Scale: 7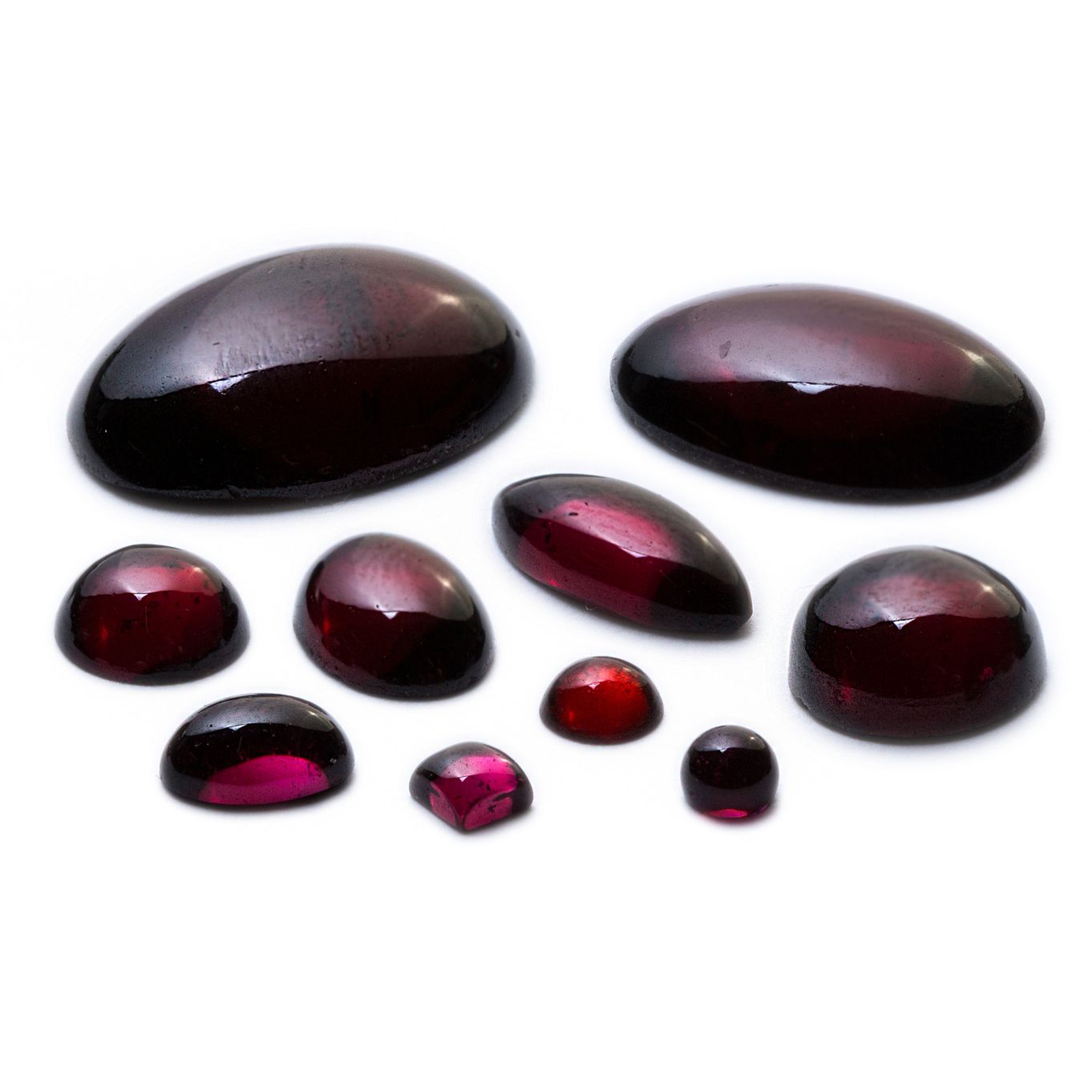 Get your hands on this popular juicy gem! Garnet is loved for its rich red colour but it also comes in more colours too, including Tsavorite garnet with its intense green colour and Rhodolite garnet with its dreamy pink plumb colour. It's also the birthstone of January and is believed to be a stone which balances energy, as well as being a stone of love and devotion.
Mohs Hardness Scale: 6.5-7.5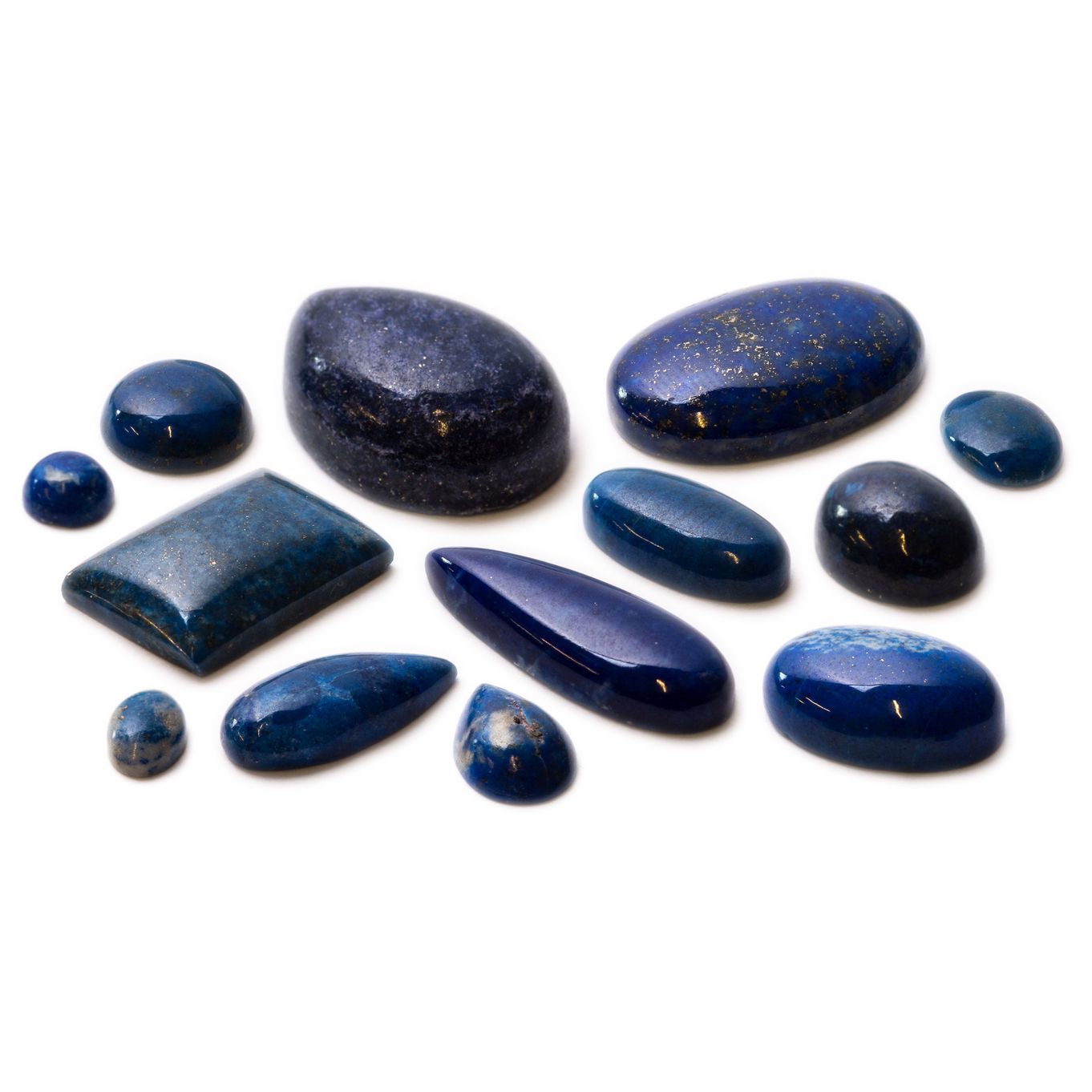 There's a luxurious look about lapis that we just love. The colours range from royal blue to deep navy, with sparkly gold pyrite scattered throughout. It's one of the oldest stones and was found in Ancient Egyptian tombs including King Tutankhamun's as well as in the mask of Tutankhamun. Although durable, it is a relatively soft stone so care needs to be given when setting this stone. Lapis is thought to be a stone of truth and communication, bringing openness and clarity.
Mohs Hardness Scale: 5-6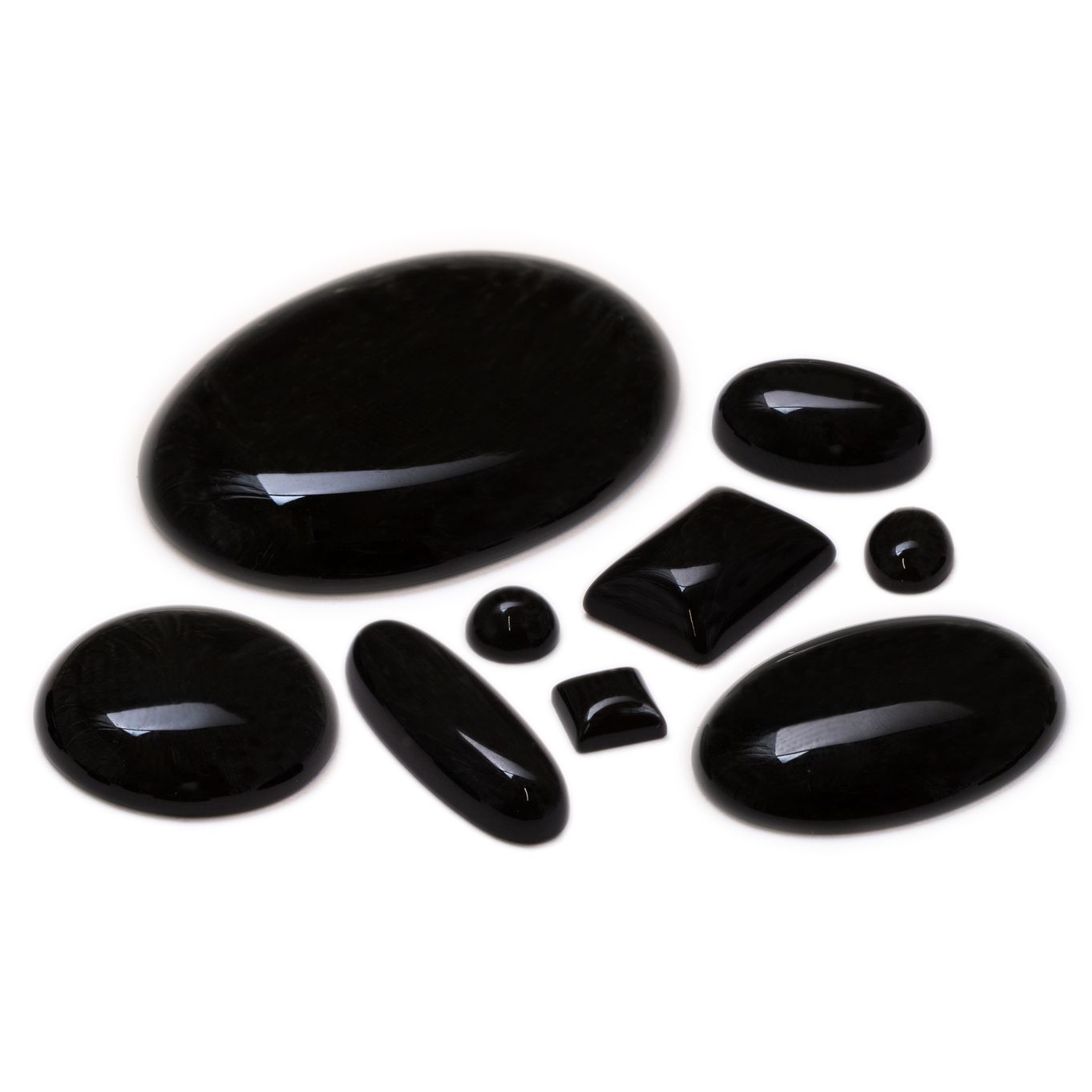 Onyx makes a beautiful statement choice for your handmade jewellery designs. Onyx is a variety of chalcedony, and is usually dyed to make it uniform in colour. It's a popular choice for using in men's jewellery and we love it set in silver or paired with other gems. This stone is a strength-giving gemstone and is thought to hold memories of the things that have happened to the wearer!
Mohs Hardness Scale: 6.5-7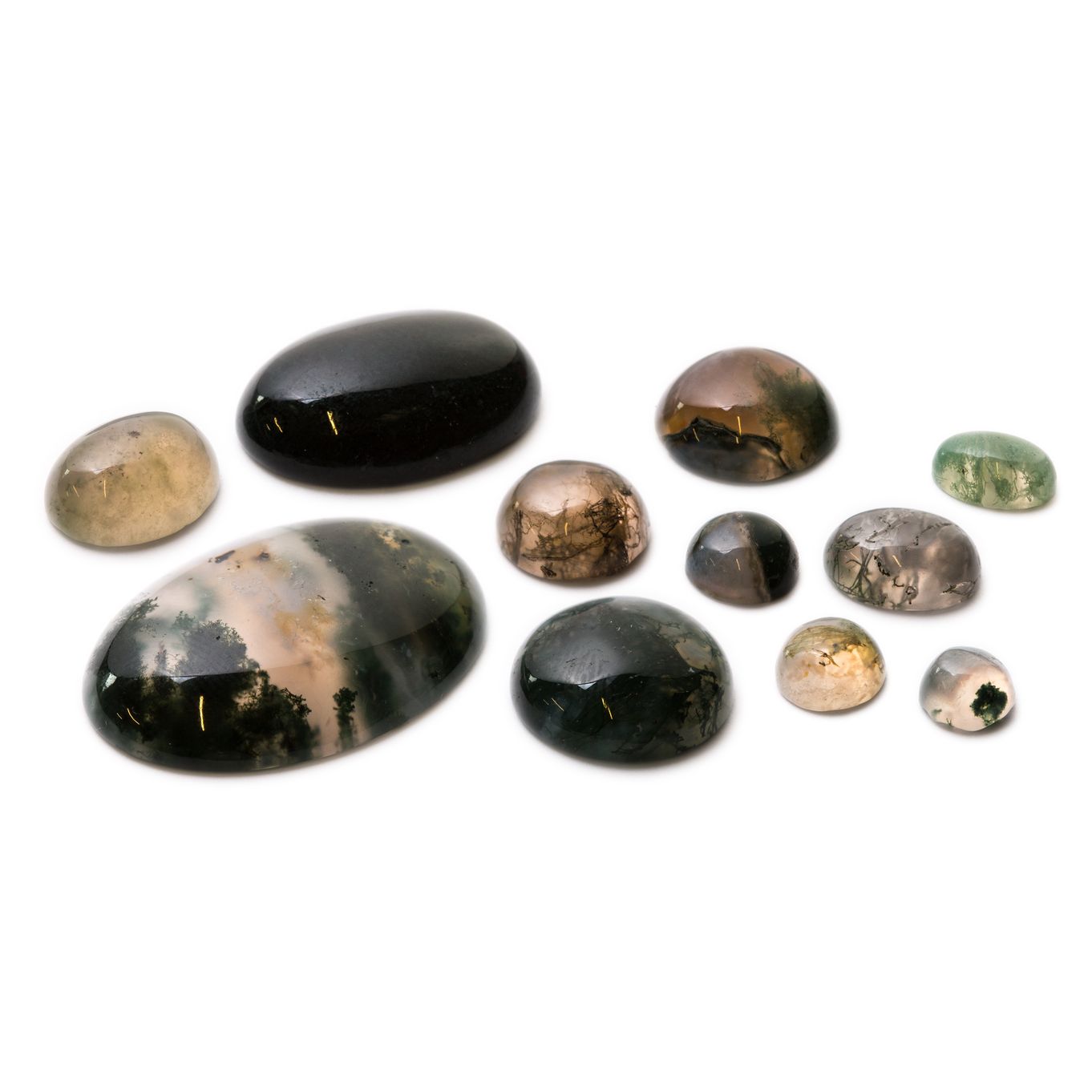 If you love natural earthy patterns, moss agate is for you. These cabochons have interesting, mossy markings that appear to be suspended in the stone. You may be surprised to learn that this stone doesn't contain organic material but is actually formed out of weathered volcanic rocks. This is known as a tranquil, nurturing stone, bringing peace to those who wear it.
Mohs Hardness Scale: 6.5-7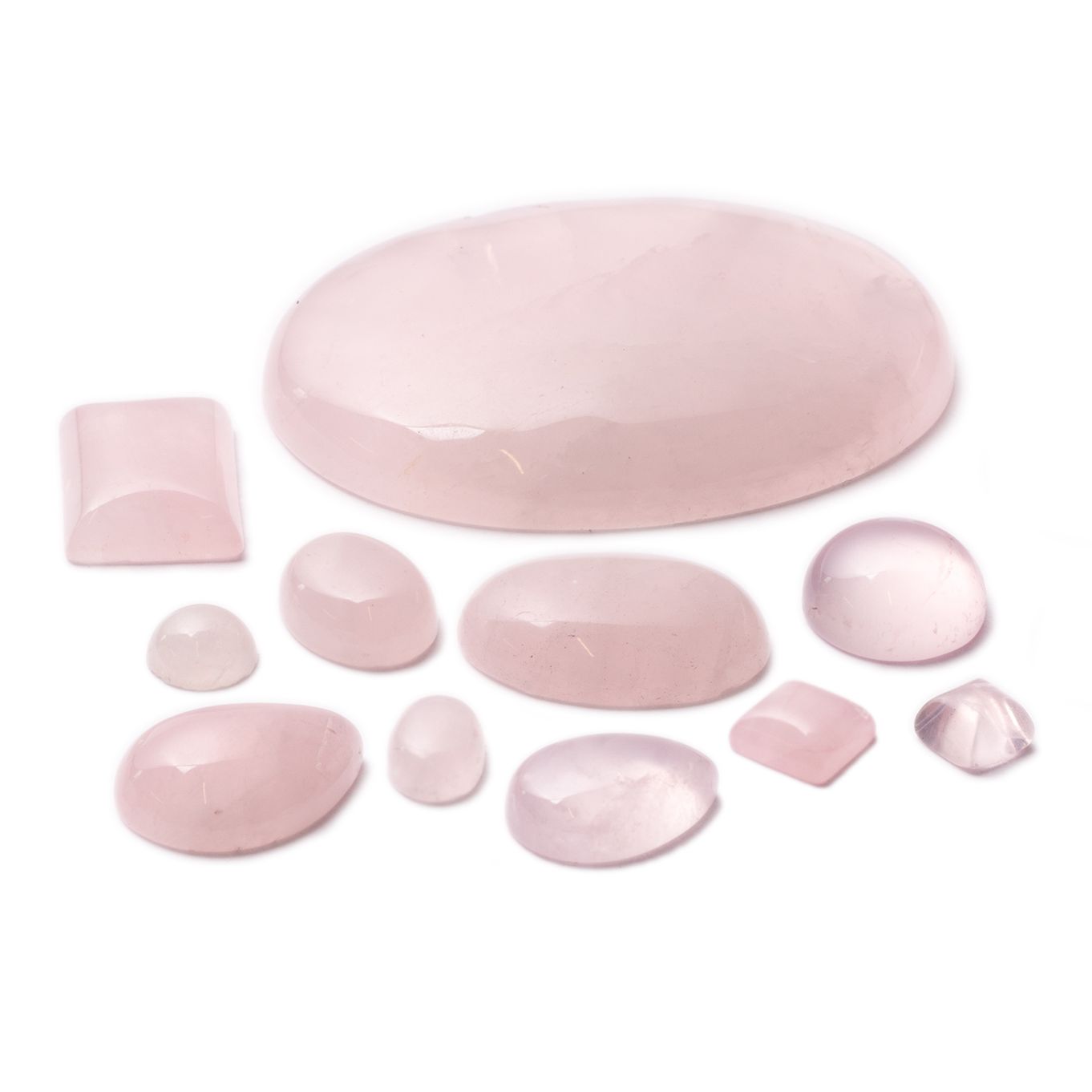 It's no wonder rose quartz is a best seller, just look how pretty it is with its delicate rose pink colour! It is also loved for its healing properties, known as the stone of universal love which encourages self love, friendship and peace.
Mohs Hardness Scale: 7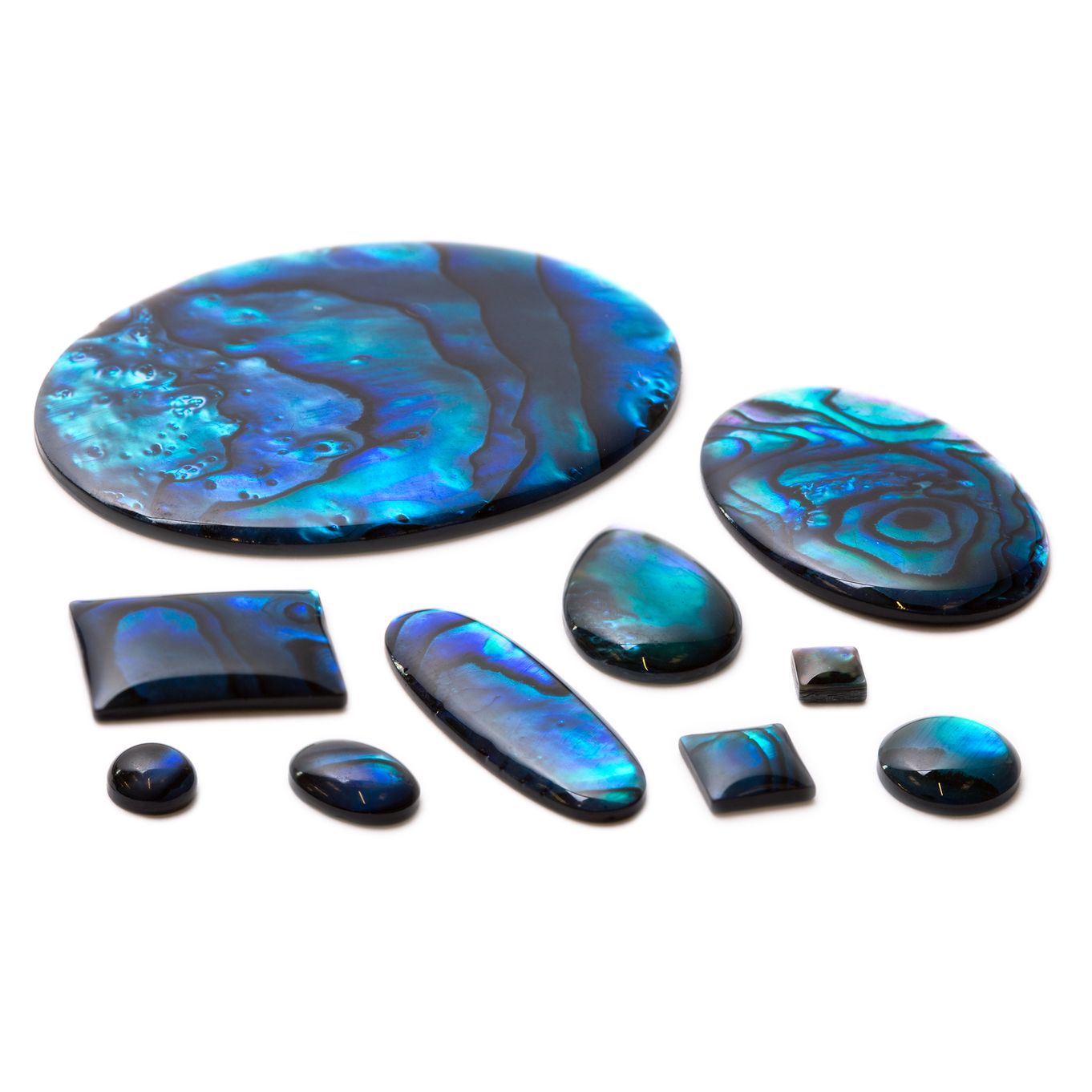 Shells are always popular in jewellery design, so it's no surprise that our paua shell cabochons are a hit. These unique stones have characteristic iridescent blues and turquoise colours with wonderful markings. Known as 'Sea Opal', this gemstone is only found in New Zealand where the shells grow in the ocean. Paua shell is said to be a very soothing, calming stone which can be helpful in emotional situations.
Mohs Hardness Scale: 3.5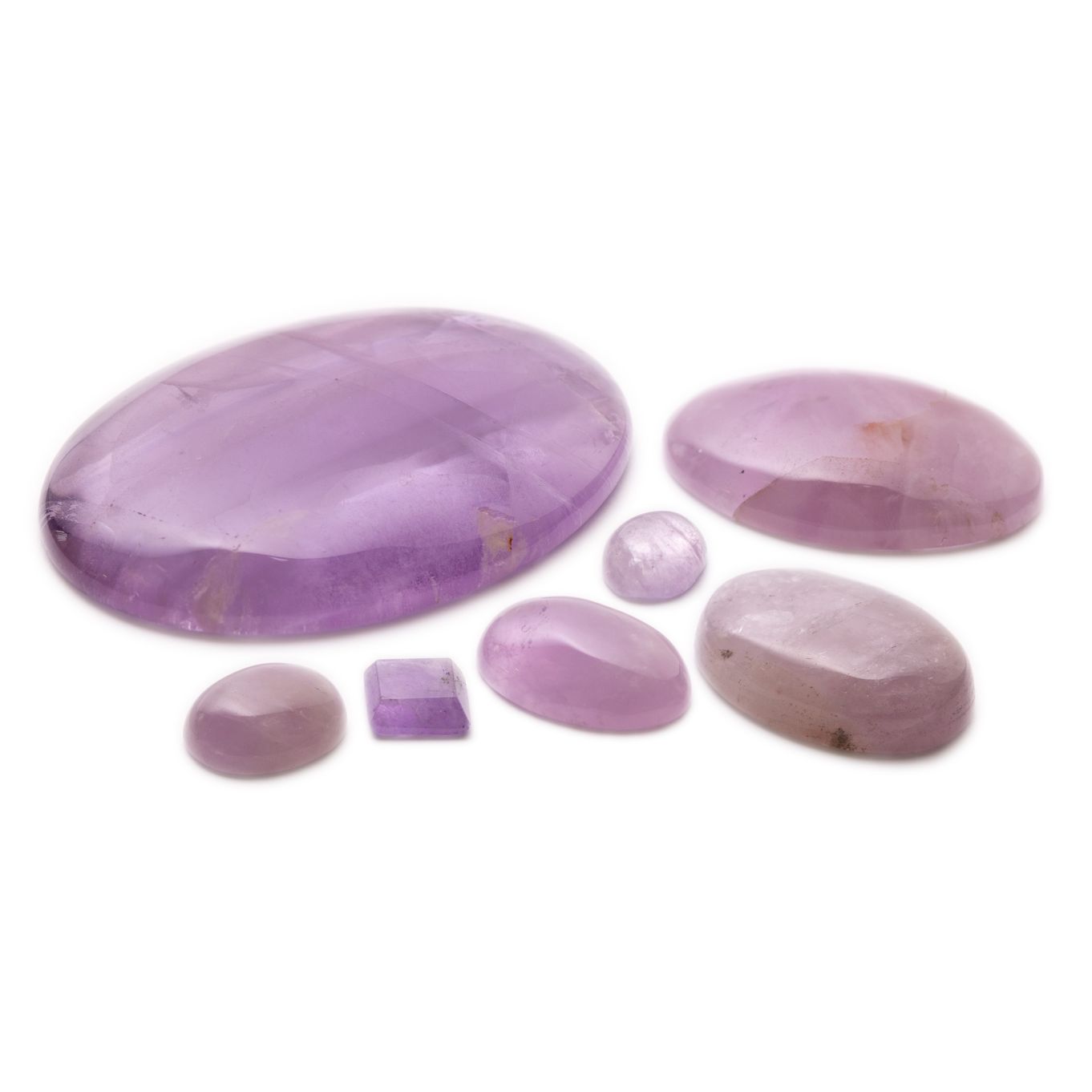 Coming in at the top was our dark amethysts but we're so glad these lavender amethysts make the list too! We just love their natural pastel shade of pale purple, sometimes with a white frosting which makes a lovely choice for your designs. This stone is believed to be a guardian stone that has healing properties and removes negativity.
Mohs Hardness Scale: 7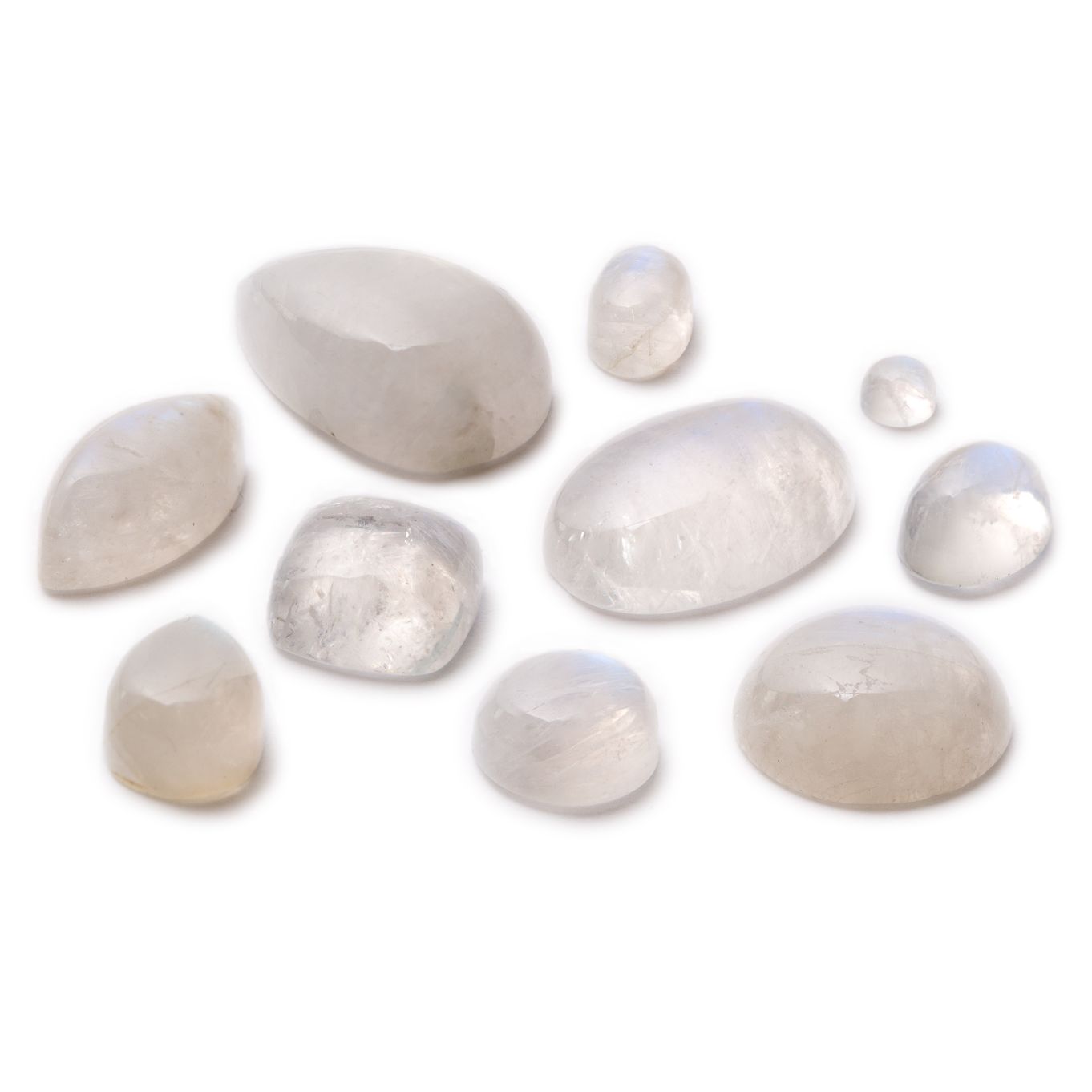 There's something so magical about rainbow moonstone. A transformation stone, which provides a soothing and calmness to those who wear it. Our collection of AAA quality stones have a stunning blue and rainbow coloured glow that shimmers across the surface of the stones.
Mohs Hardness Scale: 6-6.5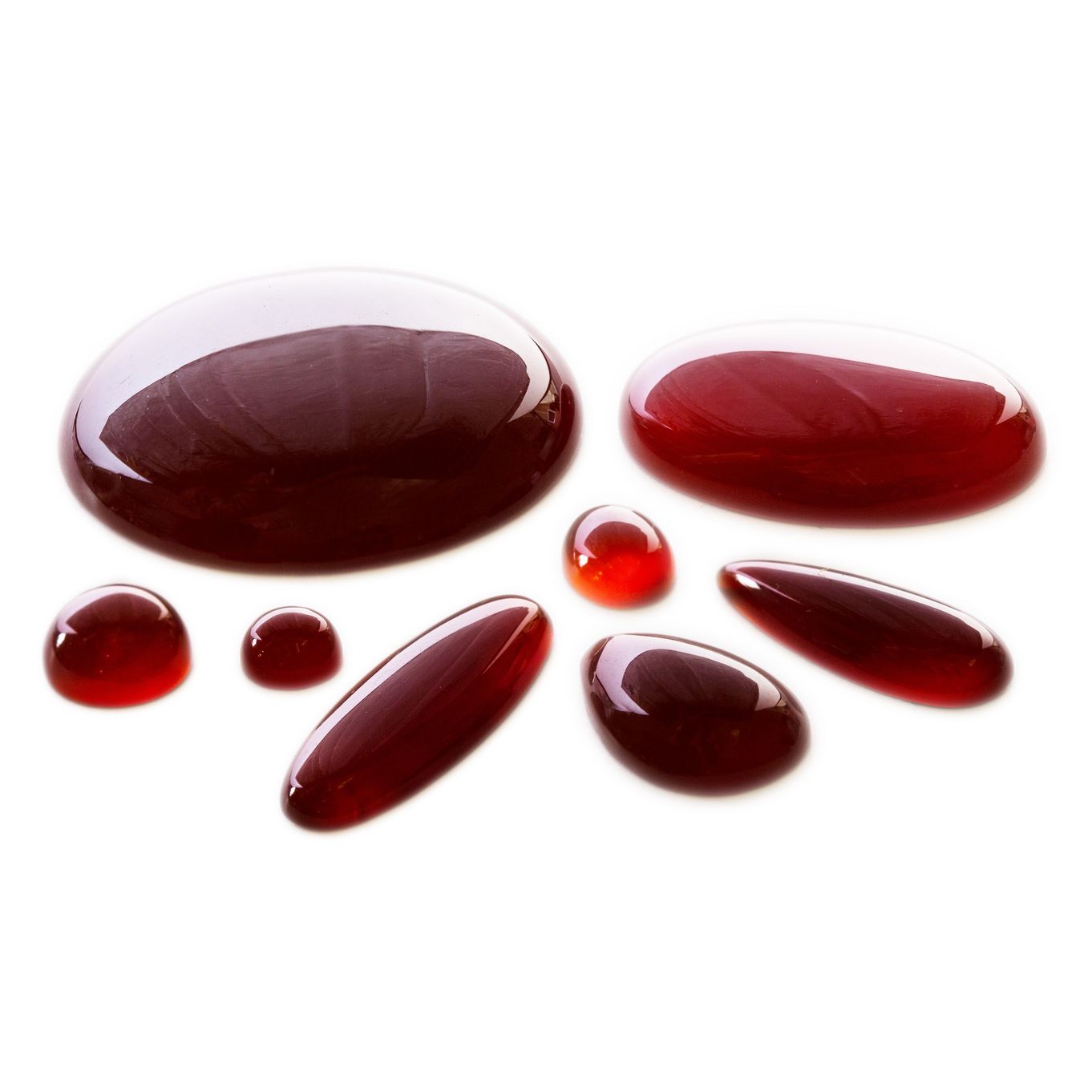 Add some warmth to your design with juicy carnelian! This stone is a variety of chalcedony, often dyed to enhance its colour. Our cabochons range from brighter shades of deep orange-red right down to almost brown in colour, perfect for autumnal designs. Carnelian is known to bring confidence as well as courage to those who wear it.
Mohs Hardness Scale: 6.5-7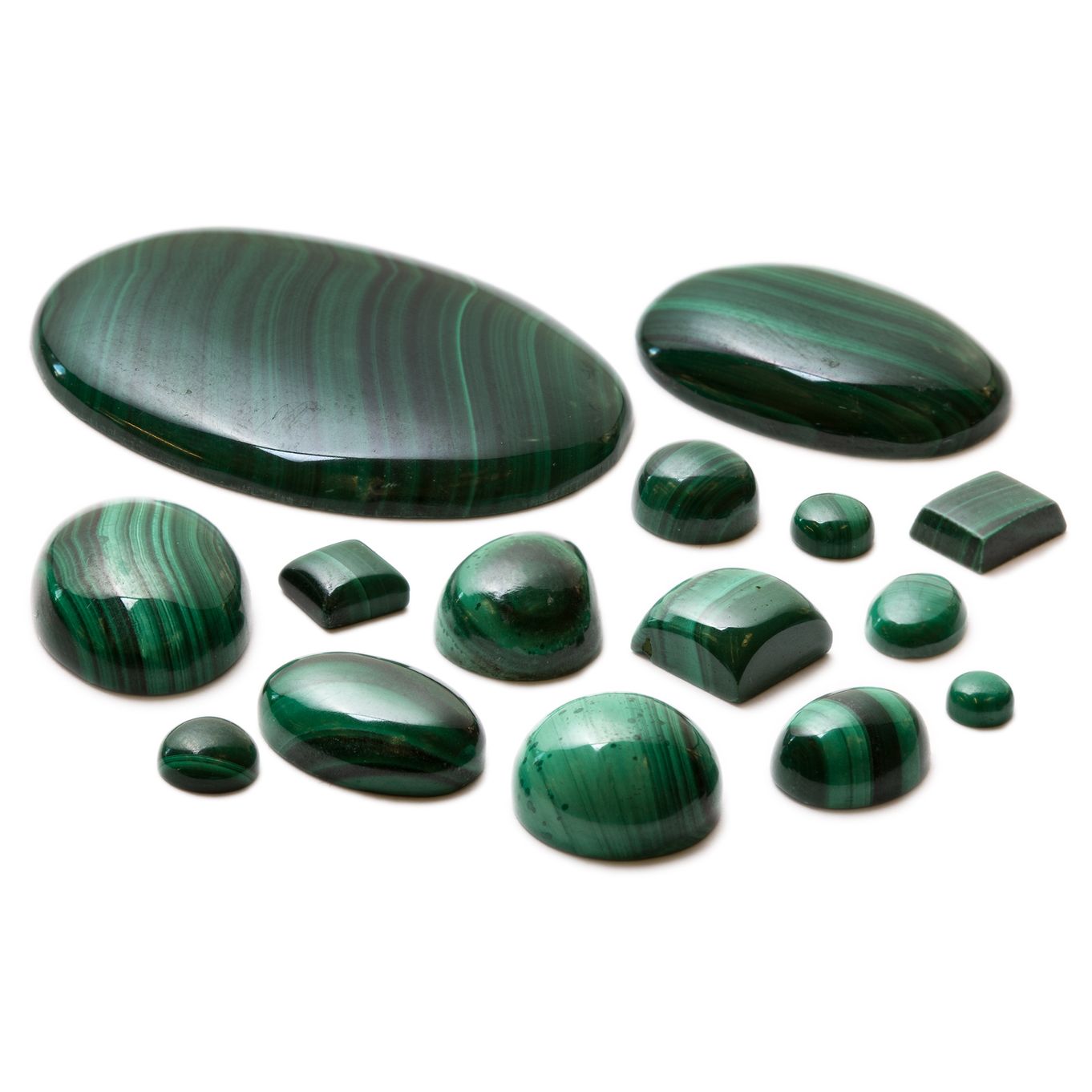 Malachite is known for its hypnotic alternating bands and rich forest green to emerald tones. We especially love the larger sizes of these cabochons, revealing mesmerising bands and swirls of colours displayed at their best. Reminding us of deep forests and lush spring days, this stone will always create eye catching designs. This stone is believed to be a stone of transformation, good fortune and prosperity.
Mohs Hardness Scale: 3.5-4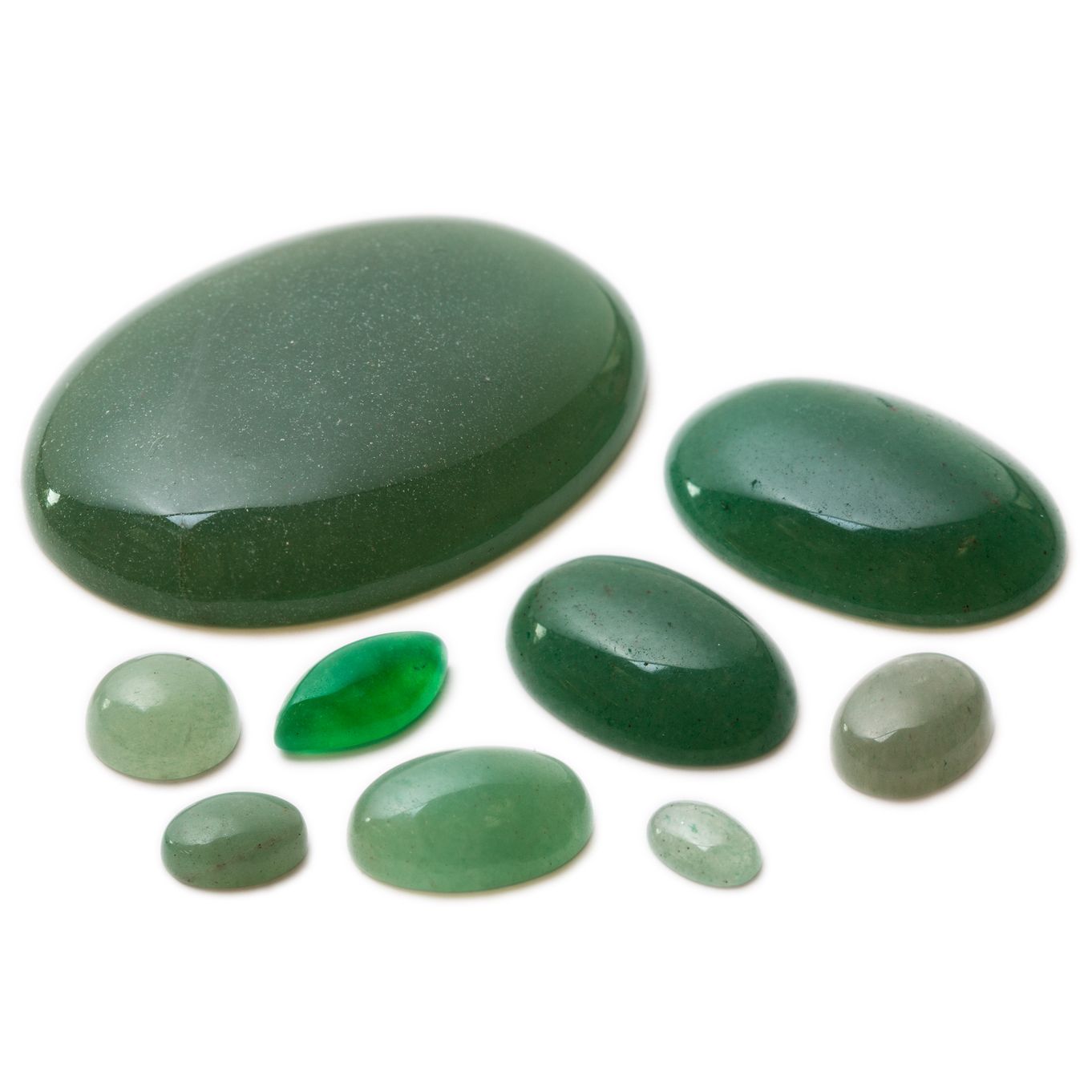 Last but certainly not least, green aventurine! This type of quartz varies in colour from a lovely grassy green to dark, deeper shades. Aventurine's beautiful metallic inclusions give it a lovely iridescent effect, known as 'aventurescence'. This stone is believed to be one of the luckiest crystals of all and is known as the stone of opportunity.
Mohs Hardness Scale: 7
---
Shop Gemstone Cabochons & Jewellery Making Supplies With Kernowcraft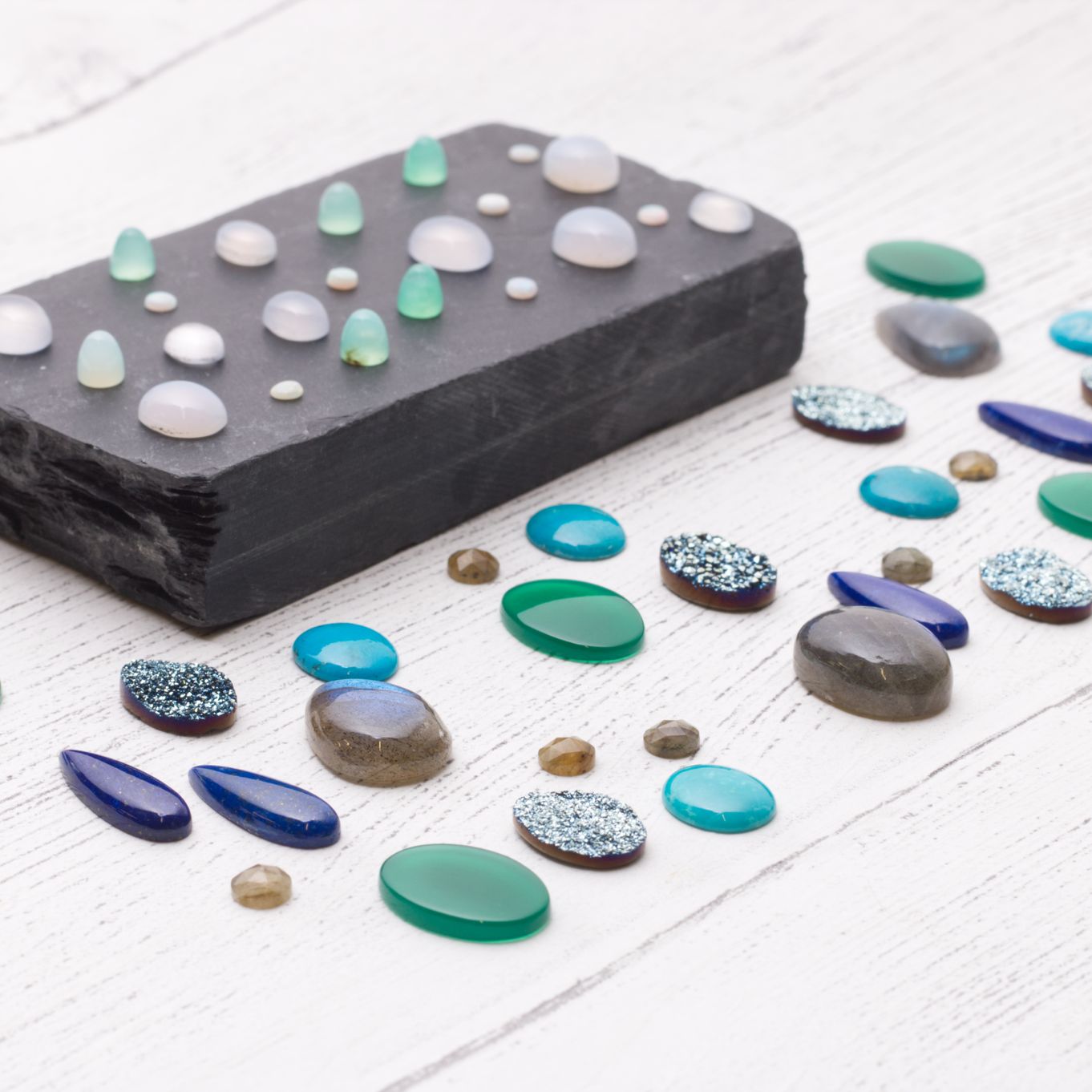 Explore and shop our wide range of high quality gemstone cabochons, with so many shapes and sizes to pick from - including our best sellers of course!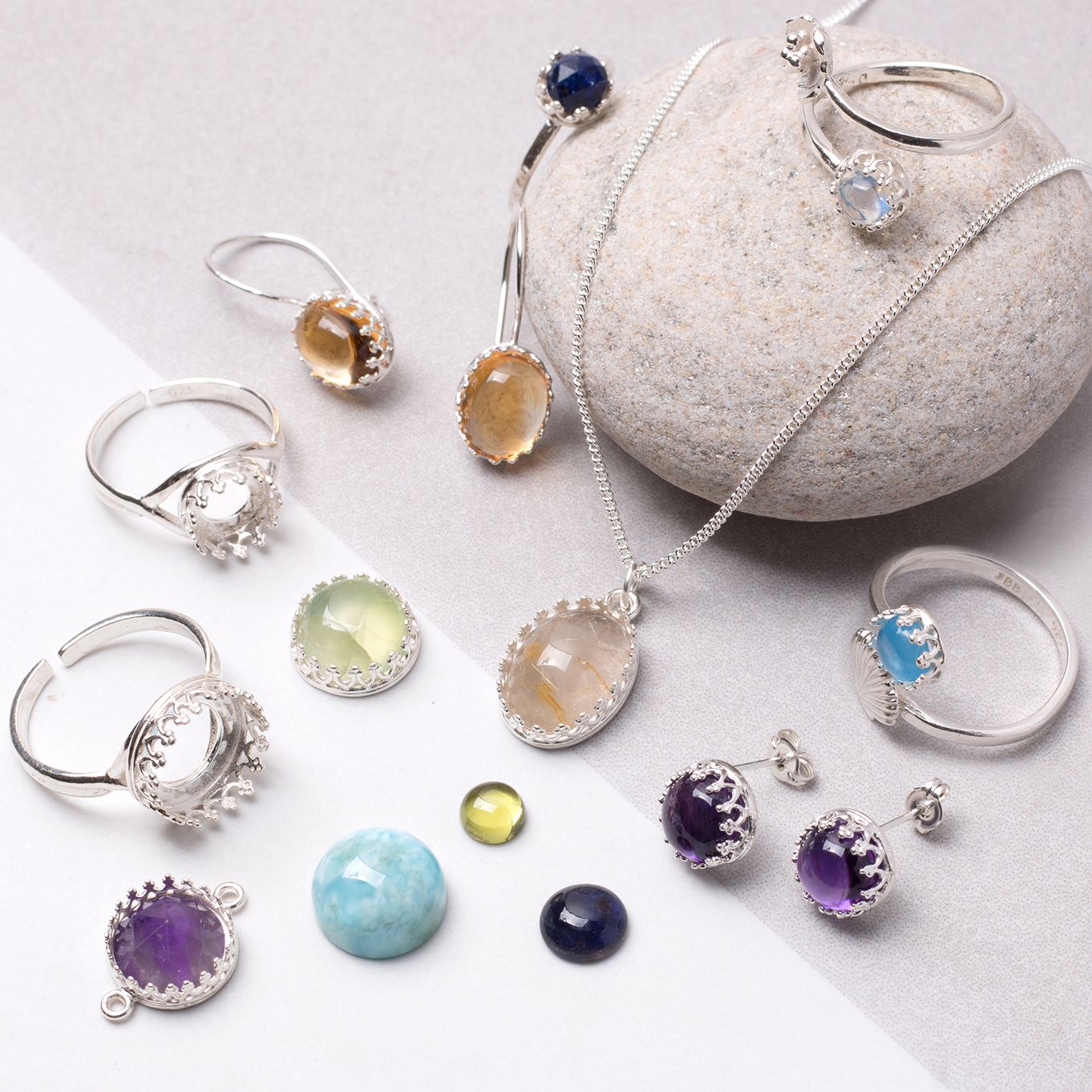 Discover our beginner friendly jewellery settings made specifically for cabochon stones. You'll also find out popular range of bezel cups and loose settings too.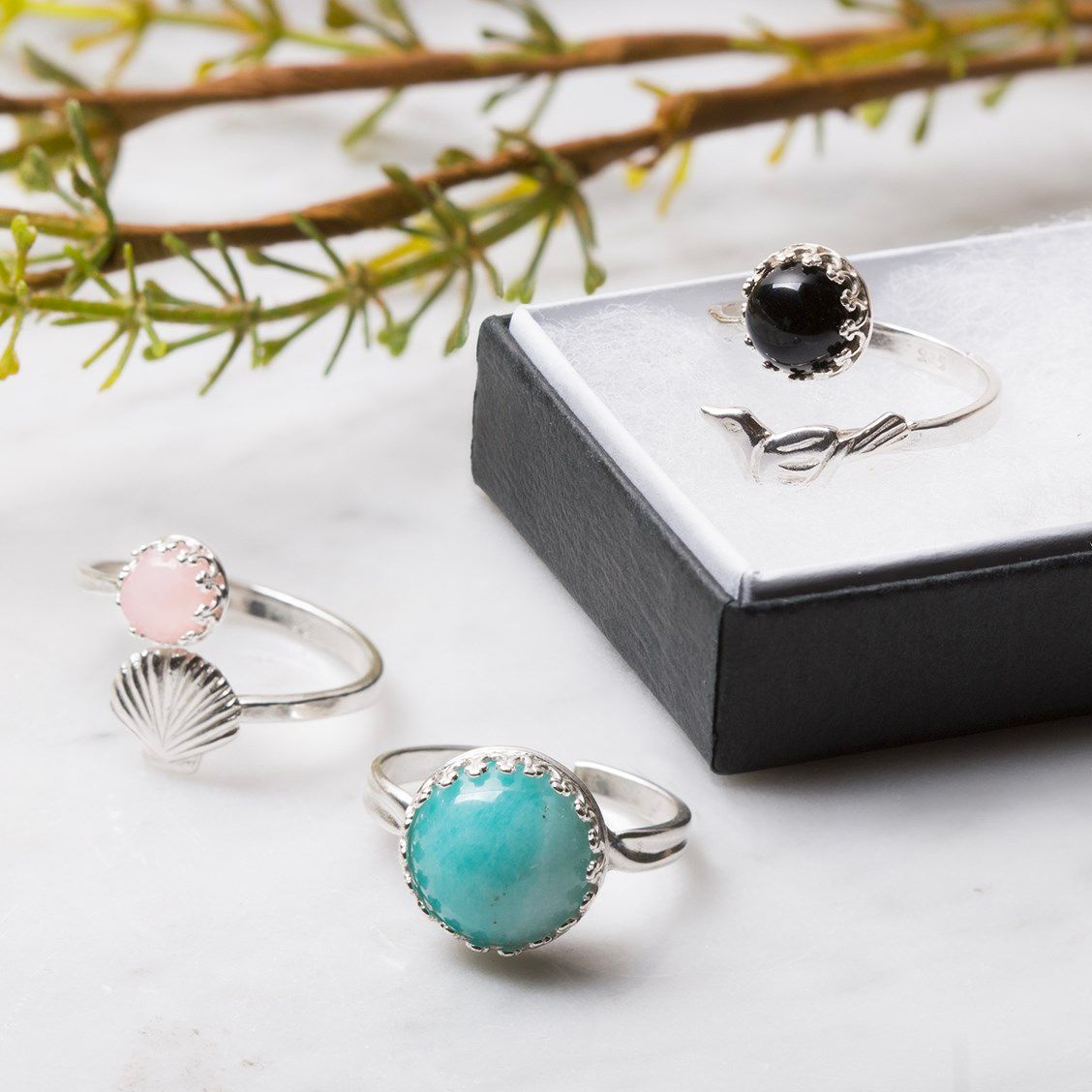 Our kits feature lots of cabochon stones, ready to inspire you. Each kit has online step by step instructions and a handy one-click shopping list.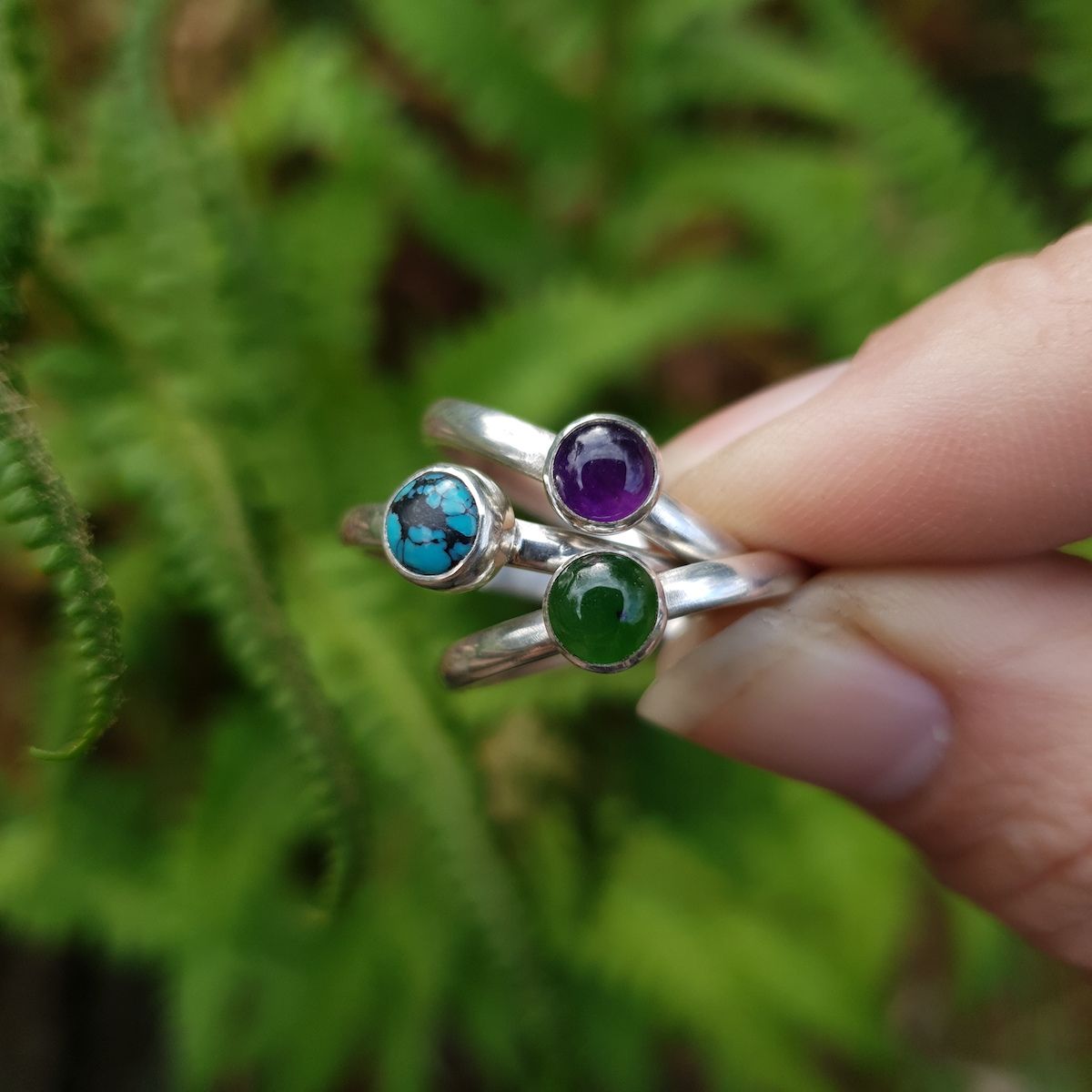 Learn with our free jewellery making tutorials! We have lots of advice pages on stone setting and getting started with using cabochon stones, plus find step by step projects on how to make beautiful handmade jewellery.