Top 20 #KernowcraftNature Designs
Thank you to everyone who took part in our #KernowcraftNature competition to celebrate World Earth Day!
We were blown away with the amount of entries on social media and over email, filled with beautiful nature inspired designs.
From statement gemstones to metal clay designs, there were so many incredible designs using different techniques! The whole team at Kernowcraft voted for their favourite, and Annamai Marinot was our winner with her beautiful opal whale pendants - aren't they stunning?
Annamai is now the lucky owner of one of our beautiful Australian boulder opal pendants!
We fell in love with so many designs during the competition, it would be impossible to share them all so we've chosen a few of our favourites to share with you - maybe they will inspire your next make!
For a chance to feature, tag us on social media and use the hashtag #Kernowcraft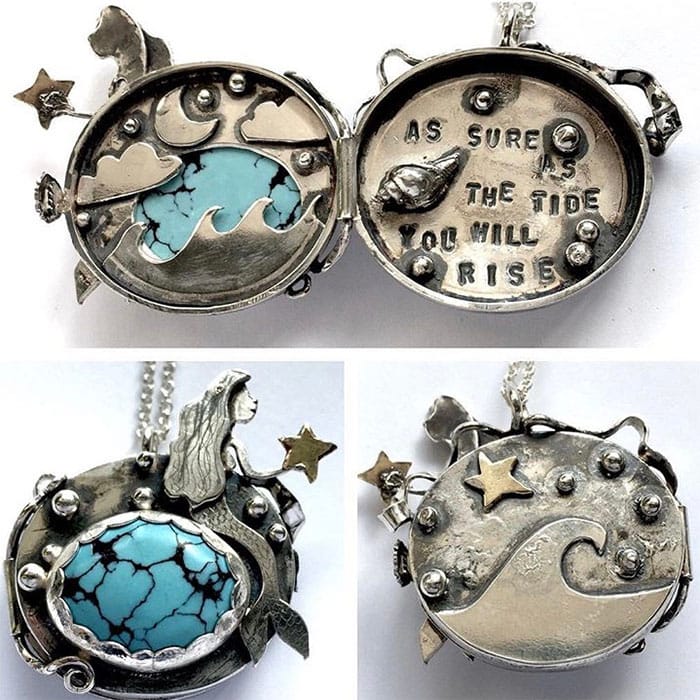 Here's my first ever locket! Inspired by the sea and the tides, the sky and the stars... and of course mermaids because who doesn't love a mermaid/wish they were a mermaid?! I'm so inspired by the world around me and living by the beautiful Dorset coast fills me with even more appreciation and wonderment for nature.
- Unicorn Moon Designs. Explore our range of turquoise here.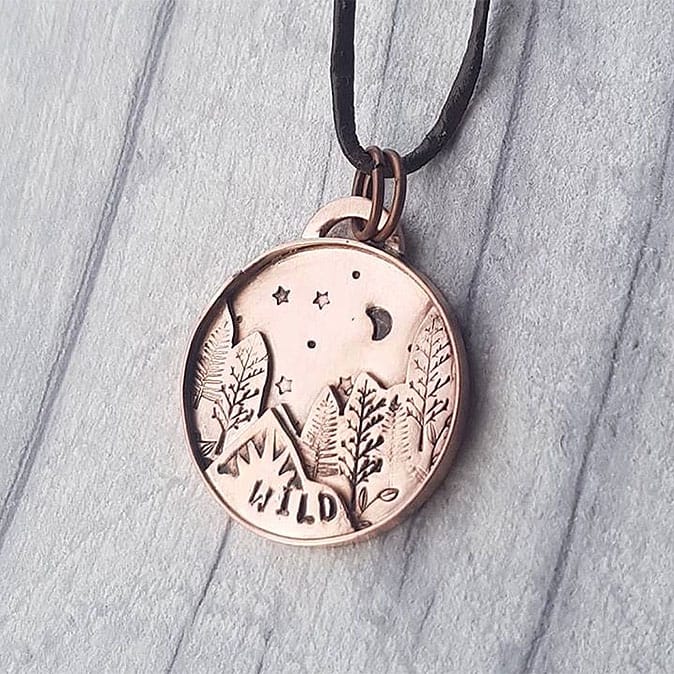 Playing around with some new ideas yesterday. I had a social media 'memory' appear in the morning - apparently I was camping with my children on the North Cornwall/Devon border this time last year. Shortly afterwards I saw the Kernowcraft post about nature jewellery and so I started faffing around with my design stamps on aluminium disk blanks (swipe to see them). Then I started wondering how it would look layering the metal. Well, let's just say that sweat soldering stamped copper is no picnic! Which led me onto the little frame to neaten up the wibbly wobbly layer edges! I'm going to work on this idea a little more - mixed metals, silver, copper, maybe even a little brass moon or stars...
- Genny Wren Silver. Shop liver of sulphur, to create this antique look on metals.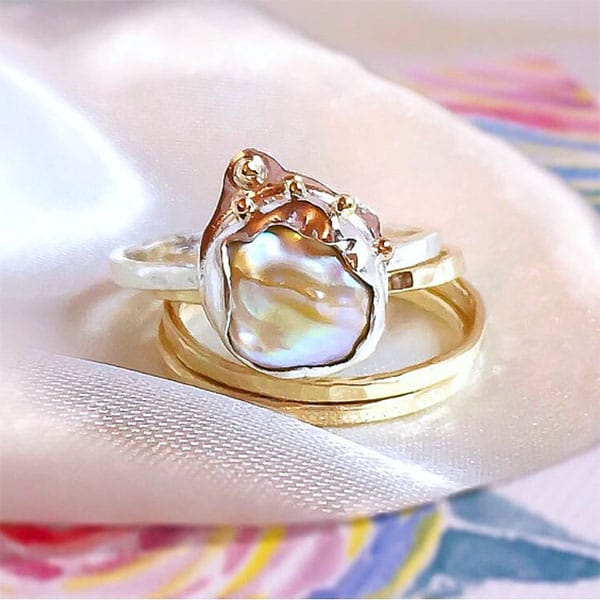 Every time I make this piece, wave of sea is making its own art and every piece come out different and unique...
The colours of this natural Keshi pearl is shimmering from ivory to champagne, pale pink, blue and gold. How do I make those? It's handcrafted from scratch, every little detail is soldered together one by one...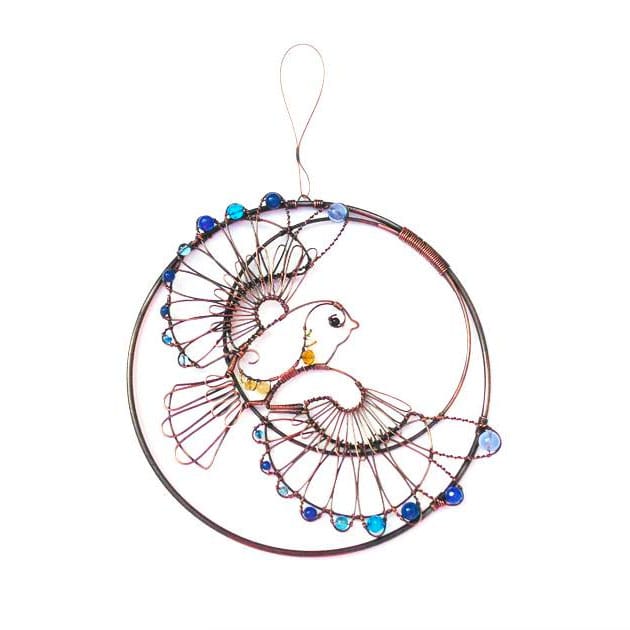 My blue tit in flight suncatcher, handmade copper wire work with quartz and agate semi-precious stones.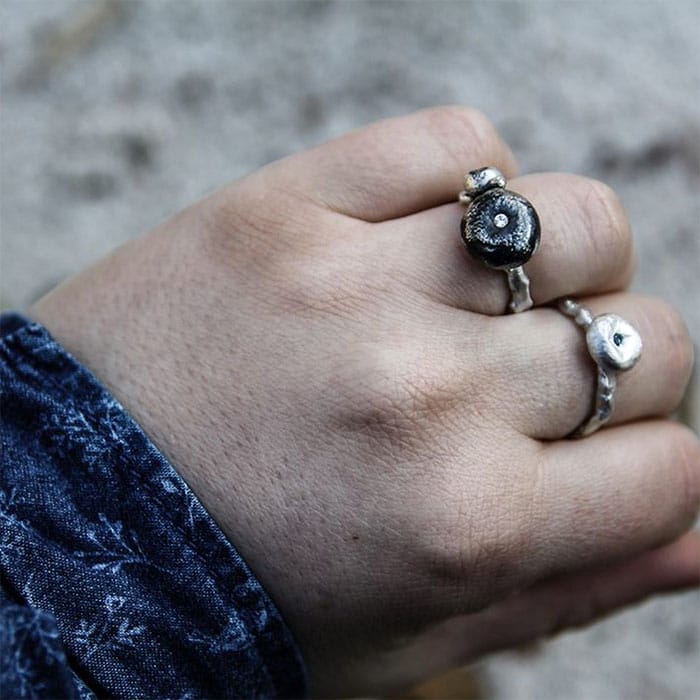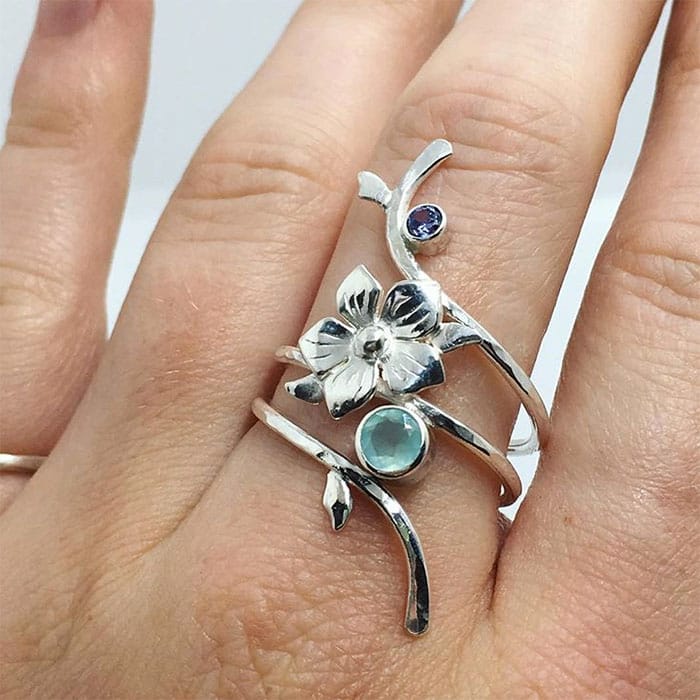 Another flashback favourite...💙 to this beautiful wrap flower vine ring. Loved making this one! Can't wait to get back to the bench soon...
- Sea Surf Rocks. Featuring chalcedony & iolite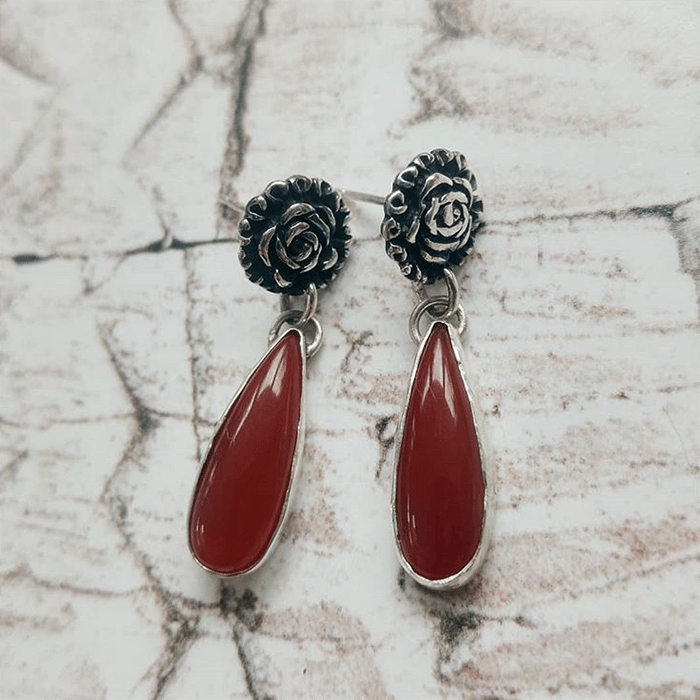 An experiment in drop stud earrings. Carnelian cabochons from Kernowcraft with oxidised rose studs. Bit gothic/baroque compared to my usual, but those blood red carnelians were asking for it...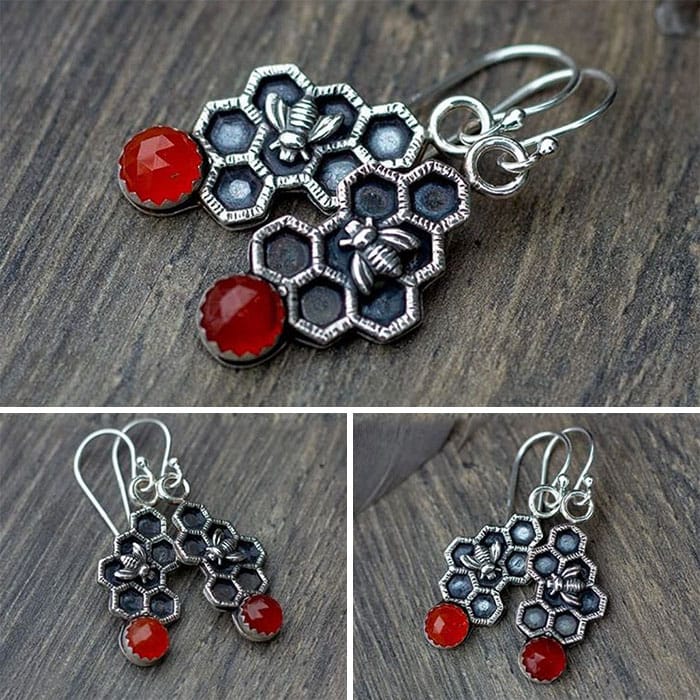 My latest version from my ☆ KEEPER OF BEES ☆ with carnelian - rich and vibrant.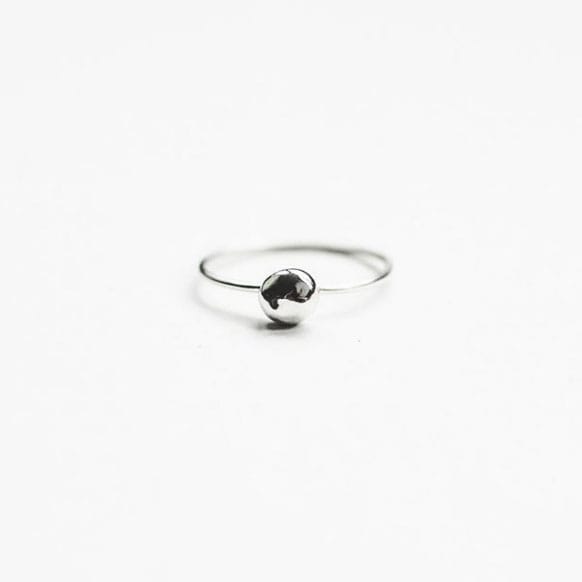 Recycled bubble ring. Nowadays it's so easy to go and buy plastic jewellery from cheap shops even if we know will turn out fingers green, and we will end up throwing away after a few weeks. But sometimes it is nice to be conscious and buy something that will last generations, is sustainable and made with love and recycled materials. This is a ring that will never become rubbish polluting our oceans.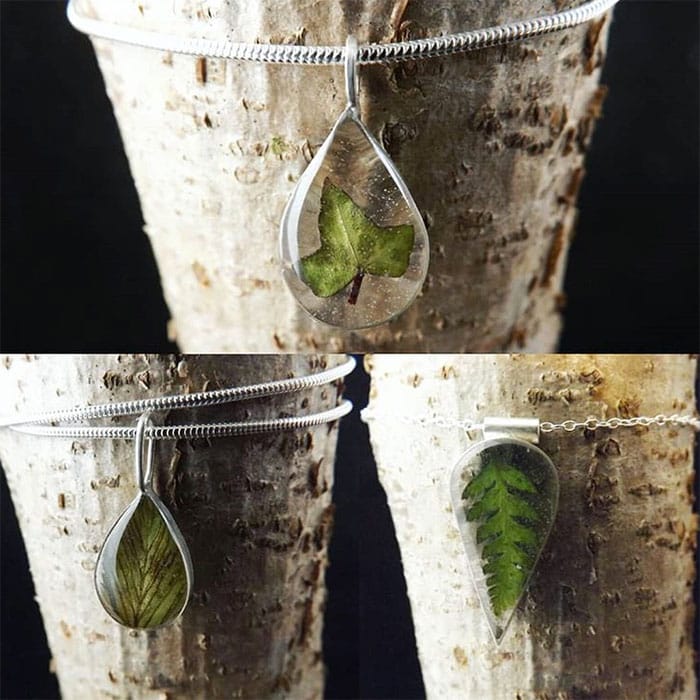 The Silva Collection. Inspired by my love of walking in the woods I wanted to create a collection that celebrates the beauty and variety of leaves that I see when out on my daily ramble. Silva is the Latin name for woods and this collection is all about carrying a little piece of woodland with you.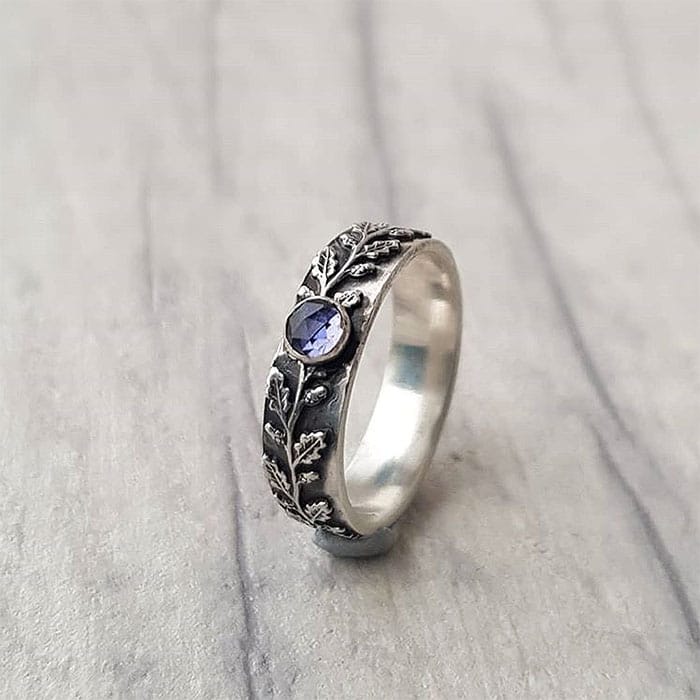 Handmade in sterling silver with an oak leaf embellishment around the band, oxidised with liver of sulphur and set with a beautiful rose cut iolite or "water sapphire" stone. This was my mum's 70th birthday present - a little thank you for all her help and support and inspired by woodland walks.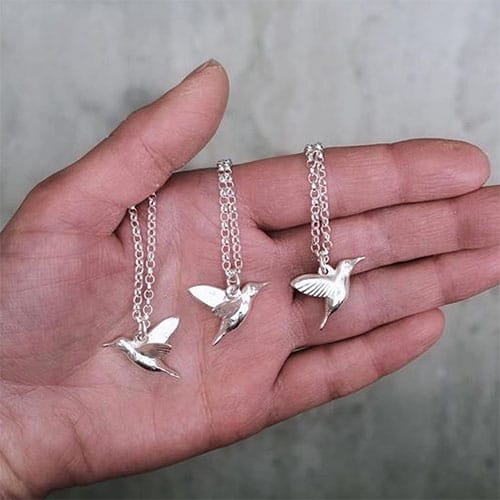 Hand carved Hummingbird Necklaces... Hummingbirds symbolise playfulness, joy and are said to draw you to life's sweetness.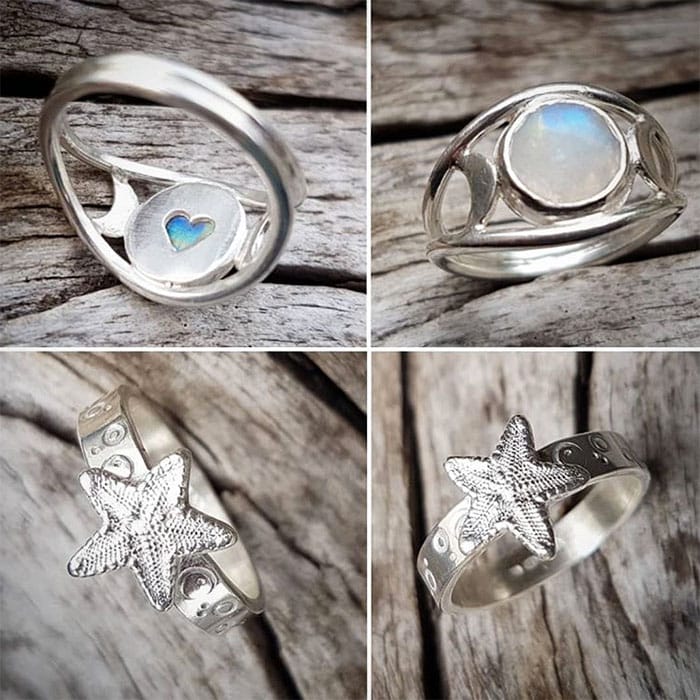 A couple more rings listed, here is a starfish and a moon ring.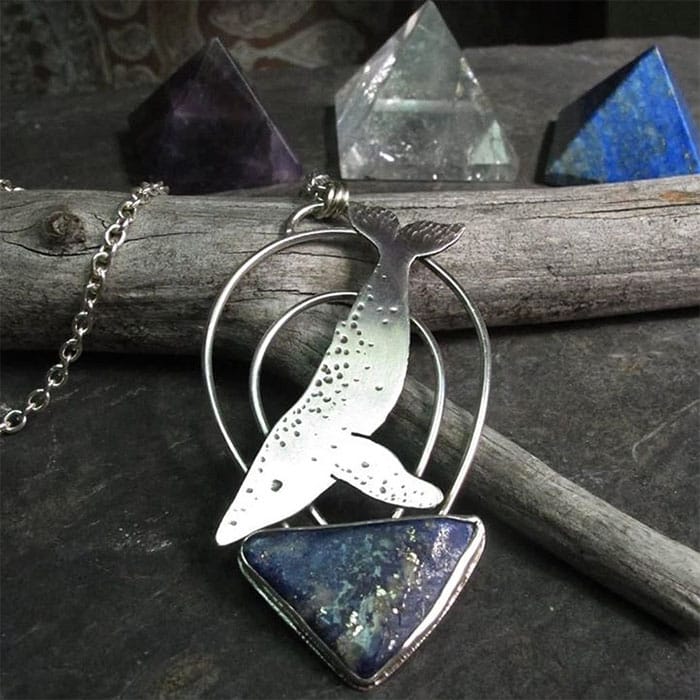 I crafted this ocean inspired piece in solid eco sterling silver 925 which is 100% recycled and much better for the planet than mining for new metals!
As a metalsmith I think it's very important to try and remain as eco as I can, I use recycled metals, I buy lots of ethically sourced gemstones including some luscious ethical opals from Kernowcraft who source them from a small family owned mine in Australia. I also use recycled packaging and take care in my studio to reuse materials and reduce waste wherever possible. I collect all my bench dust and shavings to be melted and made into new pieces, so that the recycling can continue! That's the beauty of silver, you can twist, heat, hammer, file and texture the metal but when you melt it down again it always returns to the same working and wearing qualities! Nature is wonderful...