Silver Clay Tool Kit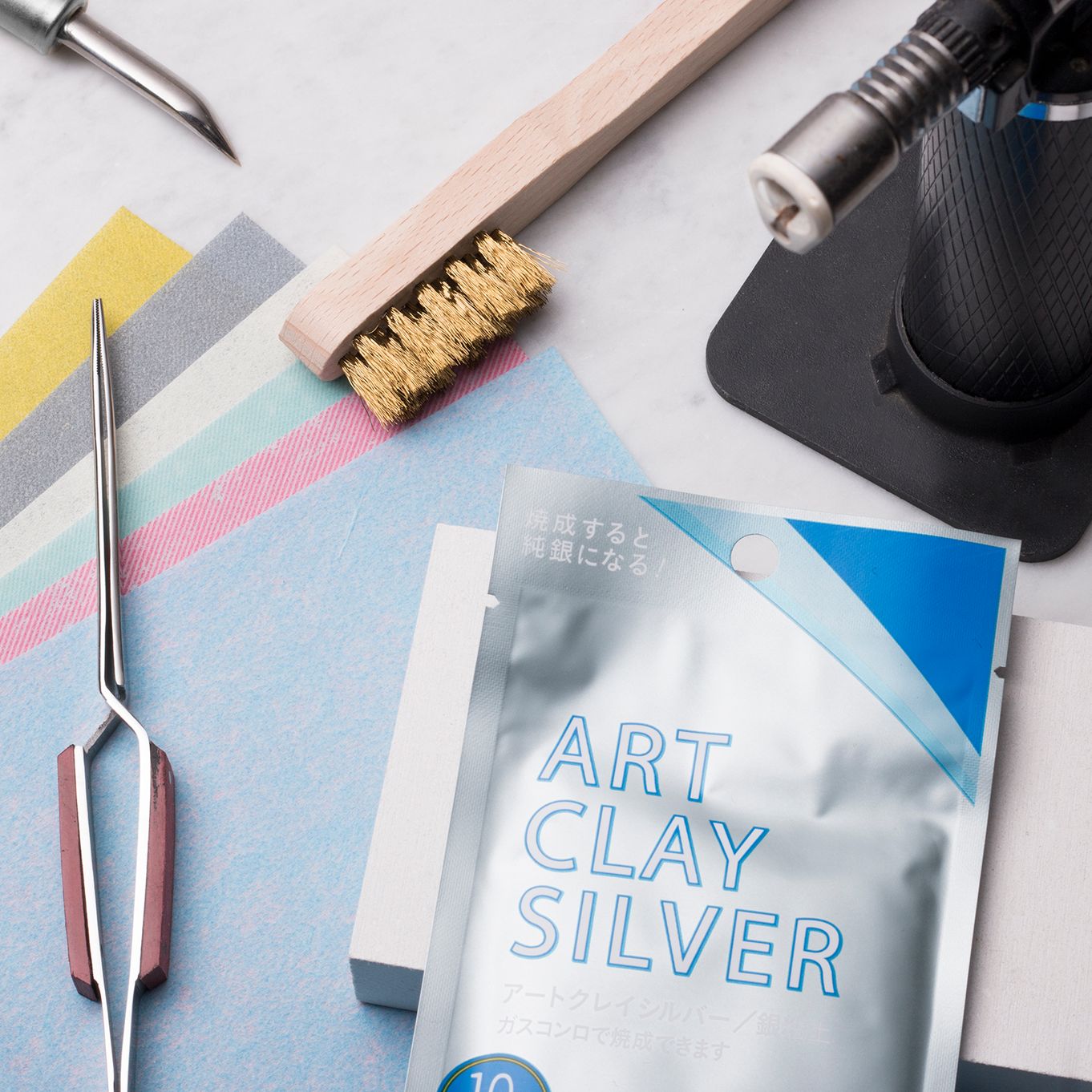 All of the tools you need to get started in making metal clay jewellery designs. Once you've created your first project, we are sure you'll fall in love with this technique!
You can click on any of the products on the shopping list to find out more about the item and what it's used for.
The Kit Features:
Art Clay Silver Pack: This metal clay can be moulded, sculpted and formed just like modelling clay and can be fired with a gas torch.
Plastic Rolling Pin: This lightweight plastic rolling pin is perfect for rolling out your metal clay without marking or contaminating the clay for a smooth, professional-looking finish
Sanding Sponges: Ideal for using on dry metal clay pieces prior to firing for smoothing edges or after firing to give a satin finish.
Gas Torch: Once the metal clay is fired with a gas torch it turns into 99.9% pure silver.
Soldering Block: This fire-proof soldering block provides a safe surface to heat your metal clay and keeps the heat exactly where you want it.
Brass Brush: After firing you will notice a frosted, white appearance on your metal clay. Simply use a brass brush to pre-polish it.
Insulated Reverse Action Soldering Tweezers: Use these tweezers to support your design while heating. They also have wooden handles so can be handled directly after without burning yourself.
Curved Burnisher: Due to the soft nature of metal clay, a burnisher is often all that's needed for polishing your piece.
Polishing Papers: These papers are also effective with silver clay and will give your pieces a high shine.
---
Helpful links for beginners
Metal Clay Advice Pages: Read our advice pages all about using metal clay, including how to use moulding compound, and more.
Explore All Metal Clay Supplies: We have a great range of metal clay products including Precious Metal Clay (PMC) and Art Clay in clay, paper, syringe, paste form as well as a variety of tools and accessories to add to your collection of supplies.
Metal Clay Moulds: Discover our range of metal clay moulds including, seashell, orchid, rose and hummingbird moulds.
Watch an example of how to use metal clay below! We show you how easy it is to make fingerprint jewellery using metal clay...
---
Our Jewellery Making Tool Kits showcase our top tools and supplies for various areas of jewellery making. They are aimed to inspire you, so you easily customise your tool kit to suit your needs and budget. Check out our jewellery making tutorials for free guides, browse our full selection of tools and if you have any further questions please get in touch.
Your Shopping List
You can buy all the products in this collection at once by clicking the button below or add individual products by clicking the button beside each one.