Product FAQs & Ethical Statement
Kernowcraft is your destination for gemstones & jewellery making
Our small team has been providing hobbyists and professional jewellery makers with high-quality jewellery making supplies for over fifty years. As experienced jewellers ourselves, we offer a personal service to make sure your jewellery making needs are met in the best possible way.
On this page, you will find more information about the gemstones and products we stock at Kernowcraft, including our ethical statement and answers to the most common questions that we receive.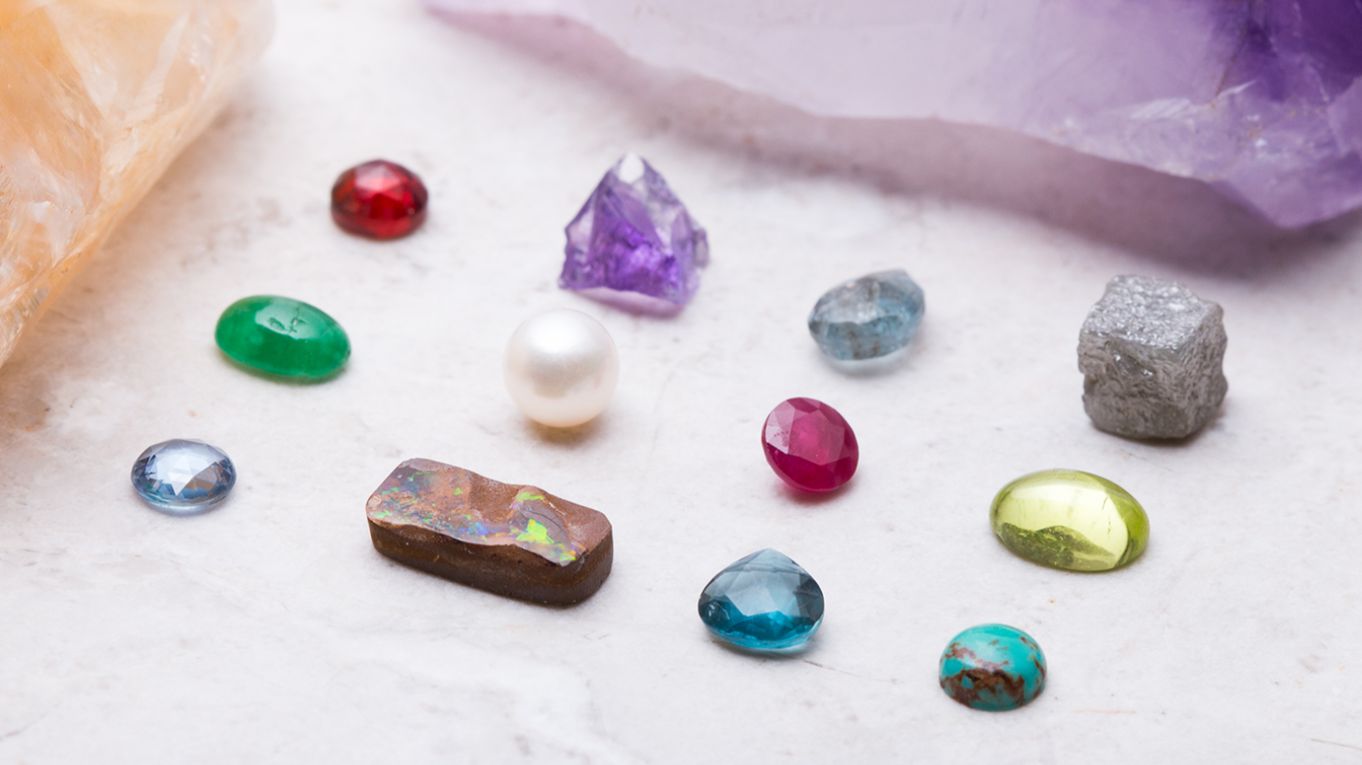 The vast majority of the gemstones we supply are natural and inevitably colours, markings and cuts may vary from the images shown. We do however make every effort to supply stock of consistent quality and make every effort to picture products and colours as accurately as we can. Images on this website are not to scale, although sizes are given wherever possible and you'll find we often include hand shots so you can easily see sizes. Although we photograph some items set with stones as a visual aid, all mounts are supplied without stones unless stated.
What if I'm looking for a specific colour, pattern or size?
We do try and pick the best and prettiest stones we can when picking for our customers but we do understand that sometimes it has to be that certain stone to fit your design or a matching pair for a pair of earrings. This is why we offer a personal shopping experience, where you can add special requests for gemstones to your shopping basket. This gives you the option to add additional input when we are picking your order. Whether you're after matching pairs, a particular colour, pattern or shape, just let us know in your shopping basket and our small team will personally spend time trying our very best to select the perfect gemstone for you. If we are unable to fulfil your request, we will get in touch. Learn more here.
Do your gemstones have healing properties?
This is all down to you! Healing crystals are becoming increasingly popular, with people using gemstones to balance energies and become more attuned to their body and mind. Crystals have been used for thousands of years, with ancient people using them for magical and spiritual powers. Although there is no scientific evidence to show that crystal healing works and is not a form of medicine, more and more people are becoming open to trying the possible benefits that crystals bring. With the growing popularity of healing gems, we often share believed healing properties of the gemstones we stock in the product descriptions as well as across our online platforms.
Is there a size tolerance with calibrated stones?
Commercially cut stones will have a slight tolerance in size variation. For instance, some of our 5mm cabochon stones measure with rarely more than 0.2mm tolerance over or under 5mm (i.e. measuring 4.8mm - 5.2mm - this variance is not usually noticeable to the eye). This can vary and there will usually be plenty of stones that sit bang on the exact measurement, but they could vary up to 0.5mm (though usually much less than this) and this variance is influenced by the way they are cut, the supplier and where they are cut.
Read more about size tolerance with calibrated stones on our advice page.
It is standard procedure for many natural gemstones within the industry to be treated and modified in some way to enhance the stone's colour, clarity or durability therefore making them more suitable for jewellery making. These treatments vary from heat, dying, bleaching and the use of oil. We always aim to include whether a gemstone has been treated within the product description.
What is Vapour Deposition Coating?
Many of our cubic zirconia and drusy stones have been treated by a process called Vapour Deposition Coating. This applies a coating on just the pavilion (pointed side) of the stone with a natural element in the US at a world-leading laboratory, creating a durable coating at a molecular level able to withstand everyday contacts such as water, friction and skin contact.
Do you stock man-made gemstones?
We offer a range of man-made gemstones including cubic zirconia and man-made versions of goldstone and hematite.
Natural hematite is now very hard to come by and comes with a premium price so our range of hematite is the man-made version of the stone (sometimes known as hematine or hemalyke). Virtually all (99%) of hematite currently on the market is actually this man-made version as stocks of the natural stone are so hard to come by – many suppliers will not disclose this or are possibly even unaware of it. This lovely gun-metal colour stone has exactly the same look and all the same properties as natural hematite at a fraction of the cost.
Explore our man-made stones...
What's the difference between plated, sterling silver, gold filled, gold vermeil?
Read our guide on the types of metals used for jewellery making for detailed information on the difference between plated, sterling silver, gold-filled and gold vermeil.
What is the base metal of your plated items?
Silver and gold plated metals will have a base metal of copper, brass or steel. The silver and gold plated wire we stock both have a copper core.
Do your products contain nickel?
Nickel has been widely used in jewellery and watches throughout history due to its durability and shiny white appearance. Metals used in jewellery are alloys, which means the metal is made up of a mixture of metals – sometimes nickel is added to metal to make it harder and more durable for jewellery making. Unfortunately, nickel is the most common cause of allergic contact dermatitis and many everyday metals contain nickel (including many coins!), which is why nickel is now regulated in products which are intended to come into direct of prolonged contact with the skin.
Where necessary all items on Kernowcraft's website comply with EC Nickel regulations. The Nickel Directive imposes limits on the amount of nickel that may be released from jewellery and other products intended to come into direct and prolonged contact with the skin such as earrings, bracelets, rings and necklaces. These limits, known as migration limits, are:
0.2 µg/cm2/week for post assemblies which are inserted into pierced ears and other pierced parts of the human body.
0.5 µg/cm2/week for other products intended to come into direct and prolonged contact with the skin.
Nickel is likely to be found in trace quantities in many metals, if you are wondering what metals are best for those who suffer from allergic reaction to metal, we recommend opting for sterling silver, surgical steel, platinum and titanium jewellery.
Are your products hallmarked?
All of our products comply with hallmarking laws. Precious metals are rarely used in their purest form but are usually alloyed with other metals for workability, durability and wearability. It isn't possible to detect an article's precious metal content by sight or touch. Therefore, it is a legal requirement for an Assay Office to hallmark articles containing precious metals if they are described as such. Hallmarks are marks applied to precious metals to indicate the amount of pure metal in the alloy. Traditionally applied by striking with a punch, hallmarks can now also be applied using lasers.
Platinum, gold, palladium and silver are required to have a hallmark, weight exemptions apply to each.
For more information on hallmarking, read our Q&A with London Assay Office.
Where can I find safety data sheets/information for products?
Check product descriptions for access to safety data sheets and information, if there is no information available please get in touch and we will contact our supplier for more information.
Is Kernowcraft eco-friendly?
At Kernowcraft, we are conscious of reducing waste and reuse and recycle as much as we can. All paper, card, plastic bottles and glass are recycled. We also use a company that recycles our clear plastic packaging, meaning that we now recycle almost everything and only need to put a small bag of rubbish out every 2-3 weeks. We even use recycled toilet paper! As a Kernowcraft customer, you can help by reusing the padded envelope your order arrives in if you need to place a return or by using it to post gifts to friends or family.
---
Photos sent to us from our Australian boulder opal suppliers who we have been lucky enough to work with for decades...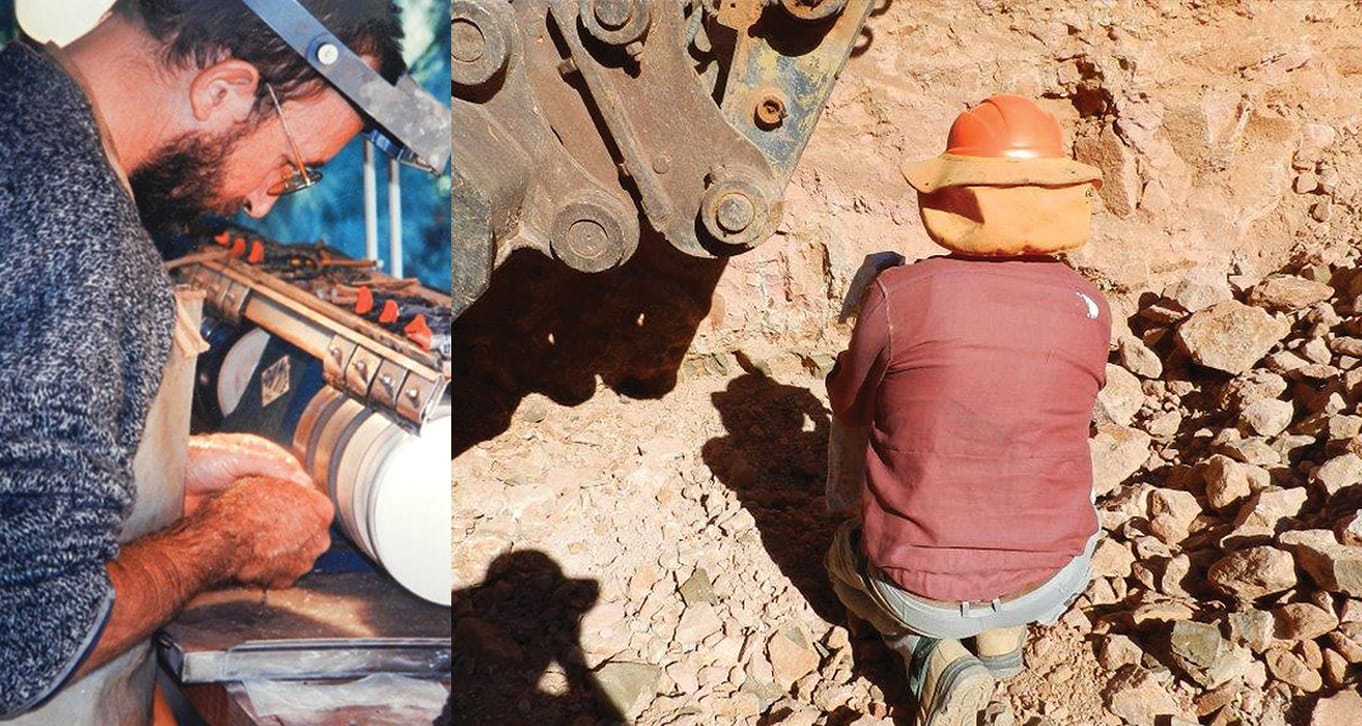 Kernowcraft's Ethical Statement
At Kernowcraft we share your growing concerns about ethically produced products and do our utmost to ensure that the products we supply come from trusted and ethically minded companies.
Ethics within the jewellery making industry is a complex subject that covers a range of considerations from political, environmental to labour issues. As the interest from customers has evolved and increased over time, we are evolving with you. We have always been responsibly minded of ethical procedures and moving forward are committed to improve this even further by gaining additional information from our suppliers – but this isn't without its challenges which we will highlight further in this statement.
Gemstones
Kernowcraft is a small family business, passed down through three generations and we have been lucky enough to work with a number of trusted suppliers for decades, as well as small artisan companies for more of our unusual stones. We have long-standing relationships with most of our suppliers and have received assurances that they treat their workers fairly, providing a safe workplace, access to health care and a fair wage.
The gemstones that we purchase directly from mines we know are ethically mined with minimal impact on the environment. Within the gemstone industry however there are no established bodies that trace coloured gemstone supply chain from mine to market, which makes it extremely difficult to put an ethical label across all gemstones. Not all gemstones are traceable to the mine; often a stone may be mined in one country where it is naturally found and then cut somewhere else and potentially bought from another supplier. Having documentation of each of these stages is not always possible and a lot of trade therefore is done on a trust basis.
At Kernowcraft, we have the choice of the suppliers we use and always take the necessary steps to ensure we are working with ethically minded companies but we cannot necessarily control the stages prior to this.
Information we request when potentially working with a new supplier:
About gem cutters - do employees have access to health care, and do they have reasonable working conditions and reasonable working hours
With regards to gem rough - do they buy from mines that also treat their miners with care? (safety programs, humane working conditions, reasonable working hours, access to health care)
Does the business abide by all local laws (such as licensing, pollution control)
With regards to metals, does the firm use recycled metals and adhere to recycled metal laws
Photos where applicable of the work site
Assurances that stones are not associated with funding war or conflict
Supplier of conflict free diamonds
The diamonds we supply are conflict free and have been purchased from a trusted supplier from legitimate sources not involved in funding conflict and in compliance with United Nations resolution. Both grades of diamond that we stock, are either bought labelled by our supplier as 'conflict free' or our supplier guarantees that these diamonds are conflict free, based on personal knowledge and written guarantees provided by suppliers of these diamonds.
Metal
Most precious metals used within the jewellery industry are made up of recycled metals, however this isn't necessarily traceable.
We are proud to stock a range of recycled metal wire and sheet which is made from recycled scrap silver in a totally traceable and fully audited process so you can be rest assured that you are purchasing 100% recycled metal. This makes it an increasingly attractive product for today's eco-aware jewellery buyers and we see more and more jewellery makers proudly labelling their goods as being made from recycled metals.
You will also find that many of the chain available on our website is made from recycled silver or gold, information on whether a product contains recycled metal is available within the product description.
We will continue to work towards increasing the information available to our customers and working with our suppliers on this to offer more assurances.
Come behind the scenes with us...
Hannah, Kernowcraft's Managing Director takes you behind the scenes of sourcing our popular boulder opals. We have been working with our Australian boulder opal suppliers for decades. They mine, cut and polish the stunning opals themselves and we usually have the privilege of hand-selecting each opal, with our customers always being at the forefront of our minds.
Have another question?
At Kernowcraft, we're a small team that truly cares about providing a high-quality service and jewellery making supplies for both hobbyists and professional jewellers.
As experienced jewellers ourselves, we have the knowledge and expertise to help you through your jewellery making journey.
If you ever have a question about the gemstones and products that we supply or want to know more, please do get in touch.
Page updated: 9th February, 2023