How To Make Your Own Chakra Jewellery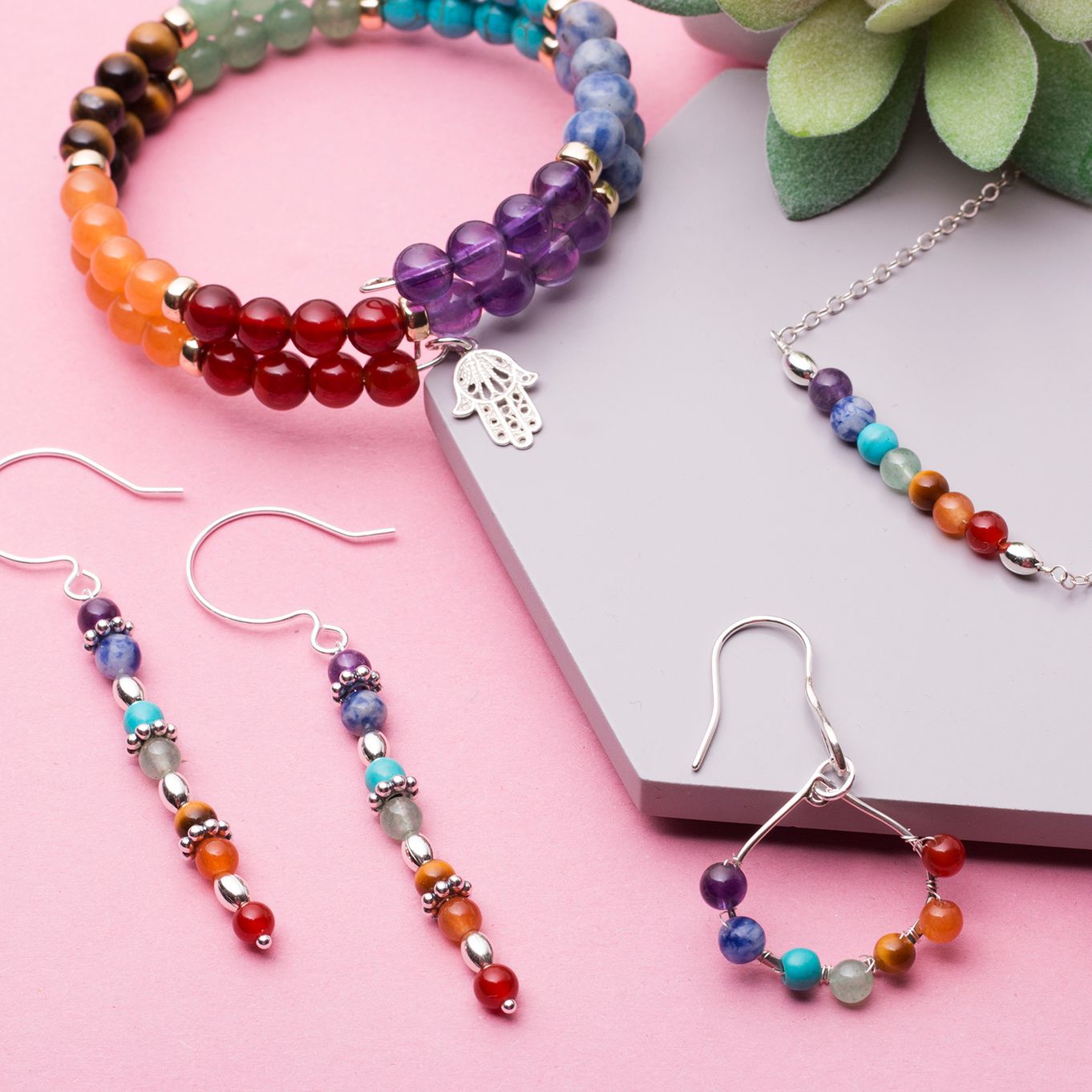 Say goodbye to negative energies by creating your own chakra jewellery!
Combining all of the colours of the chakras is thought to bring positivity and balance to your life.
Chakra represents the 7 chakras around your body, with 7 different centres of energy. Each chakra is connected to one area of the body and an emotional state. It is believed that by balancing out these energies your emotional, physical and spiritual wellbeing will benefit.
Crystals have been used for thousands of years and now crystal healing is becoming increasingly popular, with more people being open to the possibilities of powerful crystals. You can use chakra healing stones in a number of ways such as meditation or wearing them as jewellery!
Here at Kernowcraft, you will find a huge range of high quality gemstones and all the tools and supplies you need. Not only that, you will find lots of free tutorials and guides, as well as beginner friendly jewellery making kits that you can easily customise with your favourite gems.
You may also like to check out our range of crystals and gemstone pendants!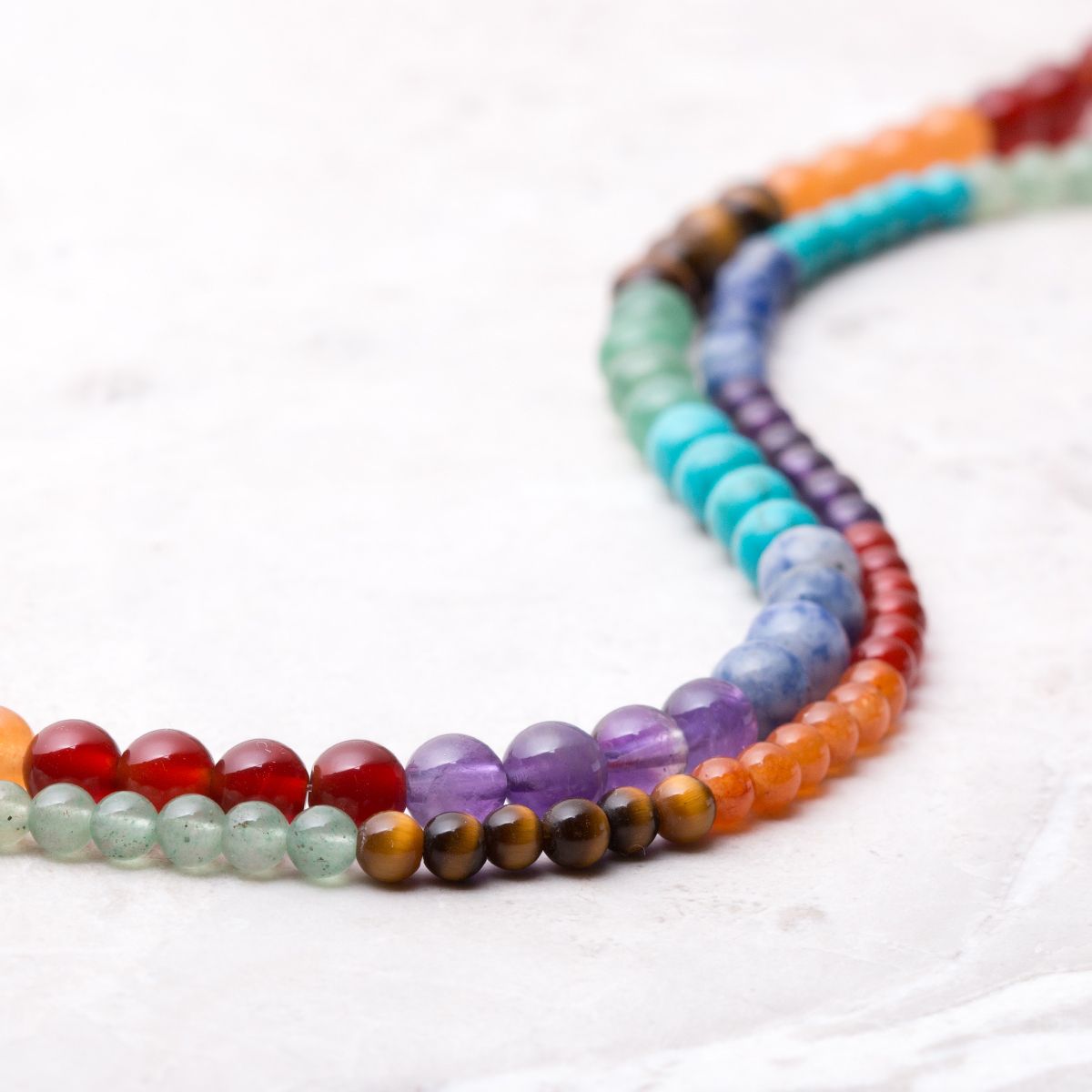 Discover our colourful round chakra beads, available in 2 sizes for you to create various chakra inspired jewellery designs, including beaded necklaces, earring drops and bracelets.
Each coloured gemstone represents one of the seven chakras - so there's no need to source multiple gemstones for your chakra designs! The gemstones included in the strand includes red agate, peach aventurine, tiger's eye, green aventurine, magnesite, sodalite and amethyst.
Read below their colour links to the corresponding chakras.
Root Chakra: red or black - red agate
Sacral Chakra: orange - peach aventurine
Solar Plexus Chakra: yellow - tiger's eye
Heart Chakra: green or pink - green aventurine
Throat Chakra: light blue - magnesite
Brow Or Third Eye Chakra: indigo - sodalite
Crown Chakra: violet or white - amethyst
This chakra memory wire bracelet is really simple to make! Memory wire is a great threading material, it's a hard, rigid, pre-coiled wire which holds its shape unlike regular metal jewellery wire which you can manipulate. It creates the impression of stacked bracelets and is perfect for combining with gemstones, metal beads and charms.
How to make: All you need to do is use heavy duty side cutters to cut at least three coils of memory wire, use round nose pliers to form a loop on one end. Then simply thread the chakra beads onto the wire, adding a metal bead in between each coloured set of gemstones. Once you've added the whole strand, you can simply cut the wire and form another loop to secure. All that's left to do is twist open a jump ring using a pair of snipe nose or flat nose pliers, attach the hamsa hand charm and the loop of the memory wire before twisting closed.
Top tip: Use a bead board or bead mat to plan the order of your beads for your bracelet - this will make it easier to thread your beads and avoid mistakes.
Suggested jewellery supplies:
Watch How To Make A Memory Wire Bracelet
Watch the technique in action! This particular design shows an alternative way to finish your bracelet, instead of forming loops on each side of the memory wire, you can glue end beads on the ends for a professional finish.
Chakra Earrings
Below we share two design ideas of how to create chakra earring designs, featuring a simple wire wrapping technique and an easy design using headpins.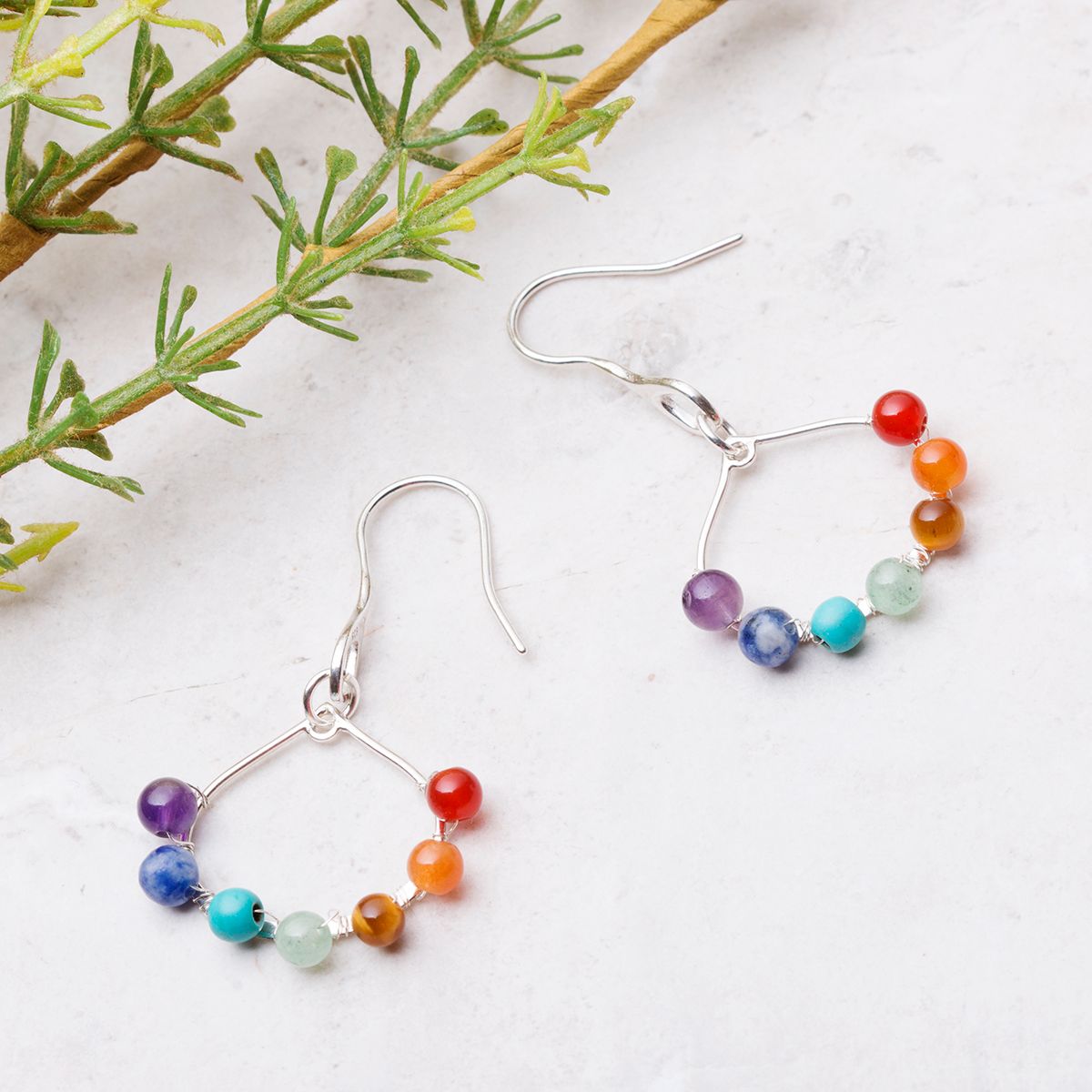 This chakra earring design features a simple wire-wrapping technique.
How to make: Simply use approx 30cm of 0.3mm sterling silver wire per earring to wrap the wire around the charm and thread on the chakra beads, continuing to wrap in between the beads to secure. Then all that's left to do is use a pair of snipe or flat nose pliers to twist open a 3.5mm jump ring, attach the loop of the charm and ear wire then twist closed to secure, then repeat for the other earring.
TIP: You could use slightly thicker wire which will result in a more uniform wrap as it's easier to manipulate.
Suggested jewellery supplies: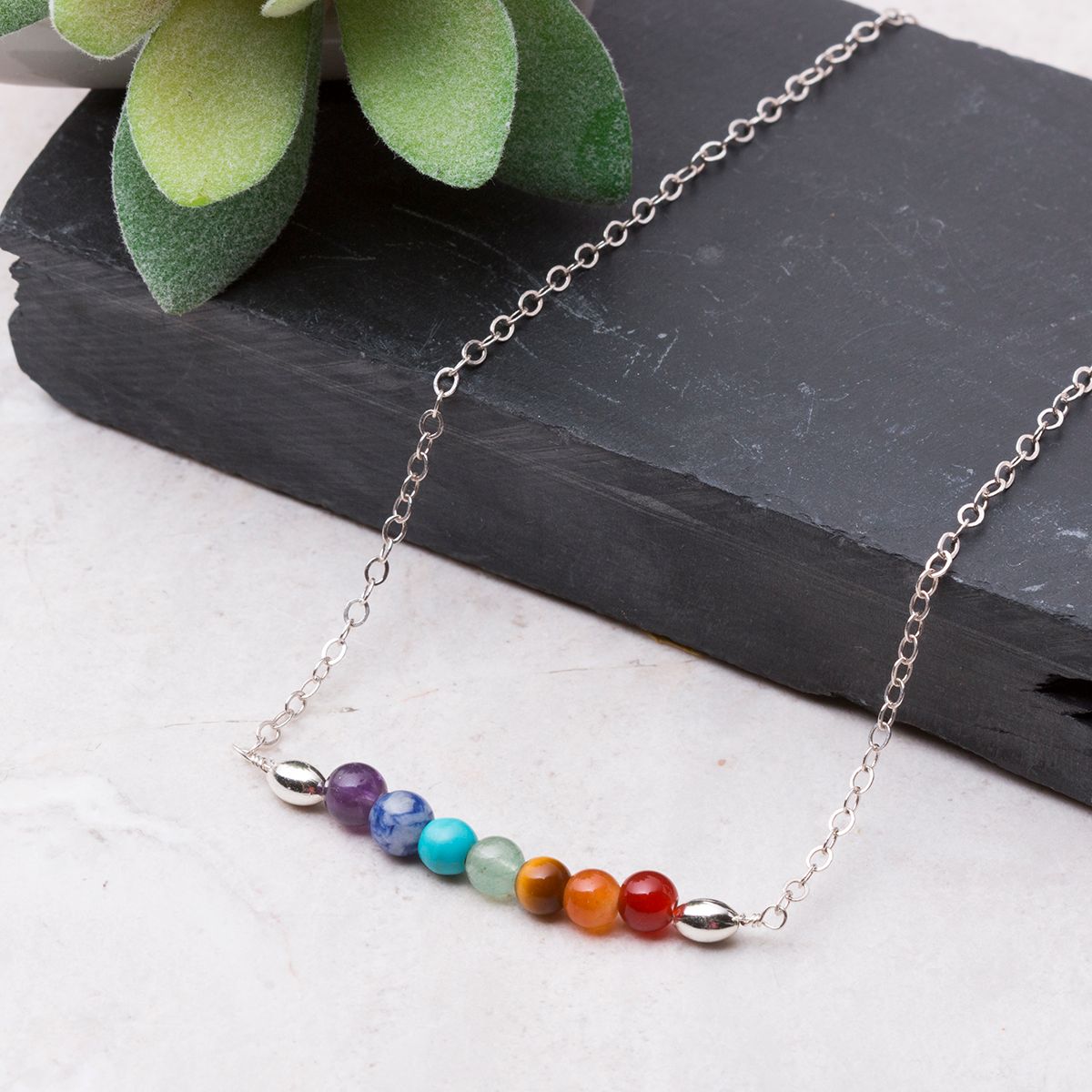 Create a statement bead bar necklace using chakra beads! This is a beginner-friendly project featuring wire wrapping and only requires a few pliers and cutters to complete.
TIP: Remember when using this technique to ensure your wire size is appropriate for the beads you are using.
How to make: To begin making this necklace, find the halfway point in the necklet chain and cut it in half using side cutters. Then take about 10cm of 0.3mm round wire and use round nose pliers to form a loop about 2cm down from one end. Thread one end of the chain into the loop and then create a tight neat coil with the wire by wrapping the shorter end around itself. For a detailed step by step instruction including clear photographs to help you learn the technique click here.
Next, thread the beads onto the wire - use the photo as your reference guide for the order. After threading on your chakra beads, leave enough wire on the other end (about 2cm), complete the necklace by using the same wire wrapping technique to attach the wire onto the other side of the chain and wrap around the wire neatly to secure.
Why not use your leftover supplies to make complementary earrings or perhaps a bracelet, to create a matching set!
Suggested jewellery supplies
Watch how to make a bead bar necklace
Watch the technique in action! Bead bar necklaces can be used with various shapes and sizes of beads, you can also use one bead for a minimal necklace or combine your gemstone beads with metal beads and charms too. The possibilities are endless!
If you fancy experimenting with other gemstones and cuts, we've created a collection filled with all of the coloured gemstones linked to the 7 chakras:
Root Chakra: Red or Black | Sacral Chakra: Orange | Solar Plexus Chakra: Yellow | Heart Chakra: Green or Pink | Throat Chakra: Light Blue | Brow or Third Eye Chakra: Indigo | Crown Chakra: Violet or White
In this collection, you'll find cabochons, faceted stones and gemstone beads to create beautiful pieces of jewellery with.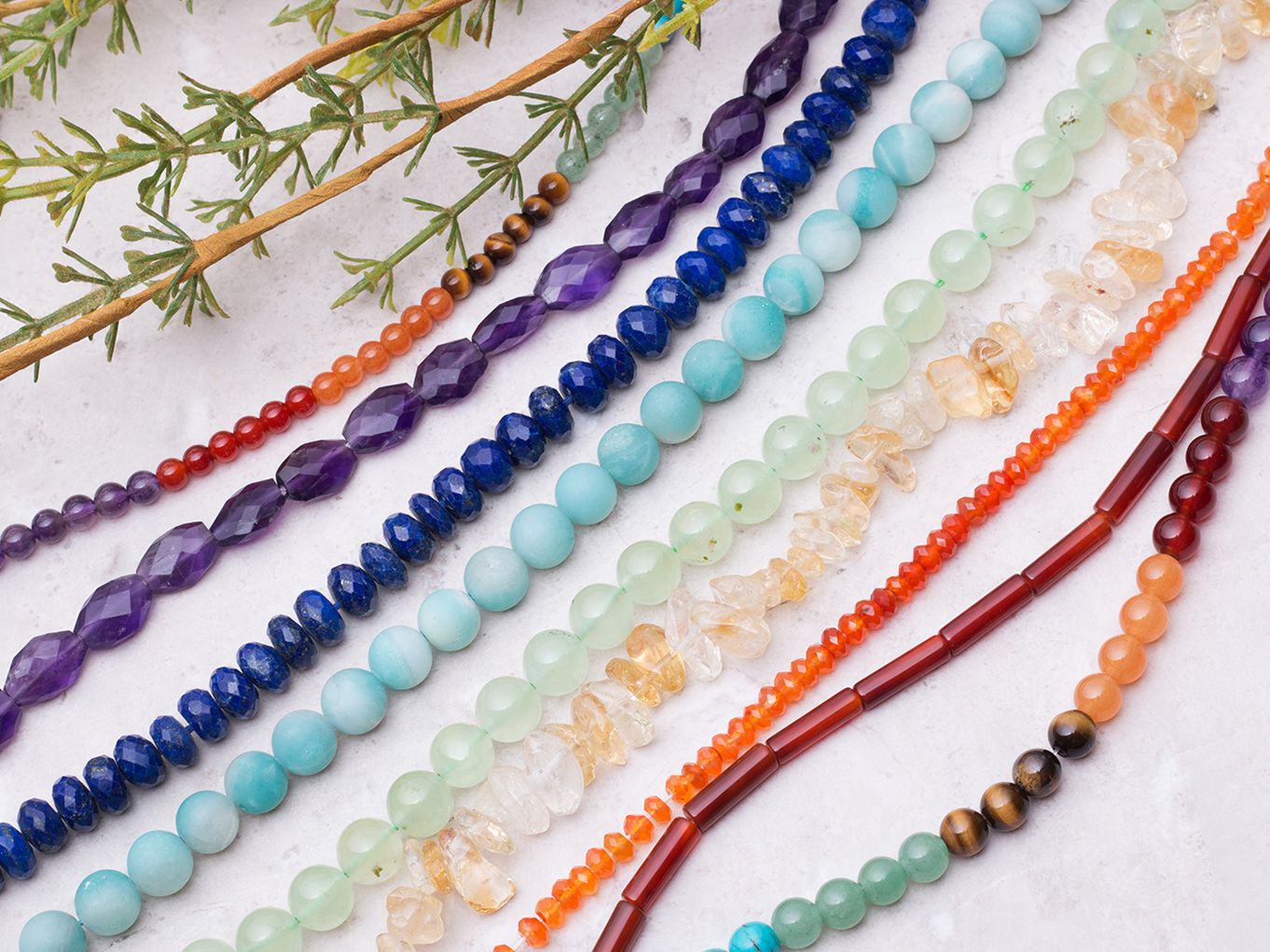 Explore Resources & Jewellery Making Supplies With Kernowcraft