Garden Studio Tour, Jewellery Making & Packaging With Little Black Cat Jewellery
Kirsty from Little Black Cat joins us for 'A Day In The Life Of A Jeweller', sharing an insight into her working day. Join Kirsty on a garden studio tour, meet her furry friends, watch behind the scenes of being at the bench and learn more about life and running a small business with chronic illness.
Not only do we get a peek into Kirsty's day, but she has also kindly brought us a new tutorial that combines metalsmithing and beading to create lovely silver earring drops. Combining various techniques including forming metal, sawing, soldering, polishing and wire wrapping. We hope you love it and it gives you the inspiration to make your own version!
Find out more about Kirsty's story and see her beautiful handmade jewellery designs below, as well as her Day In The Life video and tutorial.
Hi Kirsty, tell us how your love for jewellery making began!
I've been collecting gemstones and seashells since I was a toddler, always loving the shapes and colours, textures and feel of them. I can still never leave a beach without pebbles in my pockets! Our annual family holiday to Devon always included at least 2 trips to the rock shop in Brixham, just so that I could add to my collection, along with trips to Totnes for the handmade jewellery stalls that I loved. I never had a way to use the pieces I collected, so they lived in a box, hidden away.
My jewellery journey actually began with a severe bout glandular fever, back in 2004. I was so severely ill with it, that I collapsed at my job in environmental science while trying to push through the illness. I spent the next 2 years bed and housebound with what was eventually diagnosed as the debilitating chronic illness, M.E (Myalgic Encephalomyelitis. ME sapped my energy, my health and my happiness, it completely changed my life, and I began to suffer from depression and anxiety.
I was finally referred to a private specialist, who helped me no end, and referred me on to a local hospital running a program for M.E patients, where I had access to support. During this time, a wonderful Occupational Therapist recommended that I try a creative hobby, something to keep me occupied while I was unable to work, to keep my mind active and to help me feel a sense of achievement. As an avid jewellery lover, and gemstone collector, I didn't have to think too hard to choose what to try! I was soon using wire wrapping my gem collection!
So, in 2006, I started to create my own jewellery. Starting with a cheap kit that I'd purchased from the local supermarket, I started to find my new hobby addictive! I could purchase my beads online, which was perfect for someone stuck indoors. The beads began to build up, as did the tools, and I started to sell my pieces online. I named my business after my little black cat, Tigger, who stuck by my side throughout my illness and loved playing with my jewellery wire!
My health began to improve, and I managed a slow return to part time work whilst still making jewellery. After many years of struggling with criticism at work for taking much needed sick days, and being diagnosed with Fibromyalgia too, I left to pursue my dreams of running my own business earlier this year.
You filmed A Day In The Life Of A Jeweller for our YouTube series, tell us more about what you got up to and did you enjoy it?!
I decided to show my garden studio off in case it inspired anyone else to build their own 'she shed!' I spend a LOT of time in there, and it features in everyday life for me- I barely tidied up first, as I just wanted to show exactly how and where I work, I'm not tidy! I wanted to show some time working on orders too, some tools of the trade in action, and I obviously had to feature my furry team members too! I really enjoyed filming my day- I was super nervous to begin with! My tripod broke that morning, so I was improvising with how to stand the camera in the right place. I kept deleting video I didn't think made the cut, or where I fluffed my words, but then I realised that realistically, that's just what I'm like! Cog Fog and all! I hope anyone watching enjoys it!
You also kindly shared a tutorial on some hoop earring which combines metalwork and beading, tell us more about this project and why you love to combine these techniques.
I actually designed these earrings 2 years ago- I wanted a simple drop earring where I could make a batch of parts, and then create earrings with different gems and colours in the same style- so lots of variation within the one design.
I am an avid gem collector, I literally can't help myself! There are just so many beautiful gems out there, and silver really sets them off- so why not create a design where I can use any gem? I started my jewellery journey by designing and making strung gemstone jewellery- so I have a lot of beads from then, it makes sense to incorporate these into my current designs and let those beautiful beads sparkle!
How would you describe your jewellery in 3 words?
Contemporary, meaningful, sparkly!
Tell us about your beautiful shed studio in your garden and any top tips for making it your own.
I've been lucky enough to have my workshop/studio/the shed- (whichever you prefer!) for 3 years now! I still can't quite believe it! It's been my solace during Covid! Insulation is definitely a lifesaver- as are my halogen heater and fan! I wanted to fill my work space with things that make me smile when I see them- from lots of fairy lights (I love fairy lights!!) to kitty ornaments, positive slogan signs, and Nifflers from the Fantastic Beasts movies! I just wanted a space that felt like my own, that had my personality stamped all over it so I felt at home, fun and relaxed. I chose a pale purple for the walls to keep the space feeling light and airy, and got the biggest door and windows available, so that I could let as much natural light in as possible, and look out over our garden. Any space you work in has to make you feel happy and relaxed, it has to be a place that you want to be in, that makes you smile as soon as you open the door.
How does having chronic illness effect your working day?
I have a different routine to a lot of people as due to the ME and Fibro, I really struggle with my sleep. So I tend to do my admin in the morning while I'm more tired, and then move onto my design and making process in the afternoons. I use meditation throughout the day to help with my energy levels, they give me a bit of a recharge through the day so that I can keep going. I also try to stick to a routine each day, as this helps me manage my health much better- so similar wake and sleep times, meditation times etc. And I have to be really careful not to overdo it and give myself a flare up, which leads to an increase in my symptoms. If I do too much, or get too stressed, it can really impact my health. I'm not very good as resting, I love to be busy and doing things, so I do have to check in with myself a lot to keep myself well. I often get Cog Fog, so I tend to write everything down so I know exactly what I'm doing- having a planner has really helped! I'm still pretty terrible at having days off- I have to physically leave the house, or I'll find a job to do!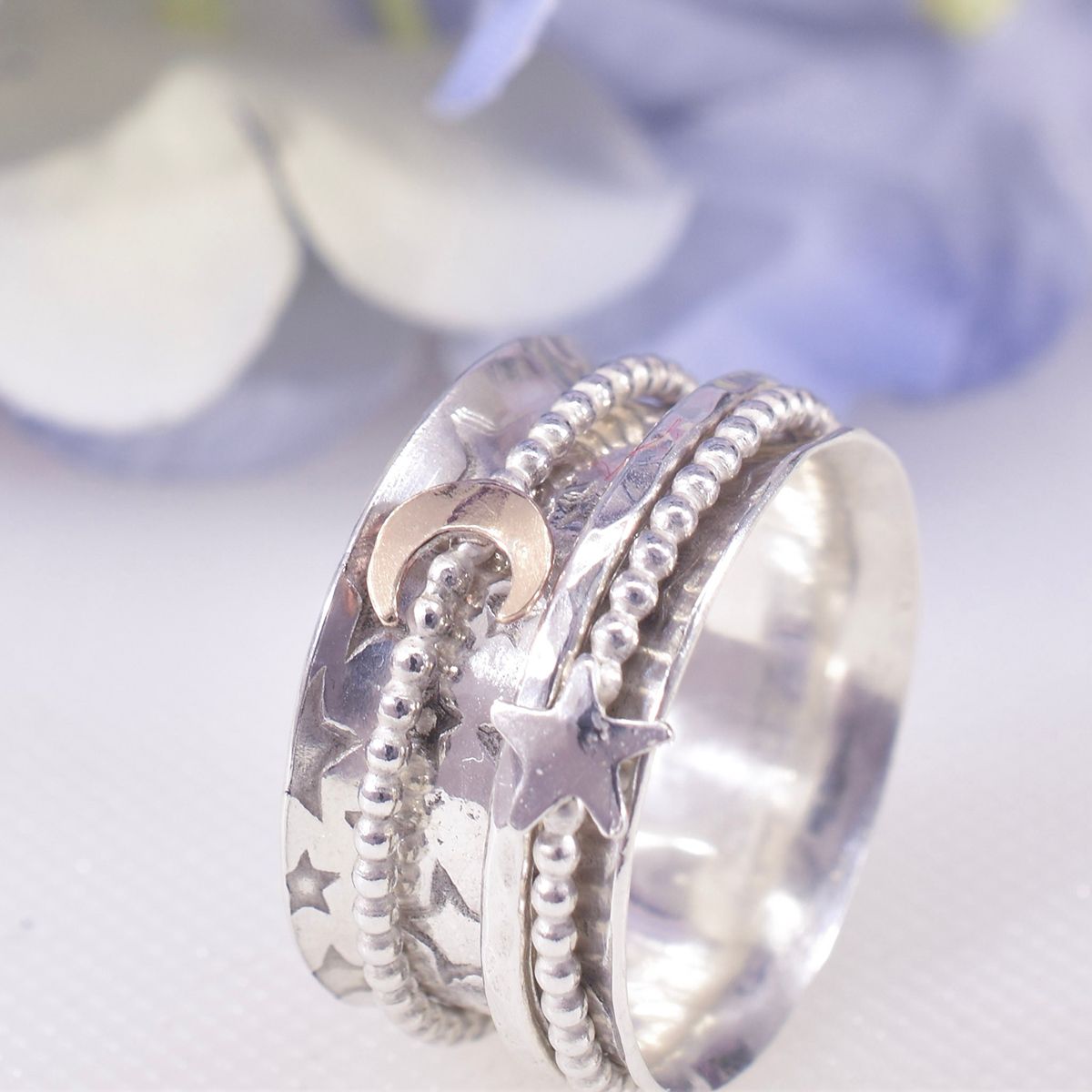 Why do you think having a creative hobby has such a great impact on so many people's lives?
Oh this is a great question! I can honestly say that I don't know how I'd have got through the massive impact my health has had on my life without being creative. Being ill can be an utterly isolating experience, it can devastate your life. I found that I lost a lot of friends from not being able to go out and 'do normal things' with them. I was often too unwell to have visitors. And then you become depressed, anxious, you lose your sense of self-worth. By doing something creative that you enjoy, it just gives you that sense of achievement that we all need. I believe that here's something within human nature that just needs to do something creative to be free. It's soothing for the soul, and especially after the past year or so, we all need that in our lives.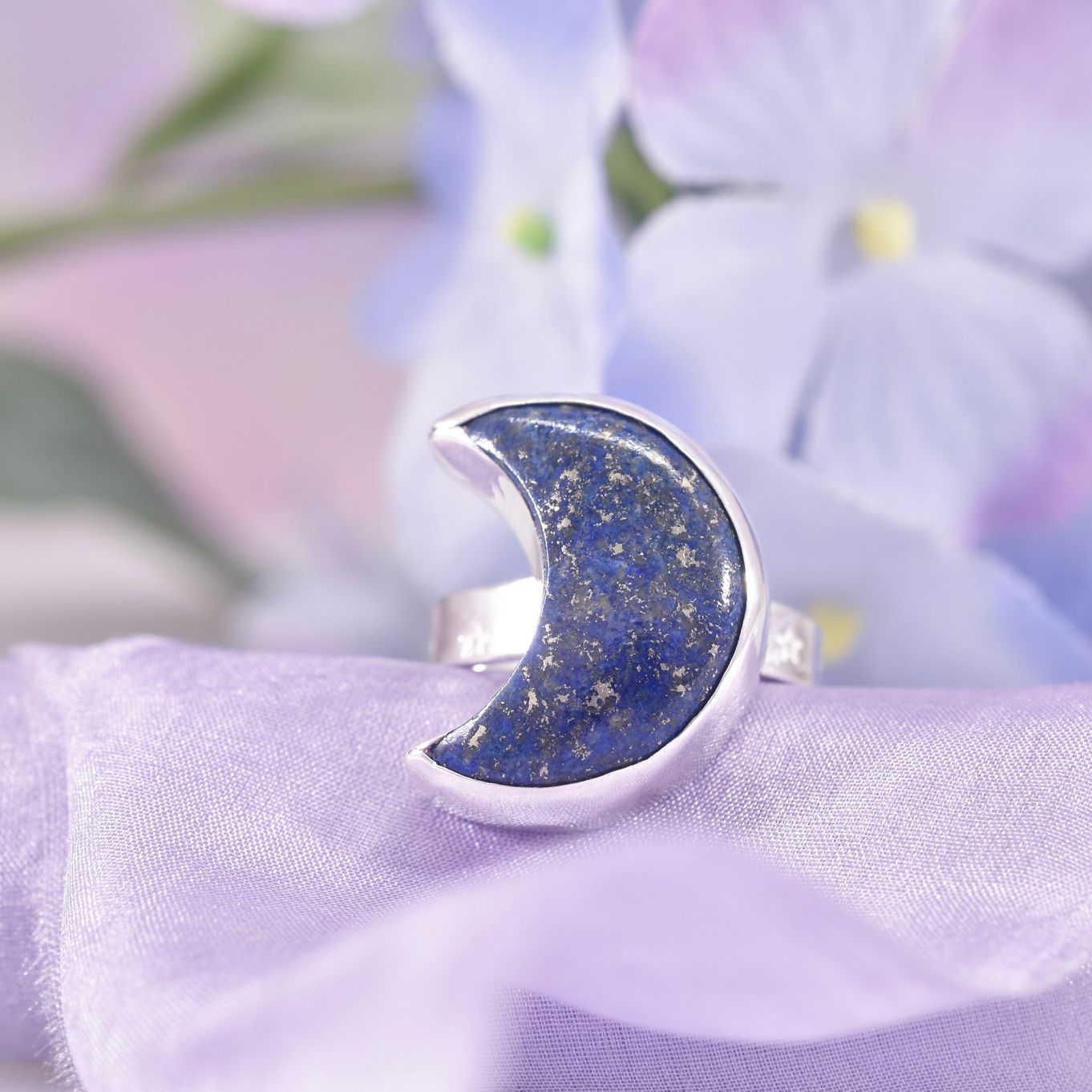 What's your favourite piece of jewellery in your shop right now and why?
For me, it's the lapis lazuli moon ring! It's just such a stand out piece for me, and I enjoyed making it so much! It incorporates my love of gems, silversmithing, and hand stamping altogether, as the ring band is stamped with tiny stars! I'm very much inspired by nature and the world around me- especially the night sky, so this design is almost like taking a little piece of the night sky with you wherever you go.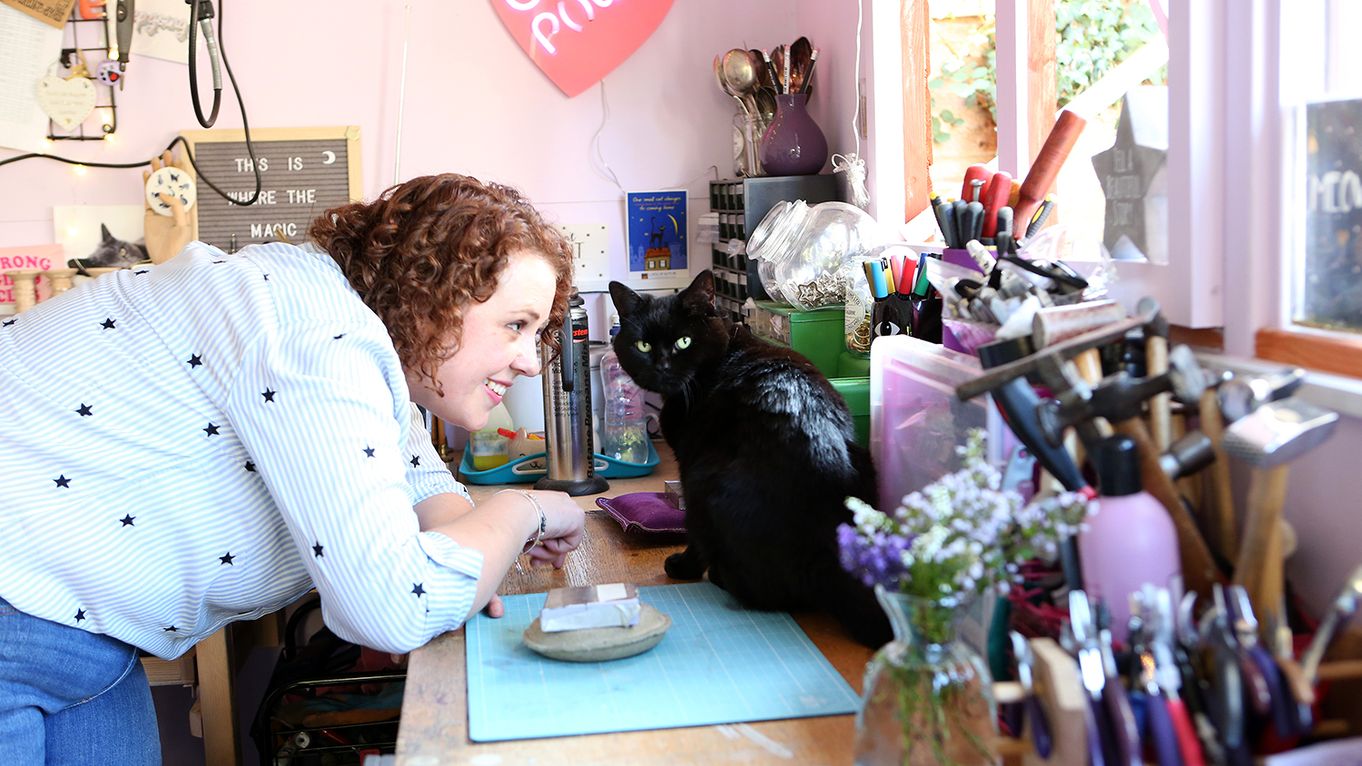 Tell us about your team - and by that we mean your beautiful cats!
Ahh, my gorgeous kitties! Sadly I lost the aforementioned Tigger, the original little black cat about 7 years ago now. But there was very much space in my heart for a furry double act! So we adopted Rosie and Bertie from our local animal rescue! Black cats are so often overlooked, and I was determined that we would take harder to home kitties. We actually went to the rescue with a mind to take Rosie and her last remaining kitten (she'd been found in a Tesco carpark in a cardboard box with her 4 kittens on Christmas Eve, being only approx. 6 months old herself!) But someone had already taken the kitten, and left Rosie behind- so she was definitely coming home with us! Whilst in the cat enclosure, a tall black cat decided he wanted to be friends, so Bertie found himself coming home too! We only know that he was found as a stray.
They're both completely different cats- from personality to looks! Rosie is stubborn, full of mischief, easy going, nosey, happy around anyone. She's also short, dinky and fluffy! Bertie is clingy, timid, vocal, daft, and a real cuddle monster- he gets separation anxiety! He's tall and slim and very sleek!
They both love to come into my studio for a visit- Bertie has his own bed, as he's not too keen on the machine noises, and likes to feel safe, whereas Rosie likes to use my windows as a cat flap and flies through with no warning, generally making me jump! She also loves to sit on whatever I'm working on!
Both love Dreamies! (and are *slightly* spoilt!)
We love your branding! What was your experience like working on this?
Oh thank you! I was extremely lucky with my branding, a friend with a small local business was after someone to make a logo for to get their name out there. I had my name already from Tigger, and my previous 'branding' (just a photo of an amethyst necklace!) to go with. I knew it had to include a black cat, and preferably purple, as amethyst is my birthstone and favourite gemstone. Gemma came back to me with a selection of fantastic designs, and I chose my favourite! Just this past year, it's had a little revamp- it was 'The Little Black Cat' and has now become 'Little Black Cat Jewellery' to match my website, with more grown up fonts to suit my style as I've grown and changed direction. Gemma provided me with the new logo in multiple formats- including a purple outline cat to be printed onto my black jewellery boxes! The basic logo is still the same as my original- I didn't want to lose my black cat and purple gem!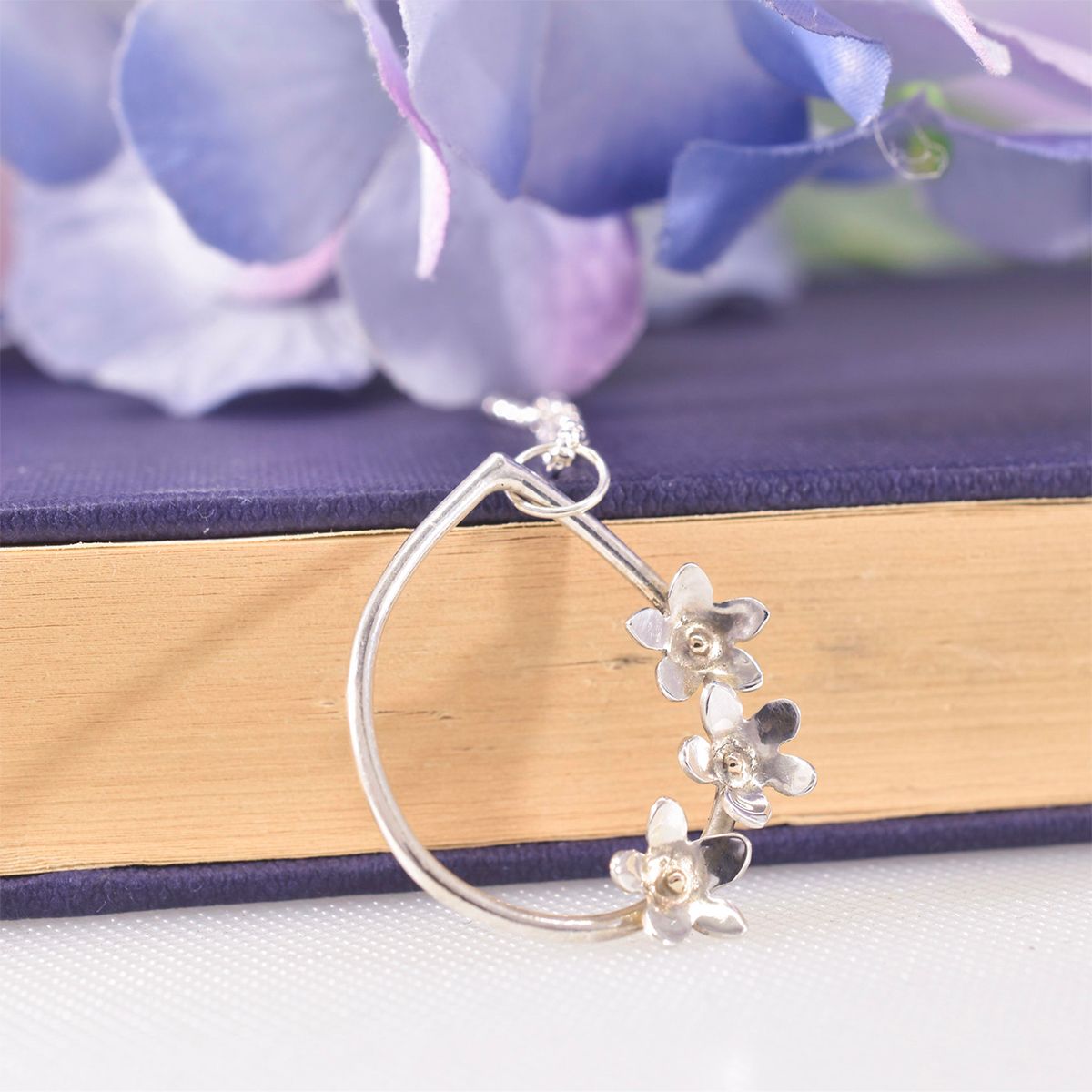 Tell us about one of your designs which has a special meaning.
That would have to be my Forget Me Not necklace. I designed it during lockdown 2, as during the past year, we've all suffered and struggled from the effects of Covid. From not knowing when we'll be able to see our loved ones again, to losing those we love to the illness, the global pandemic has touched every single life worldwide. I wanted to symbolise this with pieces that represent remembrance and connection, love and care. So I chose the Forget Me Not, a simple, understated wild flower, that to me, and many others, carries the message to remember those you love, even if they're still with us. To make memories that last, and care for those who need it the most.
Each Forget Me Not is hand sawn and formed, and finished with a 9ct gold centre, making each piece unique, and each item comes with a forget me not seed paper heart included.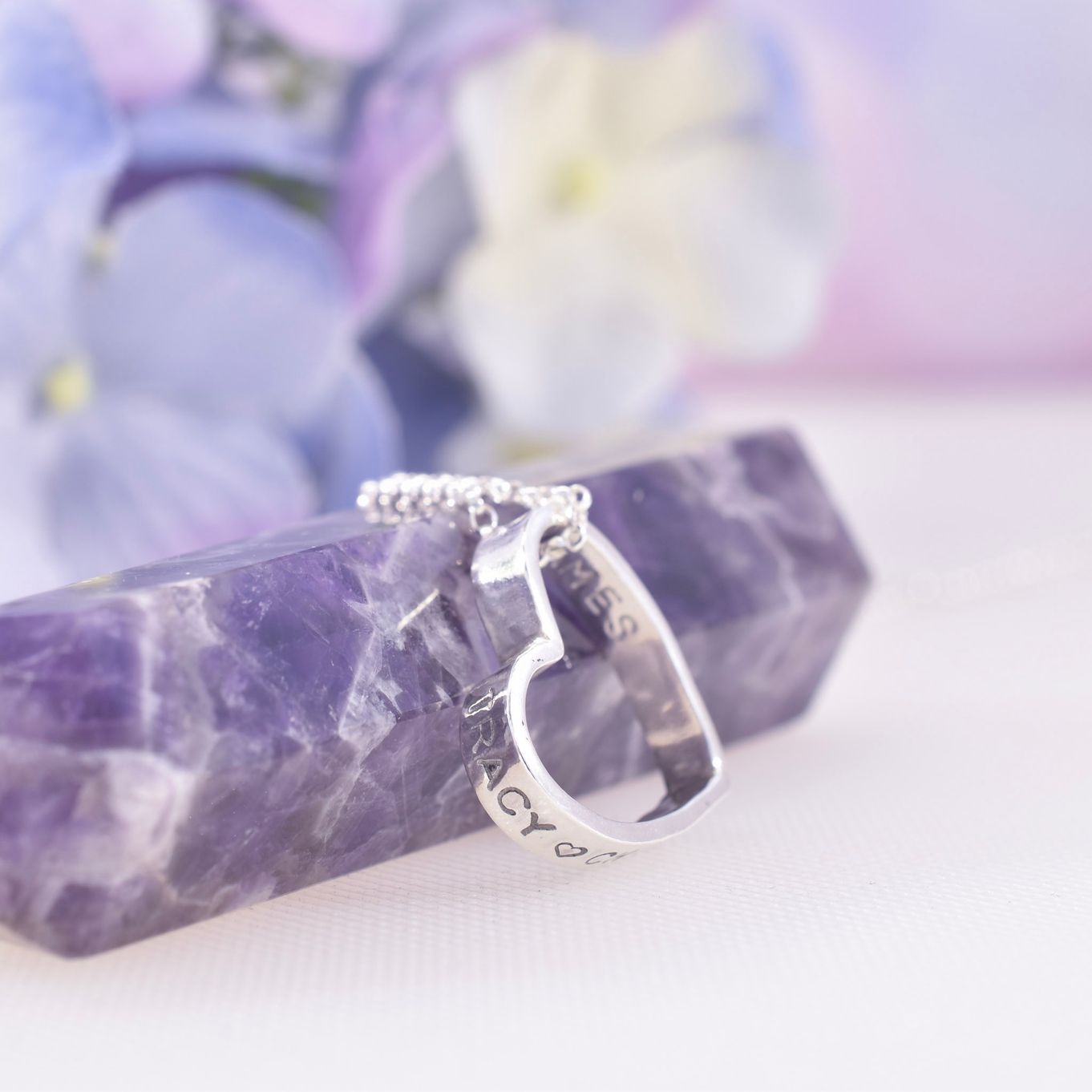 What seems to be your favourite item with your customers and why do you think this is?
It goes between my Adored heart necklace, and my Story bangle, they're neck and neck at the moment! I think this is because both pieces are so personal. They both feature personalisation, from names, to birth years, and they're often purchased as special gifts for milestone birthdays, special occasions, or the birth of children/ grandchildren. I love stamping personalised messages on pieces of jewellery, they make such meaningful gifts.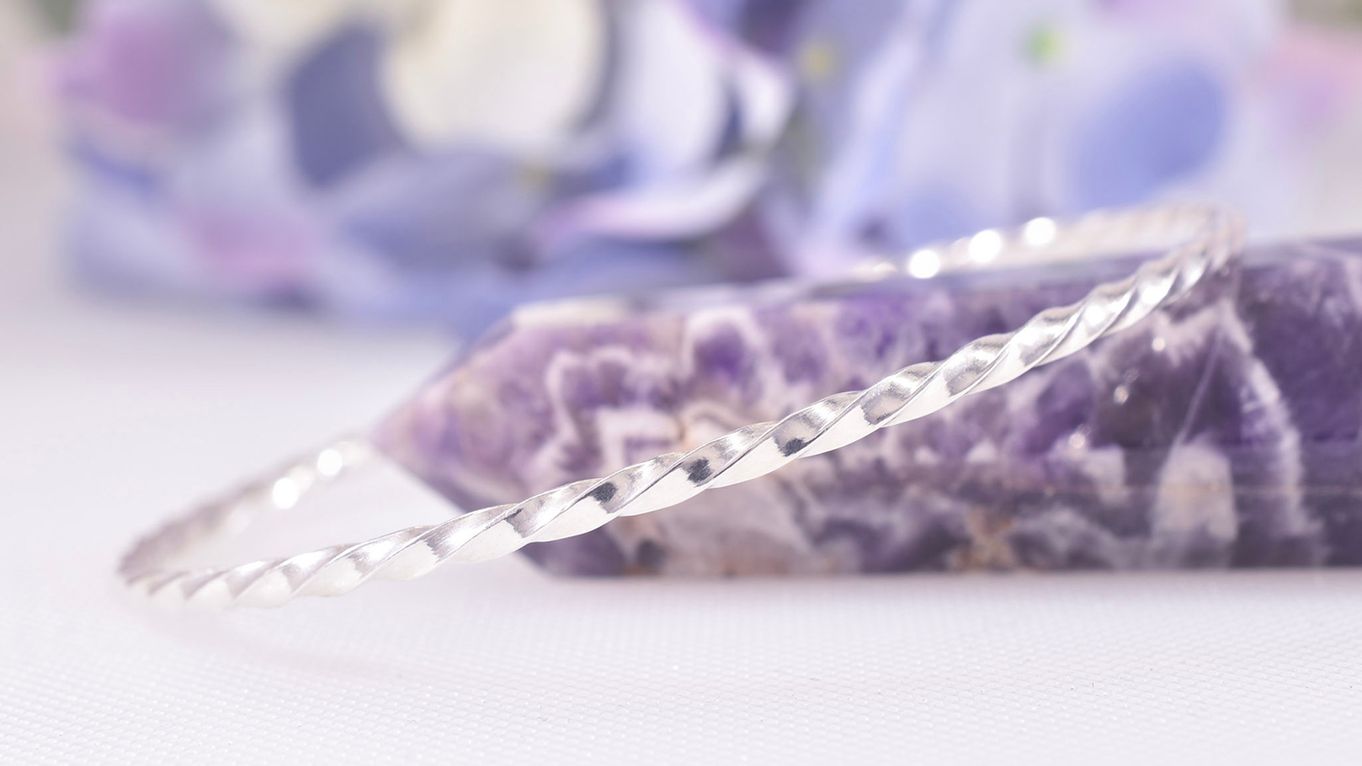 Your photography is beautiful, any top tips for the perfect shot?
Thank you so much! Photography is something I've really struggled with throughout making jewellery! It's not easy at all! I used to use my mobile, which gave great shots, but couldn't quite deal with the tiny details I needed, so I now have a Nikon D3500 DSLR, with a macro lens that I picked up second hand. I'd always recommend a tripod- I get the shakes a lot with the M.E and Fibro, so not having to worry about that is great! Also, a light box to give a nice diffused light and reduce shadows. Always have a play around, get to know your camera, and your favourite shots and photography style. I love a good prop or two, but there is such a thing as too many props- let your jewellery be the focus!
What's one technique you'd love to try next?
I've just had my first go at sand casting! I was terrified at first, but I actually really enjoyed it while I was doing it! I made a solid silver dice for a friend- it wasn't the easiest of makes! I can't wait to have some fun with that and get lots of organic shapes cast as charms and pendants! I followed Kim Thomson's tutorial available to watch on Kernowcraft's website - it was so helpful, and easy to follow! The possibilities are endless!
Top 3 Kernowcraft products and why!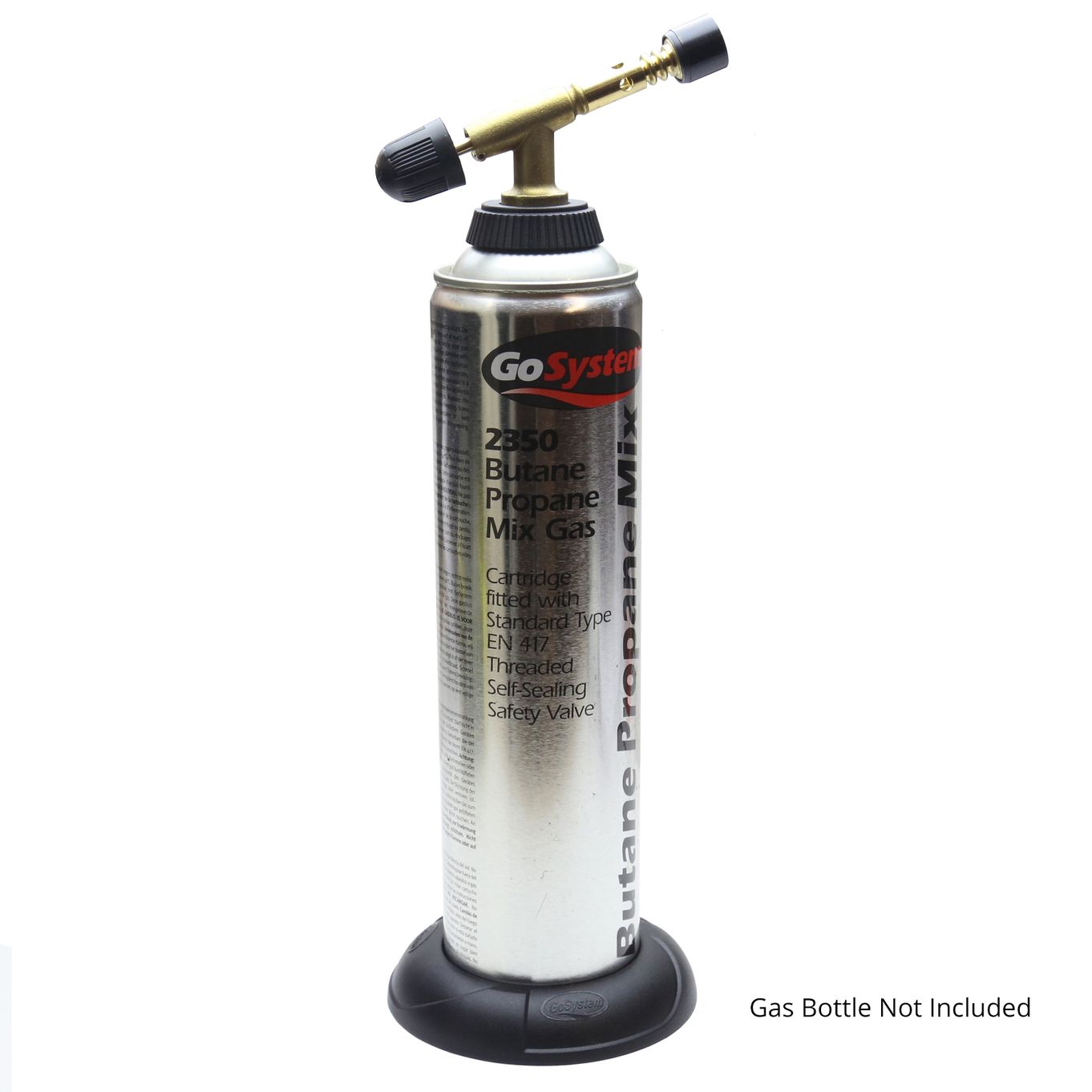 My number one is the GoSystem Tech - I love GoSystem torches! They're easy to use, affordable, don't affect your insurance as they're a household item, and they really do the job! I use mine for everything, from jump rings to bangles!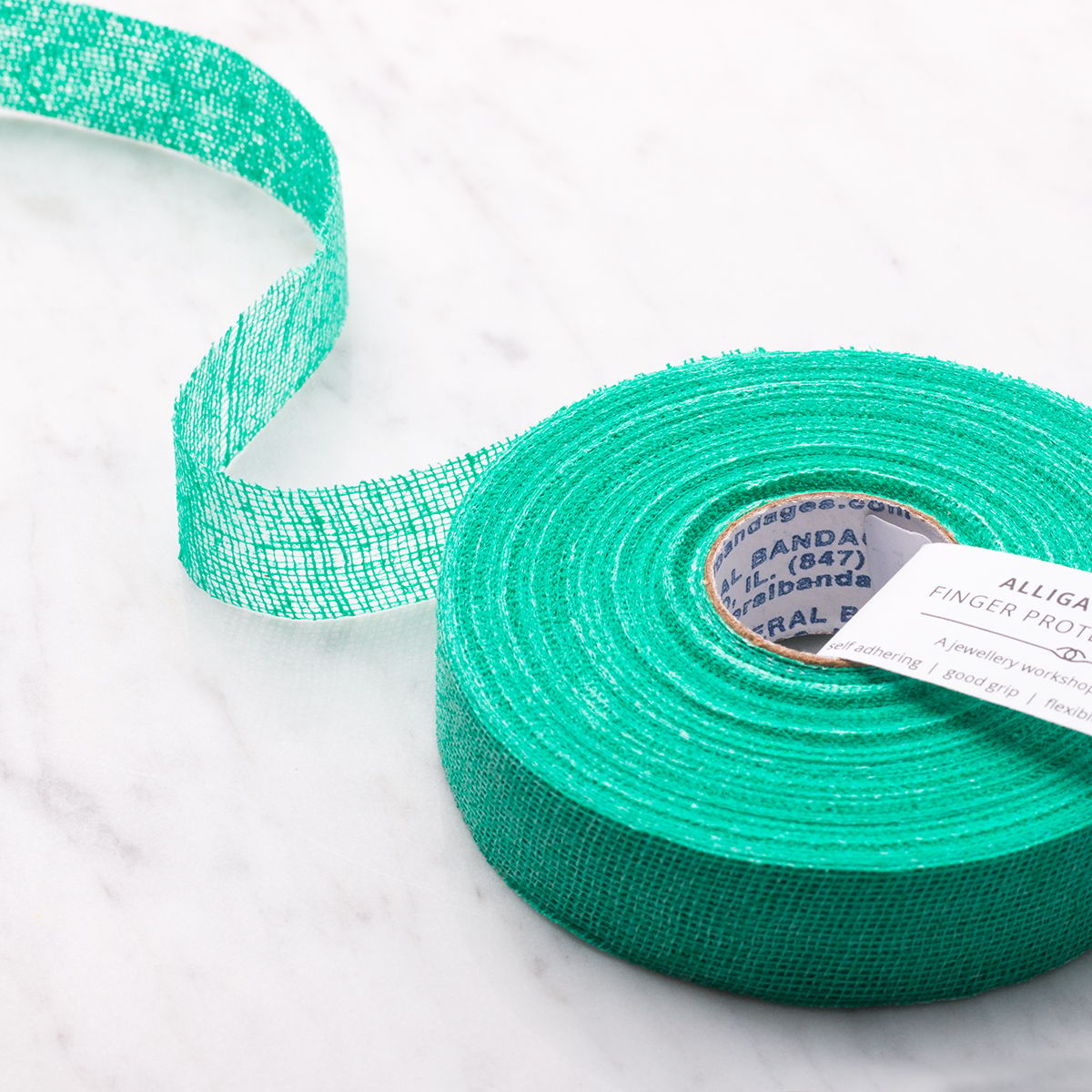 My number two is the Alligator skin protection tape. All that filing and polishing really takes it out of my hands, and this tape is brilliant at protecting your fingers and nails! It's also great for stopping me putting saw blades through my fingers!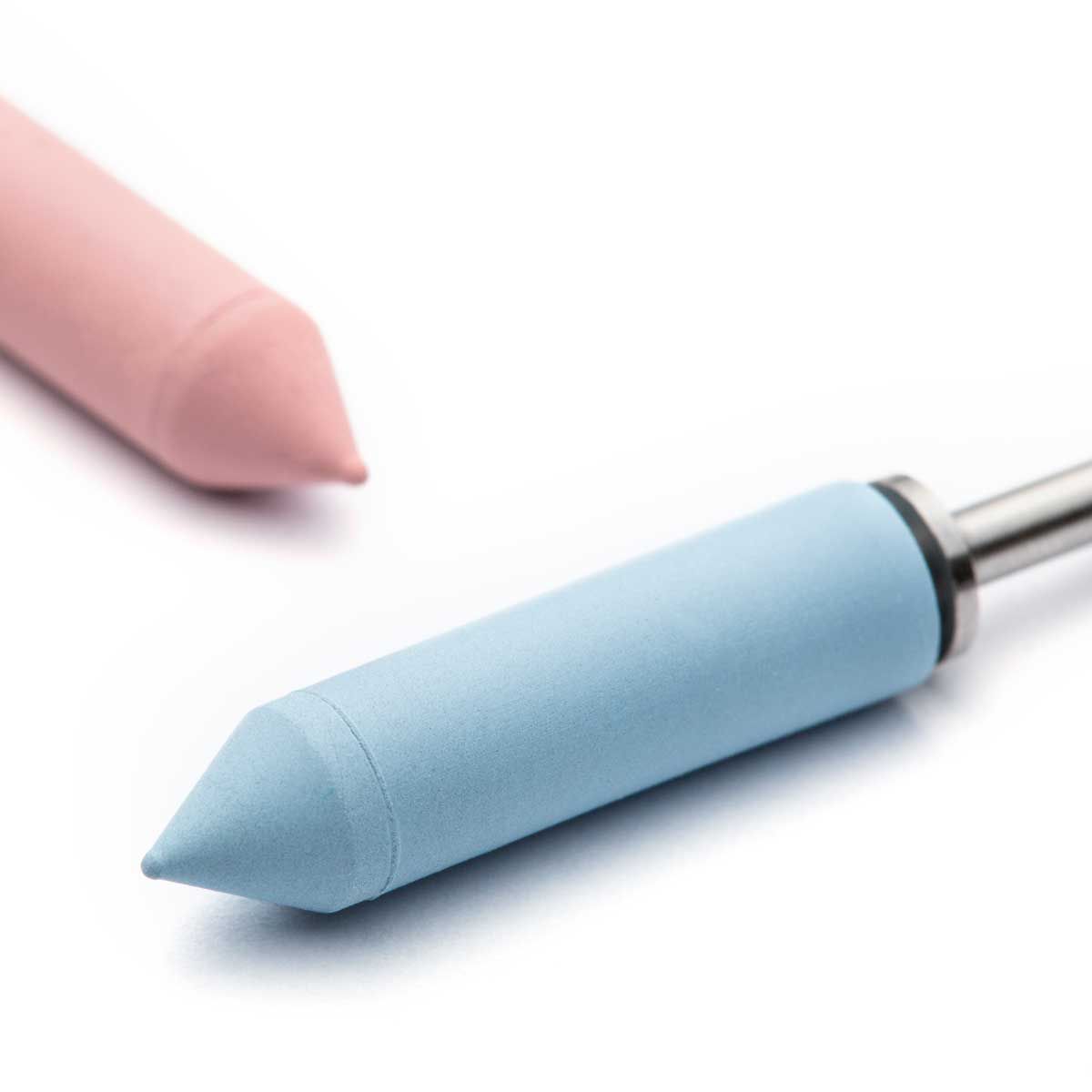 My number three are the Silicone Carbide polishing bullets - they even make my ancient Dremel into a useful polishing motor! I use all the grades before I use my barrel polisher for a great shine on my jewellery!