Magical & Whimsical Jewellery With Manom Jewellery
Hi Mayo! Thanks for joining us on the blog, firstly tell us how you fell in love with jewellery making!
My pleasure! Thanks for having me! I always love making things no matter what it's going to be and with any kind of materials. So there was no doubt that I would love it. I originally studied dress making / haute couture at college in Tokyo which I loved. But while at college what I realised was that I loved making little accessories to go with the dresses I made. I love cute little things and I love putting a small imagined world to that little space. At that time my jewellery pieces were made with all sorts of materials like fabric, clay, paper, resin etc. But when I started working with silver, it really opened up the possibilities and it worked out really well to be able to create what's in my mind as real life 3D objects.
I also love the fact that by using silver you really can work things out as you go. Obviously pre-planning and having a direction is really important but if you change your mind in the middle of the process, you can chop some metal off, or then solder back on. It's a very different deal from chopping the hem off of a silk dress for example, because there is no going back there! Maybe because I'm quite an indecisive person, working with metal allows me to decide things as I go and make sure I'm 100% happy with my decision with each step, that's what I really love about silver jewellery making.
How would you describe your jewellery in 3 words?
Magical, whimsical, storytelling
What would you say are the ongoing themes which run across your designs?
Magical stories from my imaginary "Yogelherp Forest"!
How did you learn jewellery making and do you have any top tips for beginners wanting to try the craft?
Particularly for silversmithing, I was lucky enough to learn everything to start with by working at Alex Monroe Jewellery, where I've been for the last 12 years, starting from an internship. Working with other skilled jewellers is such a great treat too. We always share little tips and useful knowledge.
But more than anything, experimenting is a massive part of learning for me. I'm never very good at being in a "class'' (my brain gets frozen when I try to read the textbook or am verbally told things) so the only way for me to learn is to have a go. Have a go, analyse the result and repeat until I get it. I enjoy working things out / problem solving, and when you finally learn one thing then that skill opens up 10 different ideas of things to make which is such a great and exciting feeling (sometimes almost overwhelming!). Loads of late night crafting / practice was involved too.
So I guess the top tip from me would be to just have a go making anything you get excited to think about. Imagine how great this thing will be when you finish it (doesn't matter if it's actually turned out great or not) and if you make a start once, and if you don't stop, I believe you'll get there sometime!
Also, when I have absolutely no idea where to start, I watch Youtube videos. There are so many generous people sharing their great knowledge & skills. I get the general idea of it and then start my favourite part of ''have a go and work out, then practice''. Probably not the quickest way but seems to be working for me.
"Each piece has different stories behind it and I feel very grateful to make them to be loved by the owner and be a part of their life story..."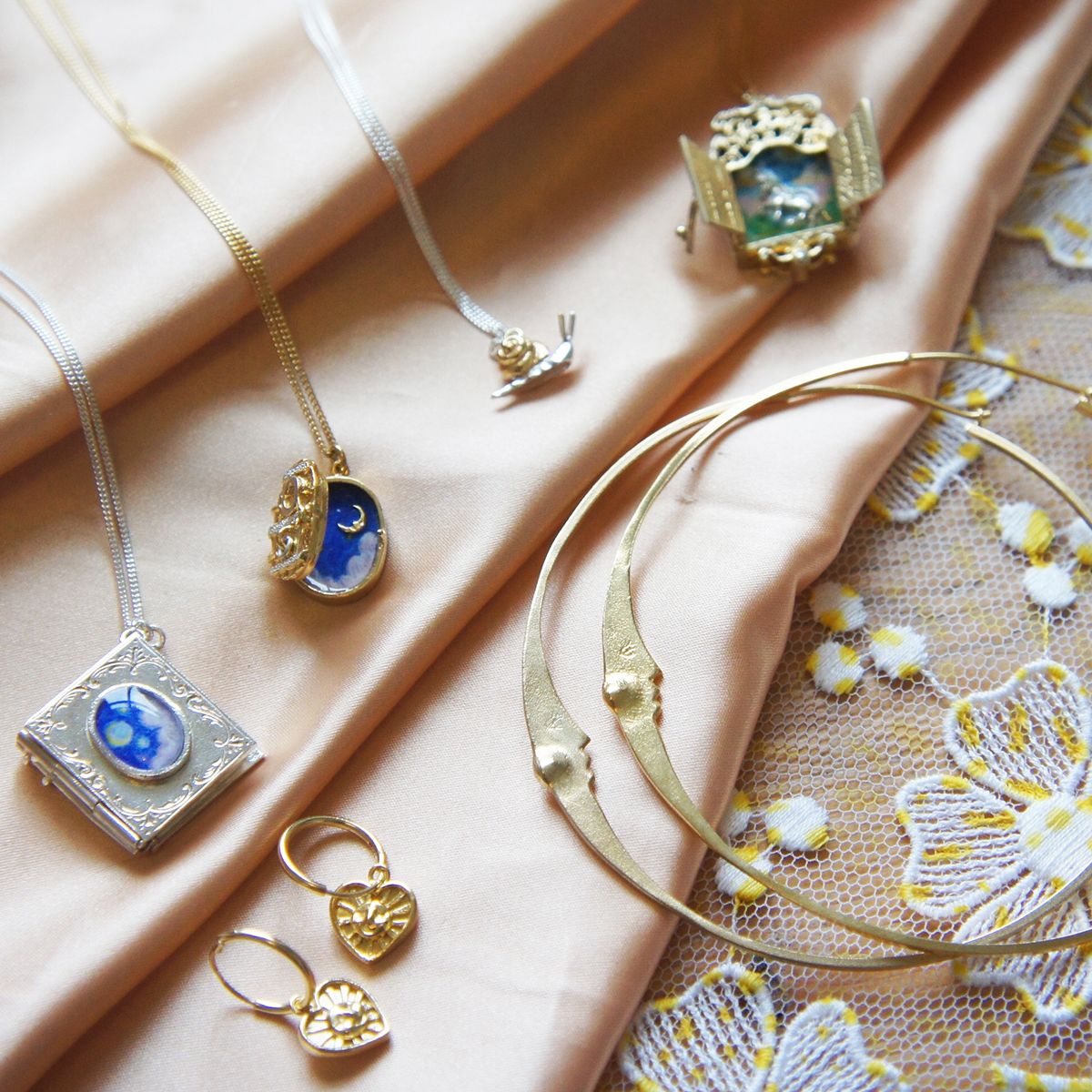 We love how dreamy and unique your designs are, how long did it take you to find your 'aesthetic' and what advice would you give to those struggling to find their own
Thank you! I think it might be an endless journey with that but it's nice to hear that my pieces have a recognisable style already!
I always know what I love or how I want my products to look like so it took zero time to find it in my brain but it took years before my skill was good enough to duplicate it as 3D objects, to the level that I feel happy with.
I think it's like a chemistry of what you love, what naturally comes from you, and what you actually can do (skill-wise). When those three different things meet in one place that's where magic happens.
If you feel like you haven't found your aesthetic (I believe everyone has it already, subconsciously inside you), simply spend more time with what you love. Feed your mind with all the things (visually or not visually, music or any other experiences) that makes you happy or feel connected with any other emotions. Also always focus on what naturally comes from you and listen to your mind carefully to see what gives you heartthrob. Ignore the trend! Ignore what your friends love! Ignore what famous celebrities shared. And the last (but probably the longest) way to get there is just do more, try more, make more until you feel like you found one. I'm guessing that might be the only way. Easier to say than do. I have this problem for my drawing work so I'm not really giving advice, it's a journey to share.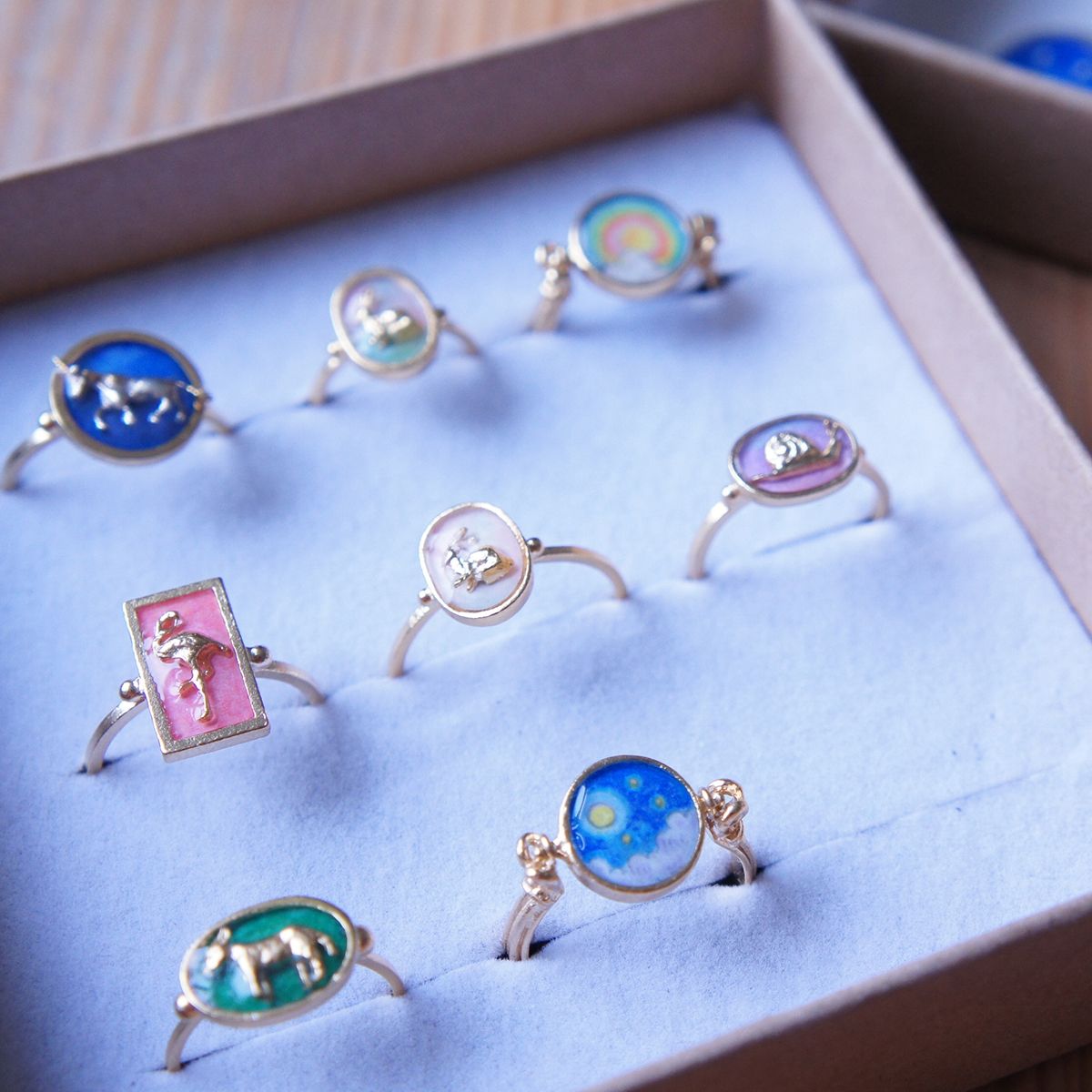 What's your favourite thing about doing commissions and do you have a favourite piece you have worked on?
The best part of it is that I get shared someone's life story. I love the connection we make through the process of designing. I love to know about this person and I get so attached to their life story and the people themselves. I do genuinely feel like I make new friends, because so far every customer has been so nice!!
And when I finish the work or when I think back about it, maybe because mostly I never get to meet my clients face to face, I feel like I finished watching one amazing beautiful film that I will always remember. Maybe this sounds weird as they are real people (I hope they don't mind me saying this) but it really feels like that.
And sorry for a boring answer but they're all my favourites! Each piece has different stories behind it and I feel very grateful to make them to be loved by the owner and be a part of their life story.
Tell us about your workshop and how you make it your own
It's a tiny room in our small flat in South East London. Just enough space for a work desk and my tiny bench that I built to fit in this tiny space. Wish both the room and the bench are a little bigger (one day!) but I shouldn't complain! There are only things I love. Fun jewellery tools (all jewellers are tool geeks I bet!), pots and pots of pens and brushes for paintings, exciting materials for all sorts of crafty things, some plants and loads of pretty little things I've collected over the years. So it really is my happy place. I just need to make more effort to keep it tidier!
"This is jewellery for you to daydream with. I'd like my pieces to be a little trigger for people to feel a magical moment to pause, smile and be drawn to this tiny miniature world..."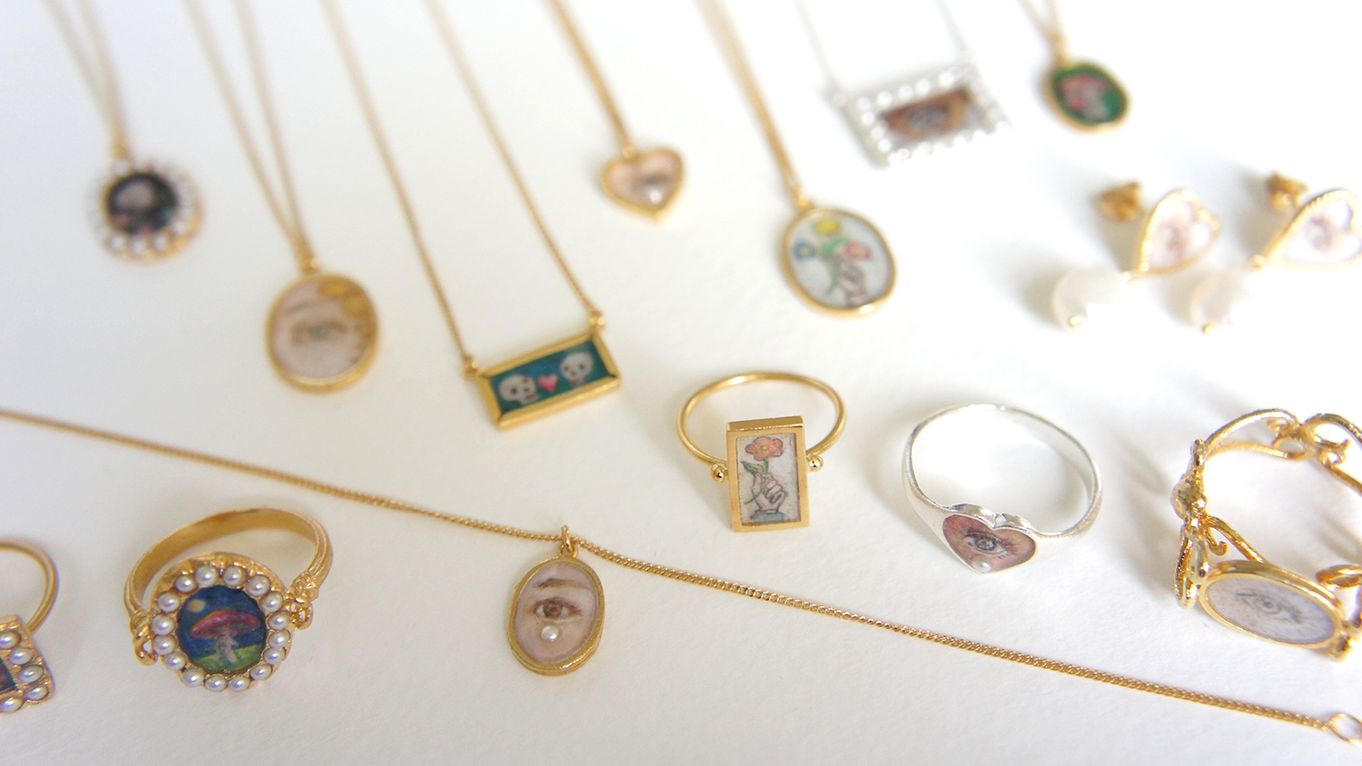 Your illustrations are beautiful, tell us more about your design process!
Ah that's so amazing to hear! Thank you! I'm a completely different person when it comes to talking about my illustrations. I never have an idea what I'm doing like I do when I make jewellery. There are loads and loads of rubbing-out involved.
I usually (at least I feel like) have a clear vision of what I'd want to draw / how each element will look. Even quite specifically to the details. They all live in my brain before I start drawing. If it's a character I know what she looks like, what she wears or hair colour, what her personality is like. If it's scenery, I know how they look, what exists where etc… those things would've been pre-imagined to the detail in my brain before I start drawing, so my design process is more just transferring what I see in my mind exactly onto the paper and confirming if it looks correct. There are loads of frustrating moments when I know how exactly they should look but my drawing skill isn't quite enough to express it. To help capture the detail, I'd have to study each element a lot, ideally seeing them in real life but also google images are very helpful.
As much as I LOVE drawing since being a child, as I mentioned above I feel like I'm still discovering my ''aesthetic''. Perhaps I haven't found my chemistry area yet. Those 3 things I mentioned before – what I'm in love with (in terms of seeing other artists work), the style that naturally comes from me, and also the skill – those 3 things are still floating separately in the air.
However I am very much enjoying the process, and in my drawing journey there is more to try, more to discover, more to learn.
I recently finished my first story book, and I was so so so happy to be able to finally share my imagined forest and characters with other people with some visual content. No matter how I feel about my drawing quality, this has been one very exciting way to share the story and make my imaginary world to be in a more solid place.
What was your experience like launching a website?
It was a very important moment. I was always making my original jewellery alongside of a full time job and my jewellery range grew very organically. But after 10 years it seemed to be a good time to put it all together in one place to showcase, and that's how Manom Jewellery officially started.
"My favourite is when people say my jewellery reminds them of something from childhood - a little trinket or something precious for them and I always love listening about it..."
My current packaging is very brown! They are partly recycled, fully recyclable, including the outer posting bag, apart from the foam insert from inside the jewellery box. Also the tissue paper is compostable & biodegradable.
I went mad once making original stamps, so the boxes and outer bags are branded. So the foam insert is a problem really! I've been on the mission of exploring the alternative but being a small business, not to be able to commit to order thousands of boxes at once, choices are small! Definitely keen to upgrade my packaging sometime. Hopefully soon I can offer a 100% eco option that also looks pretty!
How would you love your customers to feel when they wear your jewellery?
This is jewellery for you to daydream with. I'd like my pieces to be a little trigger for people to feel a magical moment to pause, smile and be drawn to this tiny miniature world. Our world is spinning way too quickly with lots of non-important distractions, it can't be a bad idea to escape from it for a second and travel to your own imaginary world. Also they'd choose to wear my pieces for themselves, not only to look prettier but also to feel happier and to love themselves even more ♡.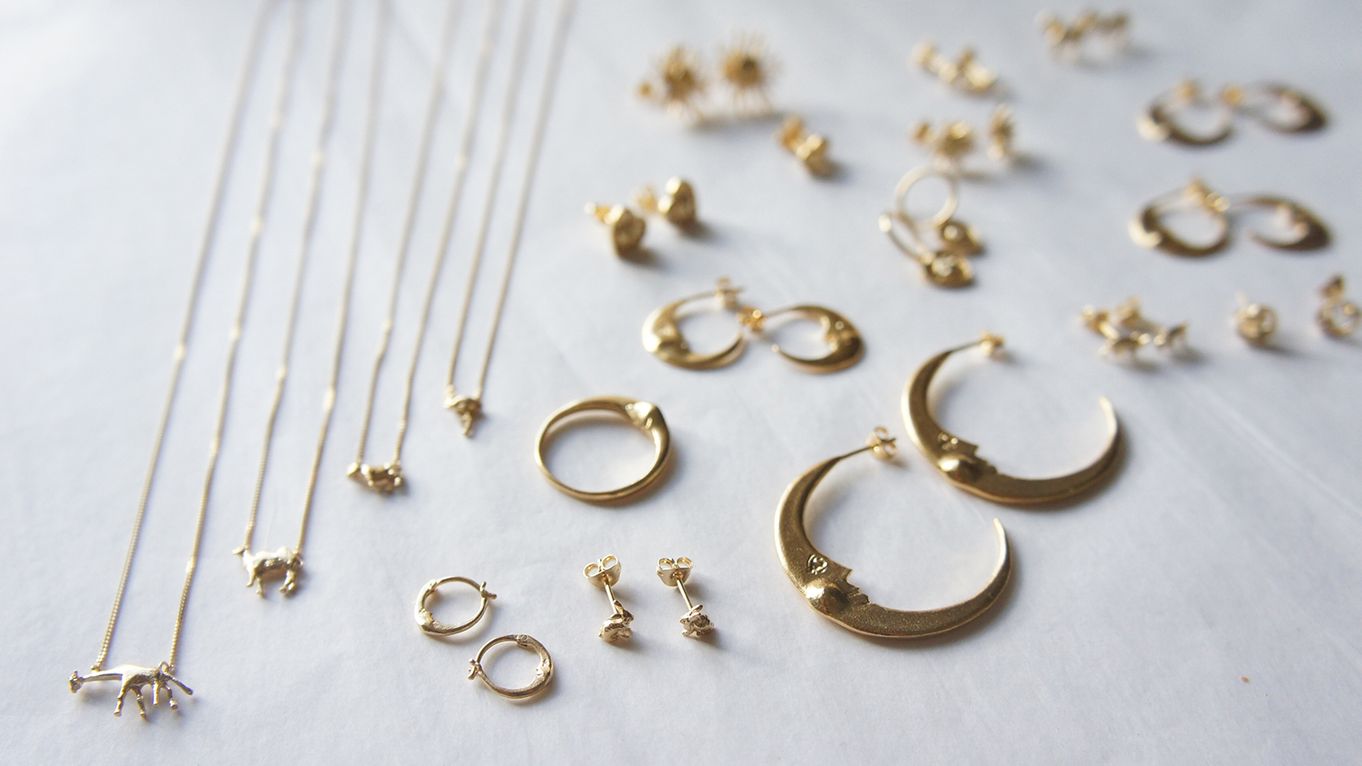 You outsource casting and gold plating, is this something you'd recommend to other jewellers?
It would be depending on what your pieces are like, and what the format of your business is (are they one off pieces? or bulk produced pieces or work on commission etc).
It suits to my production so personally the answer will be yes. They are the pro. They know what they do and manage to do such a fine job. Because my work is so intricate, it is very important to work with the caster I trust and know that they can make reliable moulds and cut the mould in half in the most magical way (honestly, mould cutters, you have all my respect!). Same goes for plating. Happy to leave that to its professionals, and I'm just the happiest when I work on my little bench.
Also to add for gold plating. I work with D&M jewellery who is certified to use Fairmined gold for plating. I am also a certified brand by the Alliance for Responsible Mining (ARM). I was really happy to switch my gold plating to Fairmined Gold last year. It's really important for me to know that the people mining are paid fairly, are in a safe working condition, and that there are no sad scandals to be found there. Also they're making a great effort for protecting the environment too. Switching to Fairmined gold and working with ARM allowed me to have great transparency also – I can track back all the way and know exactly where the gold that I use comes from and who mined it. And particularly with this mine, they are managing to operate the process without using mercury which is amazing.
Are there any techniques you'd like to try in the future?
I'd love to enamel! I did a day course that completely overwhelmed me and almost made me to be shy to it. I use cold enamel for my pieces which has a good effect and I'm happy with the outcome but oh imagine if I can do a real enamel to create a beautiful night sky in my locket! Also wax carving. I have a few ideas that I want to explore by using this technique and then casting. Alway too much ideas and too little time! Gold or silver? Gold! Or combo!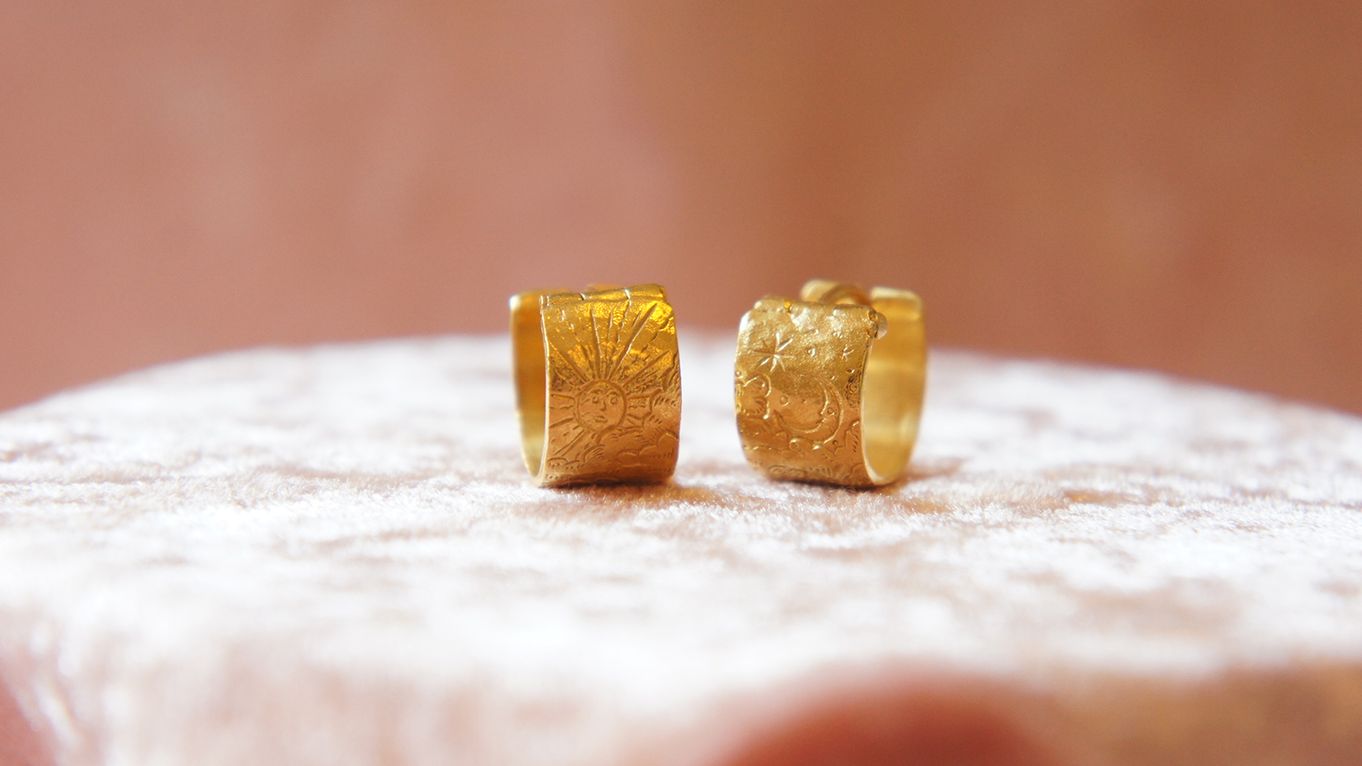 What steps do you take to be an eco-friendly jeweller?
Steps that have been made:
As talked about above, one of the biggest changes has been switching to Fairmind gold for my gold-plating, which I'm really happy about! Additionally most of the silver I use is recycled, and any scraps / dust etc will also then be sent for recycling again. (But this is a common procedure in the jewellery industry for all of its history).
Other than the metal side, my studio is run with green gas and electricity (from Bulb). Also I hate throwing things away so I keep everything for potential future use – and usually it comes in handy for something later! I make my jewellery to last for years or over generations even. And I am here for any re-conditioning / repairing. I'd like to think that my pieces are existing outside of the trend / boom cycle, so there will be no going too out-dated. Packaging as mentioned earlier is mostly recyclable (apart from the foam insert – on my list to upgrade soon!). And I'm a part of the Ecologi community, so every month the business donates to plant some trees, in the UK and other countries, and also to carbon offset projects to reduce carbon pollution.
Steps I'd like to make:
My pieces are mainly made to order which is known to be eco friendly but actually I'd like to work on carrying some stock for all the pieces, but small amount when I can afford, so I don't need to order materials as frequently to reduce postings. Some gemstones I use don't always have 100% transparency available for its origin or production. I'd love to spend some time exploring the options and switch them to more traceable alternatives and to make sure it's ethically sourced. I'm working at the moment on some of my items to be available in 9ct Fairmined gold. I'm still on a big learning curve and so I'd love to hear more about what others do too. I'm sure there will be things I haven't thought of!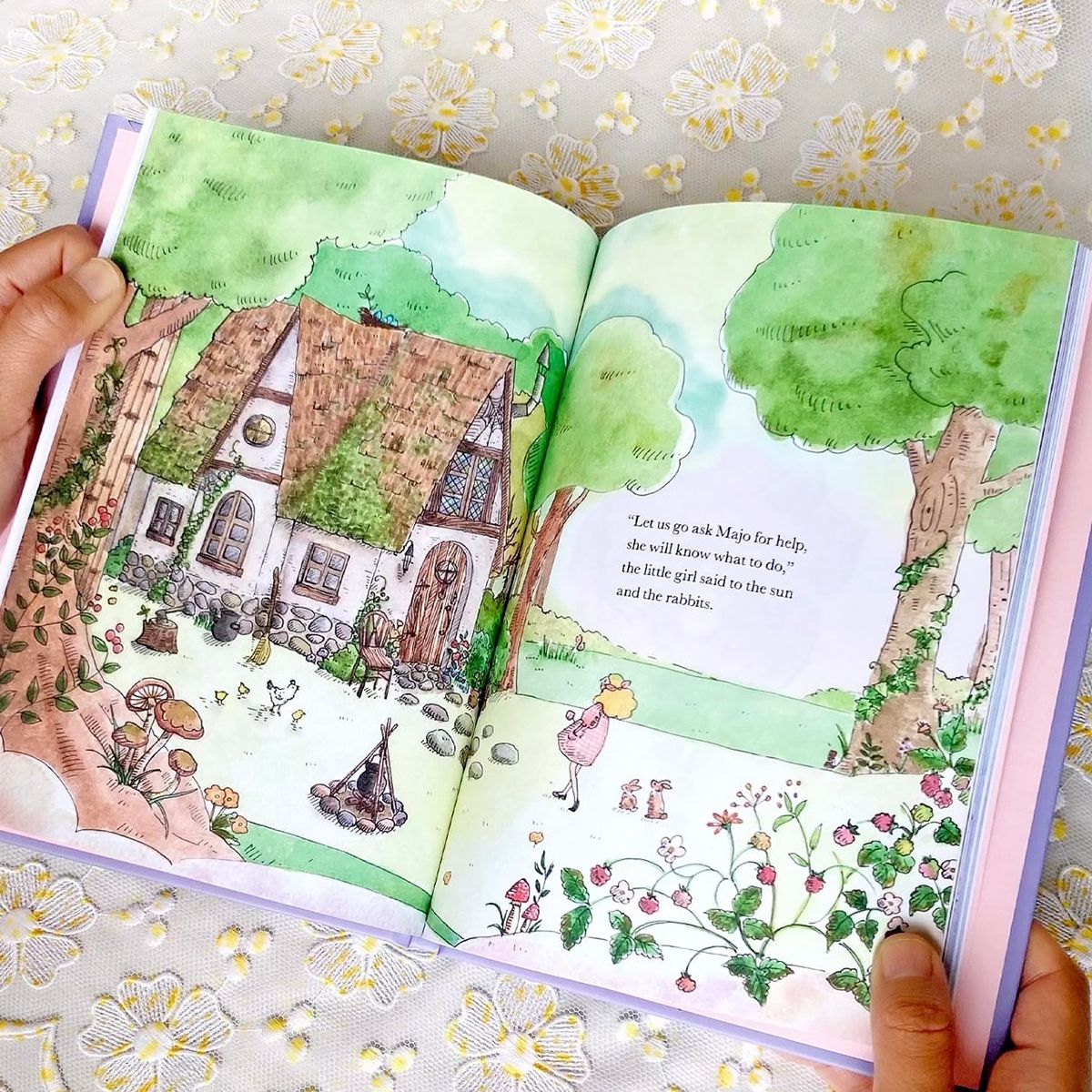 Animals feature a lot in your designs, why is this and what is your favourite animal!
I love animals! (Who doesn't!) Some are based on characters from Yogelherp Forest, which is a place where a lot of my creations & stories come from. My Tiny Friends collection is slightly disconnected from this though. I started making that collection straight after I came back from my trip to Tanzania. I was so impressed and attracted to all the animals I saw there and felt inspired to try and recreate these (and more!) in miniature. It was such a fun challenge to make them as tiny as possible out of metal!. I just thought it's really fun to make a very simple fine necklace with a tiny bit of metal which you can hardly see that it is actually a tiny tiny tiny animal!
Giraffes have been my favourite all my life. I don't know why. They just look pure magic to me!
You've had your designs worn by Kate Moss and Fearne Cotton! Amazing - how does this feel?
It was really amazing and encouraging! Also felt really lucky to be working with some amazing stylists. It was a very buzzy moment!
What's your favourite gemstone and why?
Opals are an absolute miracle. And I think Alexandrite is magic too. And when Sapphire / Tanzanite / any gemstone comes with bicolor I feel like dribbling. Then I recently fell in love with natural spinel when they have such gorgeous soft colours almost slightly dusky. So this is an impossible question!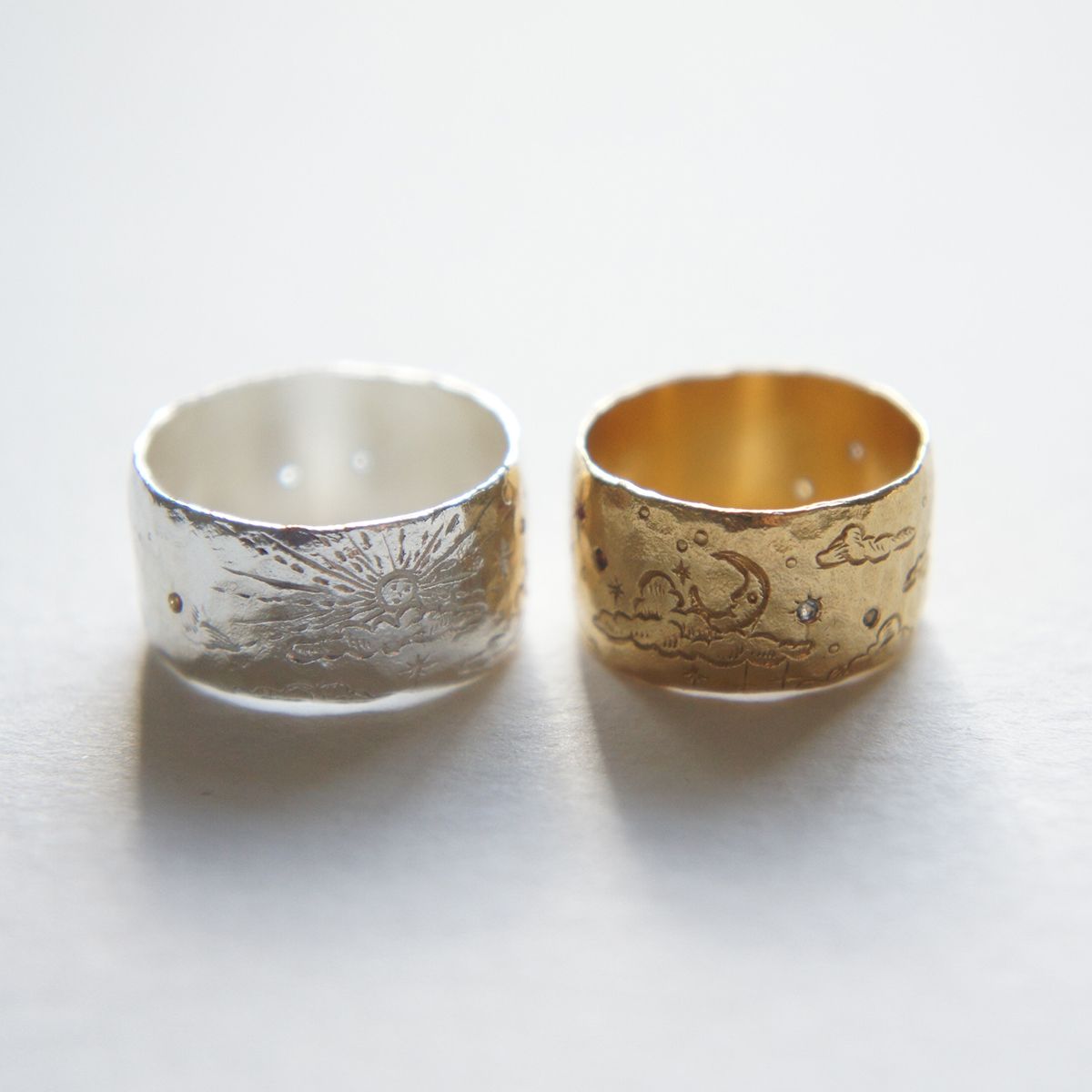 What's your favourite collection right now?
Retrouvailles I guess, which I just launched a few days ago! (Hooray!) It's based on a story of the Sun and the Moon's reunion. It was a really fun journey to work on textures, intricate details, mechanisms, and playing with colour. I collaborate with amazing people and I also made a picture book to go with it. So, so much creativity and energy is in it. However to be honest, I haven't been thinking about it anymore since it's launched as my mind is elsewhere thinking about the next thing so probably I should say the current favourite collection is the one coming up!
What's your most popular design and why do you think this is?
My moon hoops is the Queen. Maybe because of her gentle smile or cheeky cheeks ♡
Tell us about your experience with markets and why you love them!
I usually only do a few each year. A couple before Christmas and one in the Summer. I always loved it but especially after missing a few during the pandemic it was so nice to come back to it and talk to people face to face again! I'm quite an awkward person and definitely not confident to be doing customer facing job. I still get really nervous but honestly everyone is so nice and kind, and generally so interested in what I make. I've had so many great conversations. My favourite is when people say my jewellery reminds them of something from childhood - a little trinket or something precious for them and I always love listening about it.
"One day I hope all of the things I make whether it's jewellery or not, all comes together to tell magical and strange fairytales..."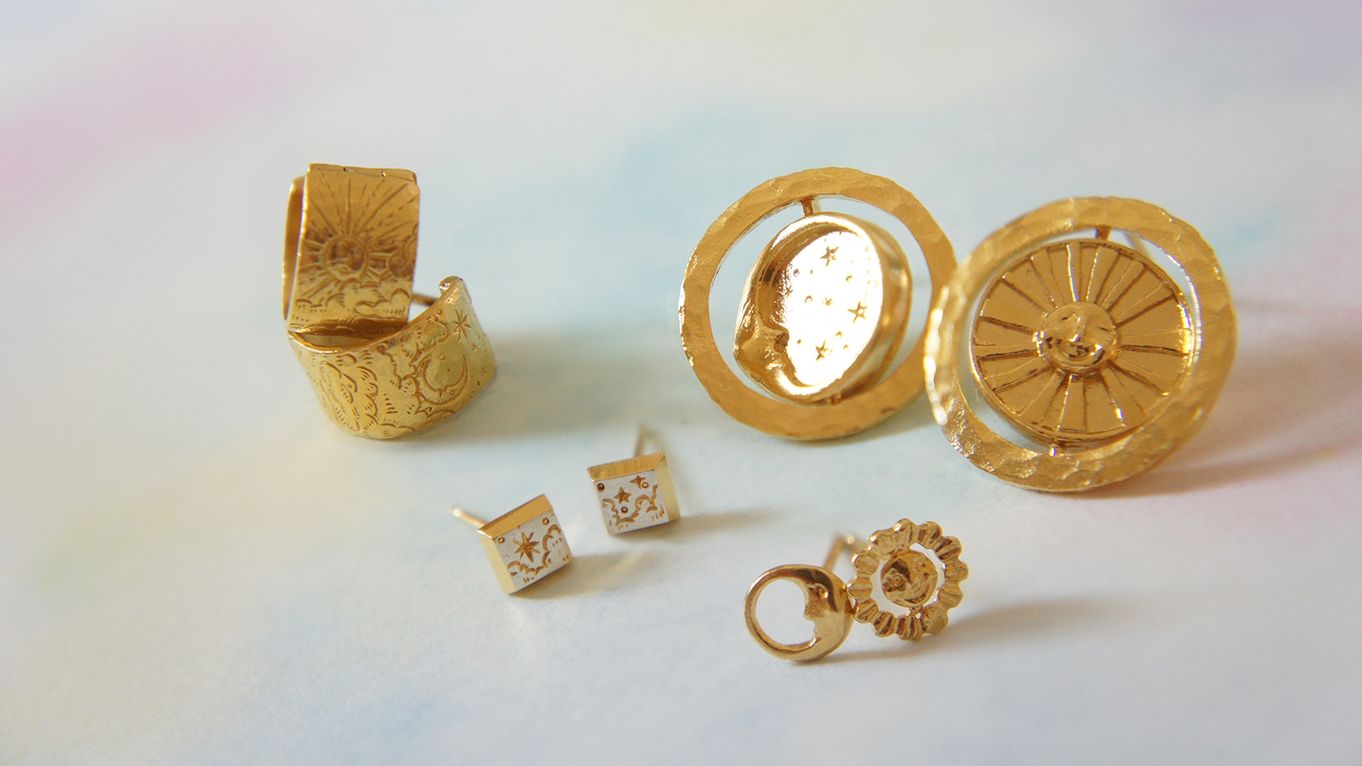 What do you see in the future for Manom Jewellery?
Eek, I don't actually know. My brain is full of ideas and excitement for things that I'd like to make but I don't necessarily know where those things will take me.
When I have side things going on that isn't jewellery I use the label "Manom Creations". I'd like to see those two labels coming together more. Jewellery is one of my tools to express my mind (most favorite tool!). But it's always the stories, which are the core of my creations, that I want to share and translate into experiences I can provide.
It must sound like such a bad example of ''business planning'', but seems like I am only just having a go with things I'd like to create one by one from a huge list, there is no clear vision / goal I'm aiming towards for the future. I also know that things take time especially with me because I'm such a wobbly snail.
But one day I hope all of the things I make whether it's jewellery or not, all comes together to tell magical and strange fairytales. And it would be so amazing if my creations somehow re-call or enhance everyones imagination, and create connections between people's hearts.