Etsy Success & Personalisation With Little Homebird Jewellery
Running a handmade jewellery business can be tough! It can be a challenge to get your jewellery noticed in this saturated market and gain sales through platforms such as Etsy. Today, we speak to the talented jeweller that is Jessica from Little Homebird Jewellery. With over 6,500 sales on Etsy, Jess shares her top tips for success, including how she uses SEO, product descriptions, packaging and photography to get keep those sales coming in. Jess specialises in personalised jewellery with hand stamped designs and beautiful gemstones. Find out all about how her business started, how it has evolved over time and fall in love with her elegant and meaningful designs.
"It's kind of mind blowing to think that over 6,500 people have trusted me to make something special for them, and I'm incredibly humbled that they have..."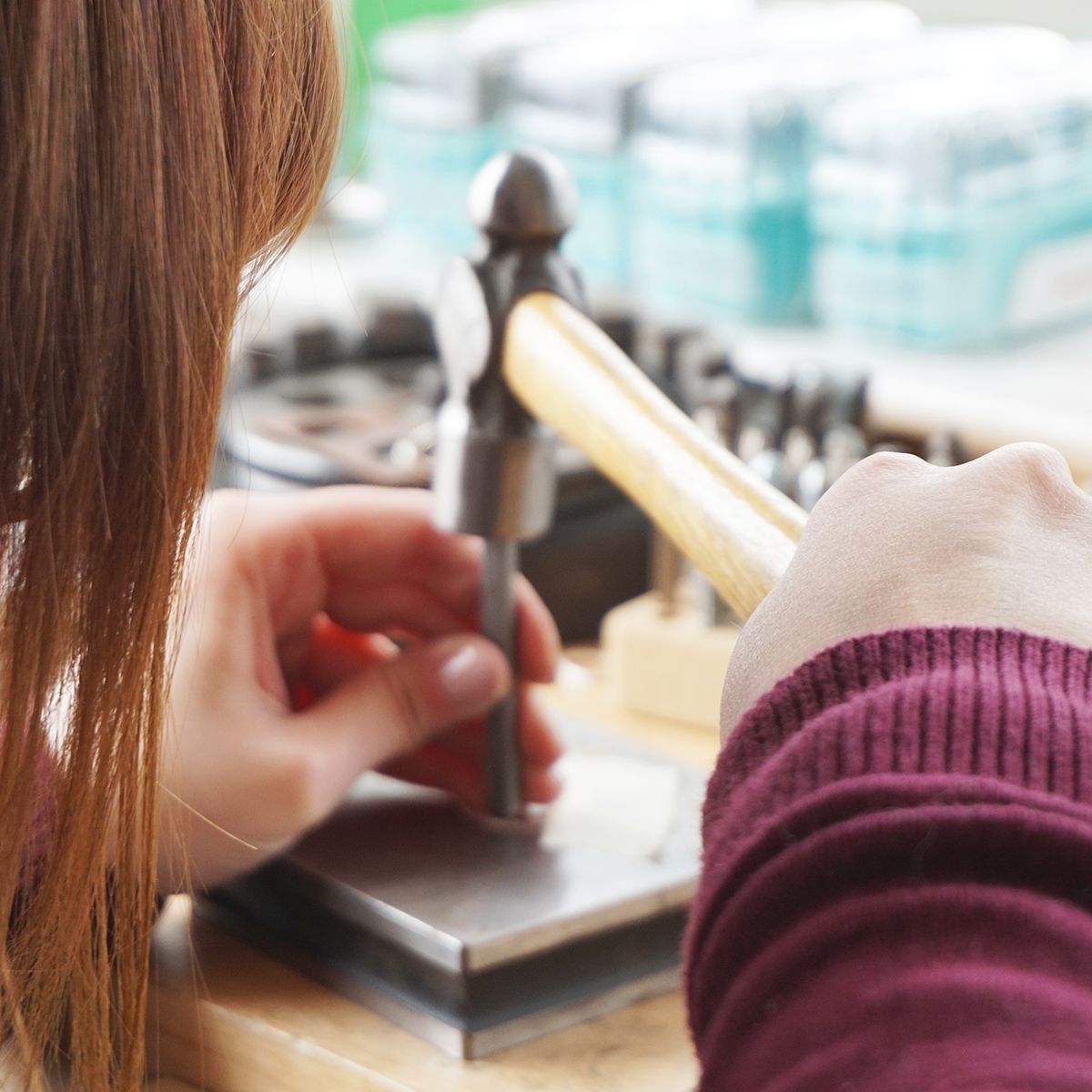 Hi Jessica, how did you first discover jewellery making?
I really fell into jewellery making! I'd finished university (studying printed textile design) and had a stream of minimum wage part time jobs. I was pretty broke one Christmas and decided making a few gifts would be cheaper…I got my my hands on a metal block and letter punches and haven't looked back since!
When did you decide to turn your hobby into a business and what gave you the push to go for it?
Unfortunately during the early months of 2014 I found myself out of work, and back on the hunt for yet another boring job. During my down time from job hunting I found myself creating more and more, posting about my hand stamping journey on Instagram and I just decided to go for it. I'm an "all or nothing" kind of person, so making the decision to focus on setting up a business was the first step. It could have all gone so wrong, but I think it was the fear of the job hunt that spurred me on and motivated me to make my business work.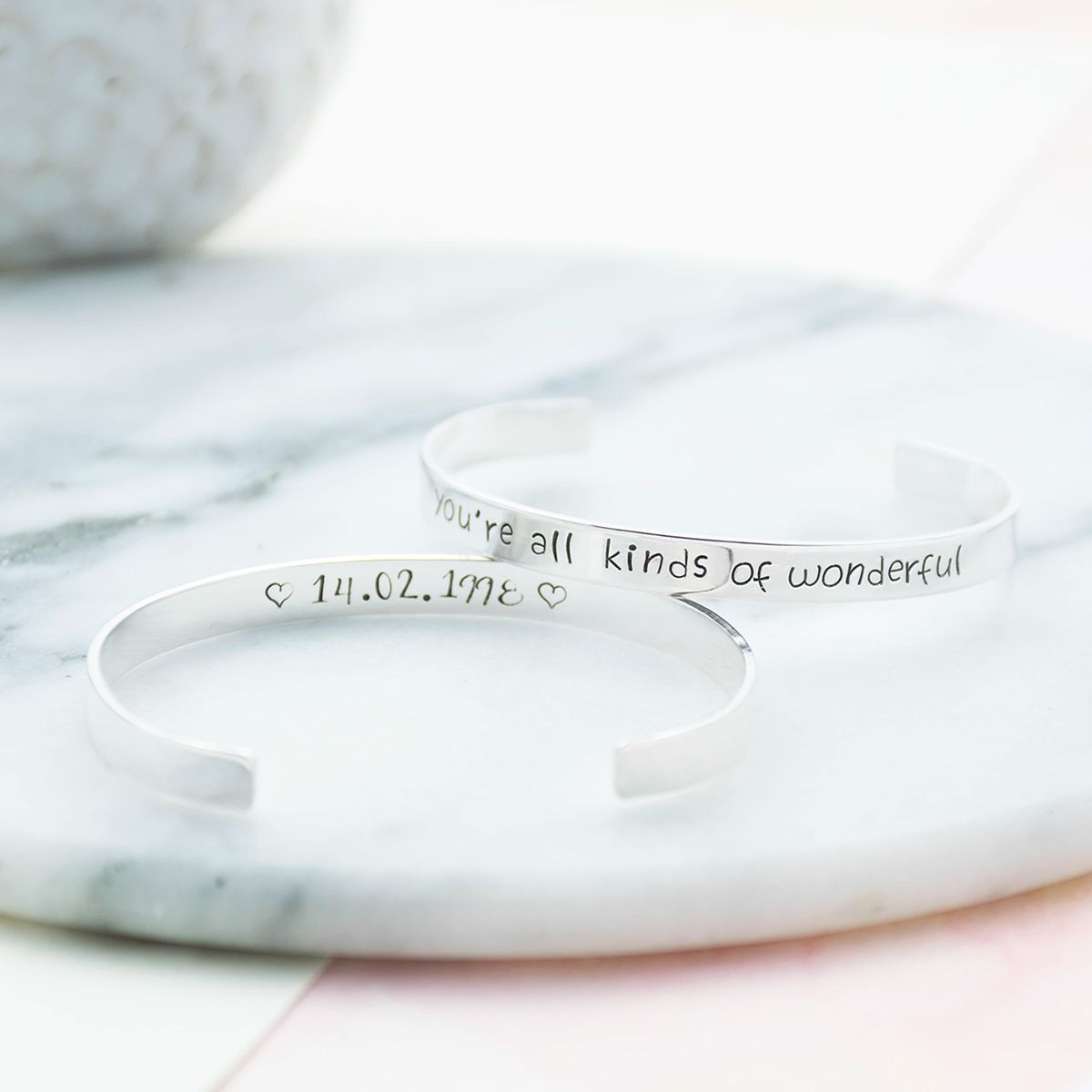 Congratulations on your huge success! You have over 6,500 sales on Etsy – how does this feel?
Thanks so much - I can't quite believe it myself! It's kind of mind blowing to think that over 6,500 people have trusted me to make something special for them, and I'm incredibly humbled that they have...
What is your best-selling design, and why do you think this is?
Oooo that's a tough one. I'd probably say the Personalised Silver Cuffs have been the most popular overall - they've been part of my collection since the very beginning (all be it, made in aluminium back then) and are just a classic and easy to wear piece. Completely customisable, they're the perfect way to add a special message in your favourite font style for a unique piece of jewellery that's meaningful to you.
What advice would you give to those struggling to get sales through Etsy?
I love Etsy. It has been THE biggest thing for my business, and the platform I get most of my sales through… but it certainly wasn't plain sailing at the beginning. There are so many products on Etsy, it's important to make sure you get seen at every opportunity.
For me it was being clever with tags and titles. Using every single tag and every character wisely to bag those top spots in searches and help your future customers find you. It takes time to find the right tags that work for you, but keep at it it'll be worth it!
What's the secret to a good product description?
I often joke with my partner that I am not a good sales women, as I don't like to be too pushy, so I tend to keep them short and sweet.
A lot of the pieces I create are gifted, thats the nature of personalised jewellery, so the product description is incredibly important for my customer to know exactly what they're buying (materials, dimensions etc) but also why they might buy it and what occasion this gift would be perfect for. I try to keep upbeat but still stay informative.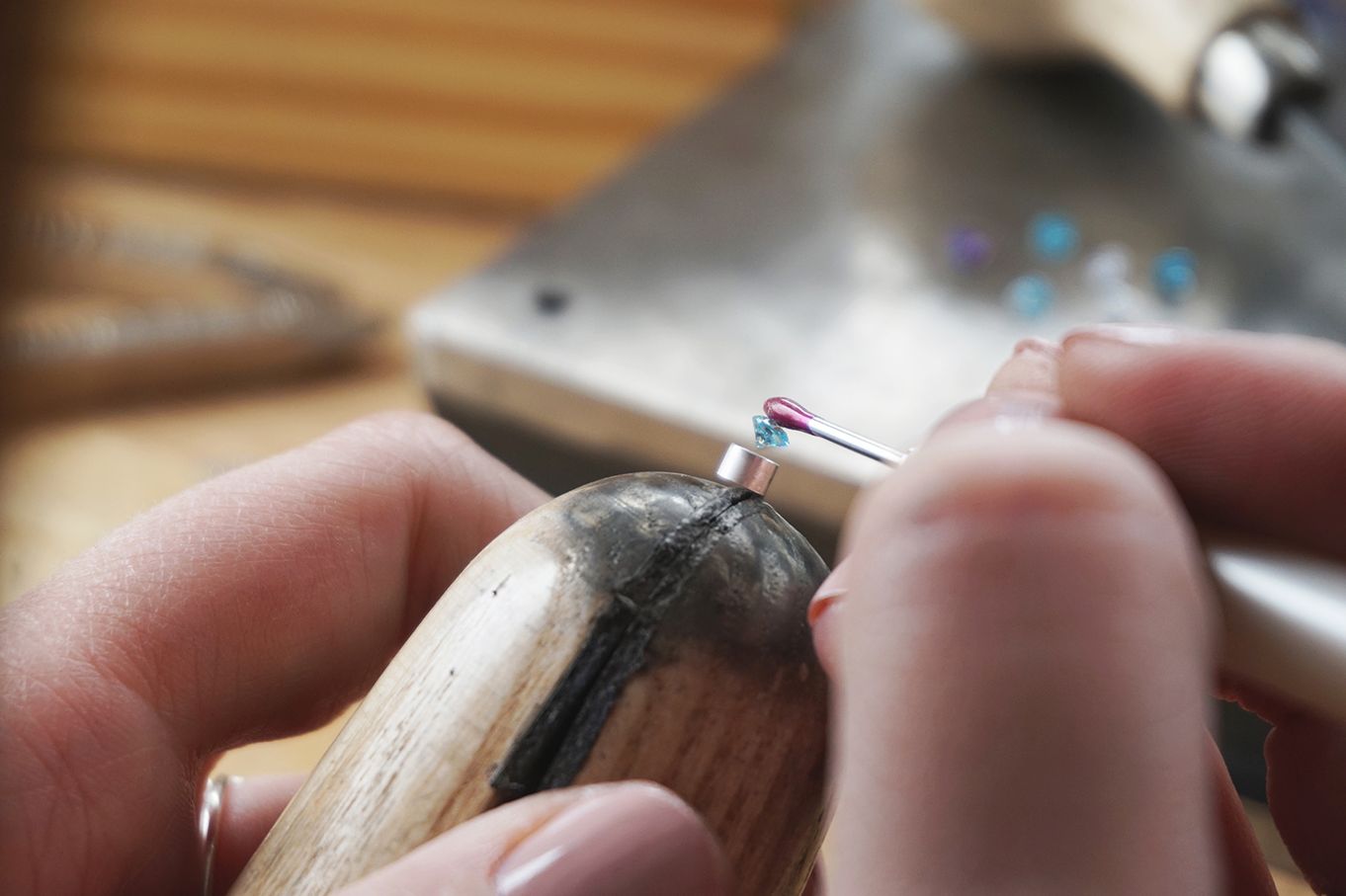 "There's a lot of resources out there with heavy stats about SEO and it can be quite overwhelming, but really I like to keep it simple and think; what would you be searching for as a customer?"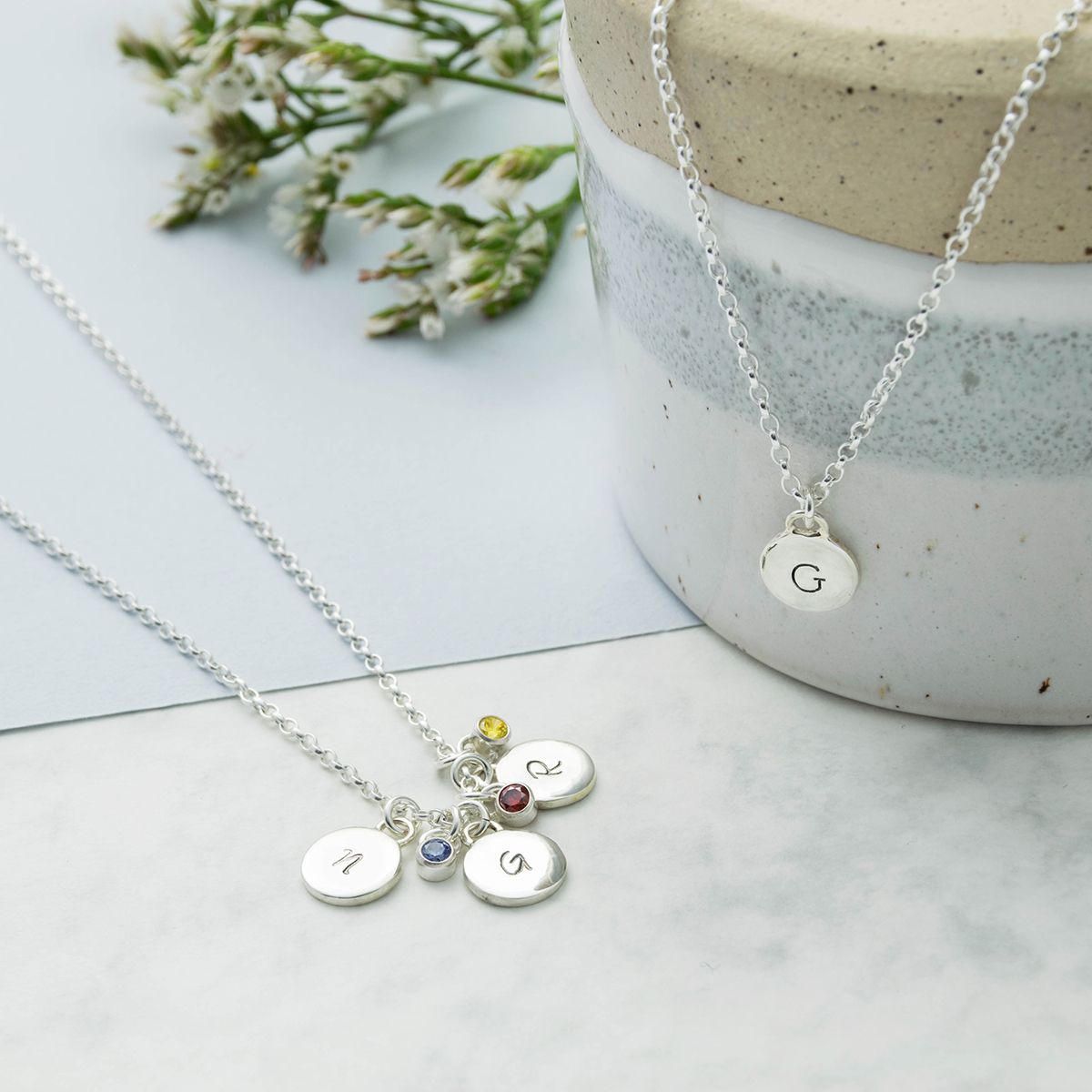 Personalisation is so popular right now, do you think this makes a difference to your sales and if so, why?
Definitely! Personalisation is what my business was built on, and its a super saturated market compared to when I first opened in 2014…
There's a lot of similar businesses out there, but thankfully I started up in the first wave of personalised hand stamped jewellery in the UK, so I think it helped having a strong customer base as I have a good mix of new and returning customers.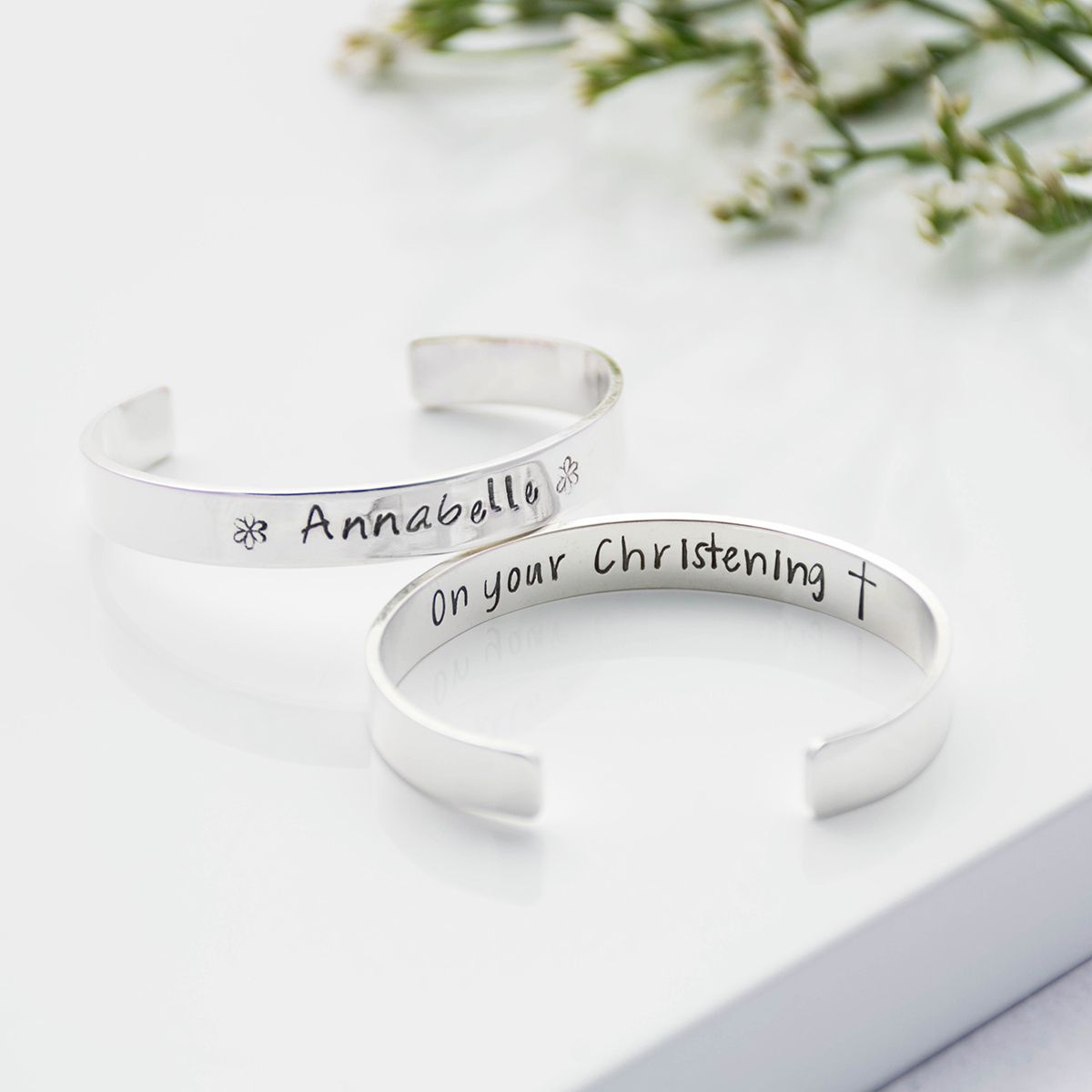 What's your favourite design right now?
I'm loving the Skinny Bangles at the moment. It's no secret I love a good quote, and these bangles allow lots of room for long quotes and messages but still look elegant and dainty - and even better stacked up!
Favourite gemstone?
Oooo that's so difficult!! Currently I'm lusting over moonstone - especially the rainbow moonstone!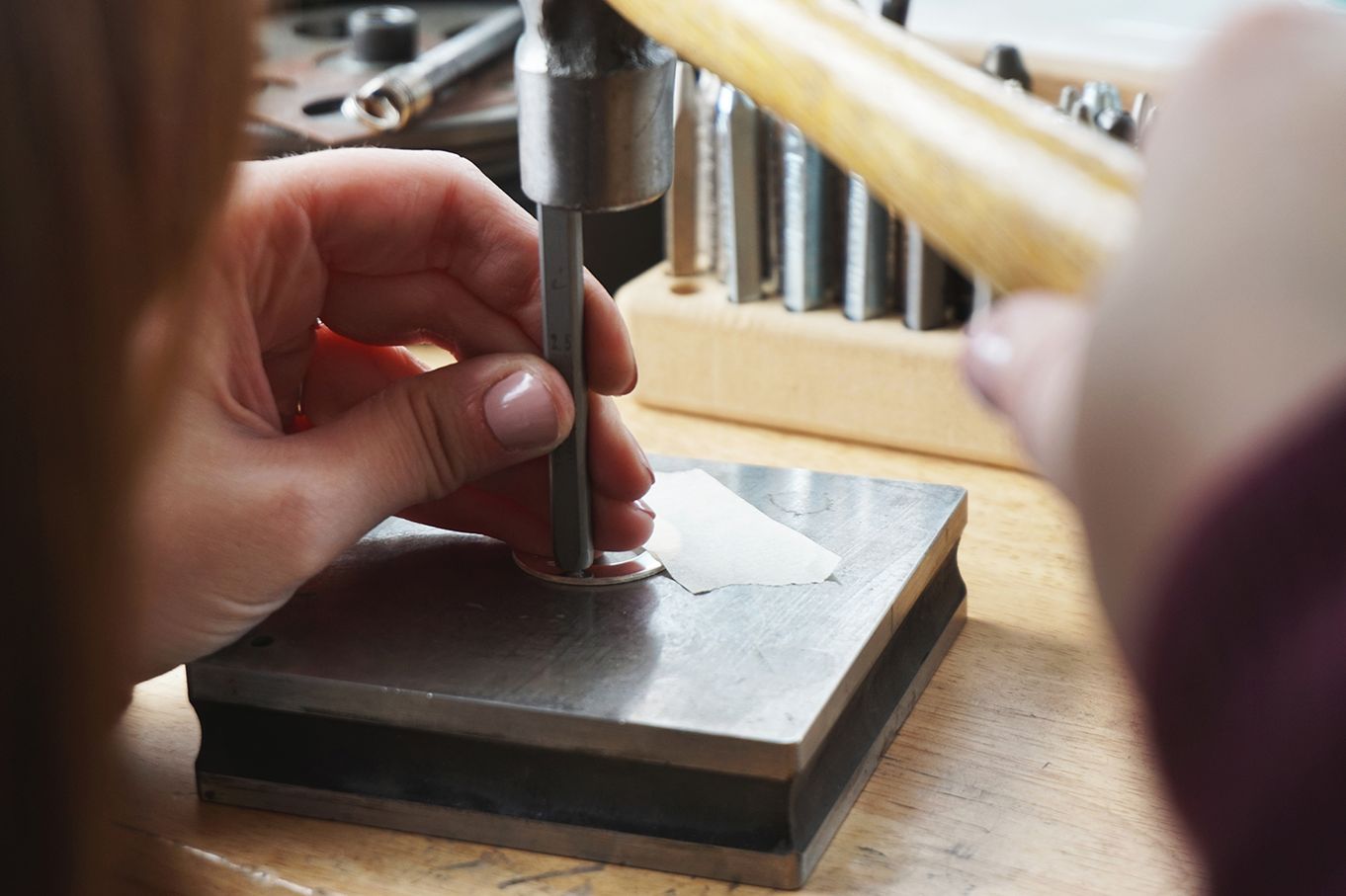 What are your top tips for SEO?
SEO is hard and one of those admin jobs you have to be completely in the zone for!
I usually start by mind mapping words relevant to my product, like materials, processes, occasions etc. Then from there I start to input these into Etsy's search bar - this is were the magic happens! Once you begin to type say; 'silver necklace', the search bar will suggest other search terms based on the most popular searches at the time. I use these key terms in my tags and titles to make sure that I get as close as I can to the top of those searches. It's also important to try and be specific in your SEO, as lots of generic terms like; silver necklace will produce thousands of results.
I also like to mix it up around holiday times (Christmas, Mother's Day, Valentines etc.) and add more occasion specific terms, as that's what your customers will be searching for at these times. There's a lot of resources out there with heavy stats about SEO and it can be quite overwhelming, but really I like to keep it simple and think; what would you be searching for as a customer?
"Cohesive images help to not just sell your products but distinguish your brand from all the others out there..."
What's the best and most challenging part of working from home?
For me working from home was invaluable when I was starting up. I was working in a loft space, which was also my bedroom, so I could really immerse myself in business and whenever an order came in I could rush it out as soon as possible! Now this was great in the beginning stages of creating and running a business, as money not spent on rent can be invested, but it does get incredibly lonely when the only other face I might see for days is my Postman!
Now I'm in my 5th year of Little Homebird Jewellery, I've found a bit more of a work life balance and have moved to a lovely bright studio space close to home. I still do a lot of my admin in my home office, but having a designated space for creating orders is the best thing for me right now. I can be as messy as I like (and we all know making jewellery is a messy business!) and walk away at the end of the day. I have regular breaks with other businesses in the building and there's always someone there to have a little chart and bounce ideas off.
Your packaging is gorgeous! How important do you think it is to have customised packaging?
Thank you so much! I've experimented with lots of different packaging over the years - I'm still cringing at the cards I used to package necklaces onto, stamped with a store bought Handmade ink stamp! But I just LOVE the foil pressed linen boxes I have now from Westpack. I think it's important to work within your budget, and wherever possible link to your branding - whether thats simply using ribbon in a corresponding branding colour, including a business card with your logo, or like Little Homebird Jewellery, having a signature emblem pressed onto your gift boxes.
Tell us about your branding!
This has evolved over time - with quite a few face lifts over the years! It's been important to me to keep the branding light and delicate - like our jewellery. Pastel tones are great for this, and our little blue bird has always been the starting point for a colour palette.
Why do you think photography makes such a difference to the sale of a product?
You are too kind! You can thank the amazing team over at Copper Boom for the amazing product photographs. For any business that is selling a product, your photos are the first impression you give to your customer…so it's important to get it right! It's not just giving my customers an idea of scale and dimensions but the feel and style of my business. Cohesive images help to not just sell your products but distinguish your brand from all the others out there.
Tell us about your photography set up!
As I mentioned, the Copper Boom team do an amazing job with our product photography, but for social media shots, I try to photograph behind the scenes at my bench while working on new and old designs. I'm a "lazy" photographer and snap a quick photo with my iPhone and use a couple of editing apps to brighten and sharpen the image.
Thankfully working in a light studio space with hundreds of tools around makes for interesting shots - but my secret weapon for gorgeous backgrounds is Photoboards as it breaks up the images taken at my bench! Sometimes I do use a couple of light boxes as East Yorkshire is not known for it's sunshine!
What are your main goals when it comes to providing good customer service?
I just want my customers to be happy with their purchase! Every piece of jewellery is unique, so receiving your order should be special too. Taking time to carefully package each piece with a personalised thank you card is one of my favourite parts of the whole process - it's like unwrapping a present when it arrives!
I never forget that people are investing their hard earned money into my business, and that without these sales I wouldn't be able to do what I love to do. I want my customers to feel valued, but also know the story of their jewellery, how I've made it and how much love goes into each piece. This is so important to handmade businesses like mine and helps to distinguish us from impersonal, mass manufactured companies.
What is your favourite ways to promote your shop and jewellery?
You can't beat good old word of mouth, and I get a lot of recommendations - but in today's digital age, Instagram is probably my most used platform for sharing images of my products.
Where can we find your stunning jewellery?
You can find pieces in our Etsy Shop - www.littlehomebirdjewellery.com