Sea Glass, Personalisation & Christian Jewellery With Jordan Lily
Today we're thrilled to chat to Jordan Lily, all about her beautiful jewellery handmade in Cornwall. We have been following Jordan's journey on Instagram and always look forward to seeing her new collections. From her gorgeous gemstone earstuds, bee jewellery to her personalised designs which make perfect gifts for someone special. In this interview, Jordan shares with us how she learns new skills as a self-taught jeweller, tips on how to create a brand for your handmade business as well as sharing her favourite spot in Cornwall to unwind and relax away from the bench! Jordan also creates wonderful Christian jewellery, and shares how she aims to add a contemporary and fresh feel to these designs using her rule of 'would I actually wear this?'.
Jordan Also Shares A Day In Her Life As A Jeweller Over On Our YouTube Channel
Join Jordan on a day focused on a busy day at the workbench! From taking you on a tour of her jewellery studio, doing admin, brainstorming custom orders, making lots of beautiful jewellery (including stamping and bracelet making!) to a good old packaging montage. We hope you enjoy this episode as much as we have!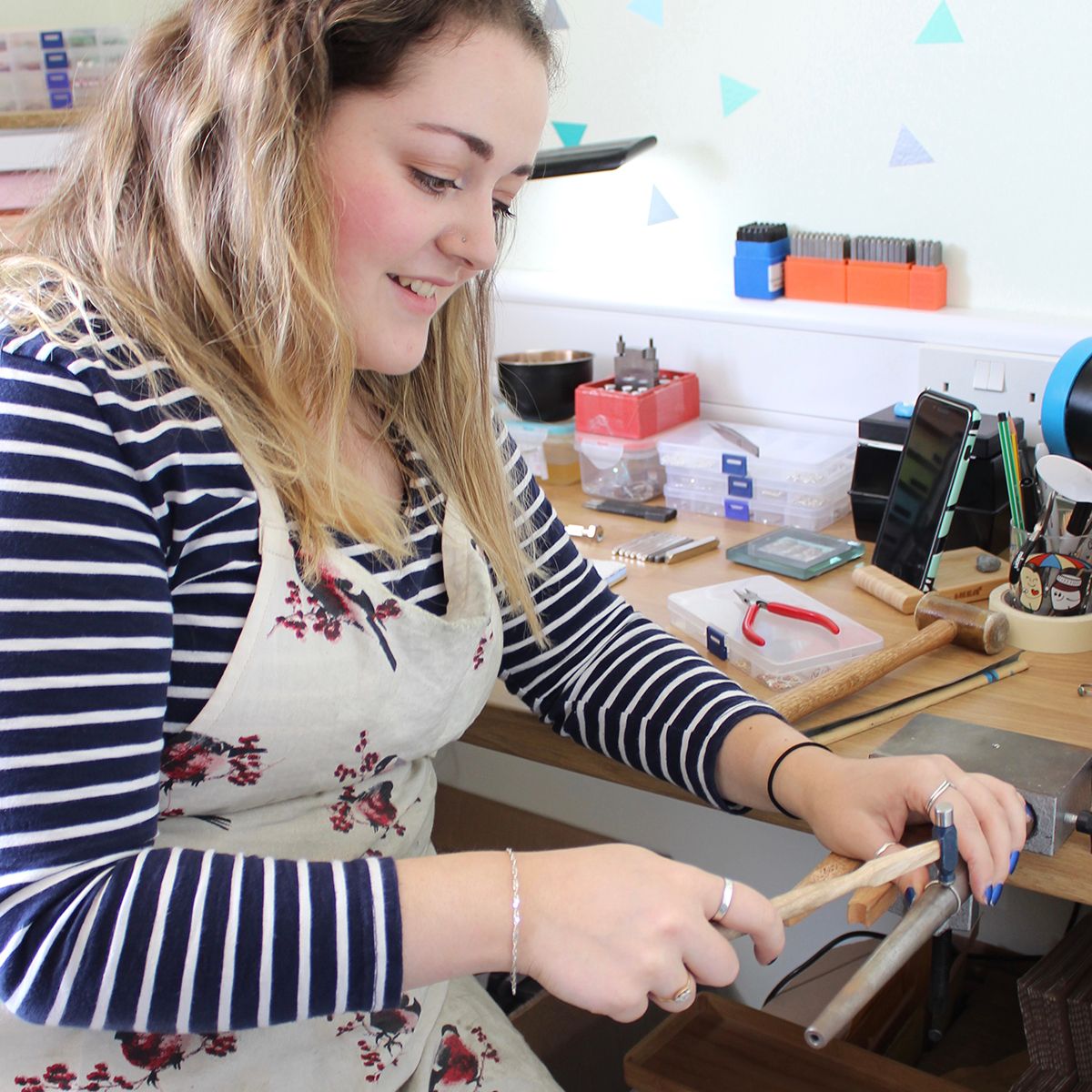 Jordan in her home studio in Cornwall.
Hi Jordan, how did you first discover jewellery making?
Hey! Thanks for having me! When I think about it, I made my first pair of earrings years ago!
Whilst on holiday in France I stumbled across a lovely little shop that sold cute charms, beads and earring findings, I made some anchor charms into a pair of simple dangly earrings. But that was it until last summer when I decided to go on a silver and sea glass course - it didn't take much for me to get hooked!
Are you self-taught - if so, what are your top tips for teaching yourself silversmithing?
I learnt how to set sea glass in a bezel setting on a silver and sea glass course at Cornwall College, the rest has been very much self-taught. There are some great resources out there: the Kernowcraft blog and tutorial pages have a great range of advice, books from my local library, YouTube tutorials, Facebook groups and Instagram accounts like @makeitkimtoday and @metalsmithsociety are all helpful too. My top tips would be, don't be afraid to ask questions - it's how you learn! And get stuck in, it's the best way to test out ideas and get comfortable with techniques like soldering.
"When I set out I decided I wouldn't sell anything that I wouldn't wear or buy myself, I think it's been a helpful yardstick so far!"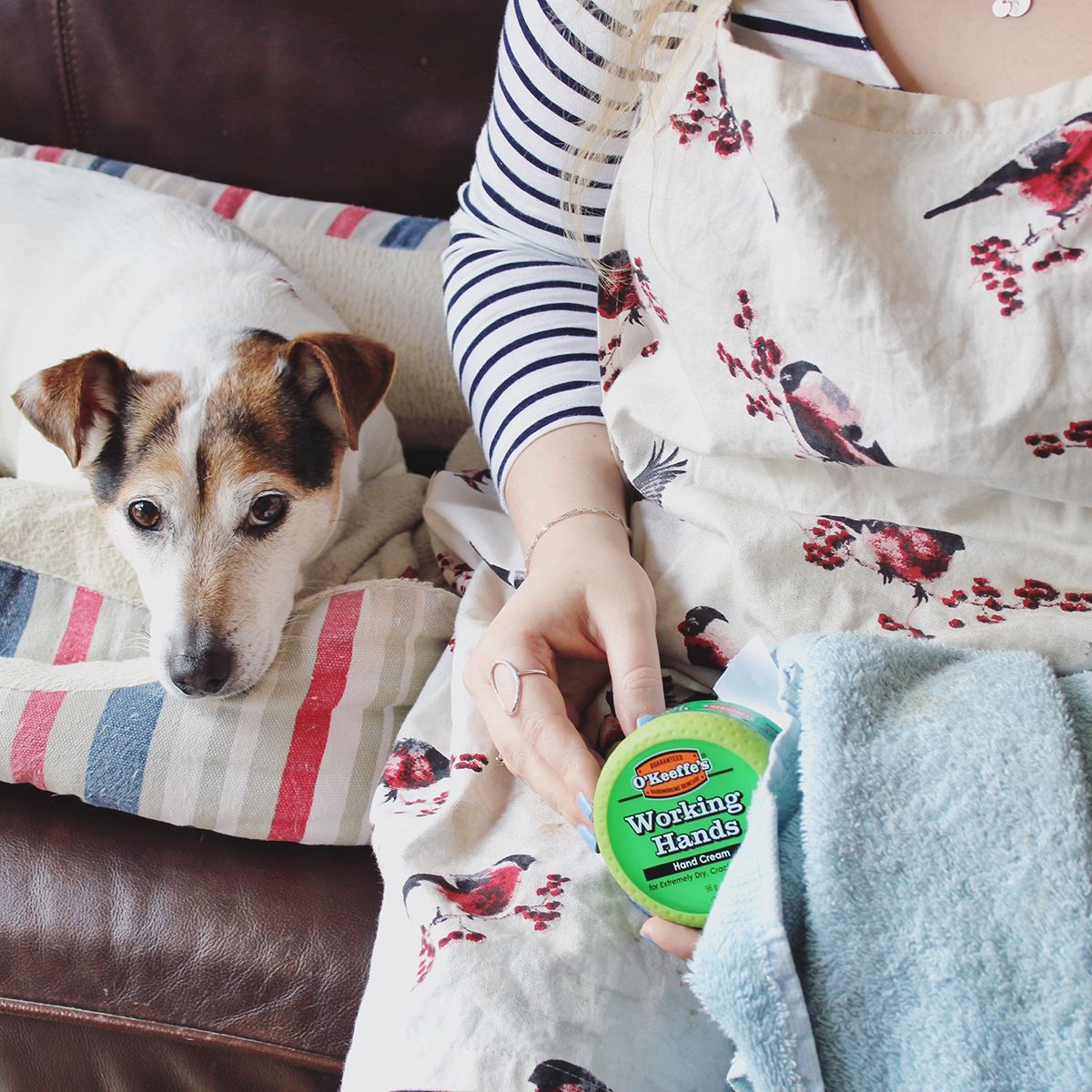 How would you describe your jewellery?
Good question! I would say I definitely have a more minimalist style; I'm not really one for fussy designs.
I like including fun quirks in my designs which I think helps set them apart, like my little brass bees. When I set out I decided I wouldn't sell anything that I wouldn't wear or buy myself, I think it's been a helpful yardstick so far!
What are the main themes the run throughout your handmade designs?
I really like using simple shapes in my designs; I have a lot of hexagons and circles in my pieces. I wouldn't say there are any overarching themes, but lots of little ones?
I have a collection with little brass bees, copper hearts, a few celestial and space-themed pieces, personalised jewellery and pebbles to name a few! When I started out my jewellery was more diverse, but as I plan upcoming product releases they lend themselves more and more to little collections.
I'm having a real moment for using aventurine and blue onyx they both have such a summery vibe. I've also got some teardrop blue chalcedony that's gorgeous; I just have to decide what to do with it!
"I think spending time away from the workshop is really important, I don't think you can force creativity, so I've always got a little notebook and pencil for when inspiration strikes!"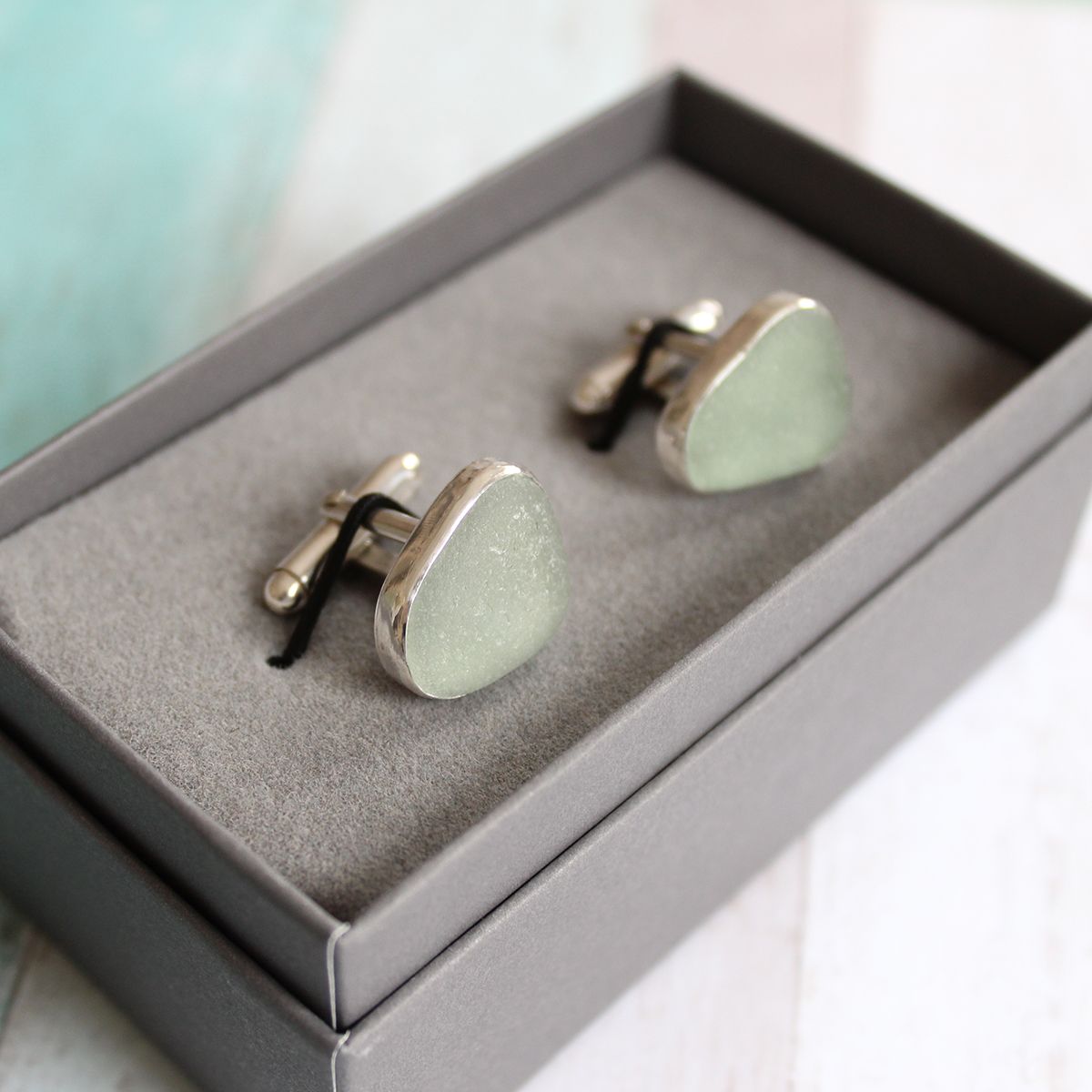 What is your favourite thing about using sea glass?
I love that every piece is different -- as cheesy as it sounds -- it's such a treat when you find a beautiful shade or unusually perfect shape. I also love that all of my sea glass is Cornish! As a Cornish gal myself, I think being able to have a little bit of this beautiful county with you is really special. I have a lovely customer in Australia who emigrated from Cornwall years ago. She recently bought a pair of my sea glass cufflinks for her son's 50th birthday, and I think having that link to Cornwall made the gift extra personal.
What's your favourite way to find inspiration for new products?
I think spending time away from the workshop is really important, I don't think you can force creativity, so I've always got a little notebook and pencil for when inspiration strikes! I love being in nature, especially beside the sea, I think the sound of the waves is so calming (you can see why I'm drawn to sea glass!) But I find it really helpful to clear my head and free up some brain space. Customers are also a great source of inspiration, from custom designs to gauging what's popular and why. My notebook is always full of ideas, quite often I find myself flicking through and thinking 'why haven't I made this yet?'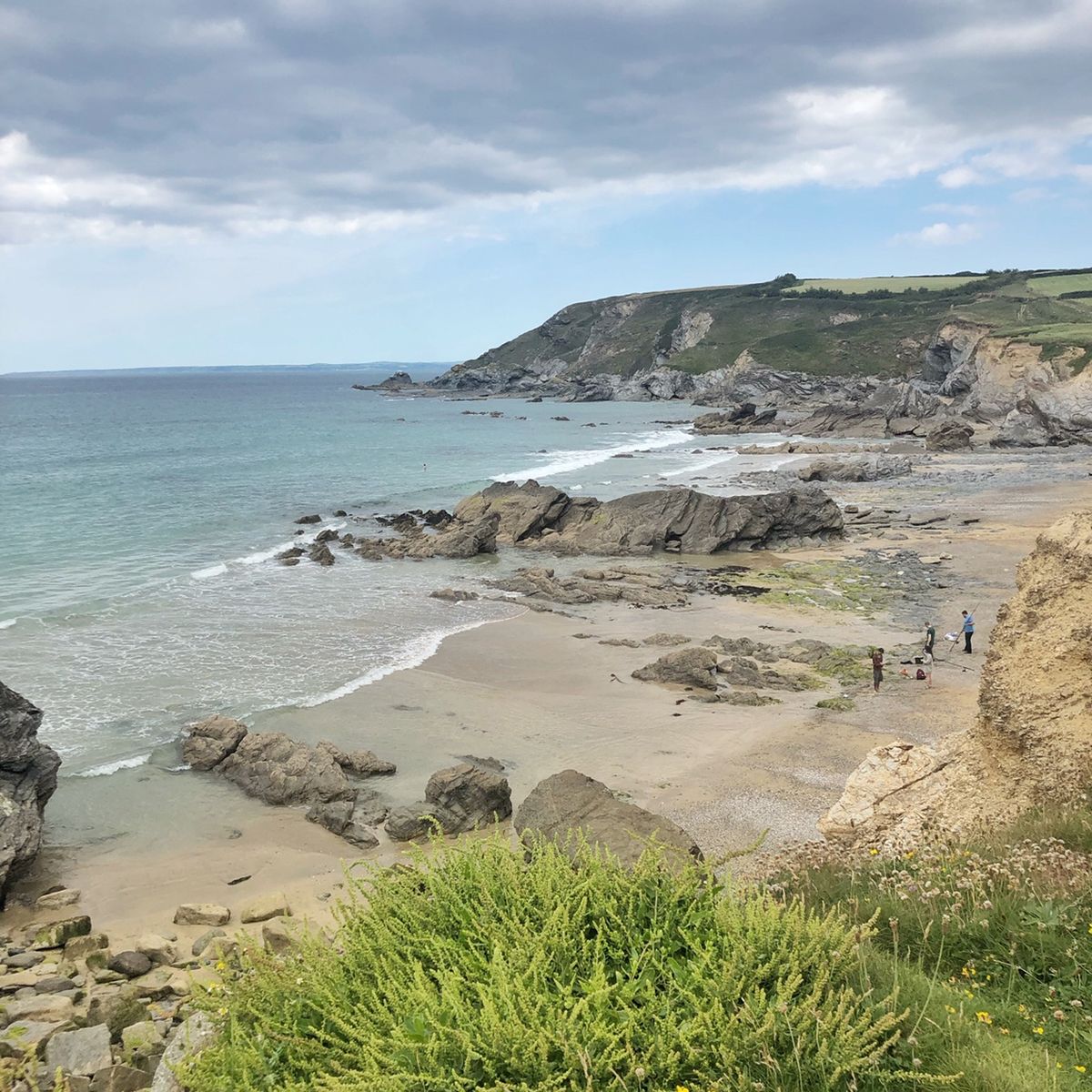 Favourite beach in Cornwall and why?
My favourite beach is Church Cove in Gunwalloe, it's pretty terrible for sea glass (I've actually never found even the teeniest bit there!) But it has some really special memories for me. My friends and I would often head down there after college, and sometimes every day in the summer. We used to have hot chocolates and toast marshmallows at the end of the summer before everyone headed off to uni again - even in the mizzle! But I think that's part of its charm.
We love your branding! What was the process behind this?
Thank you! That's really good to hear! It was something that I spent the longest getting right before launching, and there were SO many learning curves. The biggest hurdles were vectoring my logo and sorting out colour codes with printers. I knew nothing about the differences between CMYK and RGB colour profiles - but it turns out they make a huge difference when you're printing. Learning to vector was a big challenge too as my logo is based on my handwriting, but sorting out both of these things means that I have consistent brand colours and a logo that is always crisp.
Packaging my jewellery is really important to me; I like to add little details like a hand-written note, tissue paper and twine to gift-wrap every order. So whether you're buying a gift or just treating yourself, my parcels are always like receiving a little present! Mint green and grey is one of my favourite colour combinations, so it gives me a great excuse to go prop shopping!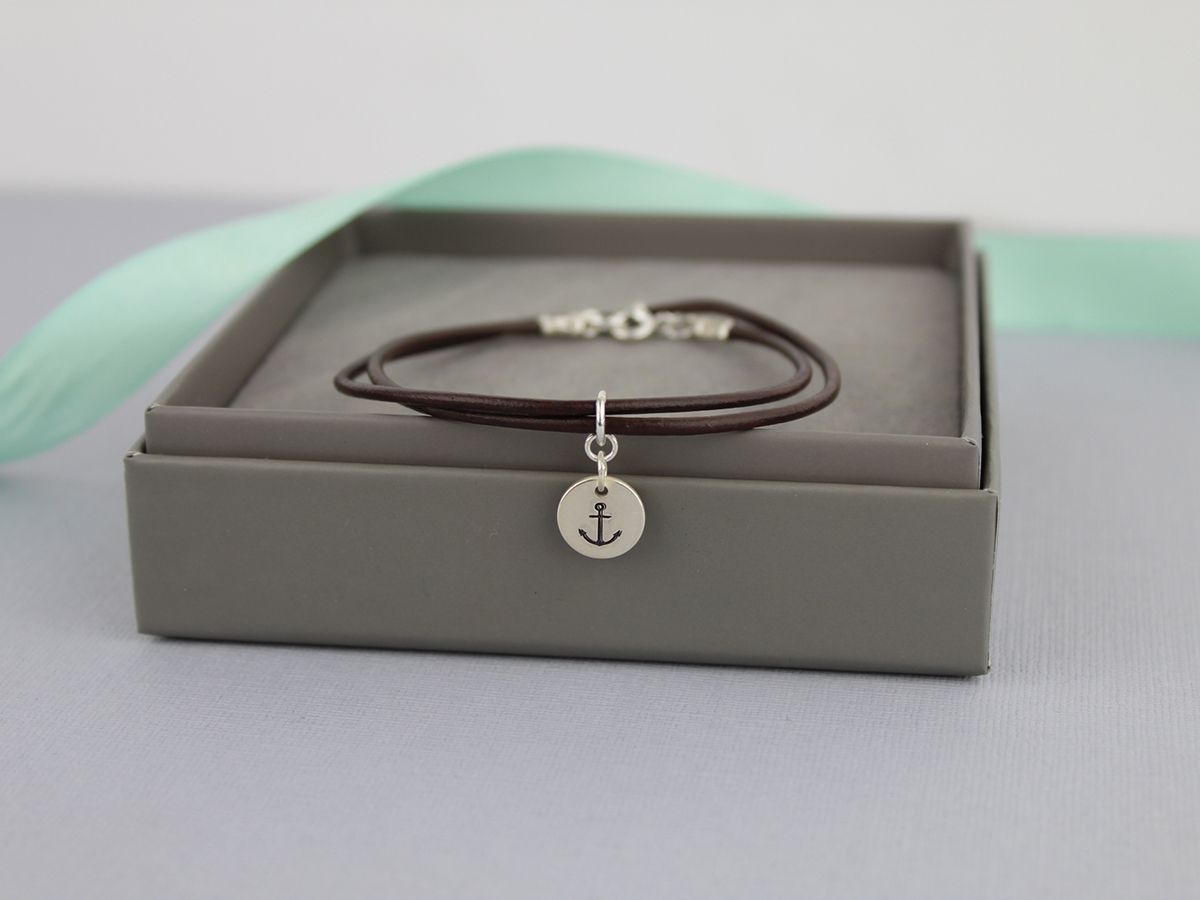 How did you take the plunge into launching your jewellery business?
Mentally, I think I just went for it! I had been doing some English A-Level tutoring over the summer, but was looking for something I could really get my teeth into. There was a lot to sort out before launching officially and opening on Etsy. I spent a lot of time researching things like hallmarking, working on my branding, packaging and product photography. With selling online, I think it's important to communicate your personality and brand; you can't sell to the customer in person so your brand voice has to be heard in other ways. I think ultimately, it got to the point where it was now or never, you're always going to be learning and developing!
Read Kernowcraft's handmade business tips over on their blog for tips and advice.
"I would say the two most important things when selling online are product photography and SEO..."
What's your favourite design to make?
Personalised items are always really fun to make, I really enjoy seeing what people decide to stamp! From children's initials and important dates to affirmations and positivity mantras. My favourites are the ones that make no sense to me, but have sentimental value to someone! I'm in the process of adding some more shapes to my custom stamped necklaces, and am trying really hard not to just keep making things for myself!
You've had over 300 Etsy sales in under a year! What an achievement – what tips do you have for those struggling to gain sales?
Thank you! To be honest, it totally took me by surprise; I had to hit the ground running! I remember buying in 50 cardboard post boxes and thinking 'gosh, that's a bit ambitious!' Launching in the run up to Christmas was good timing, people were already looking for gifts and there's a surge of shoppers on Etsy. I'd previously run an Etsy shop selling crocheted toys, so I had a good idea of what helps get a shop out there.
I would say the two most important things when selling online are product photography and SEO. Etsy is a very visual platform, so making sure your photos are bright and clear is really important; it's something that I'm always looking to improve. I recently invested in some studio lights that make such a difference! It's a goal of mine to get all of my products re-shot before Christmas - eek! SEO, or Search Engine Optimisation, is crucial when selling online; it's the science between people typing 'bee jewellery' into a search engine, and your bee jewellery actually coming up. There are lots of websites, blogs and YouTube videos with SEO advice, it's always changing, so keeping on top of product tags and making sure your titles and descriptions are relevant is super important. Also getting family and friends to buy through your store instead of in-person, helps build your sales and reviews, in turn helping your shop become more established.
"I think in the past Christian jewellery pieces have had the tendency to be a bit uncool and out-dated, so my 'would I actually buy this' rule comes into play again..."
Tell us about your Christian jewellery range!
Yes! I currently sell my Christian pieces on Cheerfully Given; it's a great community of makers and designers headed up by the lovely Menekse Stewart. All of the products have a focus on faith, whether it's a print, cushion, card or necklace. I was so happy to be accepted to sell on there in March! My jewellery range includes pieces with crosses, personalised jewellery and pieces inspired by Bible verses. I've also designed little verse cards to accompany my jewellery, it's so lovely to think that my jewellery can be encouraging to people going through a tough time, or can serve as an everyday visual reminder of a favourite verse.
I think in the past Christian jewellery pieces have had the tendency to be a bit uncool and out-dated, so my 'would I actually buy this' rule comes into play again! Cheerfully Given and the fantastic sellers I'm lucky enough to sell alongside are doing great things to change this though.
Who is a creative you are loving right now?
I follow so many great creative businesses on Instagram, it's such a brilliant way of discovering people and connecting with local creative people! A recent favourite of mine is the lovely Leah from @leahandlibby_, she's a Cornish illustrator who makes the most gorgeous prints and cards. I love her whimsical style and beautiful lettering. Definitely worth an insta-stalk!
What is your ultimate workshop soundtrack?
Haha! I can't say my taste is particularly refined... I love a good 90s throwback playlist, and the rest can range from show tunes to Stormzy! I also listen to a lot of audiobooks and podcasts whilst I work; recently I've been listening to Michelle Obama's autobiography, which I'd definitely recommend!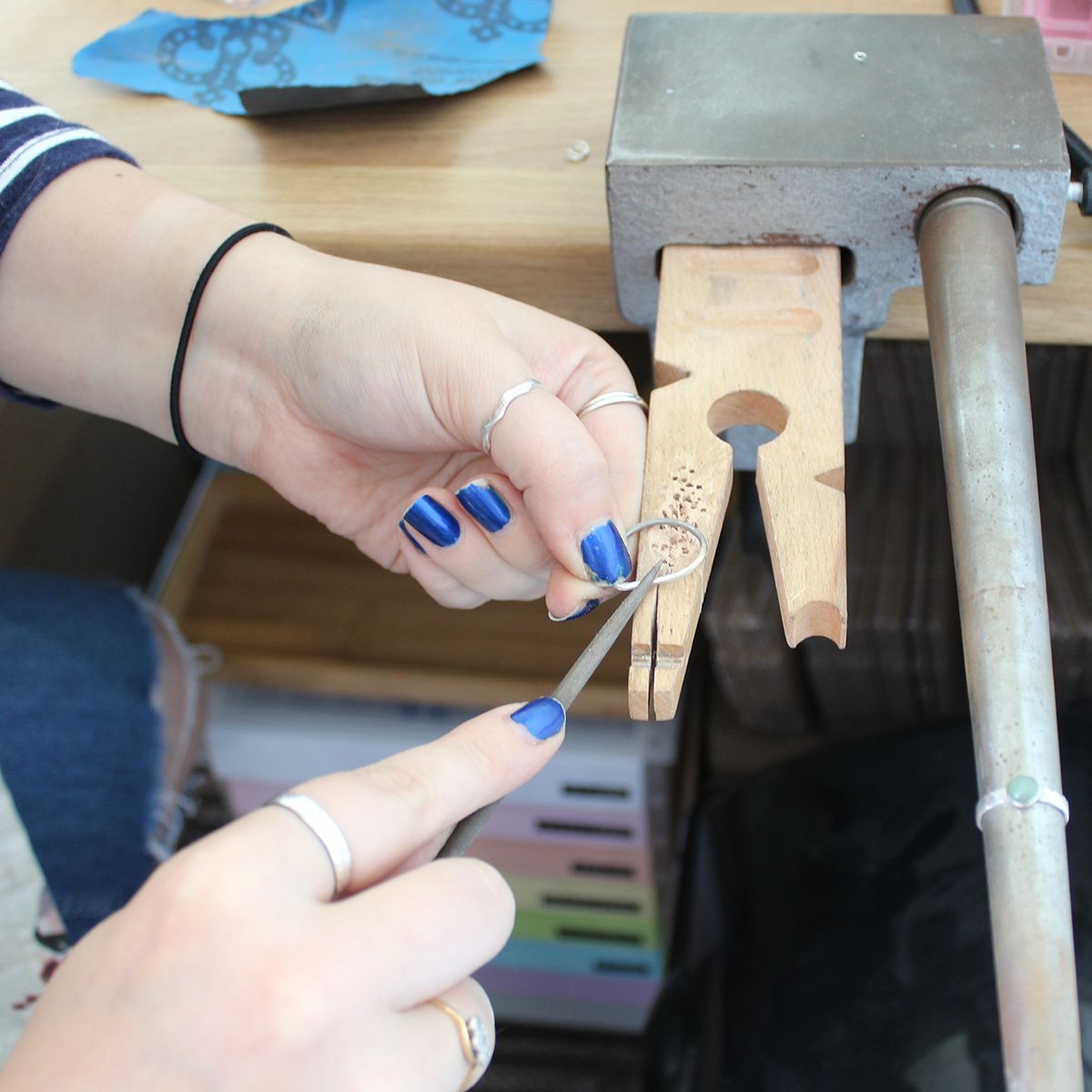 What's your favourite way to promote your jewellery designs?
At the moment Instagram is my main way of promoting my business, I love how visual it is. I've always enjoyed photography, so I also like to share snaps of Cornwall alongside my jewellery. It does have its drawbacks, like the dreaded algorithm, but it also offers the opportunity to connect with customers - it's always lovely to see where my jewellery ends up! Instagram stories is great for engagement too, I'm quite active on there sharing behind-the-scenes snaps and any work in progress. There's usually a fair few boomerangs of my dog, Barney, he even has a spot in my highlights reel!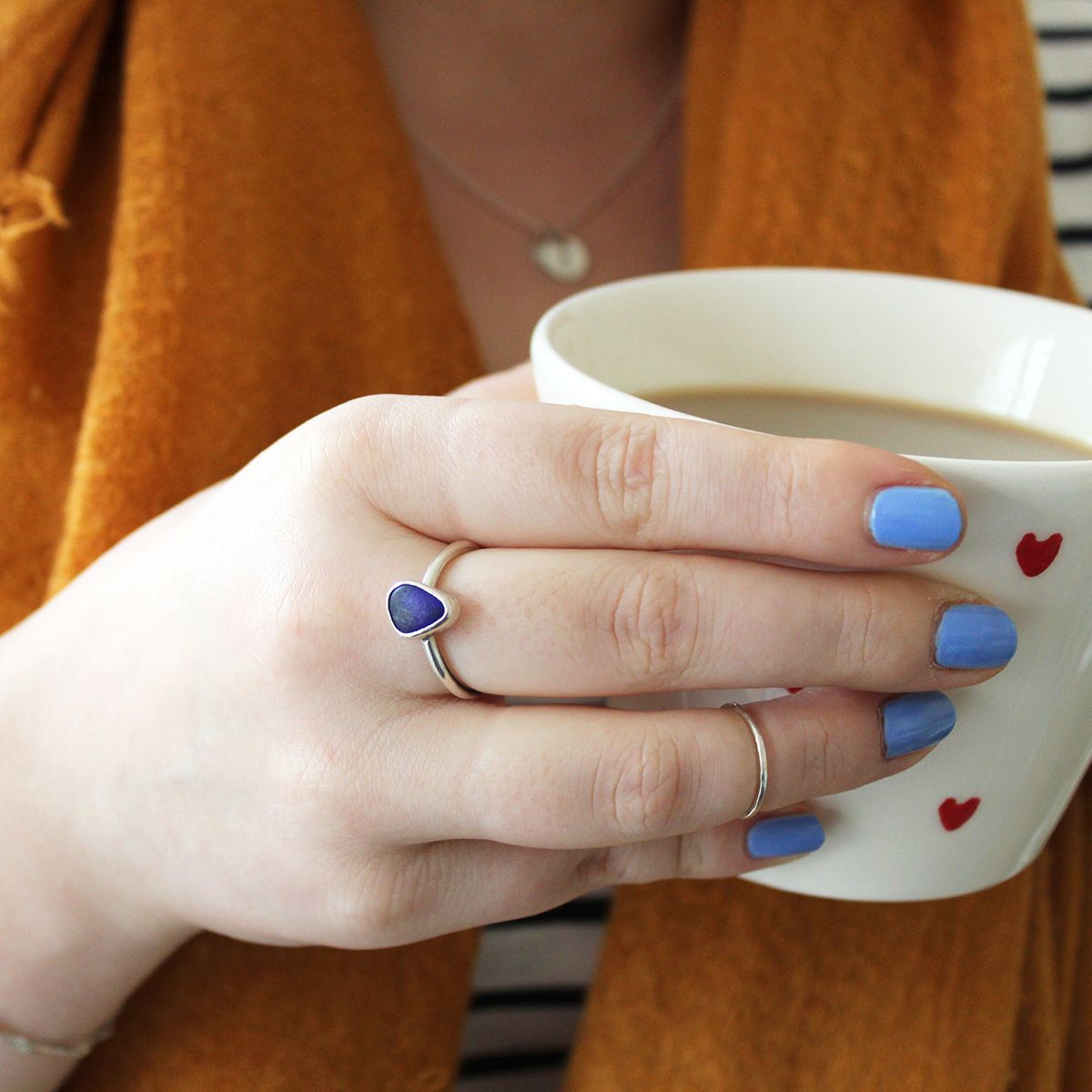 What jewellery making technique would you like to master in the future?
As I write, I've just finished a beginner's metal clay course with Julie Rai at CSACJ. It was such a great day and my head is spinning with ideas! It's a way of working with silver that I was completely unfamiliar with, but I'm so excited to explore how I can adapt ideas and add to my jewellery with new techniques and skills. It's such a versatile medium, and opens up a whole new way of making jewellery!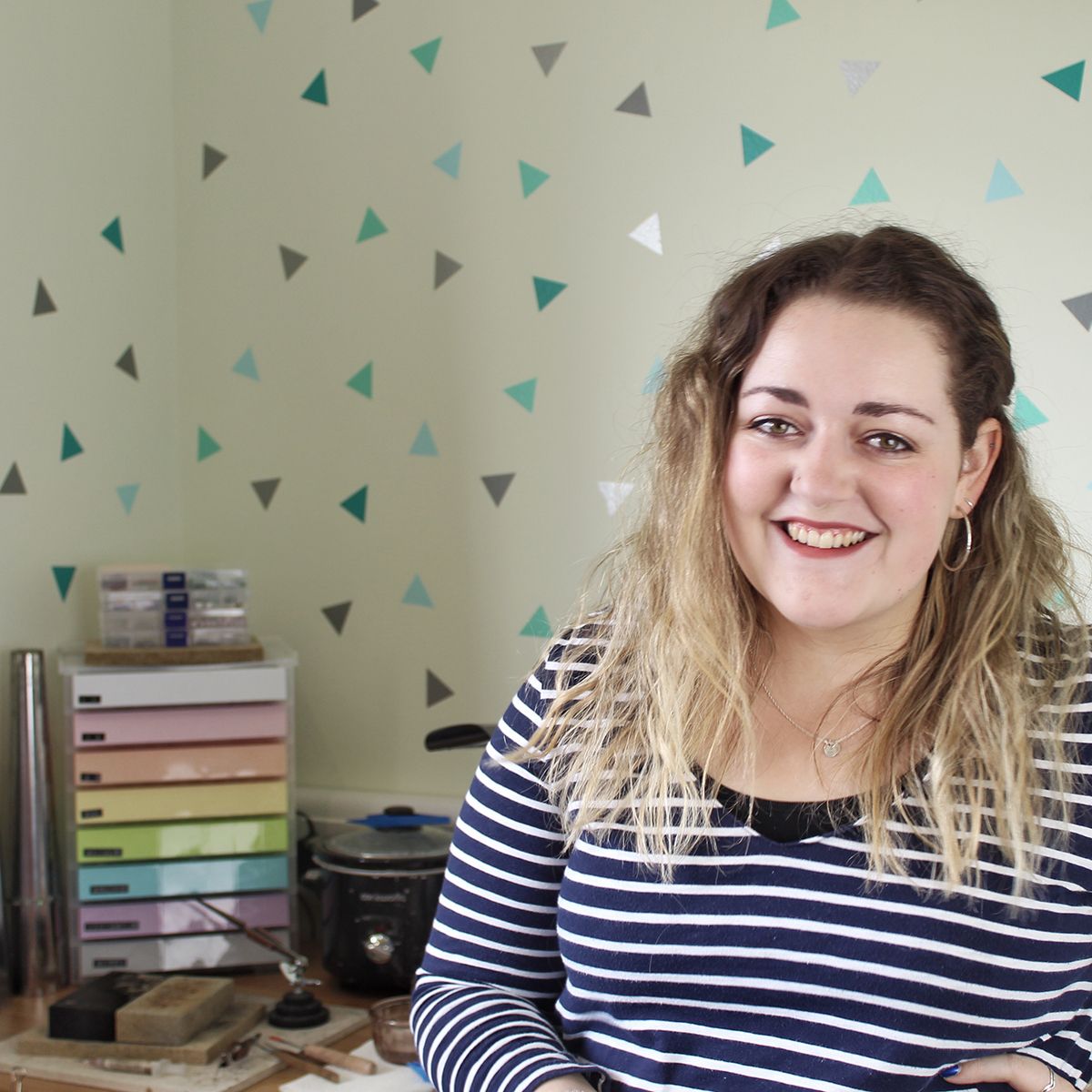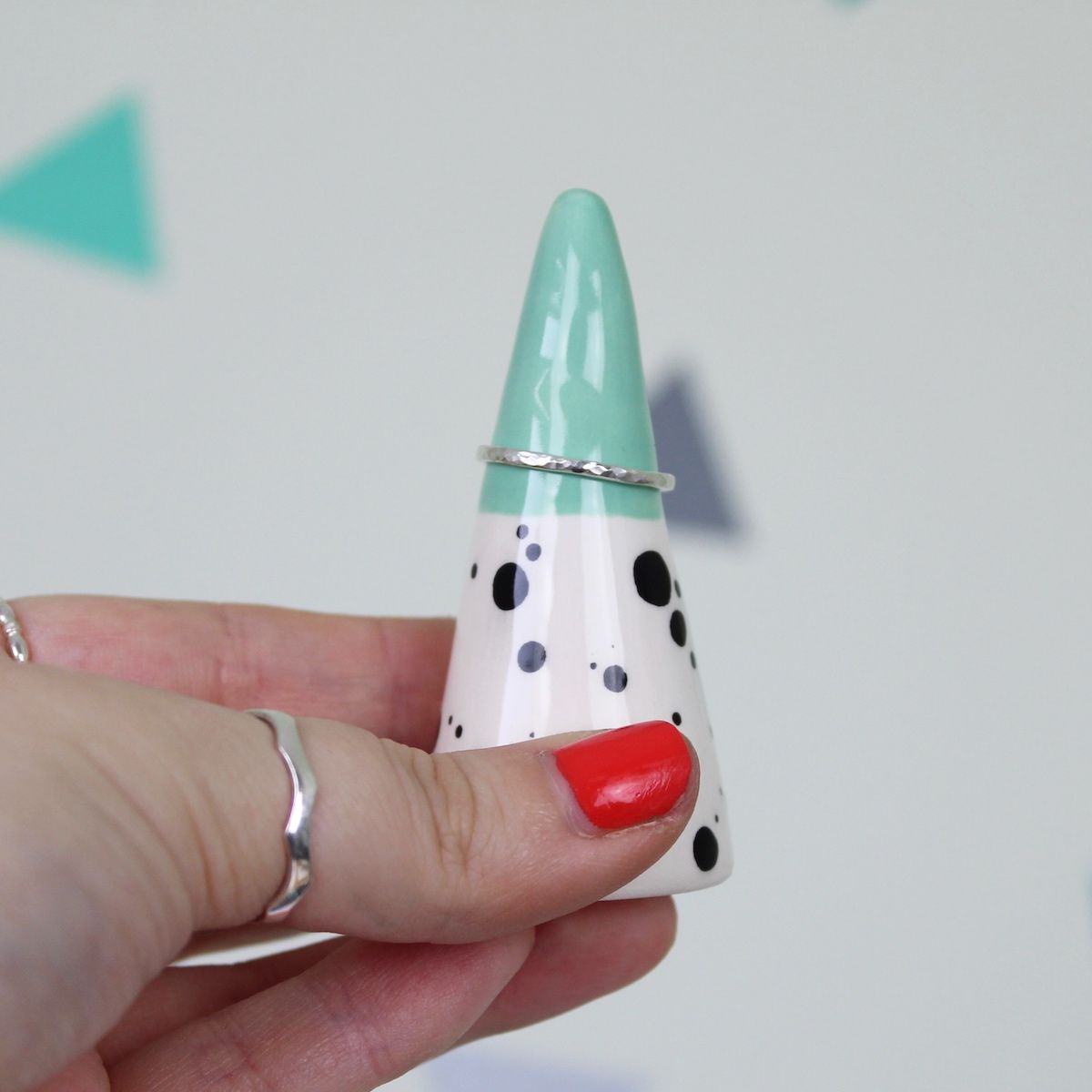 This is a great beginner metalsmith project! Jordan shares you step by step photos and instructions on how to make your own ring band.
Once you've mastered this technique, you can then experiment with textures and stone setting.
The project also comes with a recommended tools and supplies list so you can get making in no time.