Talking Opal Obsession with Jenny from Sea Surf Rocks
Today we're chatting with jeweller Jenny, the founder of Sea Surf Rocks all about her love for metalsmithing and designs inspired by the Cornish coastline. Jenny studied jewellery & metalwork design at Sheffield Hallam University. After finishing university Jenny decided to follow her love of the ocean, settling back down South and calling Cornwall her home. After working for Kernowcraft whilst in the early stages of setting up Sea Surf Rocks she found another love, Australian Opals!
Even though Jenny now specialises in one of a kind Australian opals, she has also stayed true to her roots creating beautiful bespoke sea glass rings for the alternative bride. Read on to learn about Jenny's journey, favourite gemstones and techniques and lots more...
"When I was 17, I went to do a week work experience at a jewellers in Winchester and immediately knew that was what I wanted to do."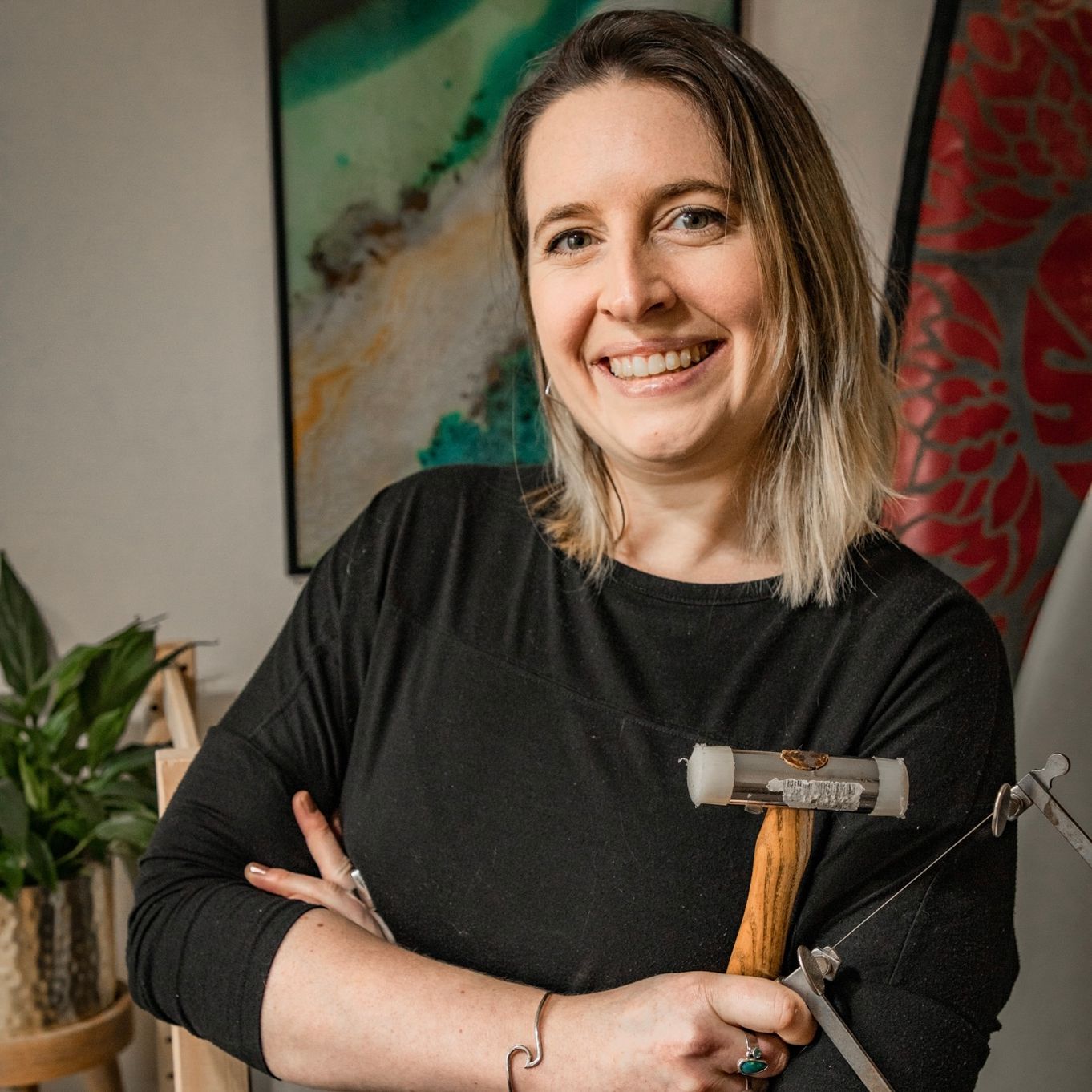 Hey Jenny! So where better to start than at the beginning, how did you get into jewellery making?
Well I've always been super crafty, from a young age, making things like friendship bracelets and dresses out of carrier bags it was almost inevitable I'd end up doing something creative for a job. When I was 17 I went to do a week work experience at a jewellers in Winchester and immediately knew that was what I wanted to do. I then went to study jewellery & metalwork design at Sheffield Hallam Uni, which is where I learnt the fundamentals. Although as any jeweller will know you never stop learning, teaching myself new skills is one of the most rewarding things for me.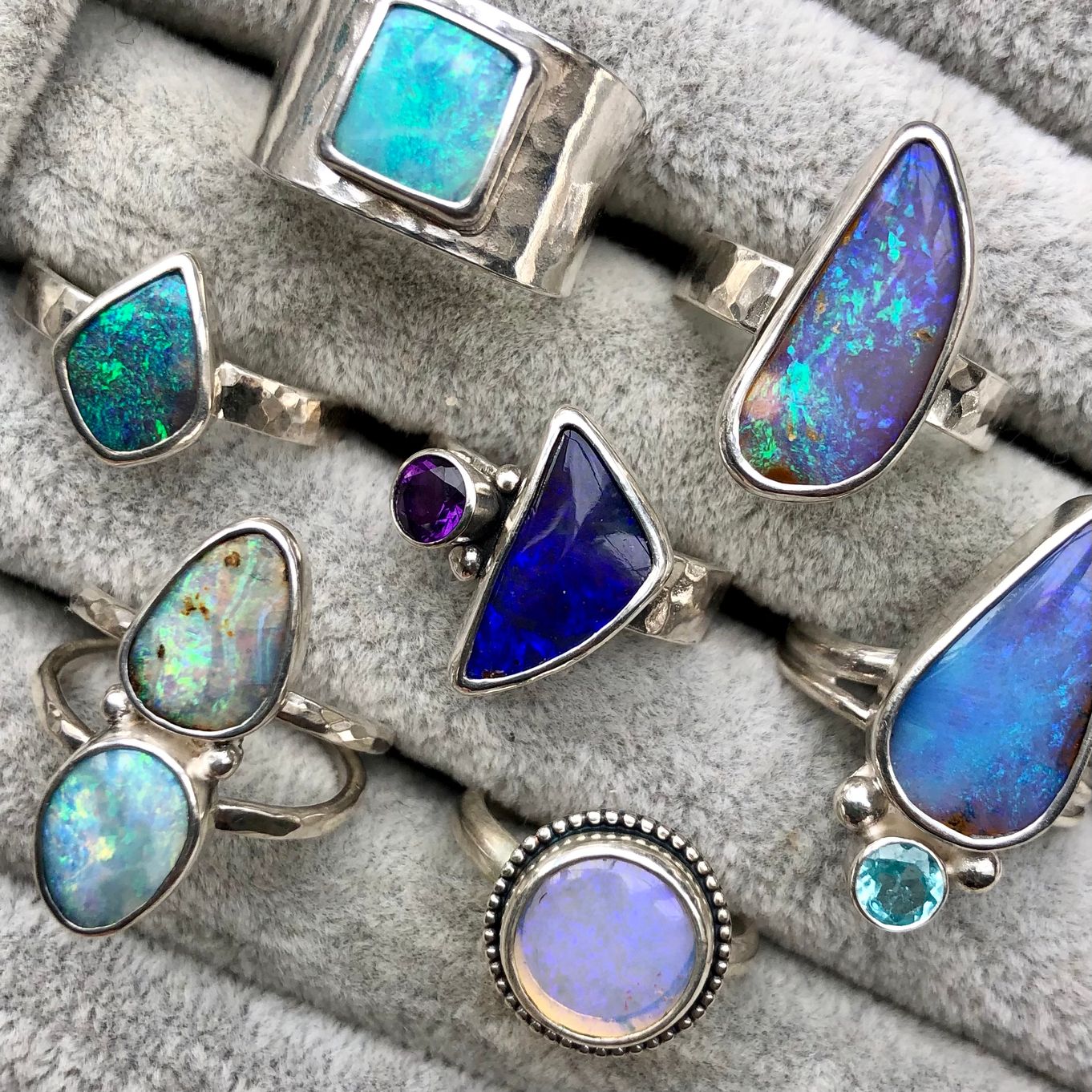 It's clear you have a love for opals, where & when did that start?
Actually, I blame you guys for my addiction! Just kidding, but I fell in love with opals when I used to work for Kernowcraft (a fair few years ago now), getting to see all of the beautiful stones when you got them in was like Christmas. There's something so mesmerizing about the uniqueness of each one and their sparkle, I was hooked from the get go! My first Australian opal was from you and it's still part of my personal collection, that one is staying with me.
"I love working with Australian opals. Unlike other types of opal they're non-porous so their fire will never change over time."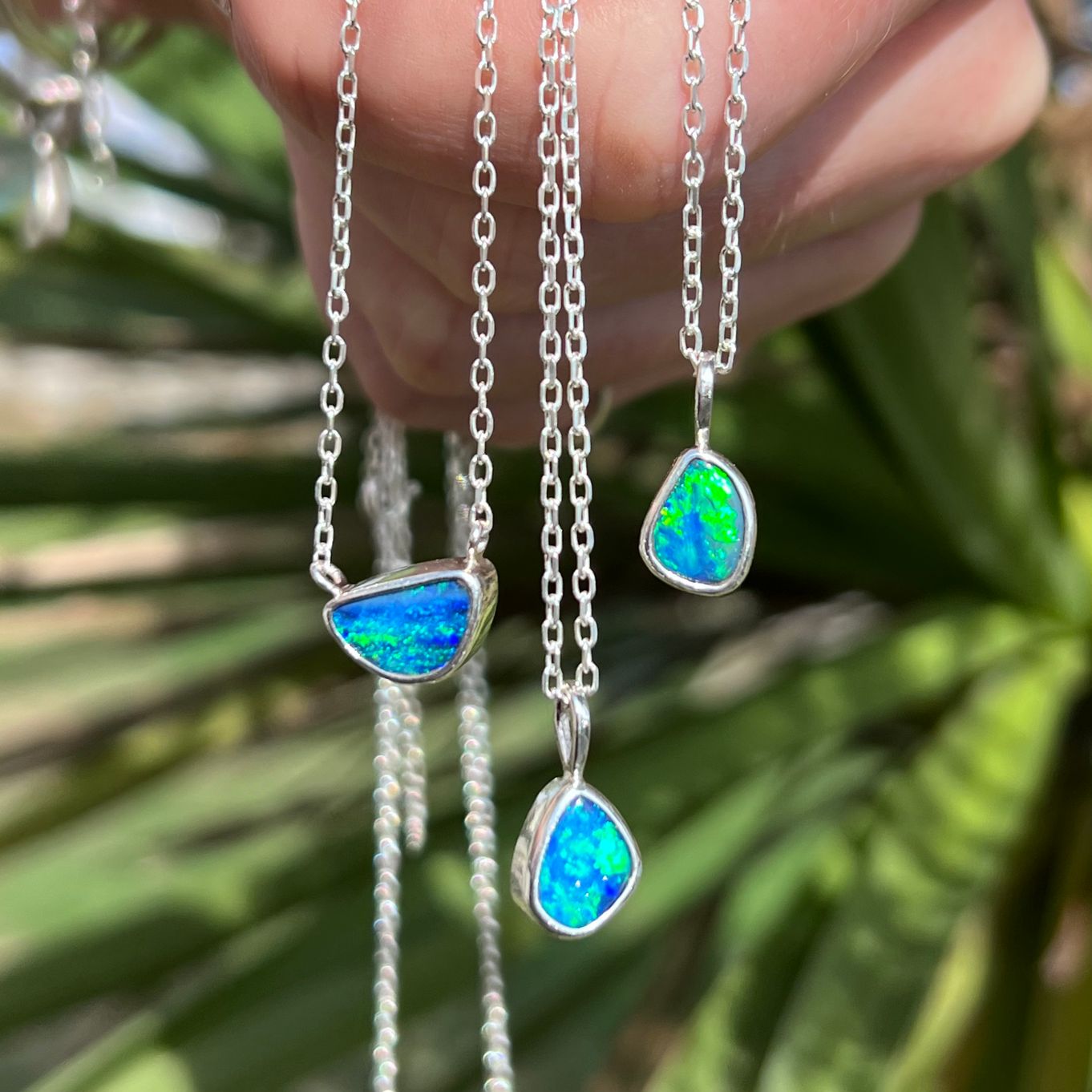 What's your favourite type of opal to work with?
For me it's all about Australian opals! In pretty much any form, whether it's boulder, pipe, crystal, black opal or doublets. I love them all, but if I had to pick a favourite I'm a boulder opal girl for sure, something with blue/green/purple colouration and a cheeky bit of host rock to give a glimpse of its formation in nature. I find the contrast of the opal colour against the iron or sandstone only adds to the uniqueness of the gem. Australian opals are also my favourite to use for jewellery as, unlike other types of opal they're non-porous so their fire will never change over time.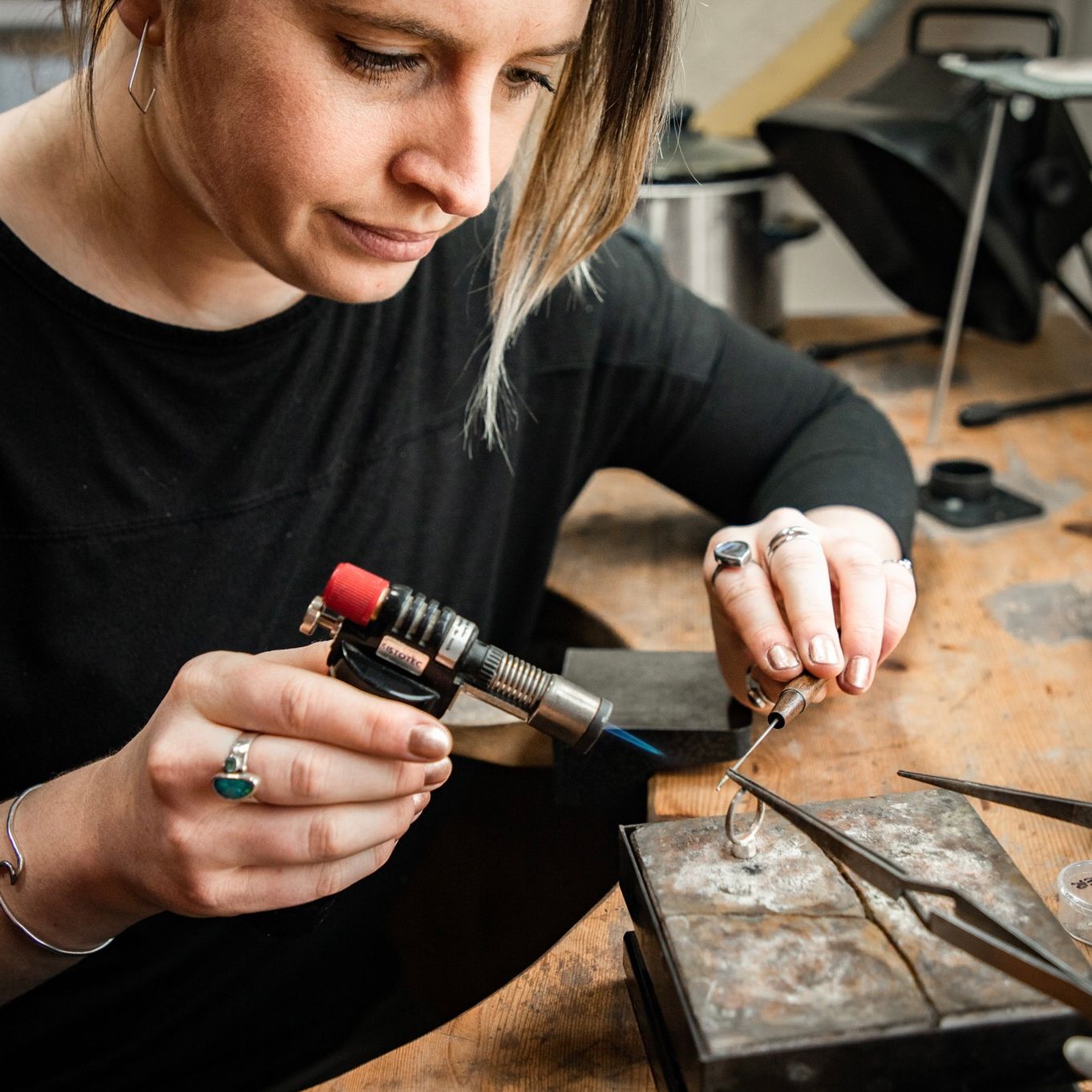 You've set a fair few of them now, any tips for setting opals?
They're definitely on the more fragile side and often the way they're cut can create undulating and uneven edges, but don't let this put you off. Just take your time and if you're using a thicker bezel maybe thin the edge slightly to make it easier to push over the stone with less pressure. I started off making sea glass jewellery and I didn't realize it at the time, but that was the perfect practice for setting freeform stones.
Do you have a favourite opal piece?
I can't say I have one stand out one, they're all so different I love them for different reasons. I have a stunning big minty green boulder opal my mum got me for my 30th that I made into a ring, that's probably up there for sentimental reasons, but also because it's an absolute beaut of a gem!
On social media though there's a clear follower favourite. It's a bright teardrop boulder opal ring with some accent gemstones, I definitely need to do some more in this sort of style in the future!
It can't be all about opals, what are your other go to gemstones you like to use?
You're right there! There's so many other gemstones I like to use as well. I can't help it I'm a bit of an ocean lover and I'm mainly drawn to the bluey/ greeny hues, so stones like, turquoise, larimar, aquamarine and teal moss kyanite are some of my other favourites.
Getting customer requests is great for pushing me to use different stones though, I had a recent ruby wedding ring that is one of my favourite makes this year.
I also absolutely love salt and pepper diamonds! Probably for similar reasons I love opals in that they're also so unique, no two are ever the same, I definitely want to use more of these in new designs.
"I started off making sea glass jewellery and I didn't realise it at the time, but that was the perfect practice for setting freeform stones."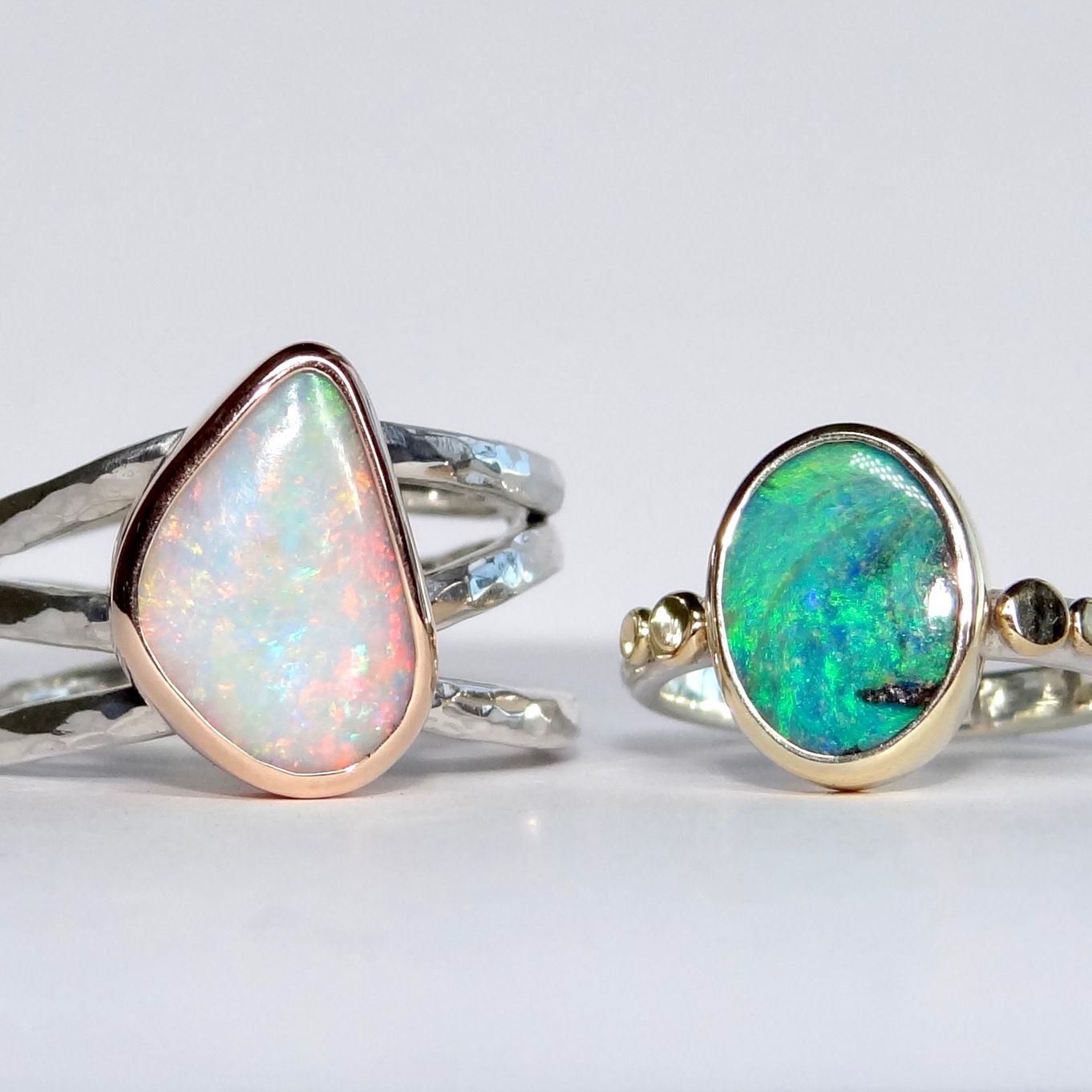 How would you describe your style, what influences you?
I'm a bit of a perfectionist and love clean, contemporary style and design. I try to fuse this with a bit of my wild Cornish surroundings, taking inspiration from the oceans and beaches near me to combine precision making with free-flowing feels.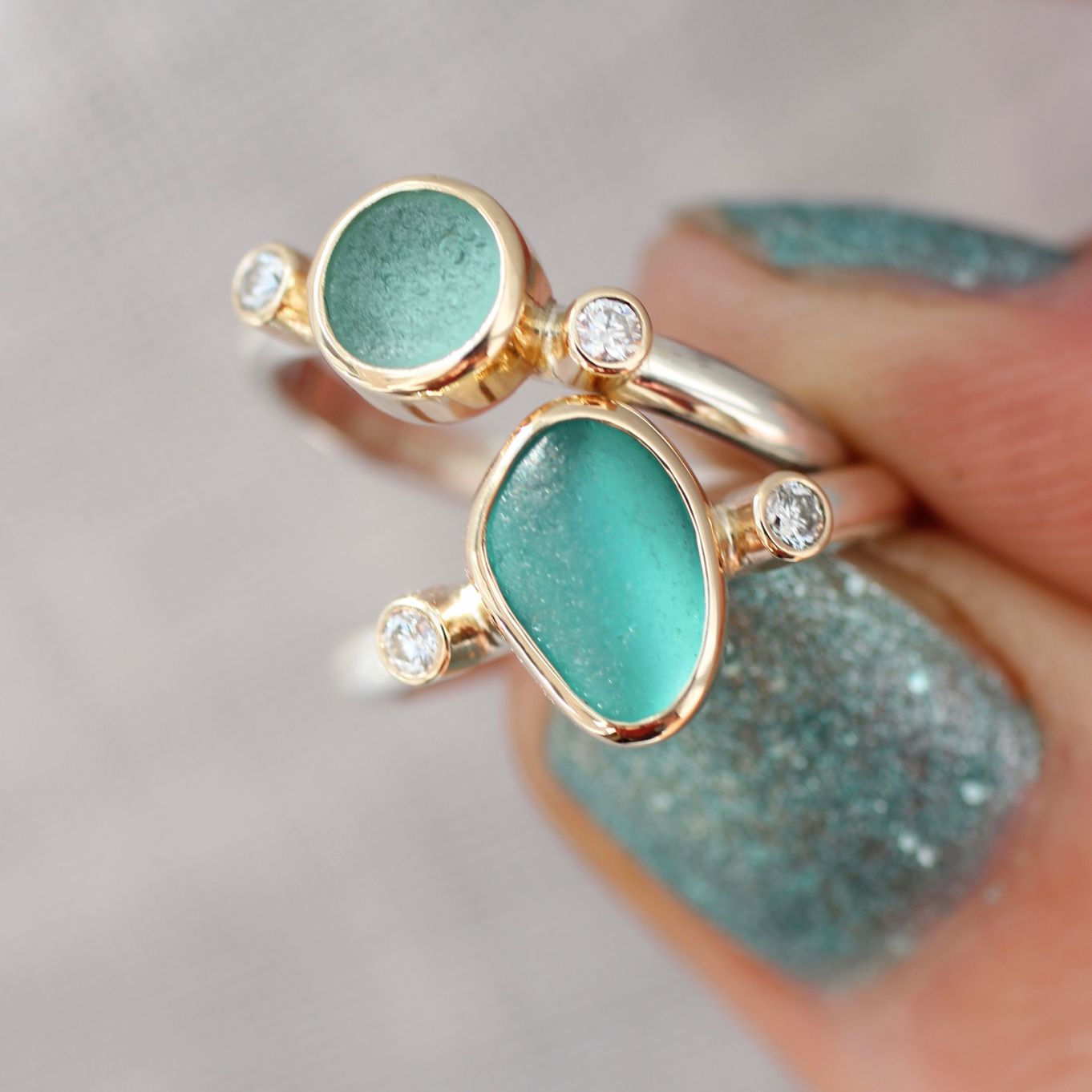 You said before you used to make sea glass jewellery, do you still do that or is it just gemstones now?
Still working with sea glass yes! Just in a slightly more a sophisticated style, I like to keep in touch with my business roots and where it all started. Now I mainly only do sea glass engagement rings, hand shaping the glass to create some more refined pieces and pairing the sea glass with moissanite or ocean diamonds. I'll still do the occasional collection of classic sea glass pieces for summer or Christmas or as bespoke makes for customers with their own glass, which is always nice.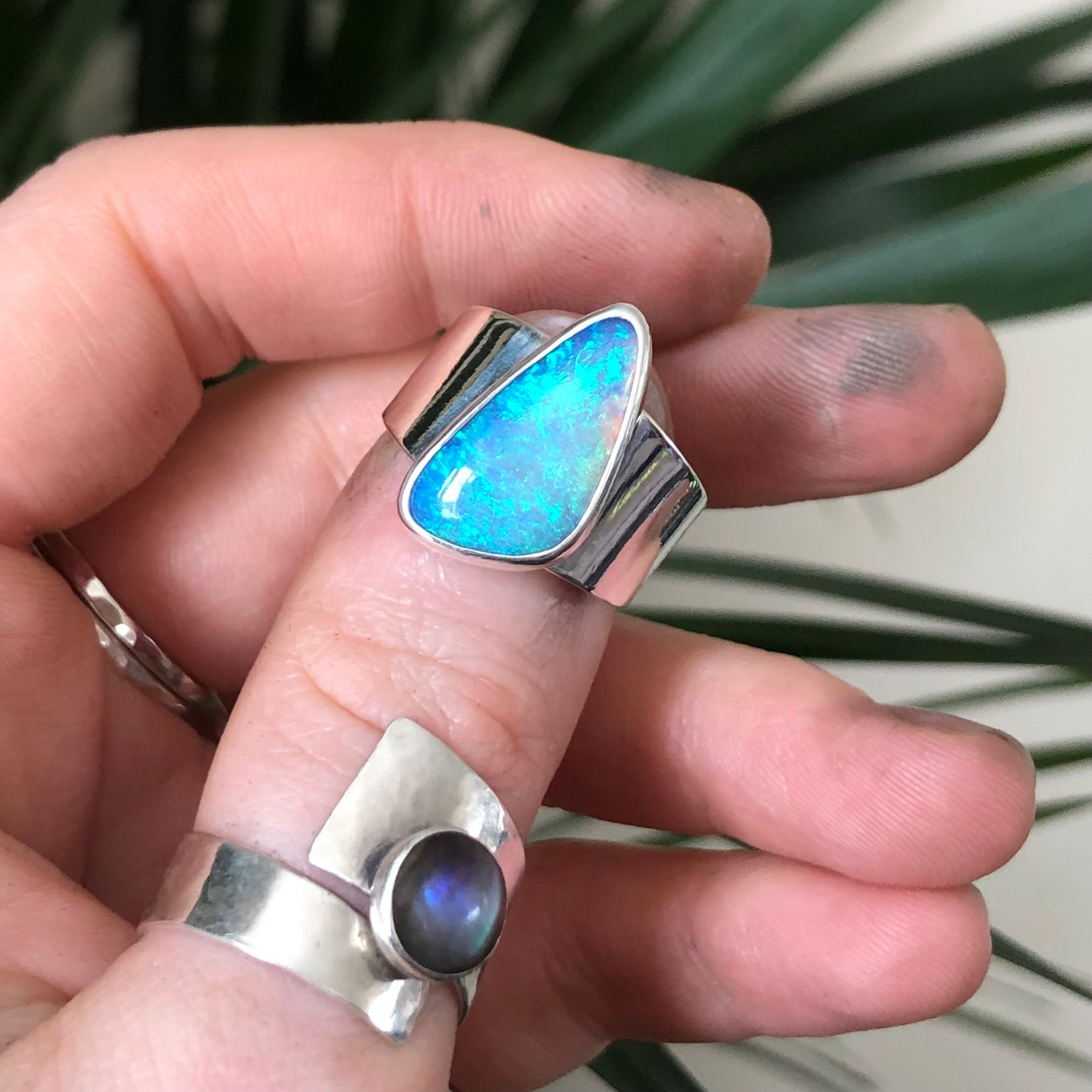 Your favourite thing about jewellery making?
Got to be the feeling when you finish a piece and your vision comes to life! A real sense of achievement knowing your created it. The other thing I love about jewellery making is actually the online community of other jewellers I get to be a part of. There's something really rewarding about being about to share tips and advice and support each other with other makers from all over the world, as well as local jewelers in Cornwall too. Working on my own I guess I consider these guys my colleagues, they're always there when you need a hand.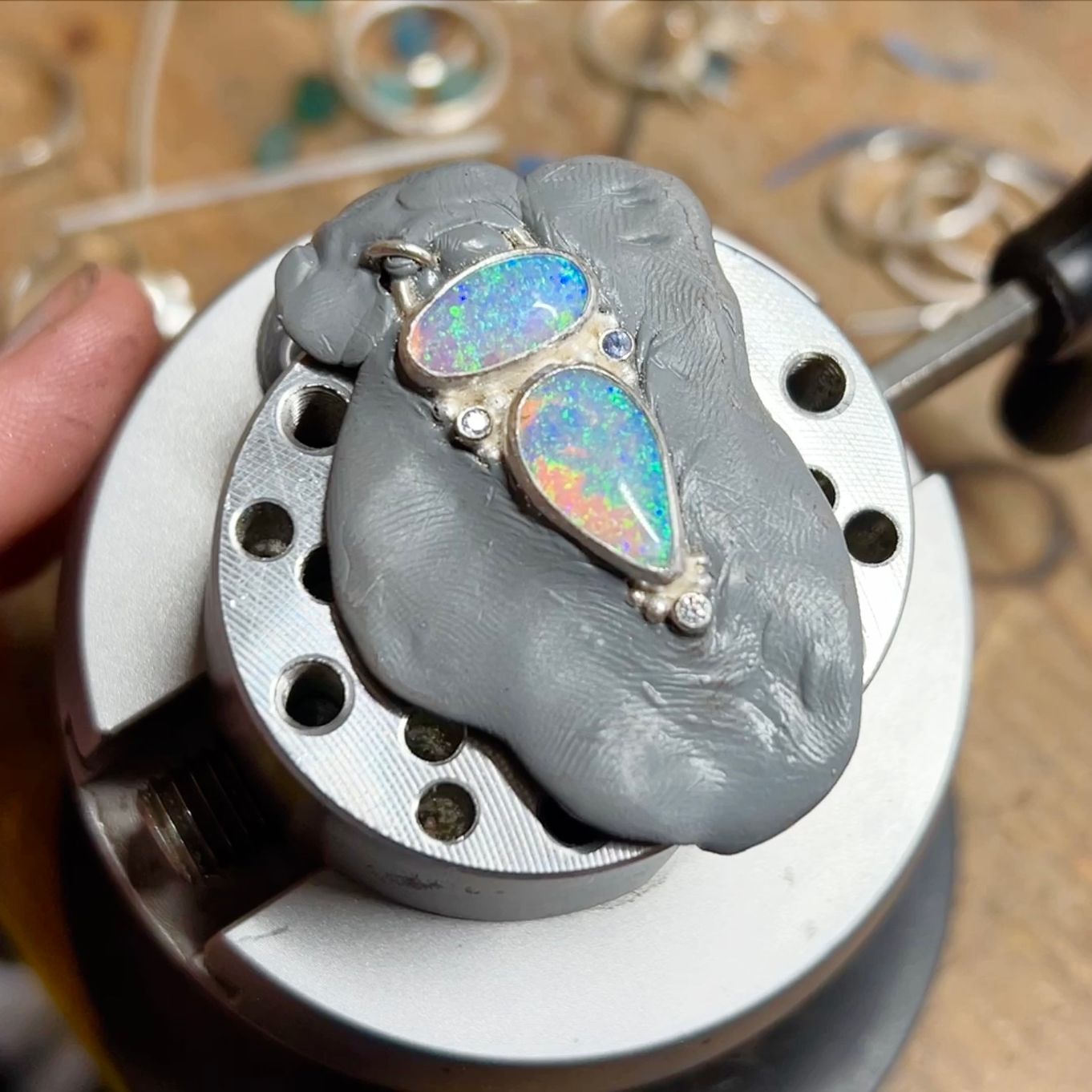 We know your favourite gemstone, but do you also have a favourite tool, there must be something you wouldn't be without?
I do love a good tool! I actually normally treat myself by investing in a new 'big' tool at the end of each tax year. Favourites are probably my Durston ring stretcher/reducer which is super handy and used a lot, my flexshaft for polishing and stonesetting, I had a Dremel 4000 for years, but last year upgraded to a foredom. When it comes to workshop staples I wouldn't be without a couple third hands or my thermoloc for setting stones!
How have you found it since making jewellery your full time job, any advice for others thinking of taking the plunge?
I Love it! Most of the time… occasionally I end up a bit overwhelmed with the sheer amount of different jobs you have to do when you literally do everything yourself, but in the end its always worth it. Learning to say no to certain enquiries and when to take a break is key to not burning out. It's always going to be a scary at first going full time, it's hard to pick a right moment you just gotta go for it. For me it was something I'd been wanting to do but kept putting it off mainly for financial fears. I worked part time in hospitality, but then when covid hit and I lost that it was kind of a sink or swim moment and I decided to go head first in the deep end. It's taken a lot of hard work and time to get to where I am now. That first year I worked A LOT, I've been full time for 3 years now and I guess it's only now I really feel I'm starting to get into more of a rhythm with it. You're never going to know if it's possible unless you give it a go.
Learn more about the techniques Jo mentions in this interview with our book recommendations...
Discover stone setting tutorials