Handmade Jewellery Inspired By Japanese Heritage & Philosophy With Kumiko
Kumiko from 'Field Of Tree Jewellery' takes us on a day in the life of a jeweller! Watch Kumiko's fascinating creative process which includes left hand drawing, Japanese ink, beeswax lost wax casting, chasing & repoussé in the video below.
In this interview, we learn all about Kumiko's jewellery making experience, how Japanese heritage and philosophy inspires her designs, more about her love for texture and share some of Kumiko's incredible designs.
"I would like to think that the Japanese philosophy helps me to notice things that we may not have seen before, or that were once insignificant..."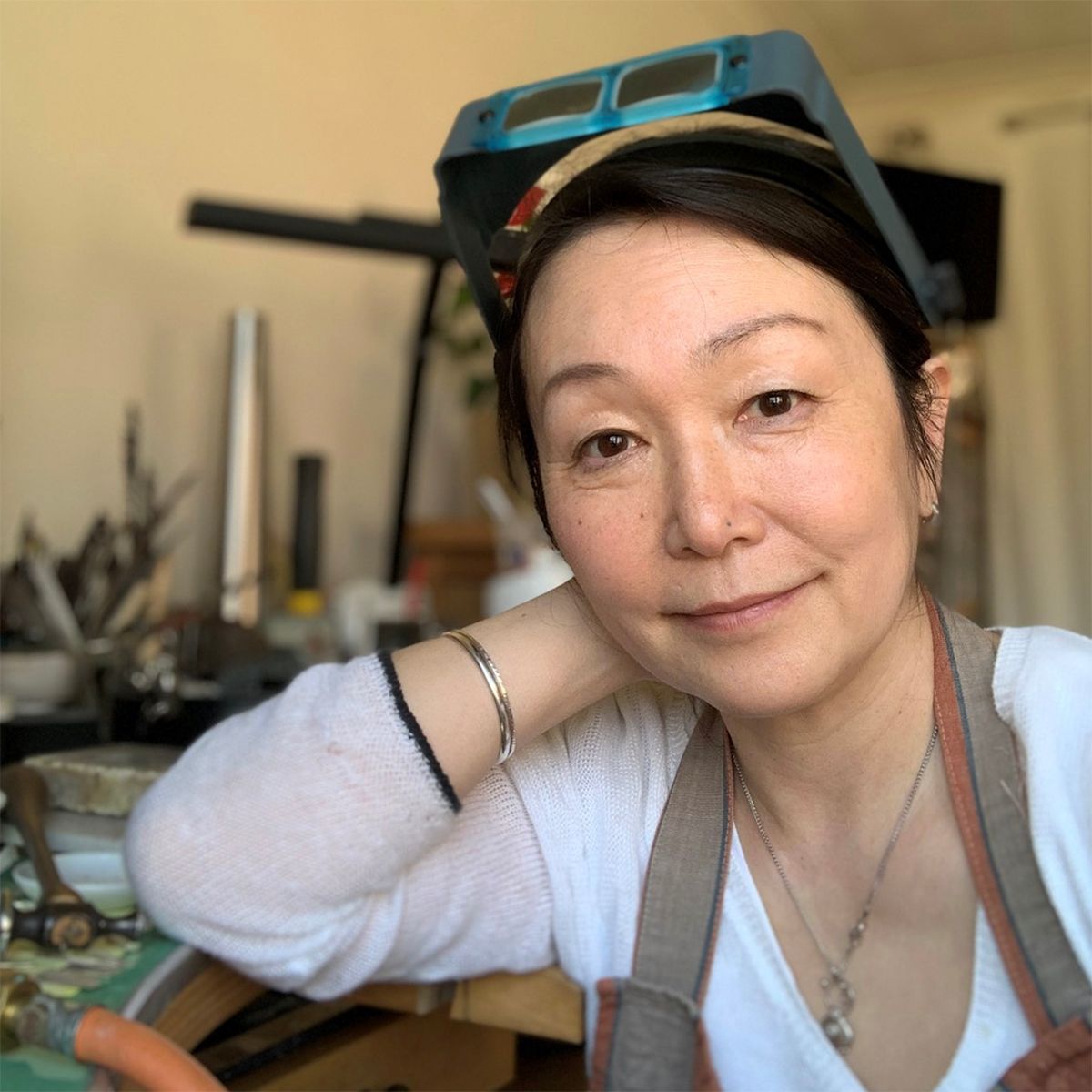 Hi Kumiko, please tell us how your jewellery making journey began!
Hi, thank you for inviting me. When I was a child, I remember vividly that my auntie always wore beautiful hairpins. She always wore a kimono for work as she was a Japanese traditional guitar player. So her hair had to be beautifully set every day and decorated with beautiful kanzashi hairpins. They were usually silver or turtle shell inlayed with some mother of pearl or with pearls or coral. I remember the shimmer that the pearls made when she moved and the noise that the silver tassels made. I can say that my fascination with jewellery had begun there.
After my graduation, I worked as a jewellery designer in Japan, designing very commercial mass produced pieces. It was good until I wanted to use my artistic side more, and then decided to go to Spain to pursue copper print art, which was my degree. I wanted to be an illustrator. One day I encountered a gallery when I was walking in a street in Barcelona. There was an opening night of a contemporary jewellery exhibition. As soon as I was inside the gallery I was mesmerised by the dynamic of the designs and concepts they were exhibiting. So instead I enrolled at a college which was a very renowned jewellery school in Barcelona, I didn't know that back then. I was so lucky to be taught by several inspiring professors and I also met so many different artists whose ideas of jewellery were totally different to what I knew before. I learned how to build a concept into my designs. So I started to design more contemporary jewellery and I was like a fish released into the sea. It was what I needed, almost like giving more freedom to my thoughts.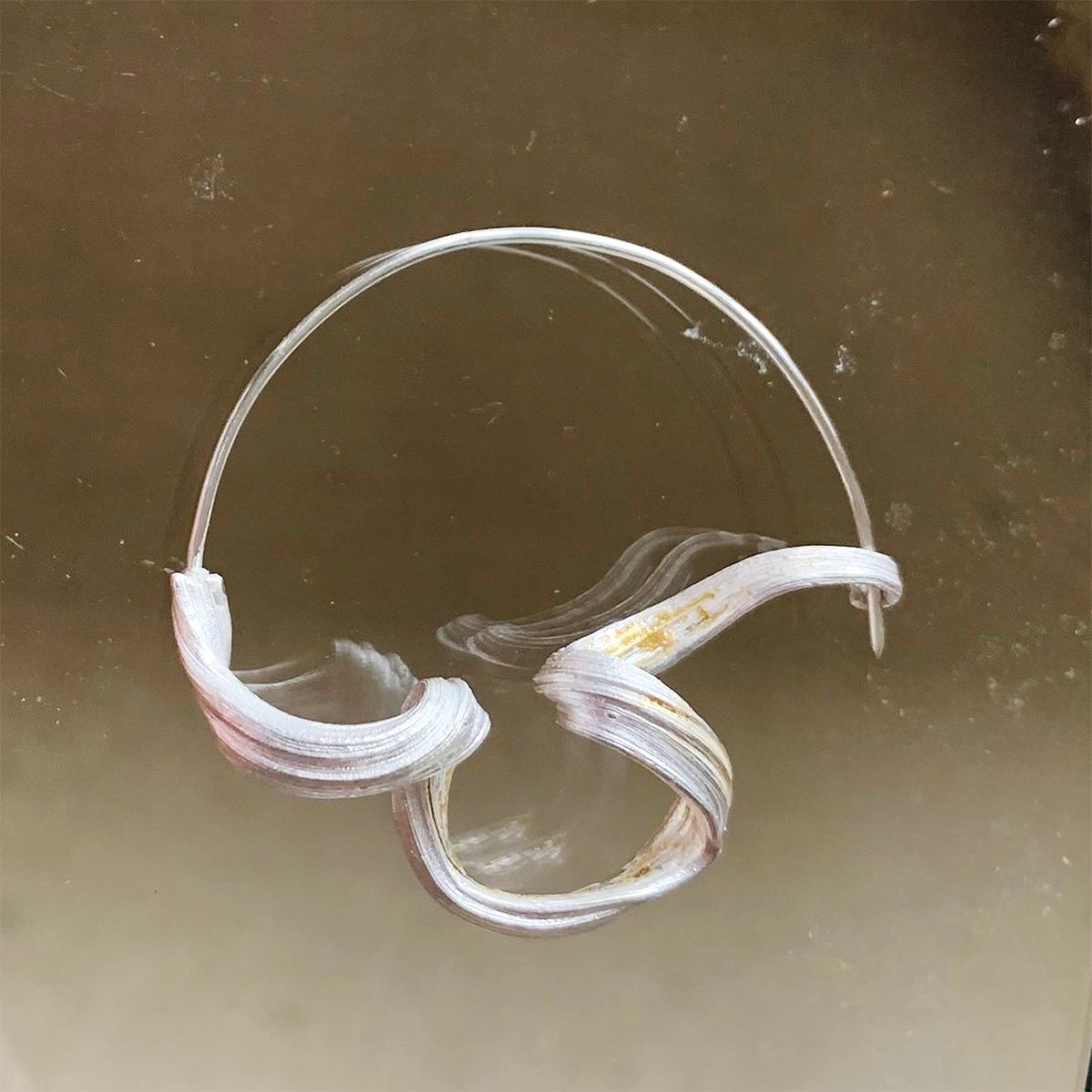 Your jewellery is influenced by Japanese heritage and philosophy, tell us more about this
I was brought up in Kyoto where there are many ancient temples and shrines and a whole history of arts and culture. Old workshops and factories where the craftsmen made traditional Japanese crafts were in every corner and you could hear them working from the streets.
I am always very curious about the simplicity of Japanese culture. We say there are gods in every place, every room and every object, so I always thank them everywhere I go! That is a commitment in itself.
I would like to think that the Japanese philosophy helps me to notice things that we may not have seen before, or that were once insignificant. My jewellery is like an apology and also an expression of gratitude towards nature.
You took part in our Day In The Life series, how did you find sharing your day?
It was so nice of you to invite me to do the video. It was a bit daunting to start with as I hate my voice and my double chin! But it has been ok and I hope everyone can see that you don't need a perfect workshop. With minimal stuff, you can still make something.
Watch Kumiko's Day In The Life Of A Jeweller Vlog
"I was intrigued by the older slower processes which I could only do by hand..."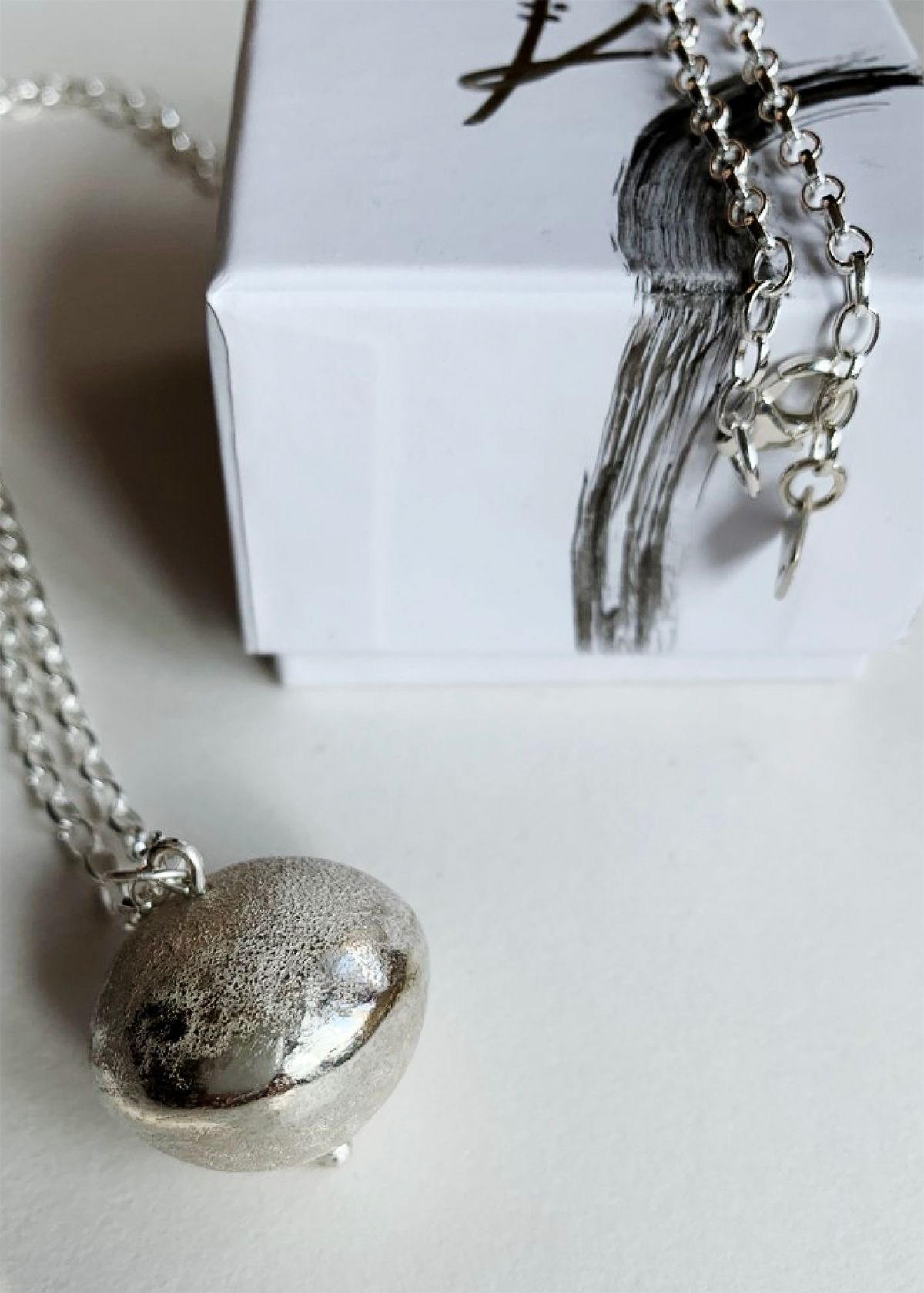 How would you describe your jewellery in 3 words?
Timeless, Personal, Organic
Tell us about your workspace and how you make it your own
To be honest, I don't have much in the way of equipment like many other jewellers. My workshop is very small. My children are both grown up now but when they were little I had a baby stairgate between my workspace and the landing so they were not able to come in but I could still see them playing. I have a jewellery bench for soldering, piercing, filing, etc, as well as a tiny table. I usually sit on the floor on a tiny chair, made by my husband, for doing calligraphy, designing, chasing and beeswax making. It's a very Japanese jewellery-making style. The tools are all I use constantly and have been loved constantly.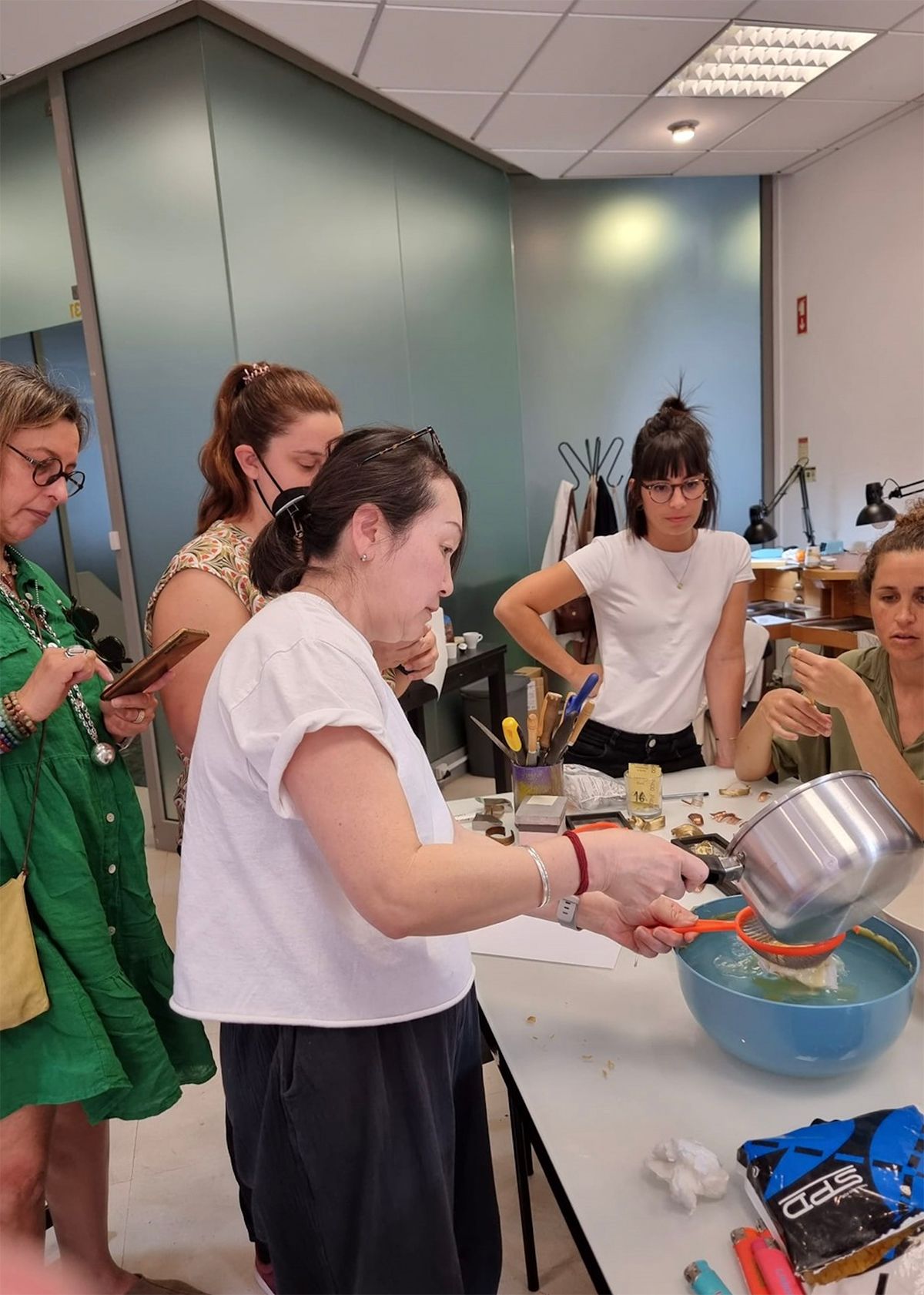 Tell us more about your studies in jewellery making
I studied in a college in Barcelona and also in Germany. I was drawn more towards traditional techniques than modern ones. I learnt chasing and repousse which are both time consuming slow process techniques and require patience.
I think we are losing that sense of feeling and touch, because we rely on technology so much these days, so I was intrigued by the older slower processes which I could only do by hand. I feel that it suits my designs and my philosophy. Every hammer strike, every stretch of beeswax has meaning and that's so precious.
I hope my training and experiences in different countries have given me a range of skills that can be mixed and collaborate into my design.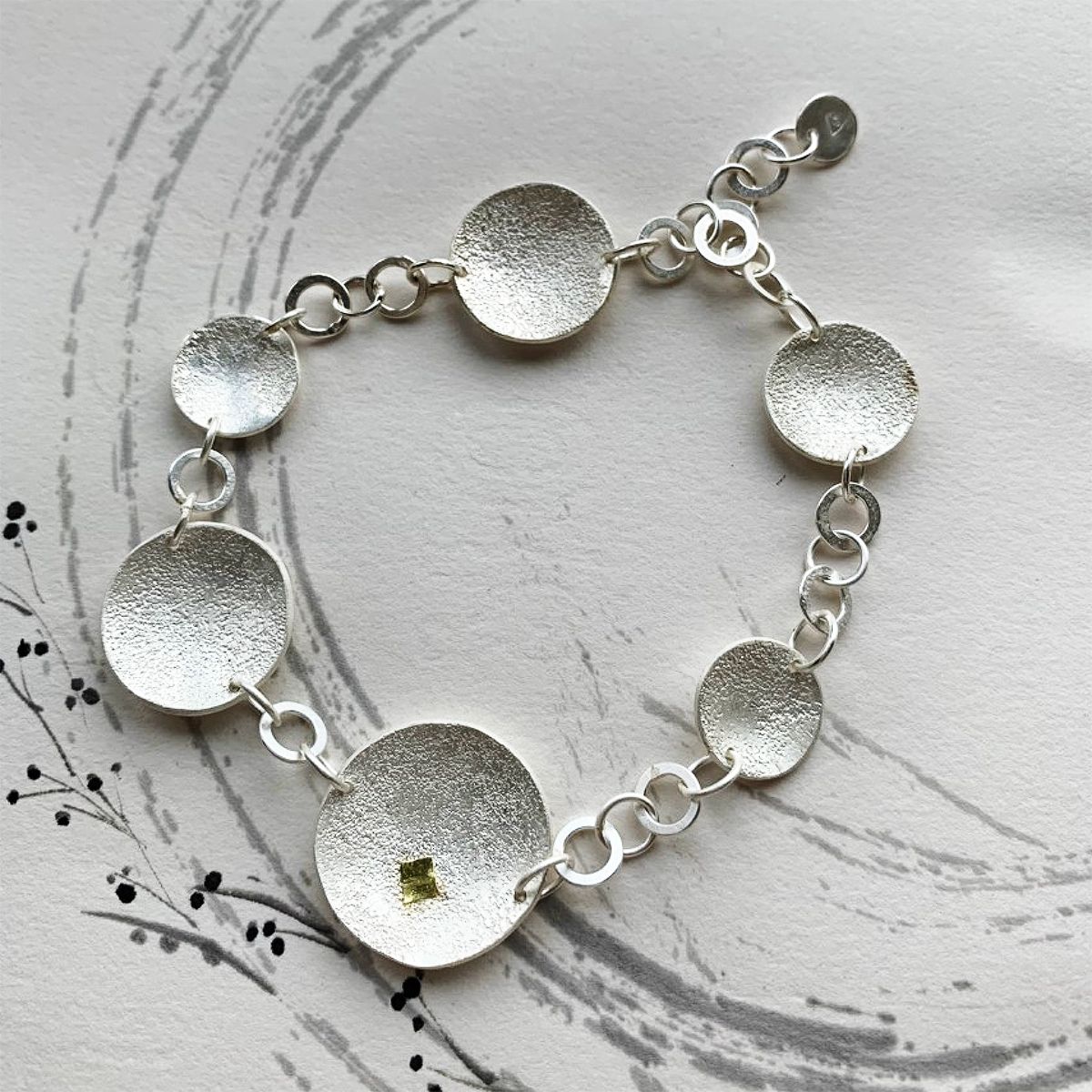 What's the meaning behind the name 'Field Of Tree Jewellery'?
It is a poetic translation of my surname "KIHARA". KI means a tree, and HARA means a field. My daughter and I came up with this naming during the pandemic. We felt it was appropriate for what my design looked like then and how they were going to develop.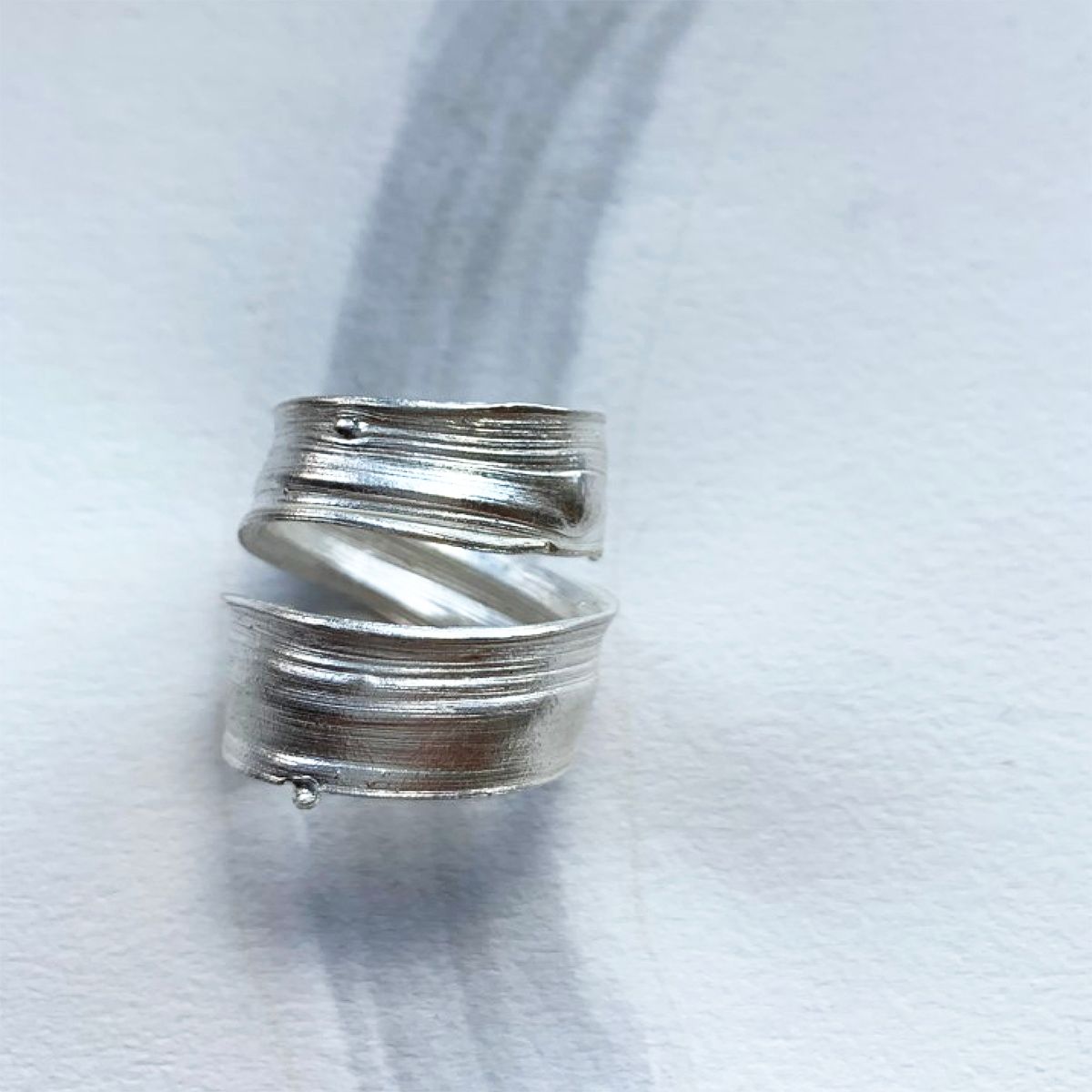 We love your use of textures throughout your designs, tell us about your favourite texturing techniques and tools
Thank you. I do use chasing pitch and chisels for the volume and use reticulation technique for sandy texture, and I have also been using beeswax lost wax casting for more fluid movements. This is an ancient Japanese silversmiths' technique and it's not that well known.
Tell us about your design concept and the processes behind them
I would like to think my design concept is like an absolute state of balance with human being and nature. We appreciate that the course of nature continues despite other issues occurring in life, such as the pandemic. We become thankful for the natural forces.
My jewellery is like an apology and also an expression of gratitude towards nature.
I always try to draw attention to the inside space in my work. In Japan we call it "Ma" where I focus most on "the emptiness". I love the way that the object creates shadows which describe the emptiness. I usually draw first with my Japanese ink and a brush. It makes sense when I see the lines and the space these lines create. It is like a ritual for me to clear my mind a bit.
Tell us more about your experience of making beeswax jewellery
This is a traditional Japanese lost wax technique called "Mitsuro-Hikime" I love the organic nature of this wax. When you stretch it with your fingers and your state of mind, it results in some unique lines. Because the movement of your fingers and thumbs are so intense, whilst I make Mitsuro wax jewellery, and also the beeswax has to be in the right temperature, I sometime forget to breathe. But the reward from my breathlessness is unbeatable.
The lines which appear on the wax are what I felt at that moment and that moment is so important. I like to capture the sense of a movement like where water touches land. The outcome is not planned, so this organic approach makes me appreciate surprises.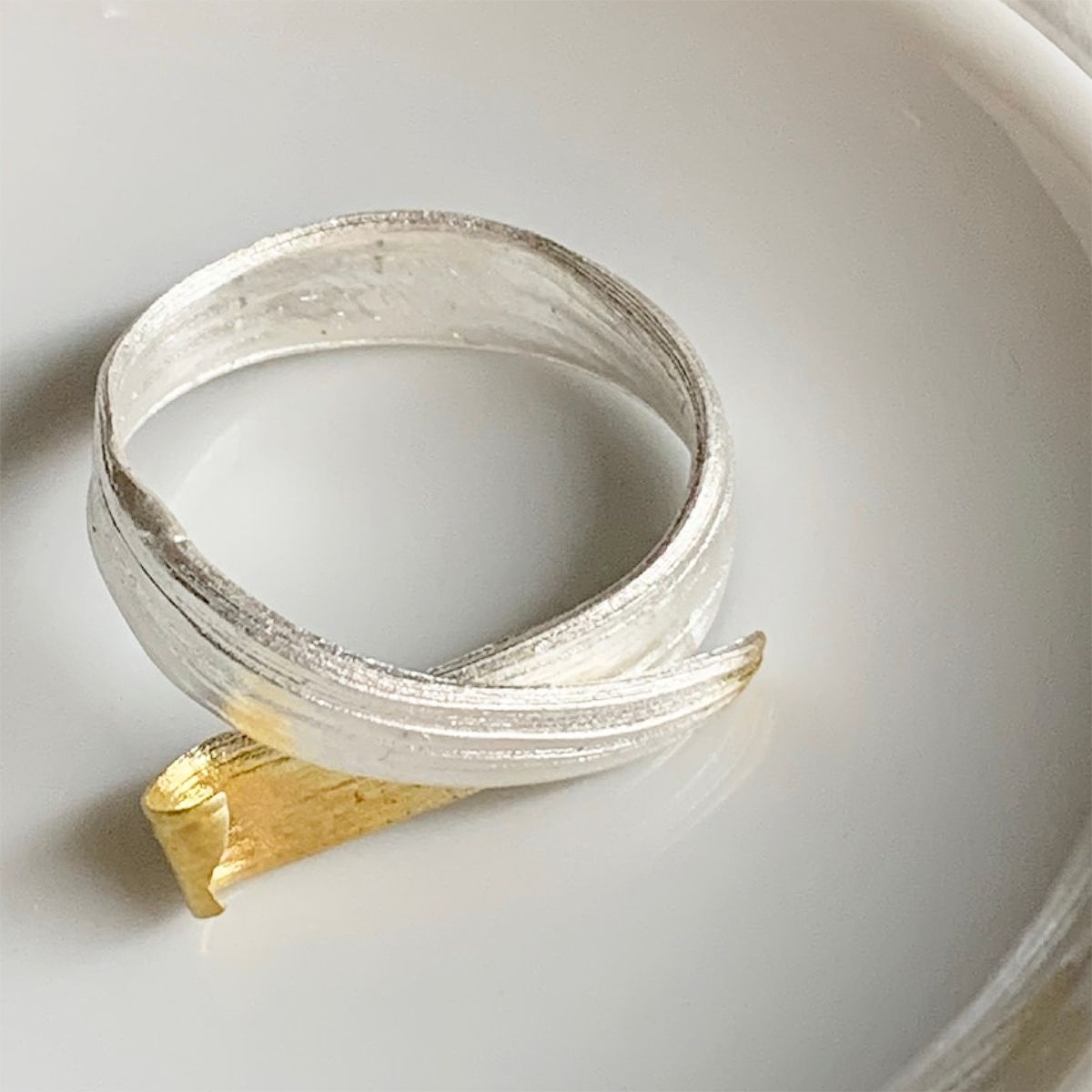 What's one technique you'd love to master and why?
I feel I am still trying to master this beautiful beeswax technique. It sounds so simple on the surface of it, but the wax is so temperamental at the same time.
I would love to be confident enough to teach others, as this technique is dying because of the difficulty in getting it right.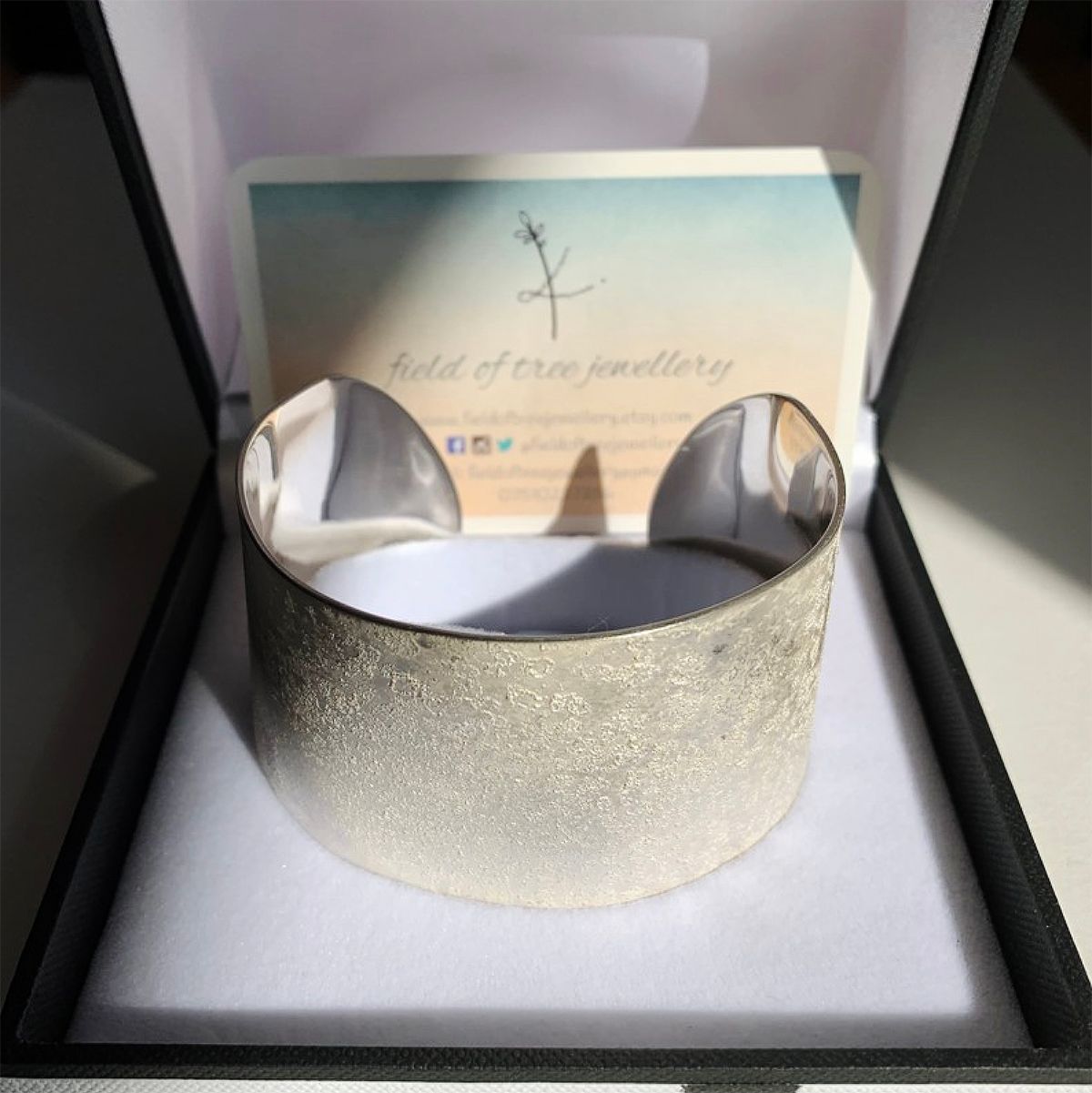 Tell us about one commission you'll never forget!
I had an order from a customer I had never met but he wanted me to make a necklace out of his girlfriend's old gold diamond ring. It was 1 week away from Valentine's Day and he wanted me to complete it before they were going away on their holiday in Italy. I agreed to do it as he said he could trust me with the design. I did it, they went to Italy, he gave her the necklace on Valentine's Day, they came back and he said to me she didn't like it. A massive lesson learnt, "Don't agree with things that you are not 100% sure about especially if it has to be done quickly!!"
"treasure every encounter, for it will never recur..."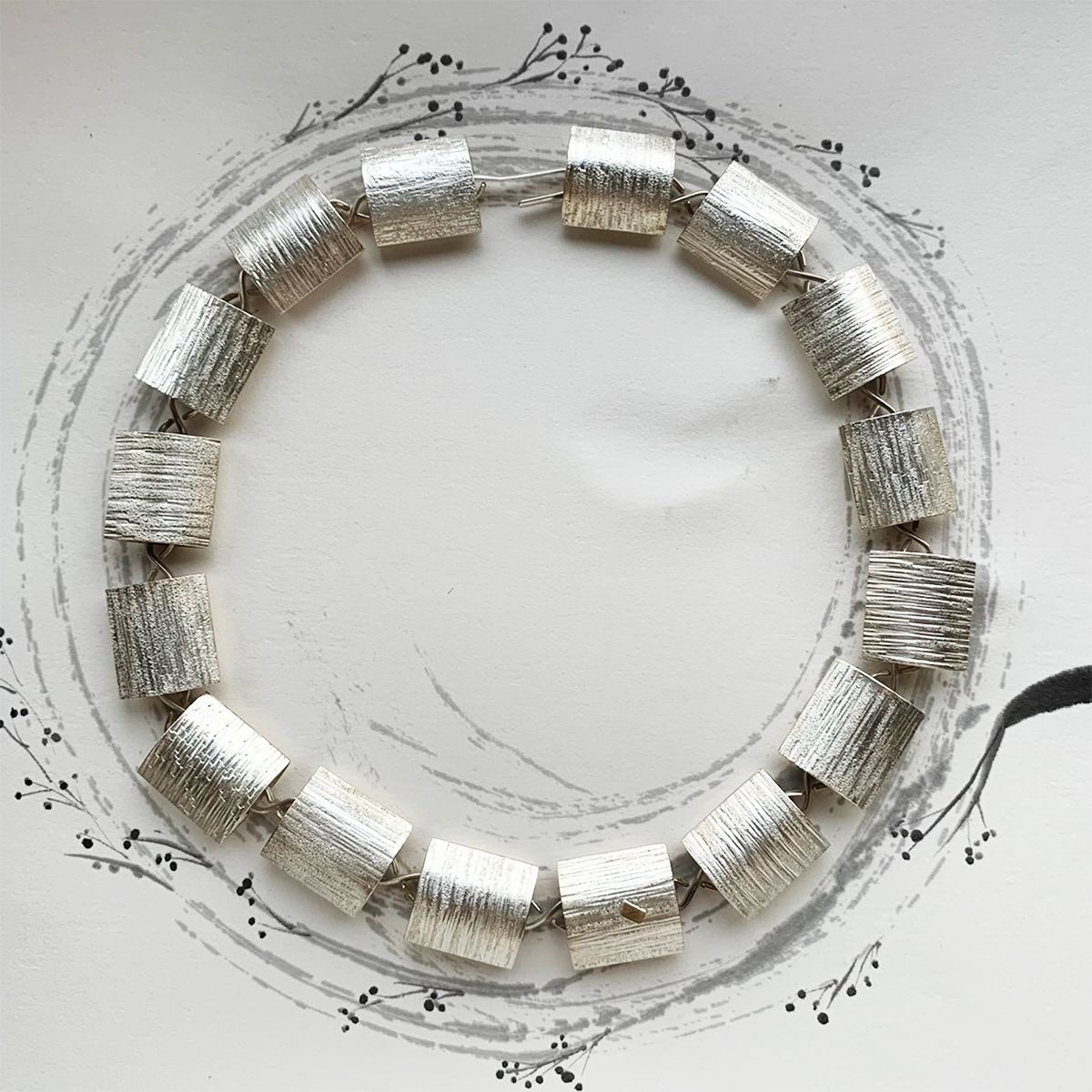 What's your favourite thing about working on bespoke pieces?
There is a Zen phrase in Japan "ichigo ichie" which means "treasure every encounter, for it will never recur." So each moment is always a once-in-a-lifetime experience.
It is a miracle that other people like to wear my jewellery and want me to make one specifically for them. It is such a privilege that one of my creations is becoming someone's special jewellery.
Jewellery is not only a decoration on the body, it can also create connections between people, me included. I love the idea of exploring, honouring materials by understanding for customers. Especially as you would wear them so close to your skin, it's an honour.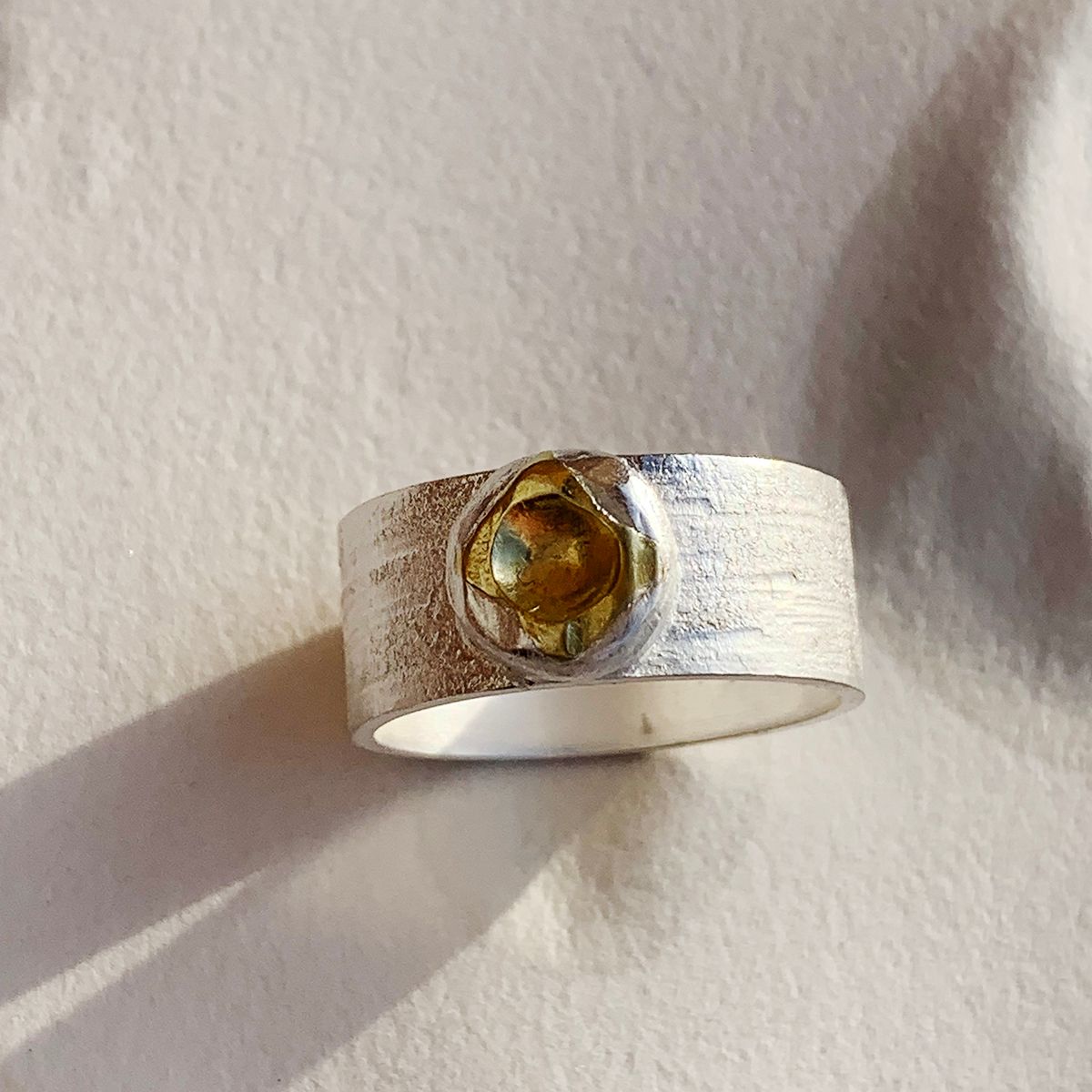 You work on your jewellery alongside being a teaching assistant, what are your top tips for time management?
I am still trying to manage my time as usefully as possible for myself. I need to change my gear completely when I'm doing a teaching assistant job. The students are so lovely and they really give me warm feelings.
I love teaching art to them as they have such imagination. I make myself a rough lesson plan for each day (teacher's brain!), so I don't feel too bad. It allows me to do things away from my bench but I'm still on a task, well almost.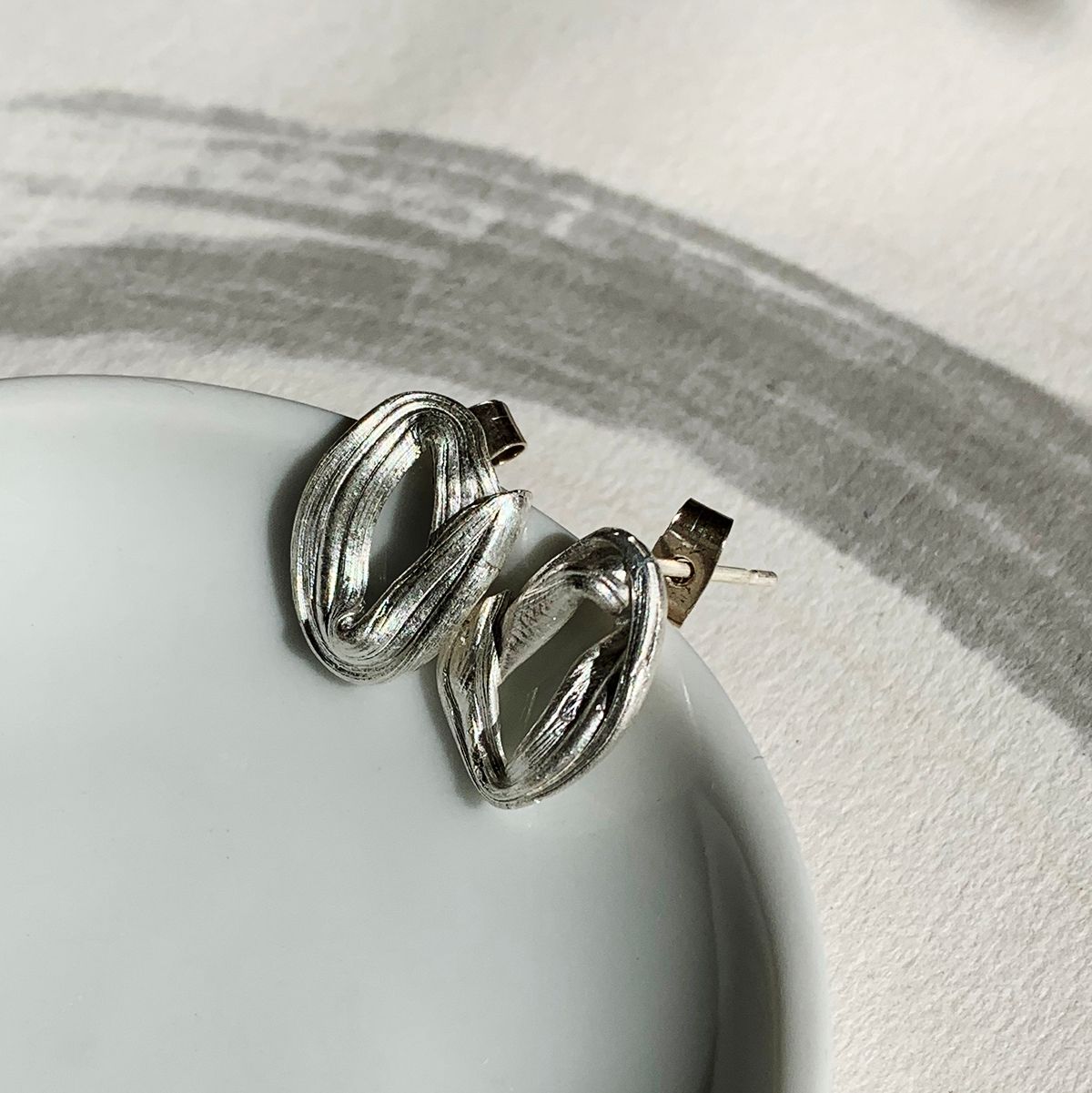 What do you love most about using sterling silver?
I love the colour of silver, just like the moon hitting the water. It shimmers in a slightly passive way.
Favourite gemstone and why?
Awww there are so many to choose from, but my most favourite one has to be a rainbow moonstone. It's so modest in every way but so mysterious when a light shimmers into a stone, it's almost calling you to be found.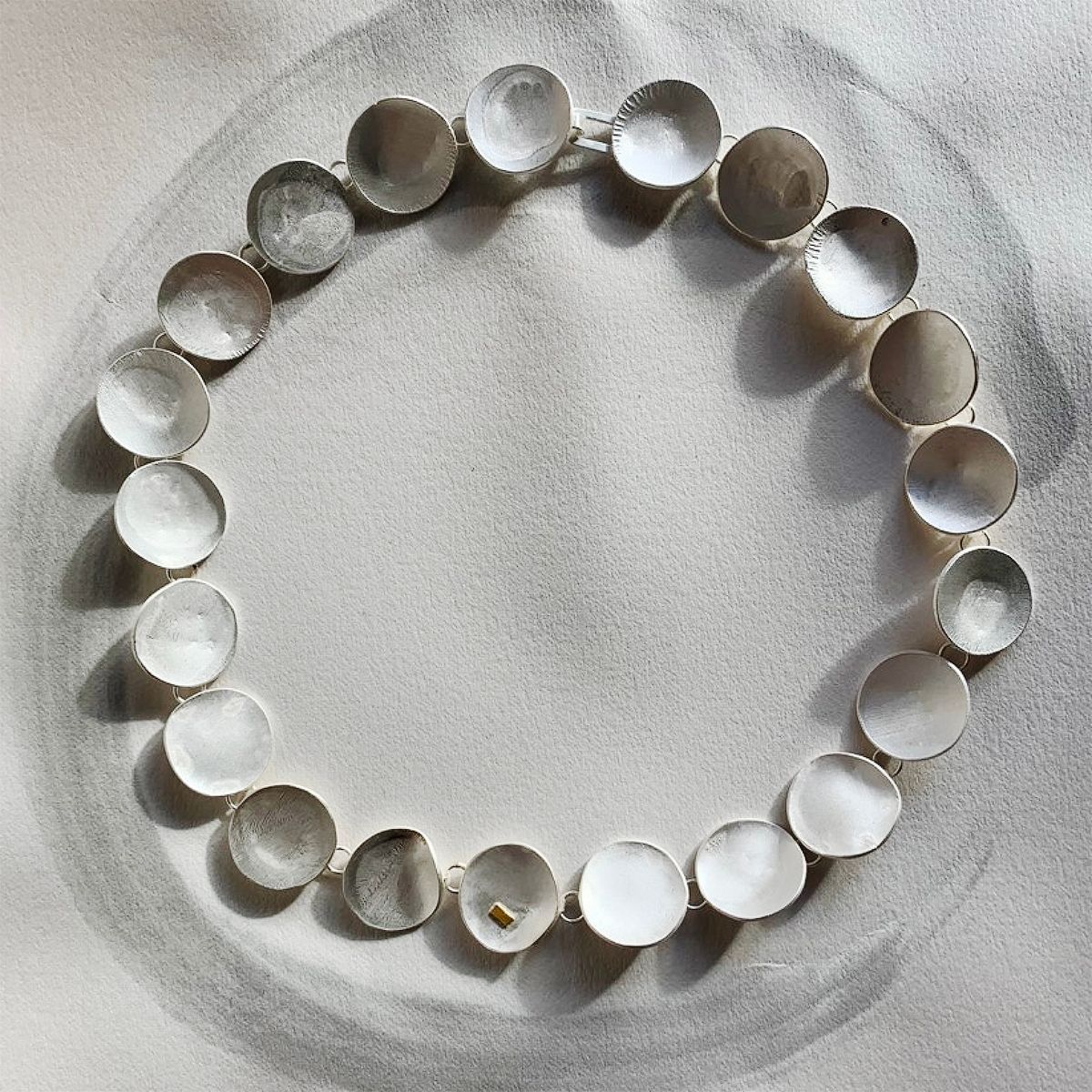 Tell us about your love for chasing and why you're drawn to this technique
I remember when I first went to a chasing class, the room was so small and the smell of resin was so strong. The noise they were making with hammers was extremely loud but rhythmical and a blowtorch was rowing fire. I was witnessing a flat sheet of metal become a 3 dimensional object by hand with a hammer and a chasing punch. Such power you would have!
I fell in love with it immediately. I know this is a slow method of forming a metal, it is like a writing a novel, tells you a story only with a hammer. I give shape and life to a metal with the sound of hammer which input the emotion.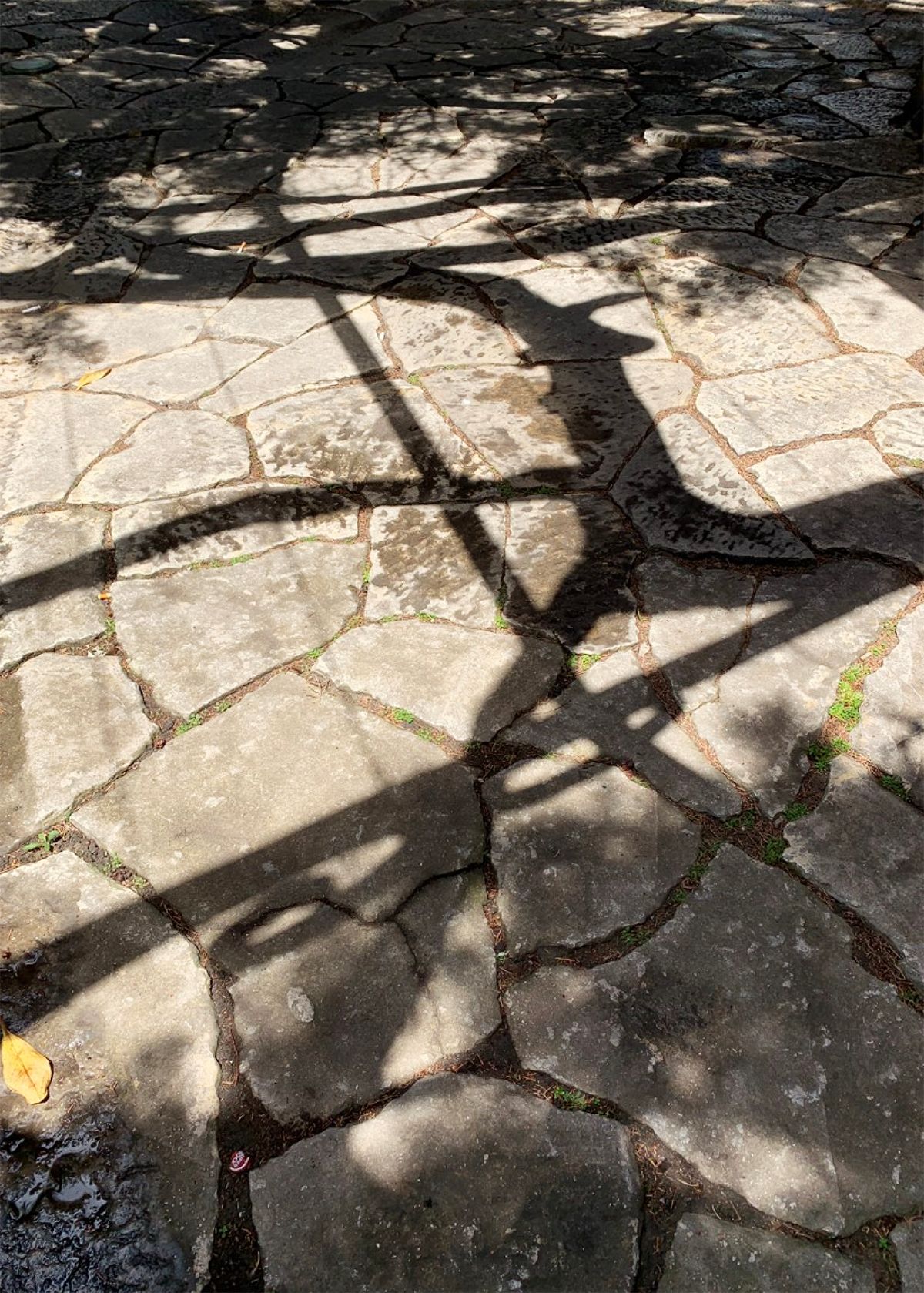 What's your favourite thing about learning something new and what resources do you use to do so
I love learning new skills and meeting new people, so I like to do a course if I can.
Recently I went to Portugal to do a small jewellery course, and it was great. But also the YouTube channels have such great teachers I can watch them endlessly.
What do you love to do in your spare time when you're not making jewellery?
I love Yoga - well it's a necessity as well. My neck and shoulders sometimes get a bit stiff so it's so nice to feel released when my muscles become loosened. I haven't played for a while but I sometimes play the ukulele, which possibly annoys my family sometimes.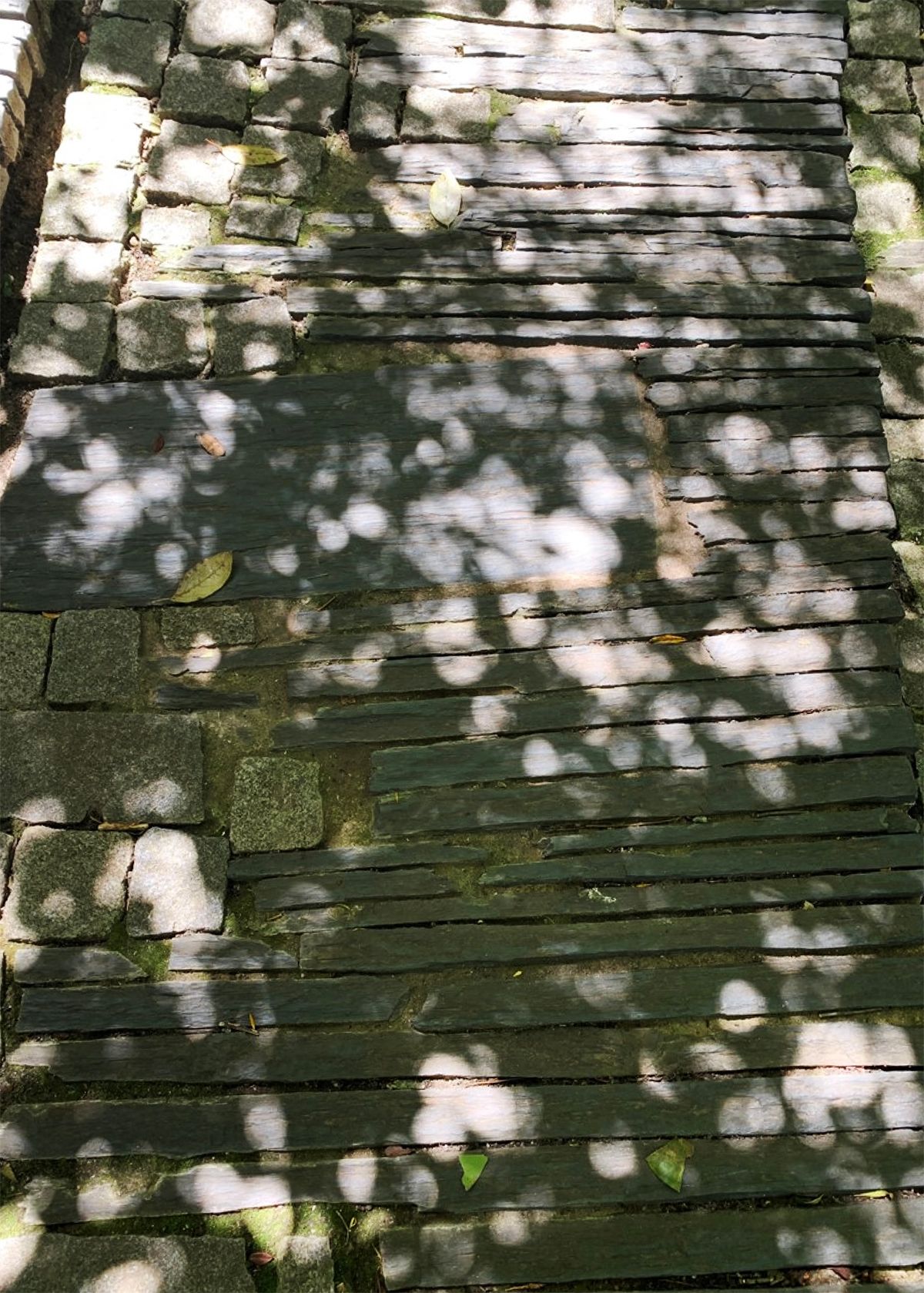 What can we expect to see from you in the future?
I was shortlisted for the Goldsmith's Award this year, but wasn't selected in the end. I will try again and I hope I will be good enough for next year. I need to be more confident about the social media side and hopefully I can improve with that.
I would also love to live near a seaside, to be inspired by the mother of the earth. On that note, I'm so excited that I will be doing a residency with Vanilla Ink in Banff in Scotland this year. I have been told that the sea is a stone's throw away from the studio, so I am really looking forward to being there. My website needs to be updated and hopefully there will be more collections for you to see.