Festival & Boho Jewellery With Tegen
"It's a job that brings smiles to people's faces - which is pretty much the best job in the world..."
"Jeweller, Designer, Maker, Stylist, Mermaid, based in Cornwall, inspired by everything!"
Welcome back to another edition of 'Meet The Jeweller' - our chance to chat to our awesome customers, find out more about their jewellery making journey and their top tips just for you!
This week we chat to Tegen, from Tegen Jewellery who is based in Cornwall. We are totally in love with her festival inspired jewellery from hand chains to chunky rings, and since our Festival Collection is live we thought this would be the perfect chance to gain even more inspiration!
Hi Tegen, thanks so much for chatting to us. Firstly, tell us a little bit more about yourself and Tegen Jewellery
Hi, thank you so much for asking me to be part of this feature! So my name is Tegen, I am from Cornwall and have a love for all things sea related and shiny! I completed an FDA in Jewellery Design and Silver Smithing and have signed up to many other short courses and specialist courses over the past few years.
I launched my current website 3 years ago and since then it has been getting busier and busier to the point that I now consider this to be my main job, which makes me really happy! I named my business "Tegen Jewellery" - I know it's not very ingenious but "Tegen" means "Pretty Little Thing" in Cornish so as it was my name I thought it was quite fitting for the jewellery brand.
What got you started in jewellery making?
I've always had a love for making things, my dad is an engineer and my mum is a graphic designer so there has always been a lot of creativity in my upbringing, I always loved jewellery and was often caught delving into my mum's jewellery boxes and putting as much of it on as possible! I have a love of stones and love to learn all about them and throughout doing my national diploma (many years ago now) I discovered working with metal and really enjoyed it.
What is it about festival and bohemian jewellery that appeals to you?
Everything! I LOVE tribal jewellery, it fascinates me, I have the most amazing book that a good friend of mine gave me years ago which has the most incredible pieces of ancient tribal jewels, this book inspires me every time I look through it. I love the bohemian style and think that festivals are the best place for eclectic fashion and are the best place for being free to be yourself, wearing something you might not wear on a normal day but have always wanted to, you can be as extravagant as you like as anything goes!
The colours of festivals and the free-spirited feeling you get at them is something that I try to capture in my work but tailor it to wearable everyday pieces that remind you of your inner bohemian.
What's your all-time favourite piece of jewellery you have ever made and why?
My favourite piece has to be my Meherio Ring, the big centre opal I bought for myself with my first wages from the company, I fell in love with the shape and colour of it, the two smaller ones were taken out of a vintage piece that was scrapped. I had them all sat there for a while before I decided to make them into the ring, making sure I was happy with the design. Now I wear it every day, its my signature piece it reminds me to keep going when I'm exhausted, that all the hours are worth it, everybody comments on it and it has a huge amount of sentimental value to me.
I am currently making my second "remake" of this ring – it takes a while to find opals suitable for the design but the first remake turned out really well.
What has been your greatest challenge during your jewellery making journey?
I think the greatest challenge is to not be disheartened. Being self-employed can be really tough, getting everything you need together to establish the brand and have a workshop that is equipped for all your needs, a functioning website and branding takes time, I work a second job alongside running my jewellery company and it gets very tiring. When you have a quieter month you can sometimes wonder if you are making the right decisions but I'd rather do a job I love and have to put in a lot of hours in to than do a job my heart and passion isn't in.
Jewellery making is very satisfying as you have a physical thing that you have completed and can see and also it's a job that brings smiles to people's faces which is pretty much the best job in the world.
How do you make sure your jewellery designs are unique?
It's so hard to be completely unique, the one thing I love is buying stones that are odd cuts and shapes, different stones that you don't see everywhere and trying to incorporate these with traditional styles (inspired by my Tribal jewellery book) and tweaking the design into something easy to wear every day.
A lot of the time I play around with things in the workshop and see how they fit together and designs come from this. We all have to have some slightly more commercial (bread and butter) pieces that are good sellers but not necessarily unique but just done in your style, as the bigger one off pieces are a lot more expensive so don't tell to sell as fast.
What's your all-time favourite gemstone?
Can I have two? Opal mesmerises me, there's so many variants, colours, depths, flashes, every stone is unique and just incredibly beautiful it blows my mind how these flashes of iridescent colours are formed underground and occur naturally. The second is Paraiba Tourmaline. The colour is just insane! It's my favourite colour and after my recent gem buying trip to Tuscon Arizona I've completely fallen in love with it – but not the price tag…
What colours do you like to incorporate into your designs the most?
I love blues, anything that reminds me of the sea, I use a lot of Turquoise, Aquamarine, Opal, Copper, Lapis and Chalcedony in my work, alongside flashes of coral pinks, black spinel and glittery whites.
Statement designs or simple?
I think you need both! Everyone needs that statement piece that represents them or something special to them, the showstopper that attracts attention and comments when it's worn. Simple because you can wear it every day and you can always mix simple with statement.
We love your star hand chain! What was the inspiration behind this?
Thank you! This is inspired by Indian wedding jewellery and henna designs (with a sea themed twist).
I love the delicate fall of the chain over the top of the hand, there's something very feminine about this just as there is in beautiful henna work, there are more styles of this coming!
Layering jewellery – yes or no?
Yes! Layering all the way, my new collection is built to be layered, you can select the different lengths on the website so you can layer each piece how you want it to create the look you are after. This is my current layering look from the new collection and seems to be my go to every day at the moment.
Your photography shots are amazing! What are your top tips on promoting your jewellery?
Photography is key, good images say a lot, people will make an opinion on an image before they decide if they want to read the accompanying text. I tend to do most of the white background product shots myself, having being taught the secrets of Photoshop by a very talented photographer friend, but when I do a shoot especially big ones with multiple models, I will always use a photographer. They have the eye of each shot and look for something different to what I'm looking for as the designer and stylist, you have to communicate with them before during and after the shoot, through to the editing period. You get the most amazing images, for my summer shoot we had 7 models and used Natalie Myra as the photographer and I couldn't be happier with the outcome!
Work with people that work in the same way as you, photographers, make-up artists, stylists, models that interact, plan the shoot down to the last detail so on the day you have nothing to worry about other than making sure the jewellery is perfect in each shot. Send out mood boards in advance to everyone involved so they can get a feel for what you are after and everything will be much easier on the day, people know what they are doing. And give everyone access to the images, the more people using the images and tagging each other the better!
Natural traffic to your site will gain you more sales and long-term repeat customers than paid traffic; people will have a genuine interest and become part of the journey with you.
What can we look forward to seeing from Tegen Jewellery in the next year?
Ohh there are so many ideas in my head right now, I have a huge collection of stones from Tuscon that I am yet to play with, there will be a lot more one-offs and more detailed pieces and new additions coming to the Atoll Collection.
Tegen shares with us her favourite Kernowcraft products below!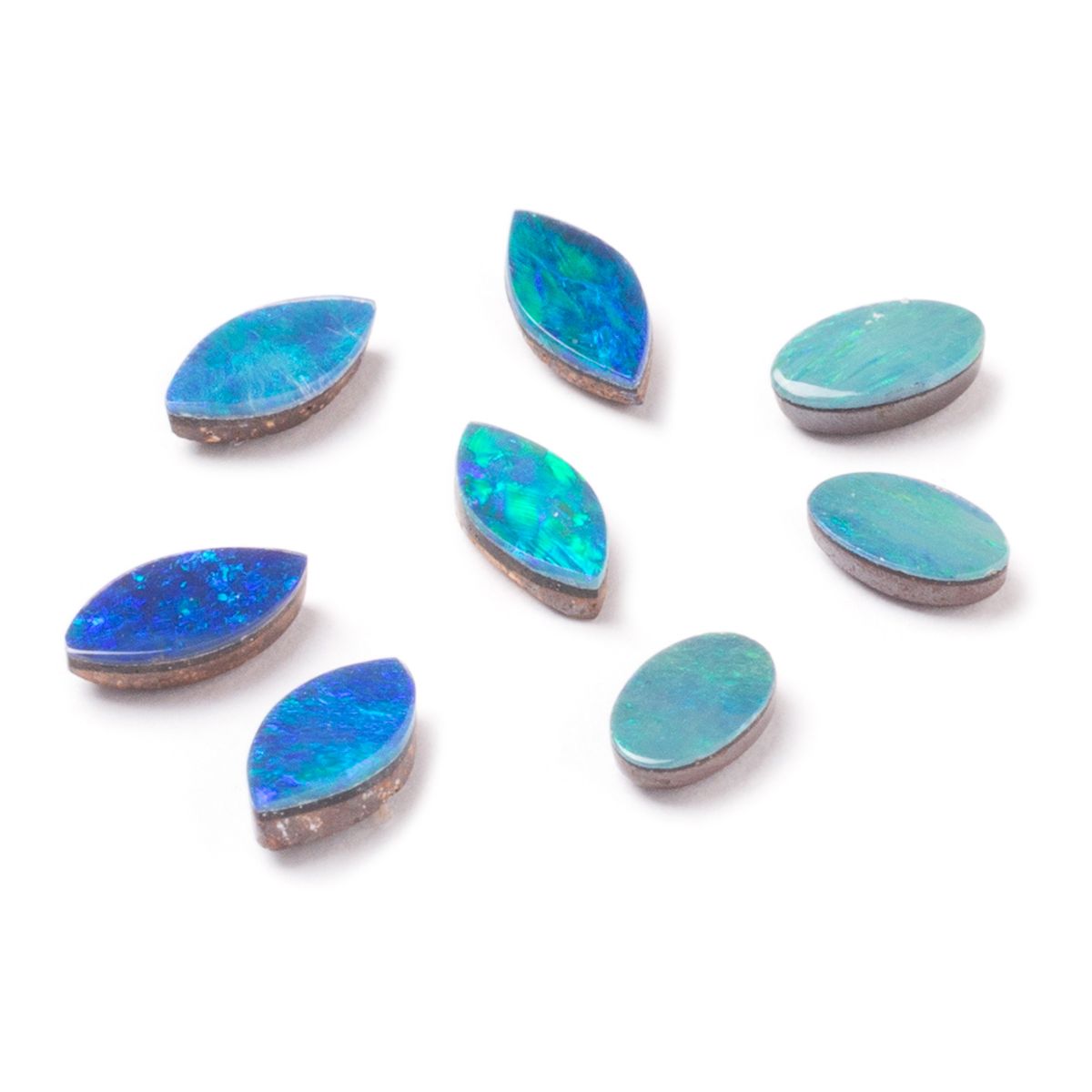 The colour of these is so beautiful, it reminds me of the sea, Kernowcraft always has a great selection of opals, doublets, triplets and boulder that always catch my eye.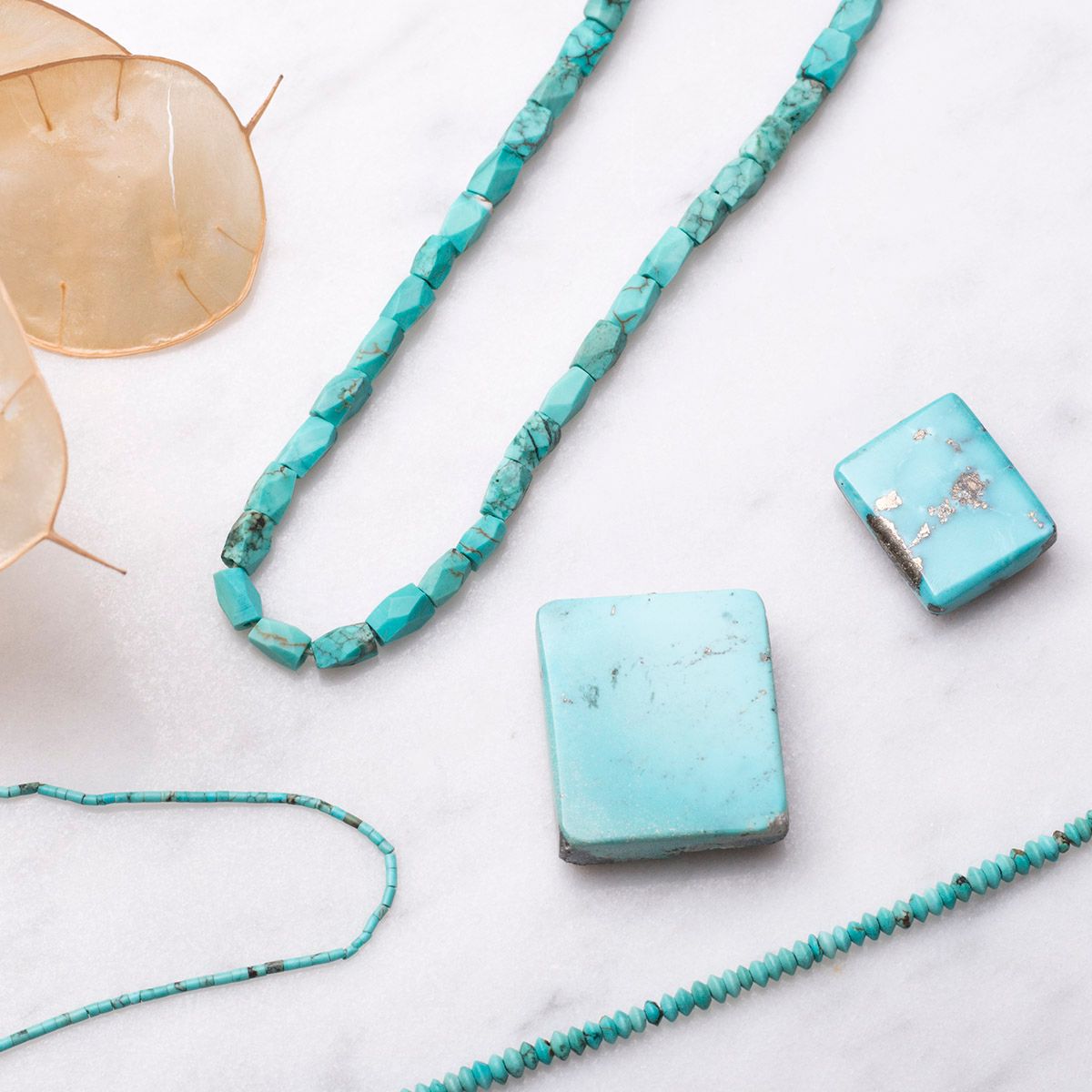 Beautiful natural stones that you don't see from other suppliers, definitely the best selection in the UK. Check out our turquoise category to see our current selection of stones.