Briolette Jewellery, Etsy & Learning With Ocean & Earth Jewellery
We meet Kathryn, the jeweller behind Ocean & Earth and learn all about her elegant jewellery designs using gemstone beads. Kathryn discovered her passion for jewellery making during the lockdown summer of 2020 and hasn't looked back since, learning new techniques along the way and even launching an Etsy shop! In the interview below, we hear all about Kathryn's design process, what inspires her jewellery and reveals what the future might hold for her new venture.
"I'm an "all or nothing" kind of person, so I went all in..."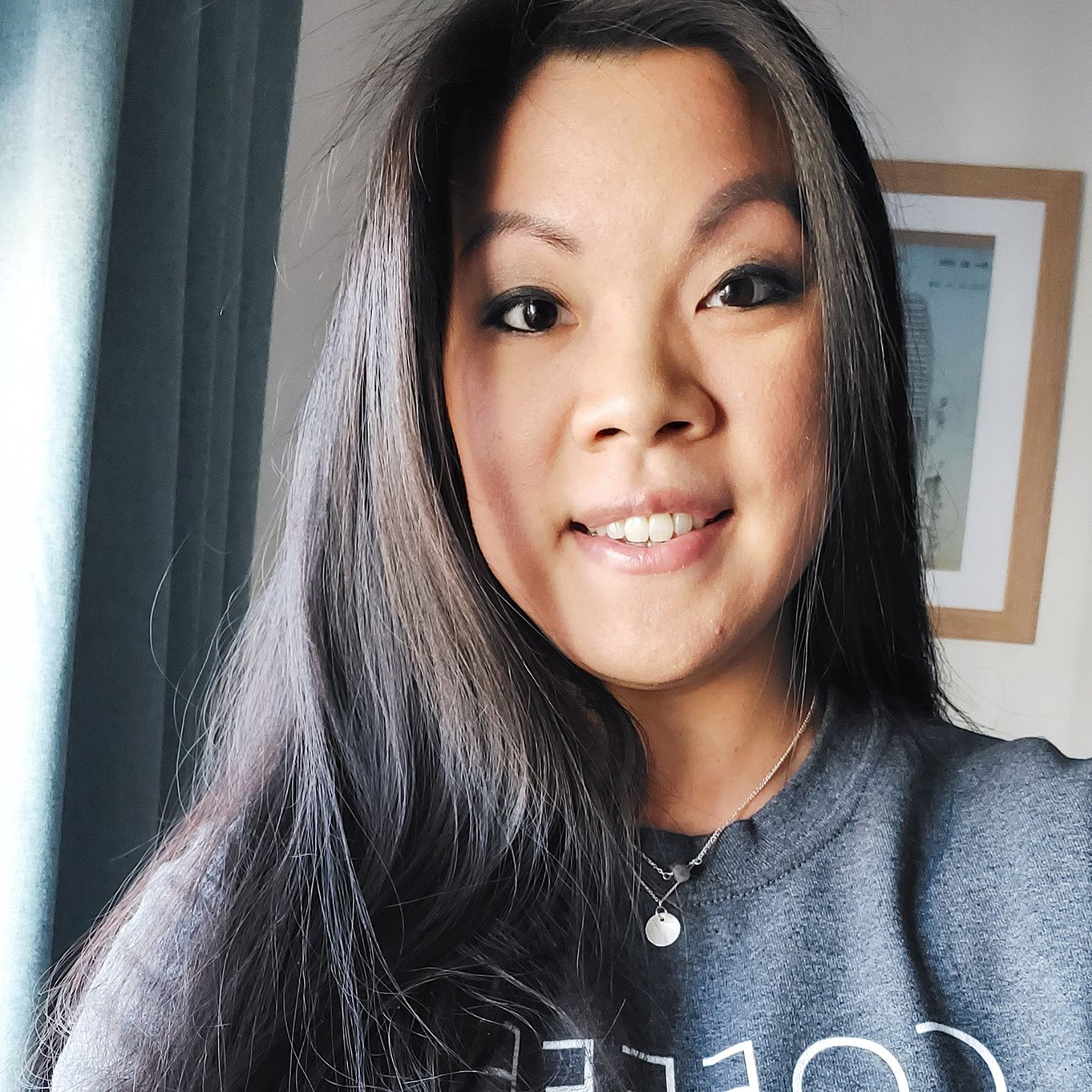 Hi Kathryn, tell us how your love for jewellery began!
Hello and thank you for having me! I have always loved accessorising with jewellery and growing up, I would always try to bring home a piece of handmade jewellery from my holidays. I remember visiting local markets both in the UK and abroad and seeking out all of the jewellery stalls – my nickname is Magpie!
When I was younger, it was the aesthetic aspect of jewellery that caught my attention, but as I got older and started to travel more, I loved meeting the artist behind the pieces. I was curious to understand the stories or meanings behind the designs, as well as why and how they got into jewellery making.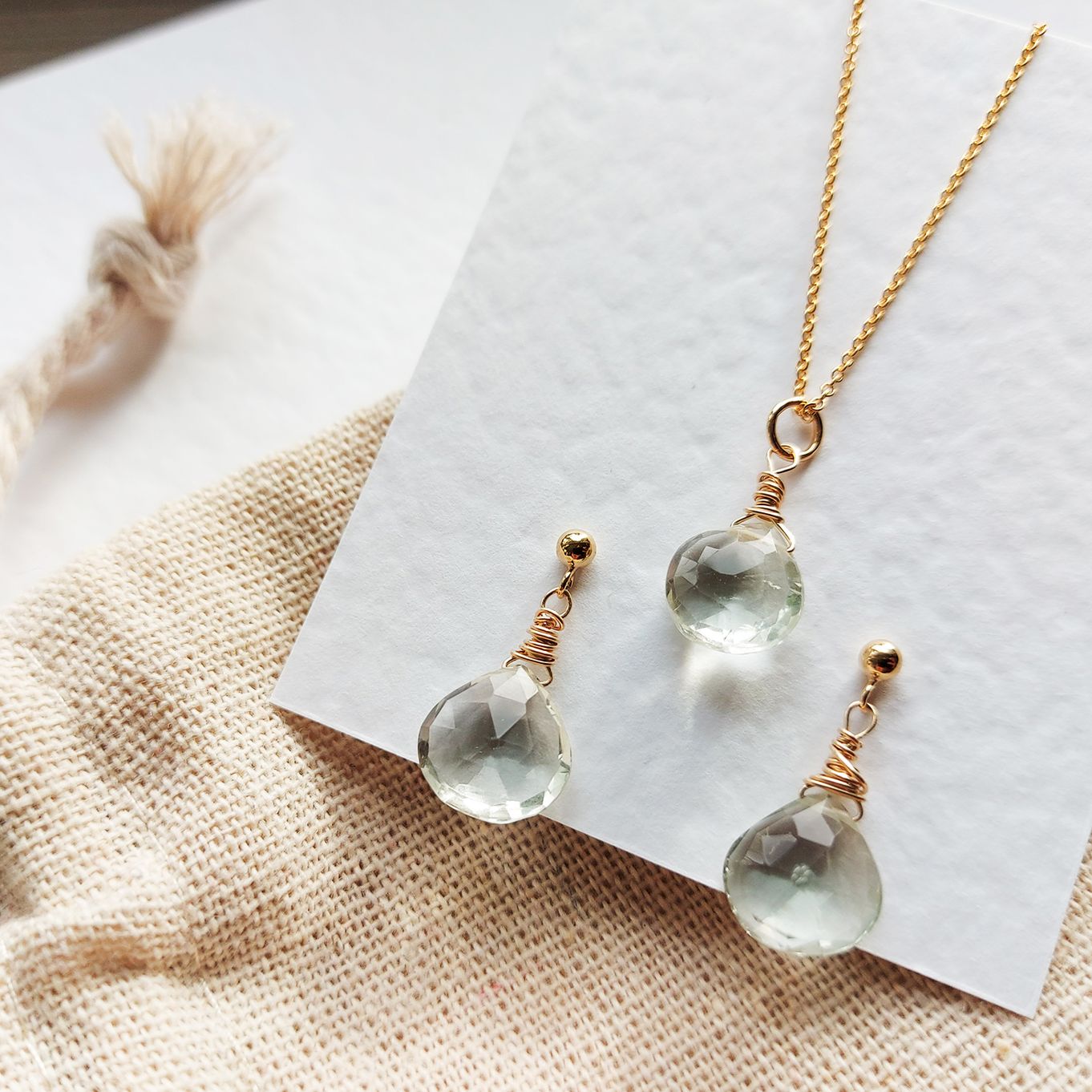 How did you first discover jewellery making and what resources did you use to learn new techniques?
Over the lockdown summer of 2020, I came across blogs on how to make your own earrings, and it dawned on me that I could turn my love of jewellery into something that I could maybe do myself. I'm an "all or nothing" kind of person, so I went all in and ordered a load of stones, wire cutters, and jewellery pliers, and also visited suppliers in Birmingham's Jewellery Quarter.
At the time, briolette jewellery was trending, so I started watching tutorials and videos on jewellery websites such as Kernowcraft, and started practising my wire wrapping techniques. Now, I continue to read and watch a range of different tutorials, and I have invested in some jewellery making books so that I can keep learning and practising new techniques.
"I think there is more awareness of shopping small and local where possible, and customers appreciate seeing the person and story behind the brand..."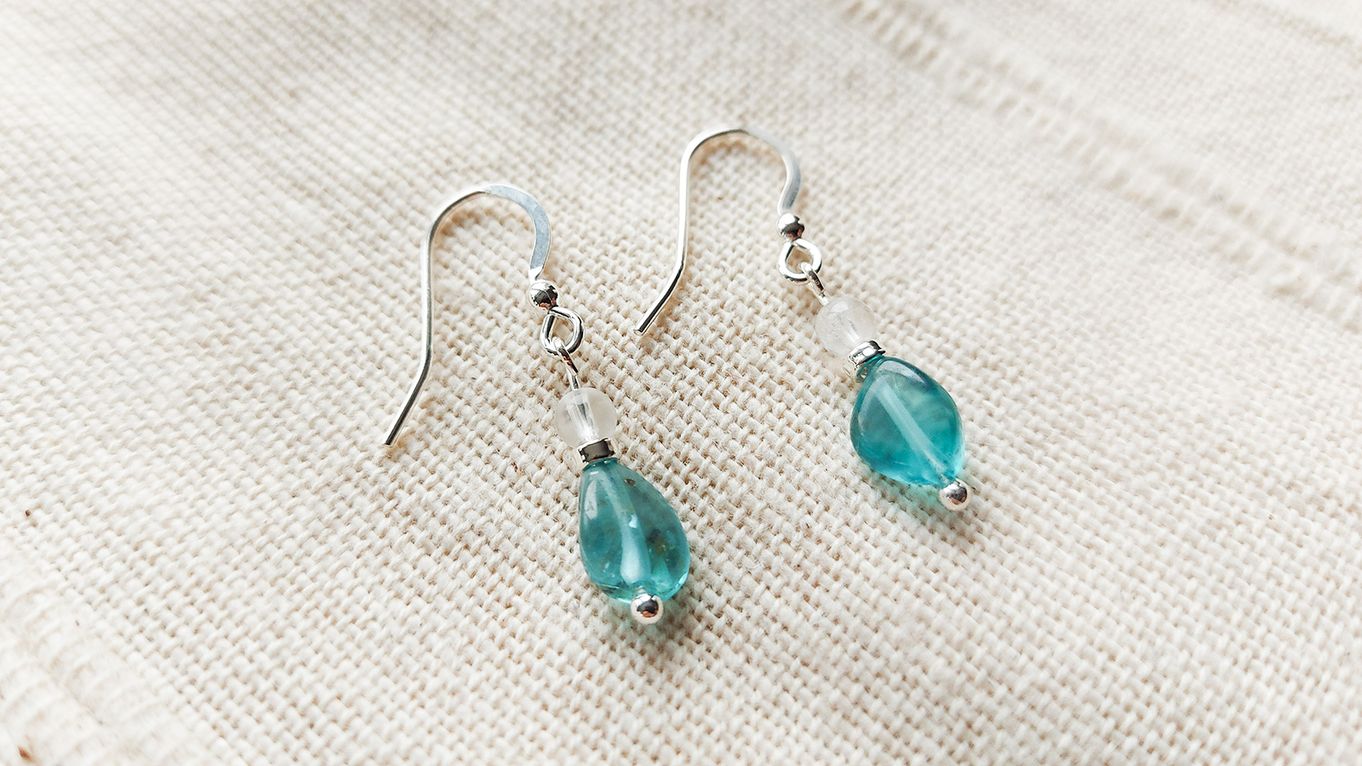 You launched your Etsy shop at the end of 2020, how did you prepare for the launch?
I carried out a lot of research to first decide the right platform for me at the time, and then I worked on the launch of my Etsy shop, including preparing product listings (photography, descriptions, pricing, hashtags etc.) which takes a lot longer than it looks! I'm always updating my shop, for example, making seasonal changes, showing off featured items, adding video clips of my jewellery in motion.
Read Kernowcraft's blog post: How To Set Up An Etsy Shop
Do you have any top tips for gaining sales on Etsy or promoting your shop?
I have found that the best way of promoting my shop is through the use of my social media channels, including Instagram and Facebook. Engagement and showing up is so important, so I aim to share as much of my jewellery making journey as I can, from the start of my process and how and why I make a piece, to the finished product and how it can be worn.
I think there is more awareness of shopping small and local where possible, and customers appreciate seeing the person and story behind the brand. Other top tips include making sure your photography (and videography) are as good as possible, as this is the first and most important impression of your product – more on this below.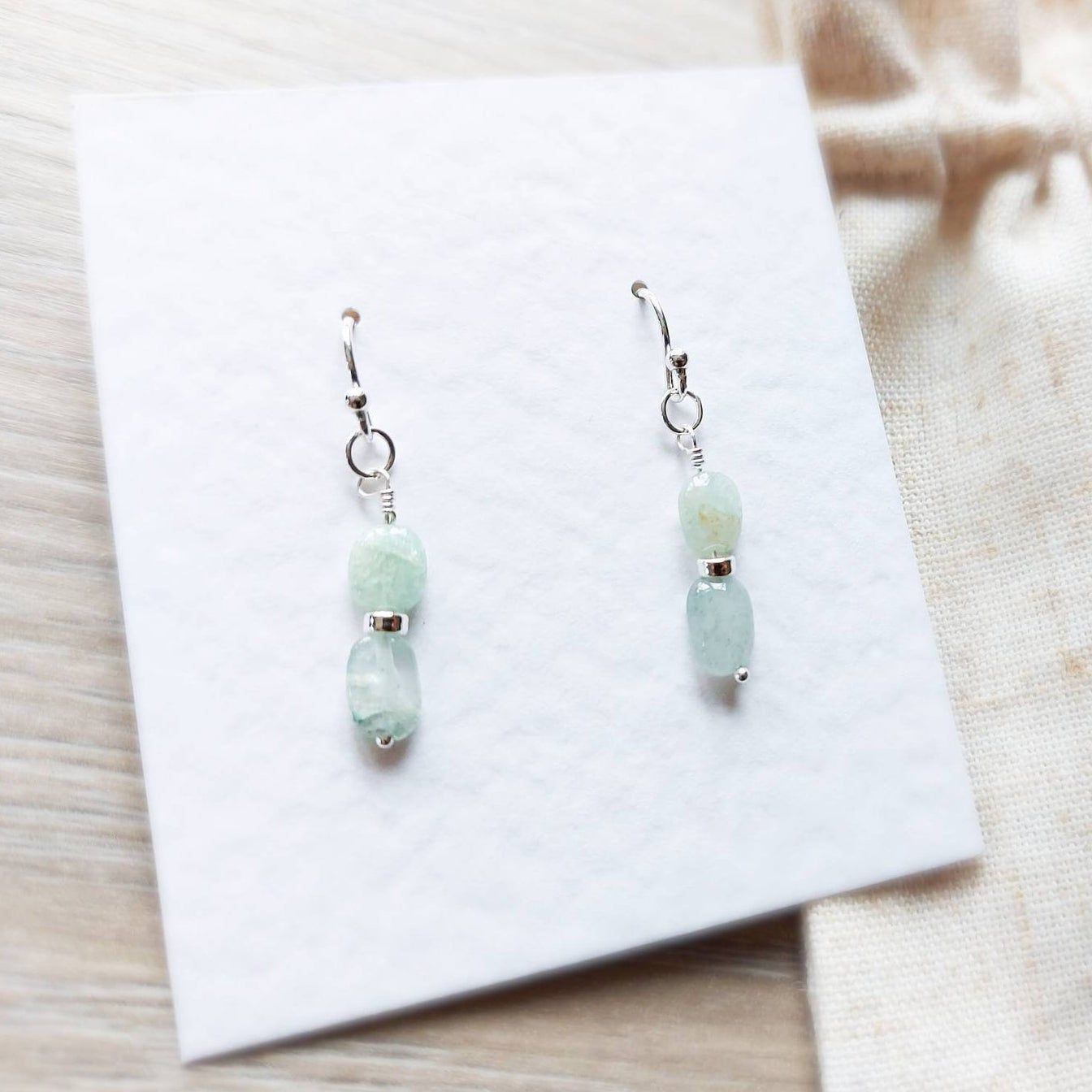 What was the first piece of jewellery you made?
The first piece of jewellery I ever made was a pair of aquamarine drop earrings, which I named the 'Saltwater'. This piece was inspired by the power and grace of the sea, as the gorgeous blue hues of the aquamarine stones reminded me of waves and water. These have become a customer favourite which I am really happy about, and I am working on a matching necklace!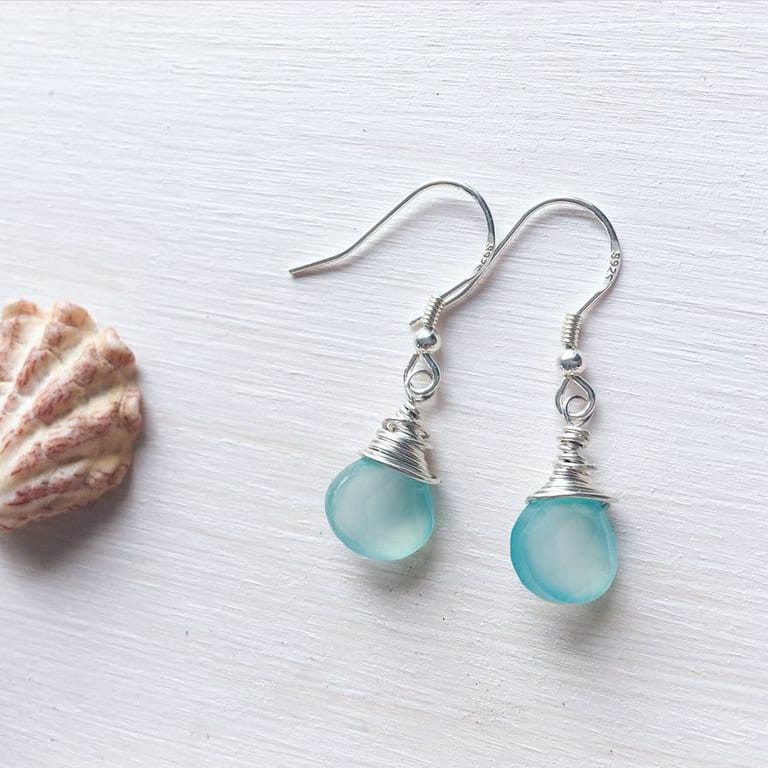 What is your favourite metal to work with and why?
I love working with sterling silver because it is so versatile! I find it can be manipulated in many different ways for a variety of techniques and designs.
"My day job is in Healthcare Law and so is very different to my jewellery making! Working on new pieces for Ocean & Earth gives me that much-needed creative outlet, and I love that both jobs are completely different..."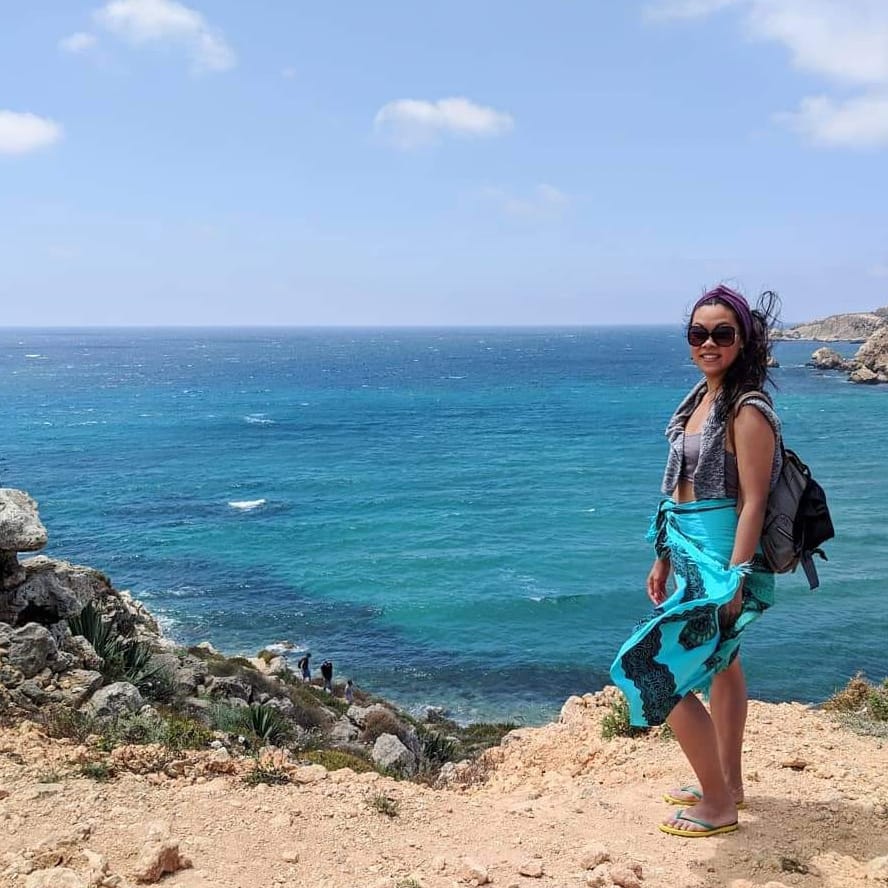 What inspires your jewellery designs?
My jewellery is inspired by a sense of adventure for wanderlust and travelling and is influenced by my love of the ocean, moon and earth. I try to incorporate aspects of these elements into all of my pieces. It is also the reason I chose the name "Ocean & Earth Jewellery", as I wanted my brand to reflect the inspiration behind the jewellery.
How does jewellery making differ to your day job?
My day job is in Healthcare Law (I am a solicitor) and so is very different to my jewellery making! Working on new pieces for Ocean & Earth gives me that much-needed creative outlet, and I love that both jobs are completely different. Prior to working in the legal world, I was training in dance and the performing arts, so I think it was only a matter of time before my creative mind started to wander!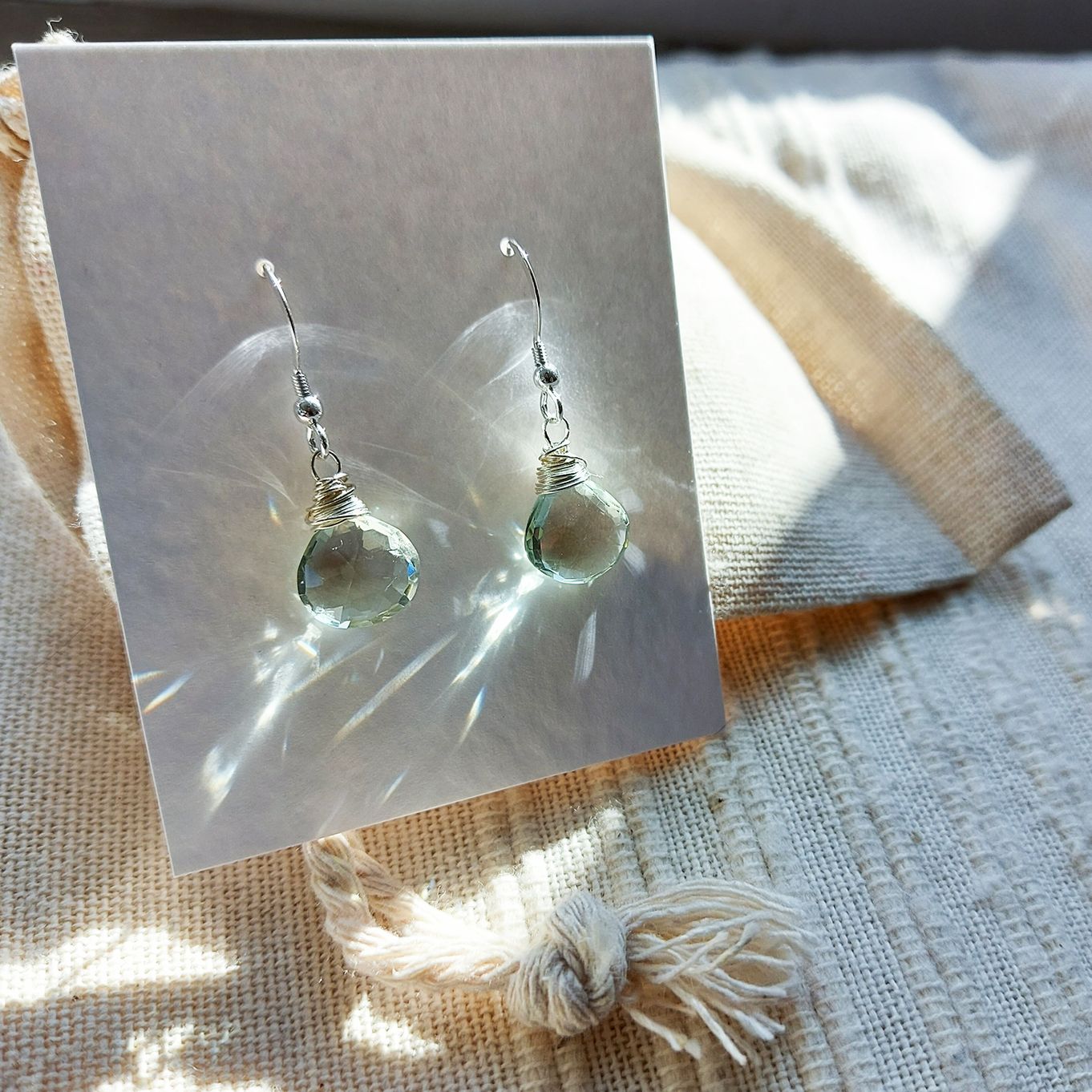 What do you like most about using briolettes?
A briolette is a style of gemstone cut, which is elongated in a faceted pear shape. I love the teardrop shape of briolettes, which really show off the colour of a gemstone. I find that wire wrapping one into a jewellery design can make a piece look elegant but also a little different from other gemstone cuts. The history of the briolette is also really fascinating - historians believe that the briolette cut originated in India about 800 years ago!
How have you found that jewellery making has helped you during the pandemic?
Jewellery making has given me a focus outside of work in my day job, as well as allowed me to pursue a passion which I really enjoy. I have made new connections, both with my customers and the local jeweller and crafter community, and it has been the perfect way to use my creativity energy.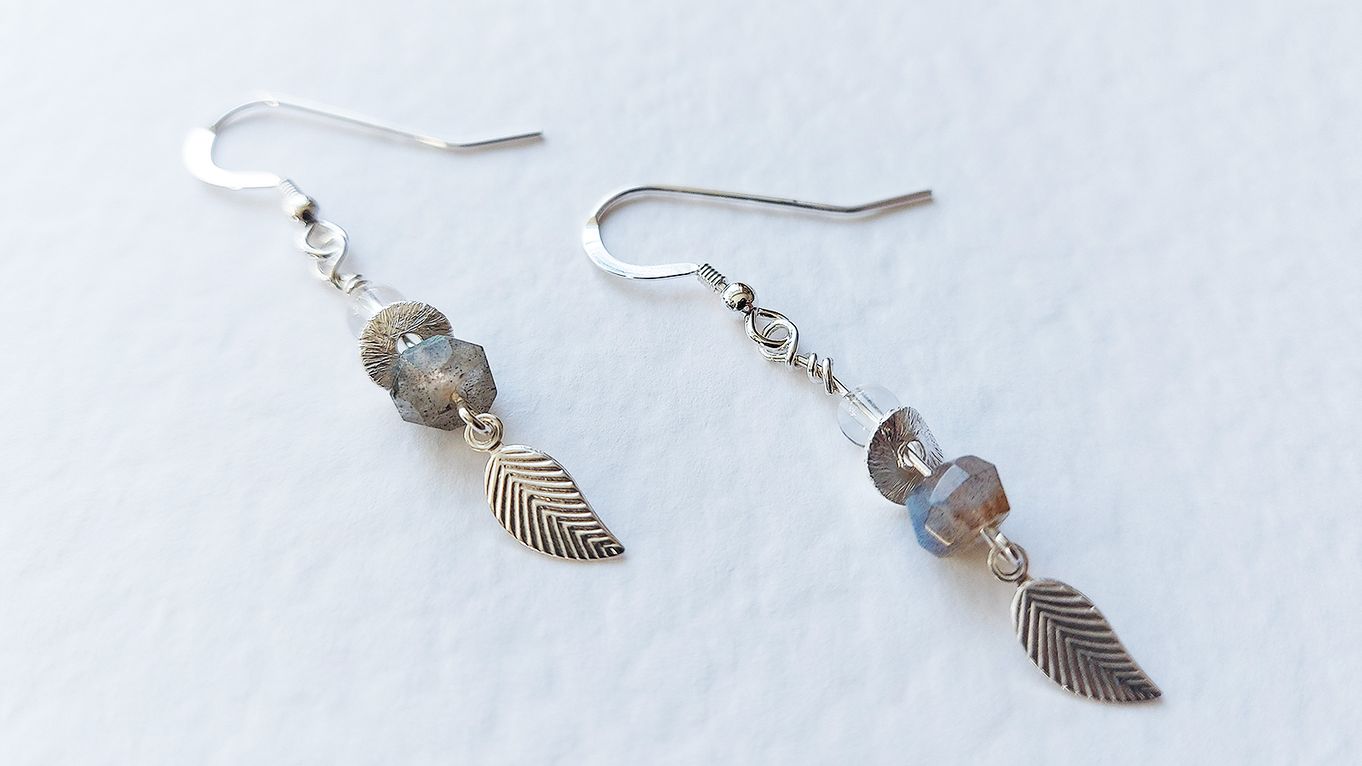 Favourite gemstone and why?
Ooh this is a tricky one as I have so many favourites… am I allowed more than one!? An old favourite has to be labradorite, which is a grey stone that shimmers different colours in the light. I also love the meaning behind it, as it is a stone of self-discovery and transformation. Since coming to jewellery making, I have discovered many new favourites, including citrine, apatite, and aqua chalcedony.
What's your favourite piece of jewellery you've made and why?
My 'Wild Iridescence' necklace and matching drop earrings are one of my favourite makes. I created these pieces to capture the juxtaposition between feeling wild and free, whilst having stability and being grounded, and recognising that you can feel and be both. Wild Iridescence features an earthy dark grey labradorite stone, smooth clear quartz stone & dainty silver leaf. Together these stones symbolise self-discovery and the manifestation of intentions, and the leaf was added as a reminder to be free and flow with the direction of life.
Tell us more about your design process and choosing the gemstones and supplies for your designs
I usually visualise my designs first, drawing inspiration from places, experiences and the elements. I then lay the designs out on my beading mat, using the stones and materials that I have in my collection or that I have ordered in for the piece. The process can be the other way round - sometimes I am browsing my suppliers' catalogues when a gemstone catches my eye if it reminds me of a particular place or experience.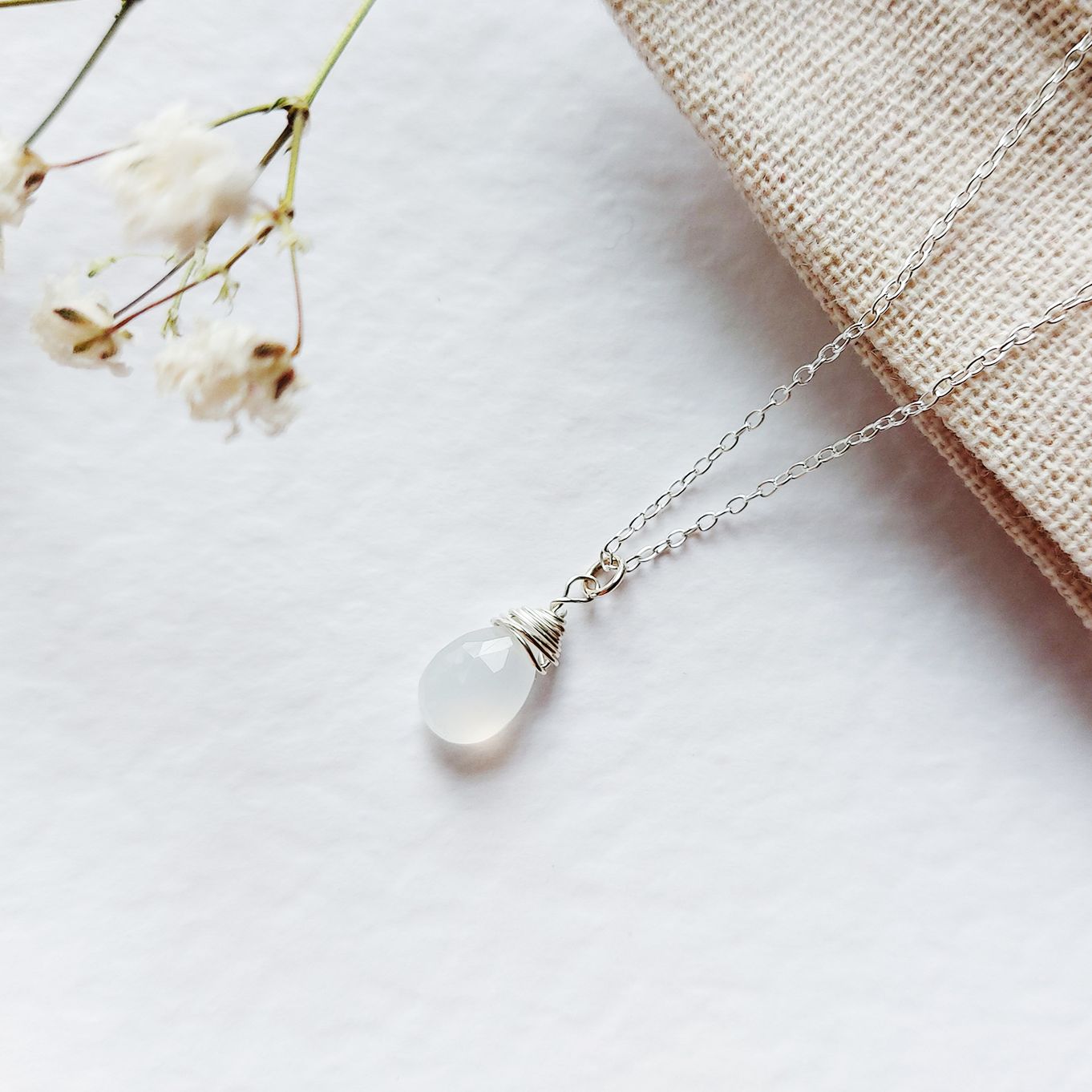 We love your photography! What are your top tips for getting the perfect shot?
Thank you so much! I use a good camera phone and I would say that adequate lighting is so important (whether sunlight or an artificial rim light). Consistent styling is also key, so make sure this reflects your brand style and colours, and experiment with layering up if possible using different materials and props. This doesn't need to be fancy for a good shot – I use a wooden board, textured paper, dried flowers, and my favourite coffee mugs!
Read Kernowcraft's blog post: Ultimate Guide To Photographing Jewellery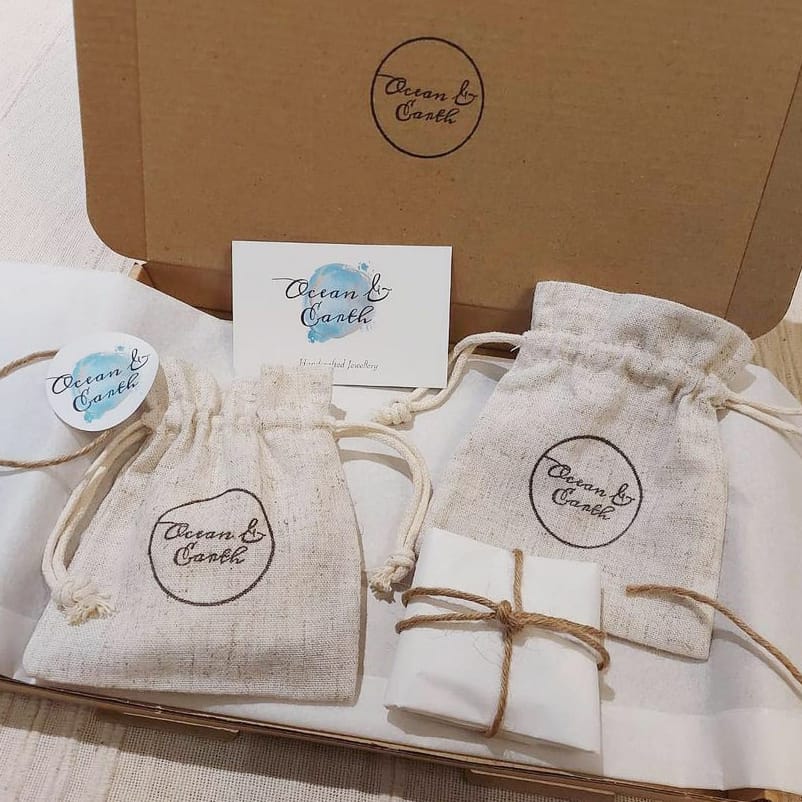 What steps do you take to ensure your business is as eco-friendly as possible?
One of the main ways I have sought to make my business as eco-friendly as possible is through my packaging. I have designed this with the environment in mind, as this is really important to me. All of my jewellery is gifted in a reusable cotton & linen blend pouch, which I handstamp with my logo. I also use recyclable tissue paper, kraft paper tape, and eco-friendly stickers which are vegan, plastic-free and compostable. Finally, small touches of "eco-friendly luxury" are added, which includes dried flowers for decoration and biodegradable jute twine for wrapping.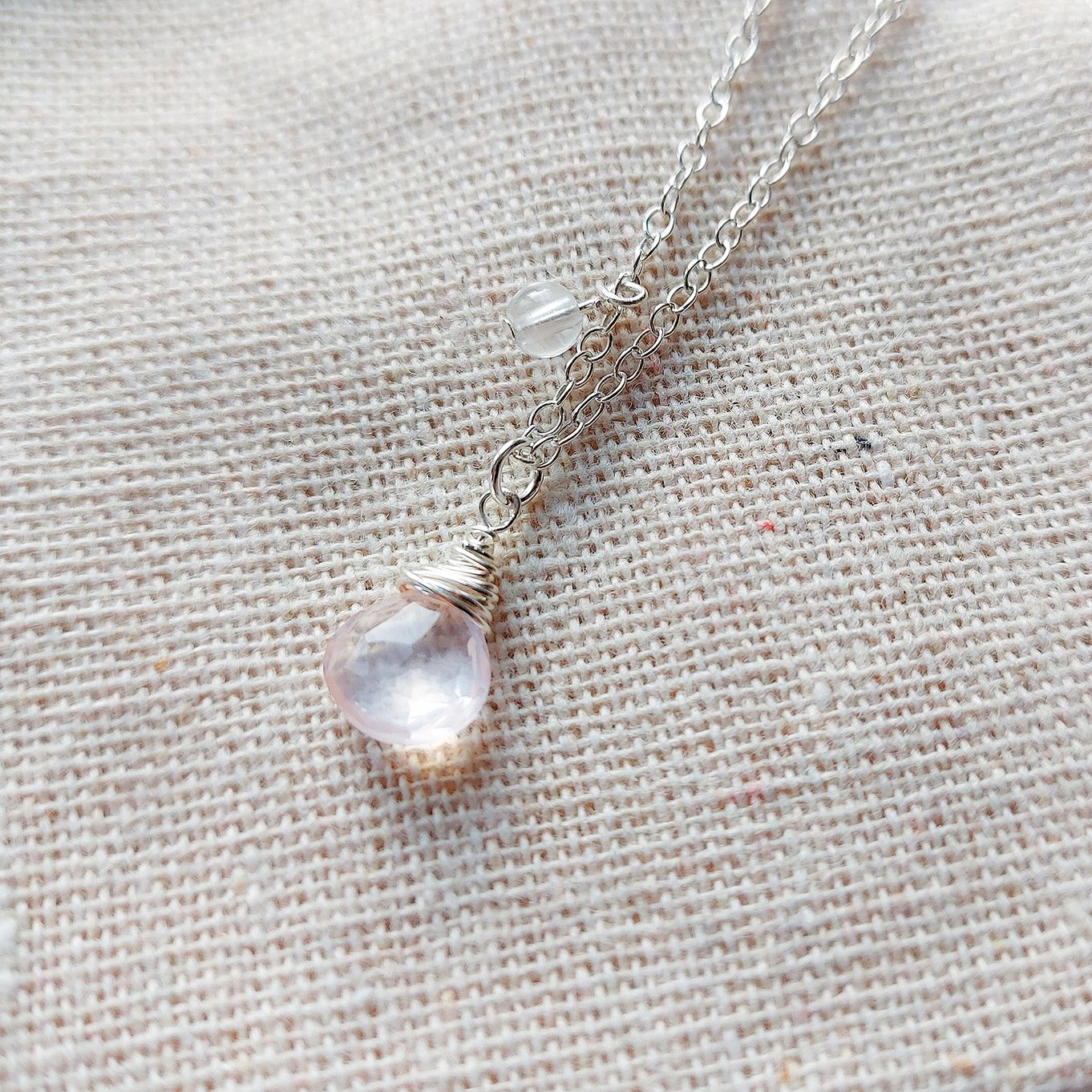 What new skills and techniques would you love to explore this year?
I'd like to learn more complex wire wrapping techniques, and I'd love to start soldering for silversmithing! I've already been asked when I'll start to make rings, so hopefully with more Kernowcraft tutorials and some in-person silversmithing workshops, I'll bite the bullet and just go for it!