Chatting To Truro College Exhibition Silversmith Winner, Esther Moore
We always look forward to Truro College of Art & Design's annual exhibition and we are thrilled to announce that Esther Moore was one of the winners! The Back For The Future event was held at Lemon Quay in Truro, Cornwall and was the 15th annual exhibition, we were also back to proudly sponsor the jewellery/silversmithing award. It's a brilliant exhibition, shining the spotlight on artists of the future who are taking their first steps into the creative industry.
We were so excited to invite Esther for an interview on our blog, where we chat all about the exhibition, learn more about the inspiration behind her designs, as well as hear all about her experience of studying with Truro College and what the future may hold. Plus you'll be able to see more of her incredible award-winning designs as well as more makes showcasing her talent.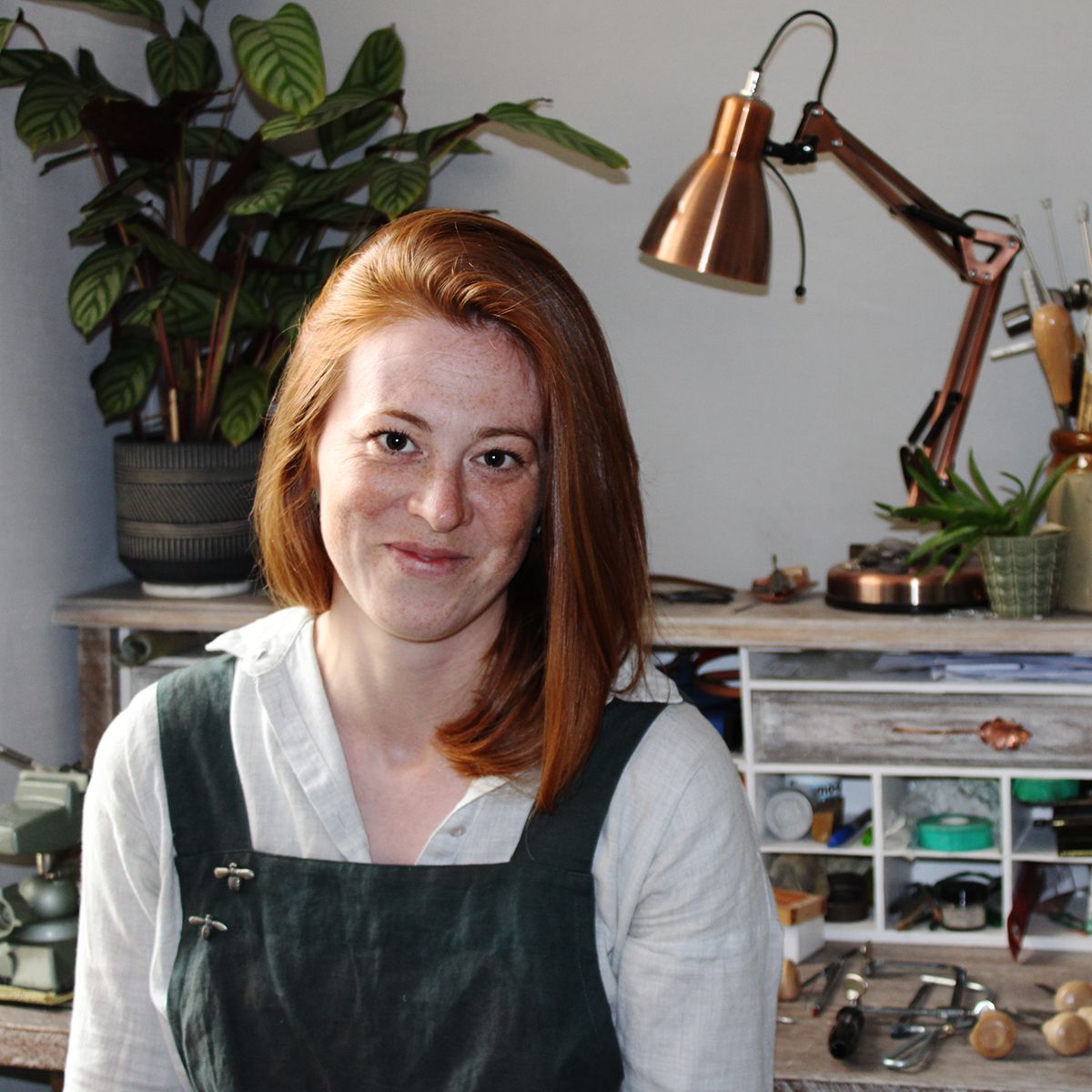 Hi Esther, firstly congratulations on winning the Kernowcraft award at Truro College's Back For The Future Exhibition! Please tell us more about the collection of work you exhibited.
For my exhibition collection of work, I fabricated a selection of insect pins that sit amongst vitreous enamelled leaves to form miniature habitats in glass domes.
The compilations are a way to express the interdependent relationships between plant and insect and how vital each is to our ecosystem, while allowing us to reconnect with nature in our homes.
I am very conscious of sustainable design within my work so each piece was made with recycled precious metals and press formed to create hollow insects, minimising the amount of metal while also enhancing visual simplicity to give each insect a 'gentleness'.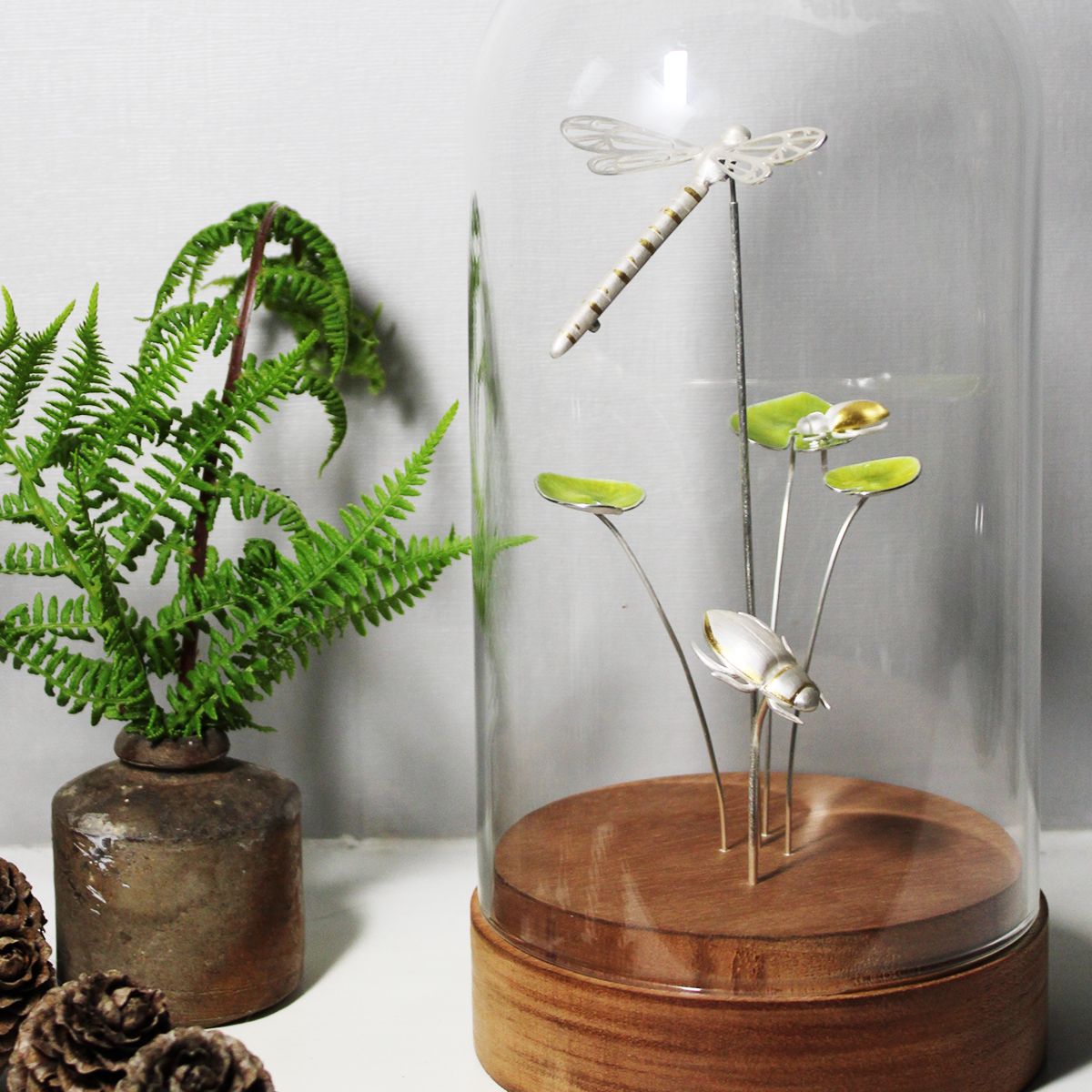 How did you prepare for the exhibition?
The exhibition aligned with my final collection module for university, which I had been working on since January. I kept the exhibition date in mind while designing, often redesigning, model making and then constructing the pieces in silver and gold.
What was the inspiration behind your collection of work?
My dissertation heavily influenced my collection of work, it led me to discover that jewellery doesn't have to be complex or functional to have a purpose. By simply being a visual representation of nature, it is able to reconnect people to the natural world, bringing a range of health benefits.
Visual arts also have the ability to communicate to vast audiences, through my work I hope to raise awareness and educate about the ever-declining insect population which combines my love of the natural world with my silversmithing and jewellery work.
Where did your interest in jewellery making come from?
From a very young age, I have enjoyed various arts and crafts, including painting, drawing, crochet, knitting, sewing, woodwork and ceramics.
My knowledge in ceramics led me into working with silver art clay, the similarities between these two mediums made precious metal jewellery making accessible to me. As much as I loved working in silver clay, it did have its limitations, this pushed me to use more traditional silversmithing techniques.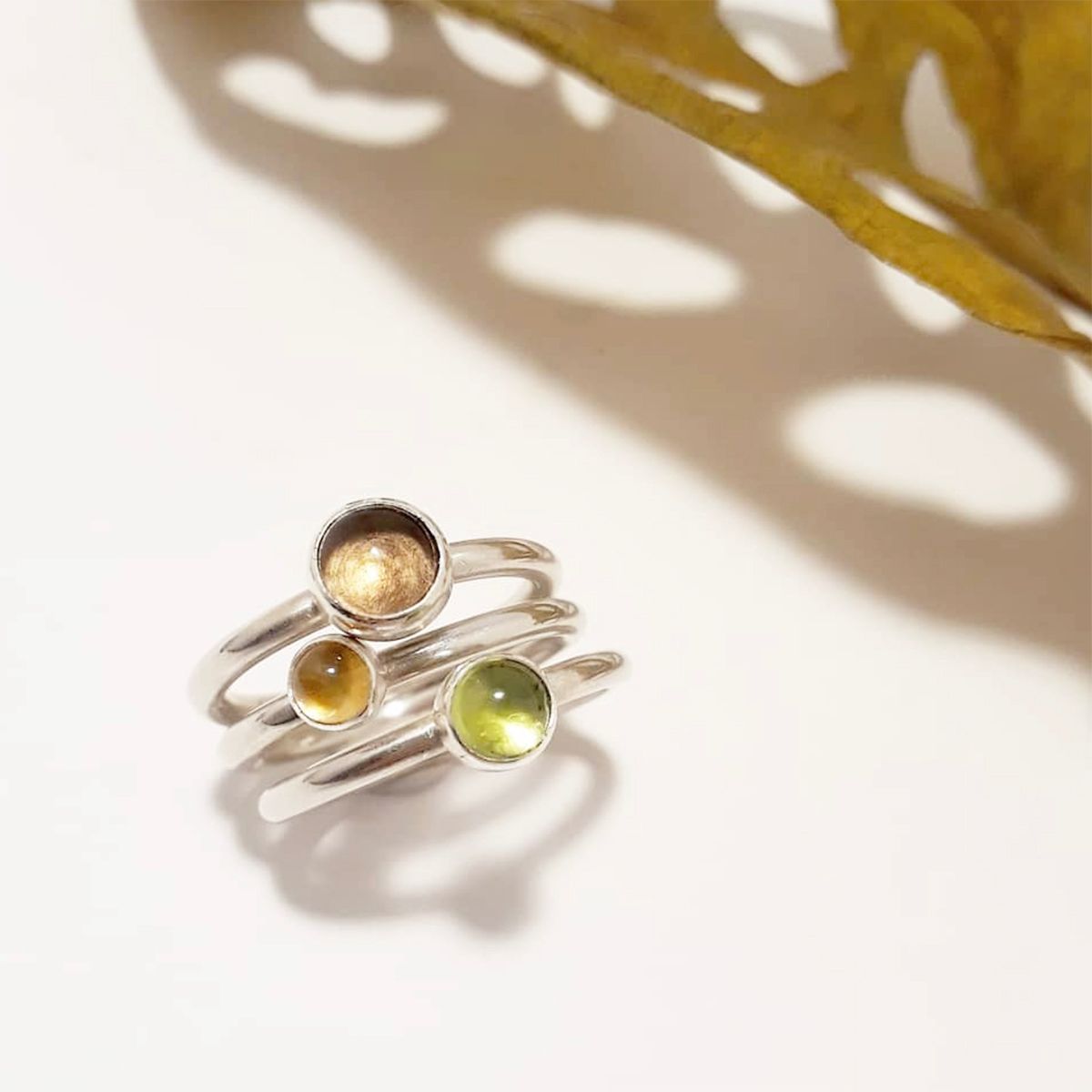 Tell us about the first piece of jewellery you ever made!
The first piece of jewellery I made was a simple bezel set ring, it taught me basic techniques such as sawing, filing, sanding, forming metal, soldering, stone setting and polishing. It felt pretty magical to construct a wearable ring from sheet and wire.
You also use sea glass in your work, why do you like using this material?
Sea glass is addictive to hunt for on beach walks, I love the fact that it was once something else, maybe a pirate bottle, medicine bottle or a lightbulb insulator. Unlike mined gemstones these colourful pieces are repurposed and don't damage the earth.
Customers also like to find their own sea glass and have this set too; it holds a connection to their favourite beach or has been found on a special anniversary, this is a very personal and unique keepsake.
Learn more about stone setting and sea glass in Kernowcraft's advice page.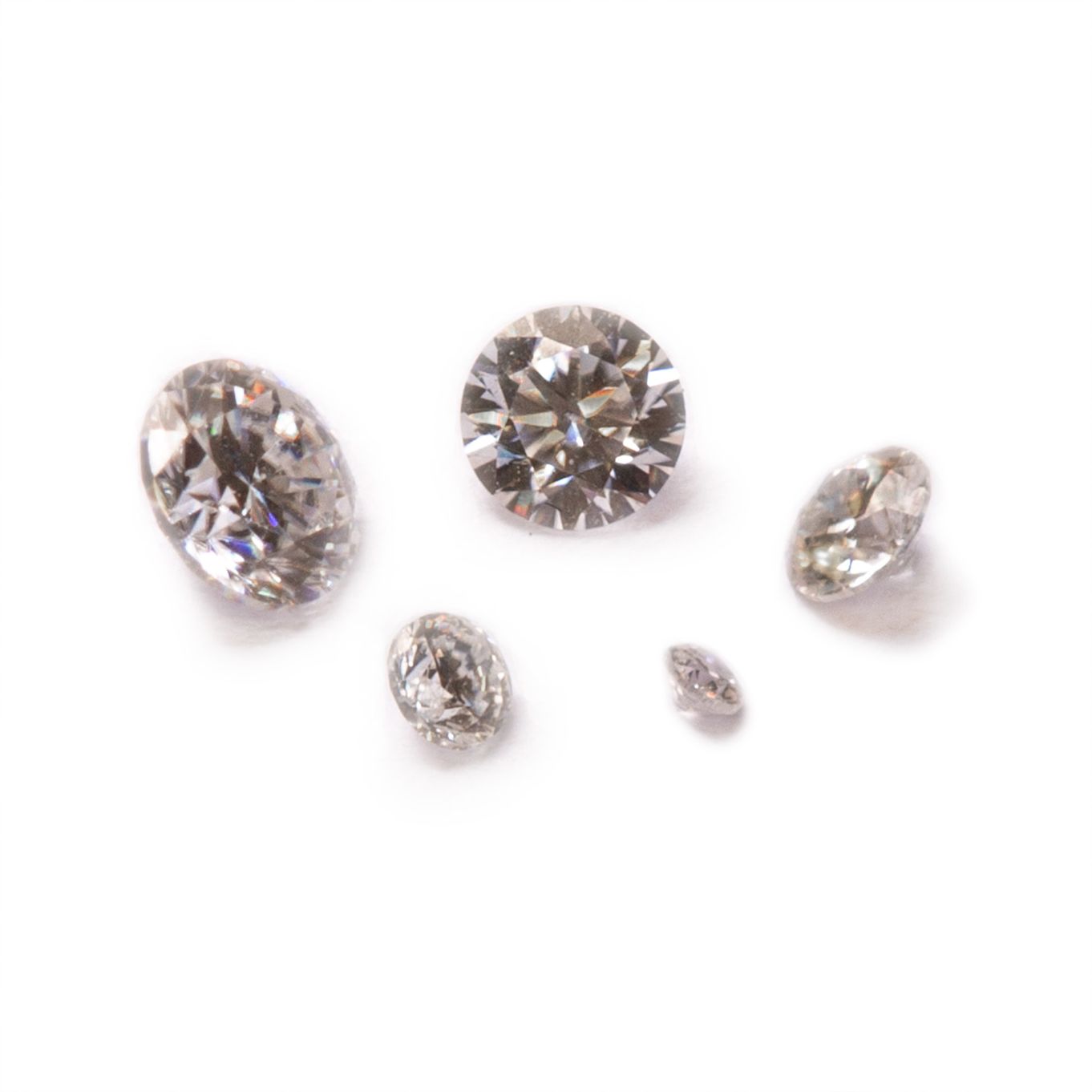 The Kernowcraft prize was a £50 gift voucher, what will you be putting this towards?
Firstly, thank you so much for my voucher, as I am just setting up my business it will really help with the basics although I do have a new ring design in mind so it may also be going towards some faceted moissanite.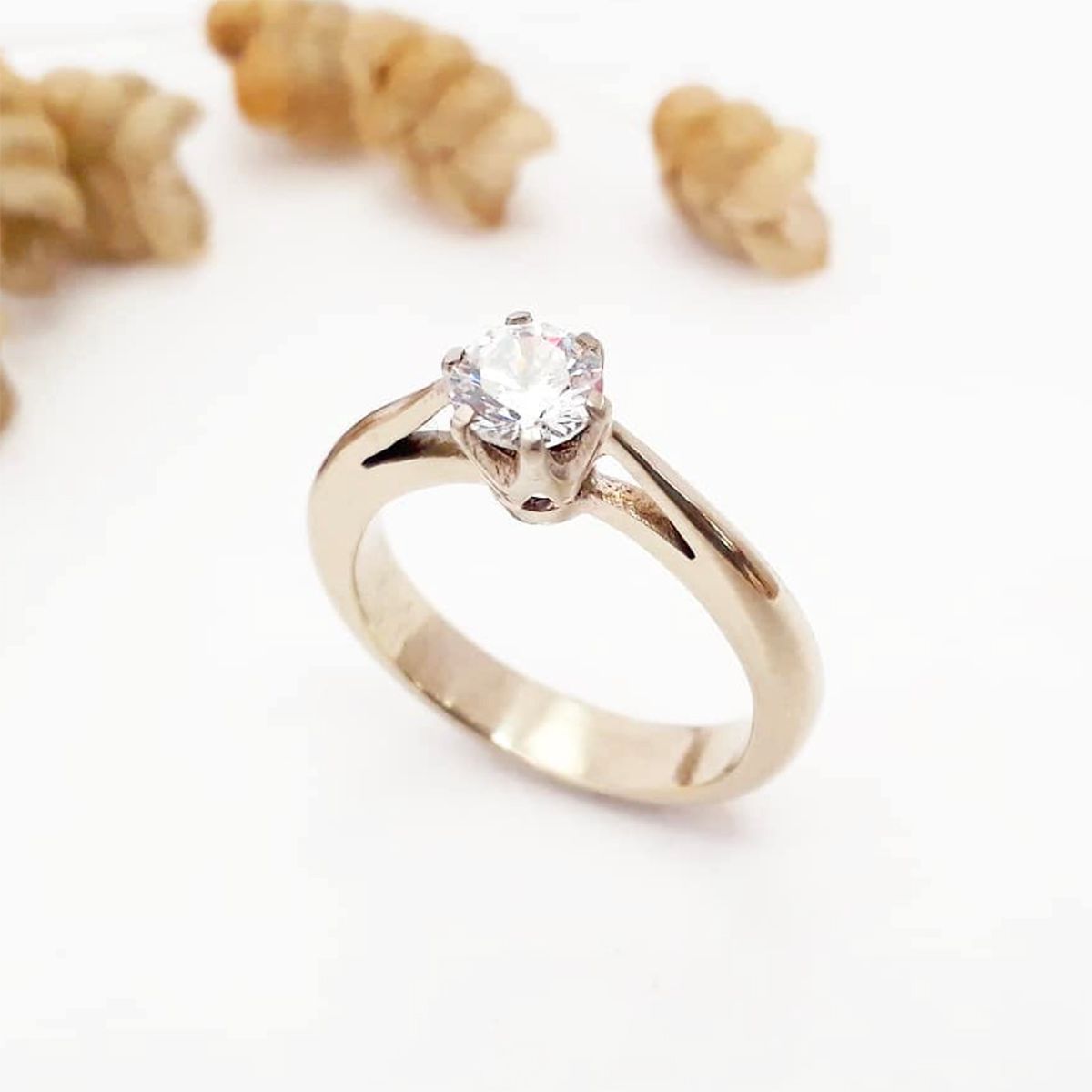 Favourite gemstone and one you'd love to use in future designs?
At the moment, I like moissanite as they are an ethical alternative to diamonds and pair well with my silver and gold combinations. I do love the bright, juicy colours of tourmaline and think these would pair very nicely with my transparent enamels.
Why did you choose to do a jewellery/silversmithing degree course and how would you describe your experience?
I initially taught myself the basic silversmithing and jewellery techniques however I was eager to increase my skill set, while also wanting to develop my own unique style.
The jewellery and silversmithing course at Truro college was the perfect place to do this as it allowed me to continue working while studying. I loved my time on the course, I learnt a huge amount from skilled tutors in a supportive environment, with a wonderful group of other creatives.
Can you tell us more about what the course entails and whether you would recommend it to others?
The foundation degree (year one and two) involves learning techniques such as box making, raising, chain making, brooch making, enamelling, stone setting/advanced stone setting, chasing and repousse and batch production techniques as well as learning about marketing, photography, website building. Whereas the BA (Hons) third year has a big focus on developing your own practice both through practical and theory-based work.
"If you are looking to push yourself as a jeweller and silversmith in beautiful Cornwall,
I would definitely recommend the course!"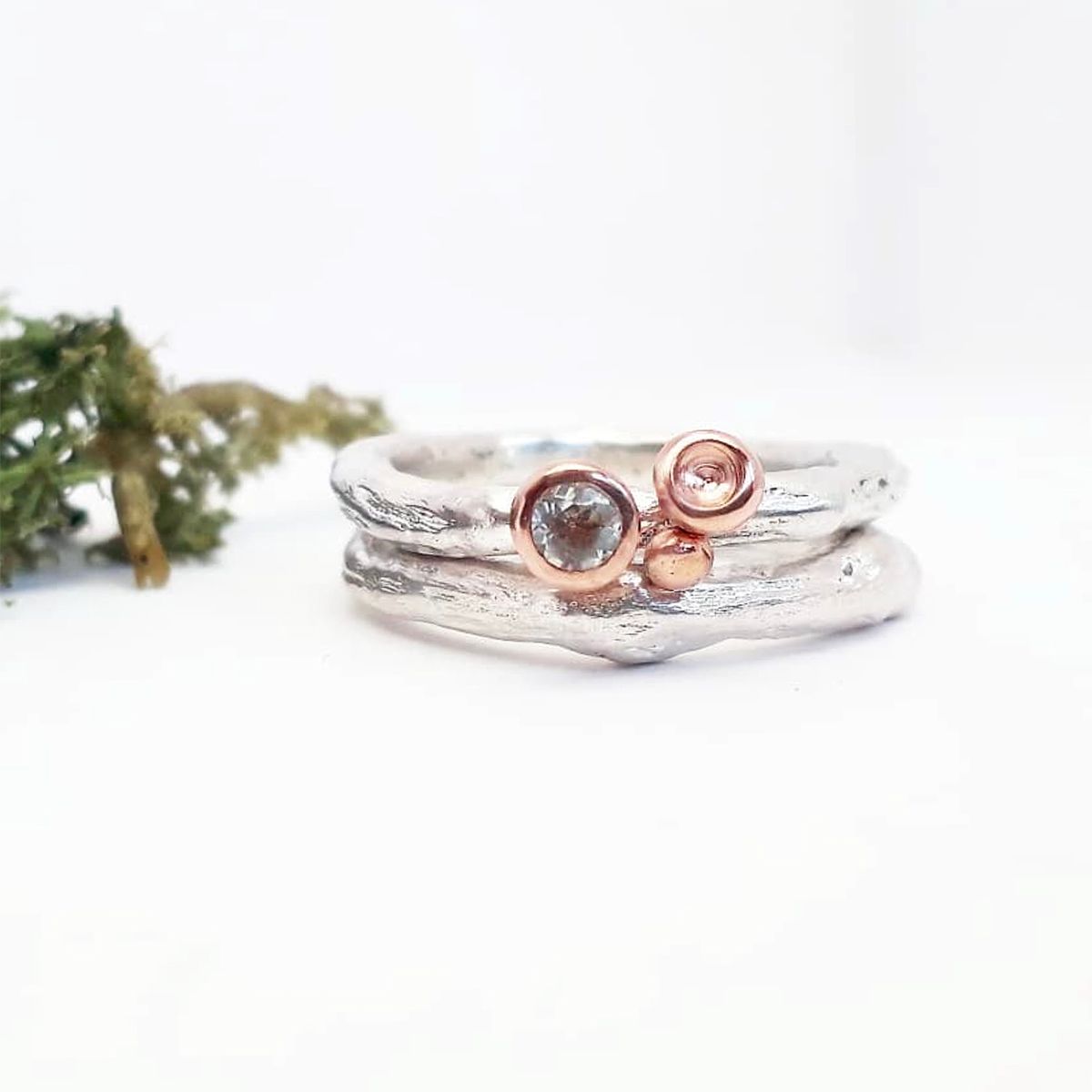 Do you like doing commissions and what's one that comes to mind right now?
Commissions are always interesting as they are so varied. One that comes to mind is a reticulated silver 'twig' ring band with three rose gold 'acorn cup' granules the largest of which holding a 5mm white topaz.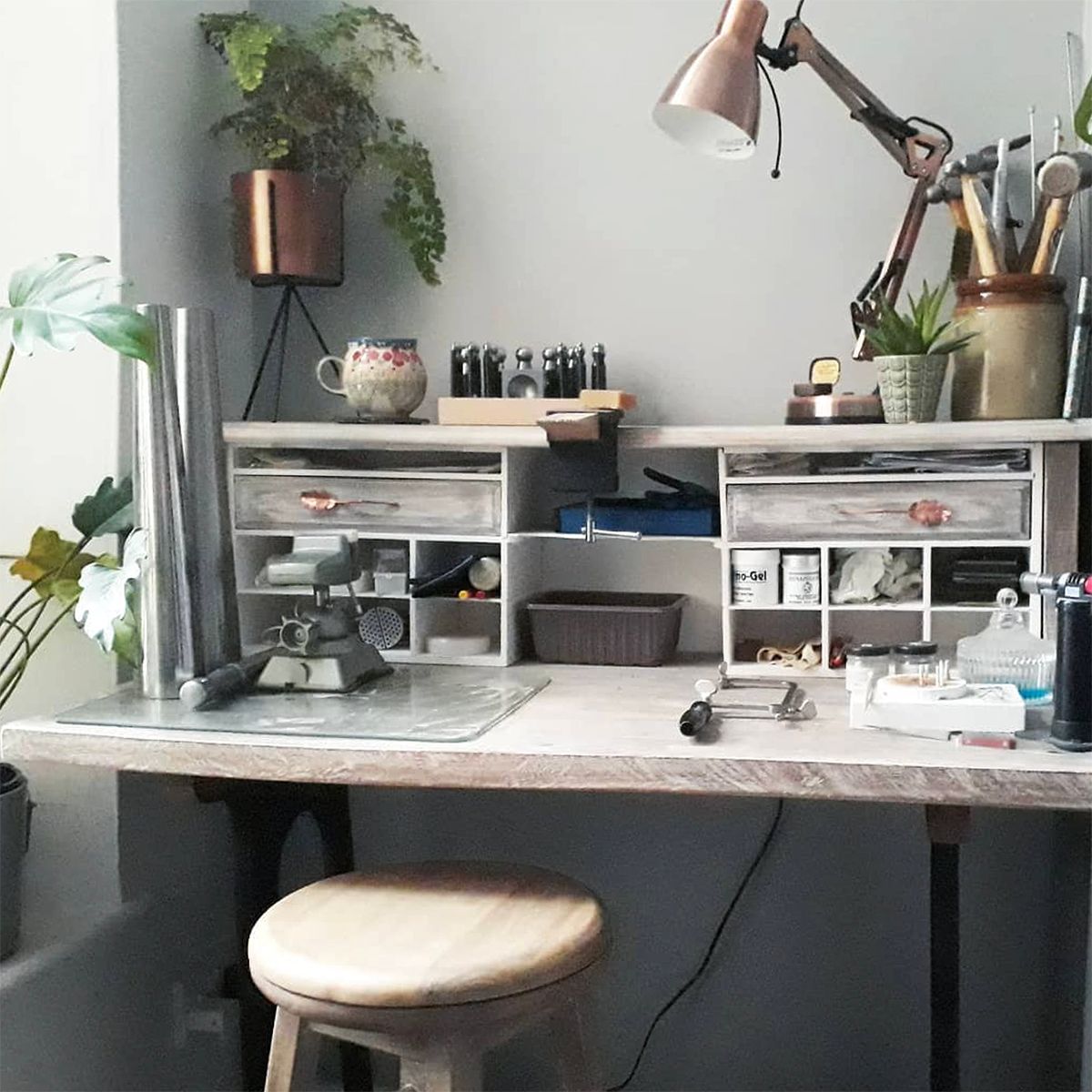 Tell us about your workspace and how you make it your own!
My workshop is a converted room in my home, it holds my desk, my bench, wildlife and insect books, dried seed pods and leaves, a selection of dead insects (found, not killed) and houseplants! I like to collect things that inspire me and having these objects to hand when I am making gives me a visual reference.
I also upcycled my bench from an old mangle base, my grandad's old roll top desk, my gran's old kitchen table and made the oak leaf drawer pulls from an old copper boiler tank.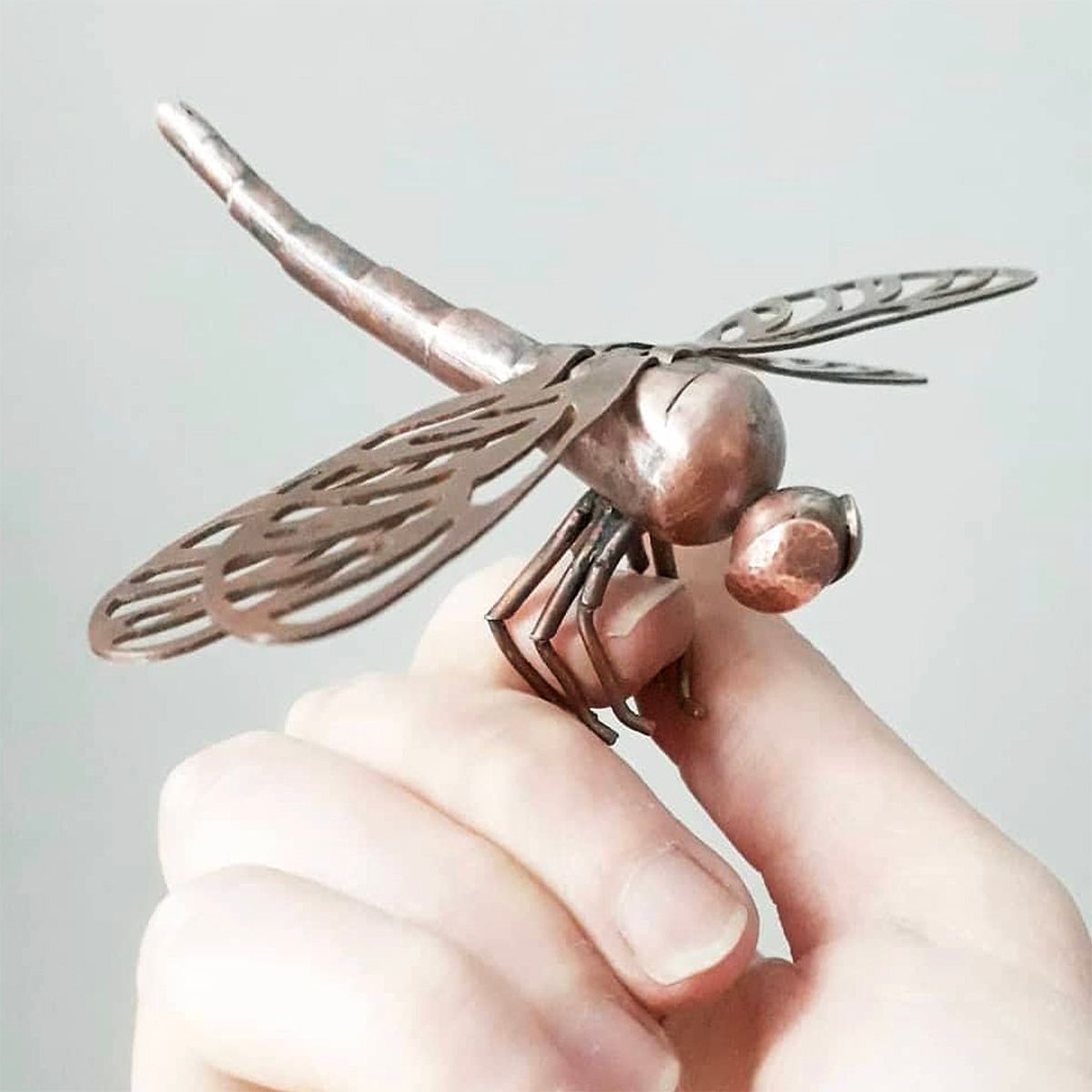 Tell us about the techniques needed for creating your impressive dragonfly figurine
My dragonfly figurine was created during my first year at university, it was a way to combine and explore new techniques, tools and processes.
I fell in love with the process of making tube. I started with large tube, cut pieces off then drew it down to decrease its size. I repeated this process several times to achieve the dragonfly tail. I made a template for the thorax, shaped this with a hammer over stakes, then domed discs into spheres for the head. The wings were pierced and connected to wire mechanics which enabled them to move when the legs were pulled.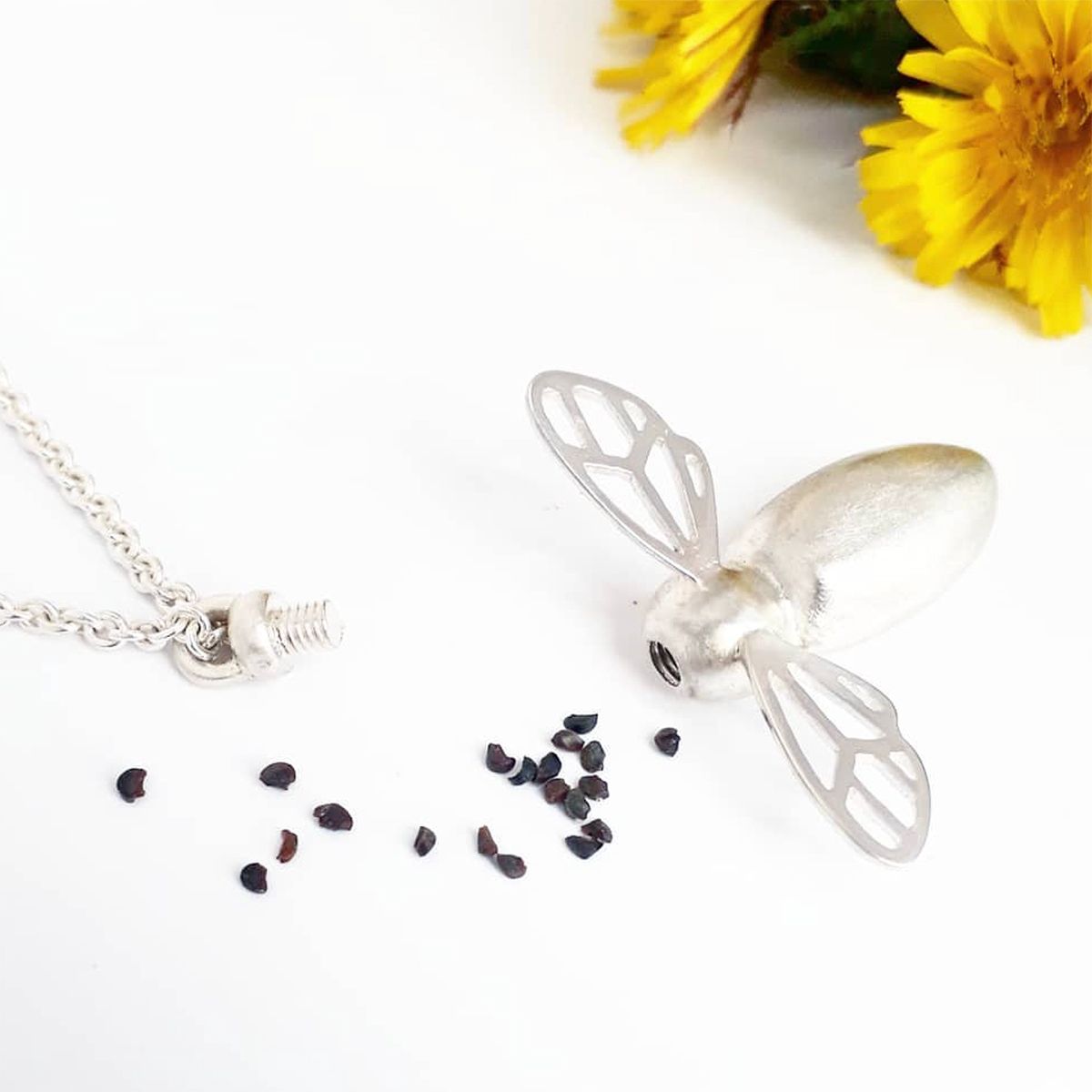 How has the pandemic impacted your studies?
After starting university in 2019 we were all very unaware of what was to come. Like all other courses we had to adapt to online learning, this was difficult due to our course involving a lot of practical work. During our second-year lockdown our modules were reordered which enabled us to complete all of the theory while at home and then managed to complete all of our practical skills when we returned to university, I am grateful that we were one of the first courses to return as it meant that we didn't miss out on any techniques. We did miss our first two end of year exhibitions, so the Back For The Future Exhibition was a new and exciting experience to all first, second and third year students!
How would you describe the creative community in Cornwall?
Cornwall is well known for its creative community, I have found everyone no matter what discipline to be helpful, supportive, and encouraging. People are always willing to share information with the less experienced maker.
"Cornwall influences my designs massively, the ever-changing seasons provide a magnitude of inspiration..."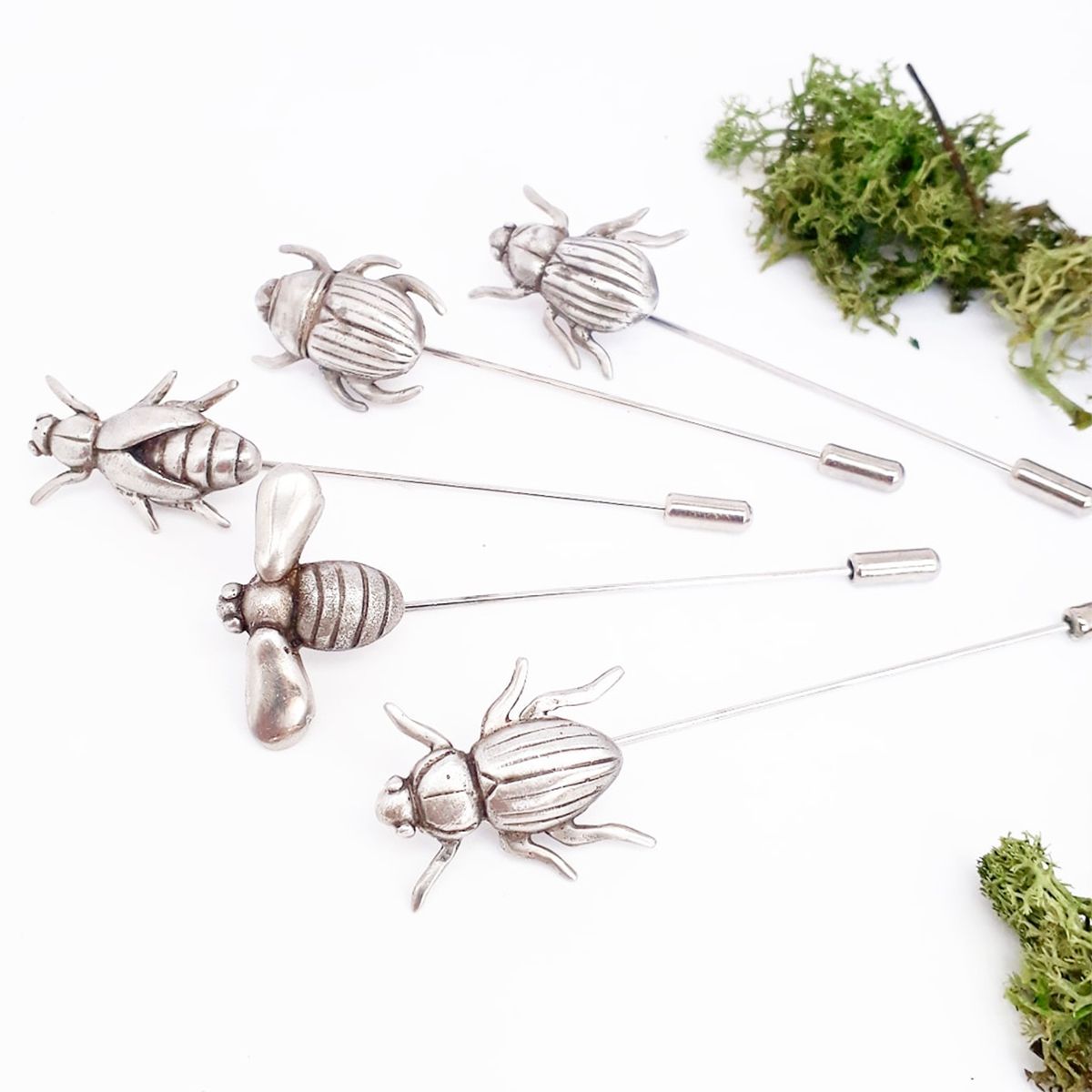 How does living in Cornwall inspire your designs?
Cornwall influences my designs massively, the ever-changing seasons provide a magnitude of inspiration, from fluctuating colour palettes to the phenomenal diversity of plant and invertebrate species. There is always something new to look at, explore and discover.