Meet The 'All That Glitters' Contestants Of Series 1
Finally, a television show all about jewellery making!
We are so excited about this new series hitting our screens all about the wonderful world of jewellery making.
Described as Bake Off for jewellers, All That Glitters: Britain's Next Jewellery Star showcases eight talented jewellers taking part in challenges to put their skills to the test. With award-winning judges Shaun Leane and Solange Azagury-Partridge, presented by Katherine Ryan. We are blown away with this year's contestants already and love that each jeweller has a unique style.
We wanted to find out more about the jewellers! So in this post, we share with you a bit more about the contestants, discovering more about their jewellery making backgrounds, show you some of their stunning designs as well as revealing their experiences of being part of the show.
Join the conversation on our Instagram & Facebook pages, perhaps you want to have a go at the challenges yourself - tag us in your designs, we would love to check them out. Don't forget to give the jewellers a follow on Instagram too and show them all the love!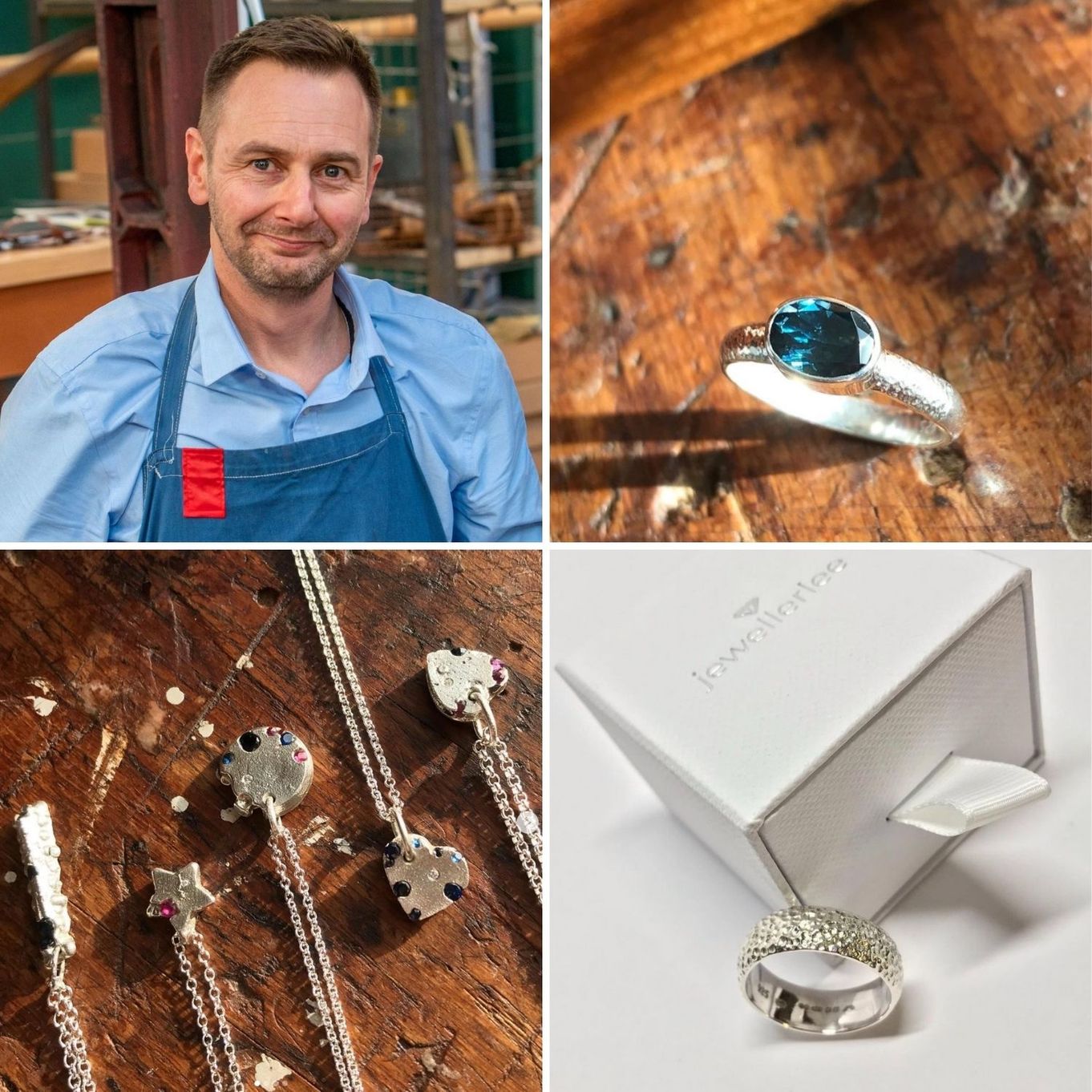 Lee Appleby
My route into jewellery started with stained glass, it then progressed on to traditional jewellery using precious metals and gemstones but my love of glass is still at the forefront of my work as I continue to make a range of jewellery in collaboration with John Ditchfield the world famous Master glass blower. Whenever I make a new piece or collection my aim is to prompt a response/an emotion/a connection to the piece that gives the wearer a quiet confidence that is fierce.
I love using different textures, sometimes layering texture upon texture until it feels just right... even repeats of the same style of piece are totally unique and individual because of the nature of hand making. It has to be handmade, to be able to melt down a customer's old/broken and sentimental items and turn them into a modern heirloom is an absolute privilege. Knowing that you have given there special items a new lease of life is so satisfying and the ultimate in recycling materials, nothing is ever wasted which is so rare. Sustainability and responsible/ethical sourcing of materials is something we all need to consider, the planet has given us these wonders to work with - the least we can do is to behave responsibly to ensure the next generations get to enjoy them too.
Firstly I would like to thank all the backstage crew and staff that made this all possible and the school of jewellery for looking after us all so well. What a whirlwind experience it was, just to be in the company of the other jewellers was super exciting. To have my work critiqued by Shaun Leane & Solange Azagury Partridge - jewellery superstars was an absolute privilege. The beautiful Katherine Ryan was so encouraging both off and on set always raising our spirits with her sharp fast humour. As for the challenges - the time limits were very tight but it made us all more determined to get the job done. Hope you all enjoyed the show and hopefully it has inspired you to give it a try... it doesn't have to be an expensive hobby - but it's such fun.
Instagram: @jewellerlee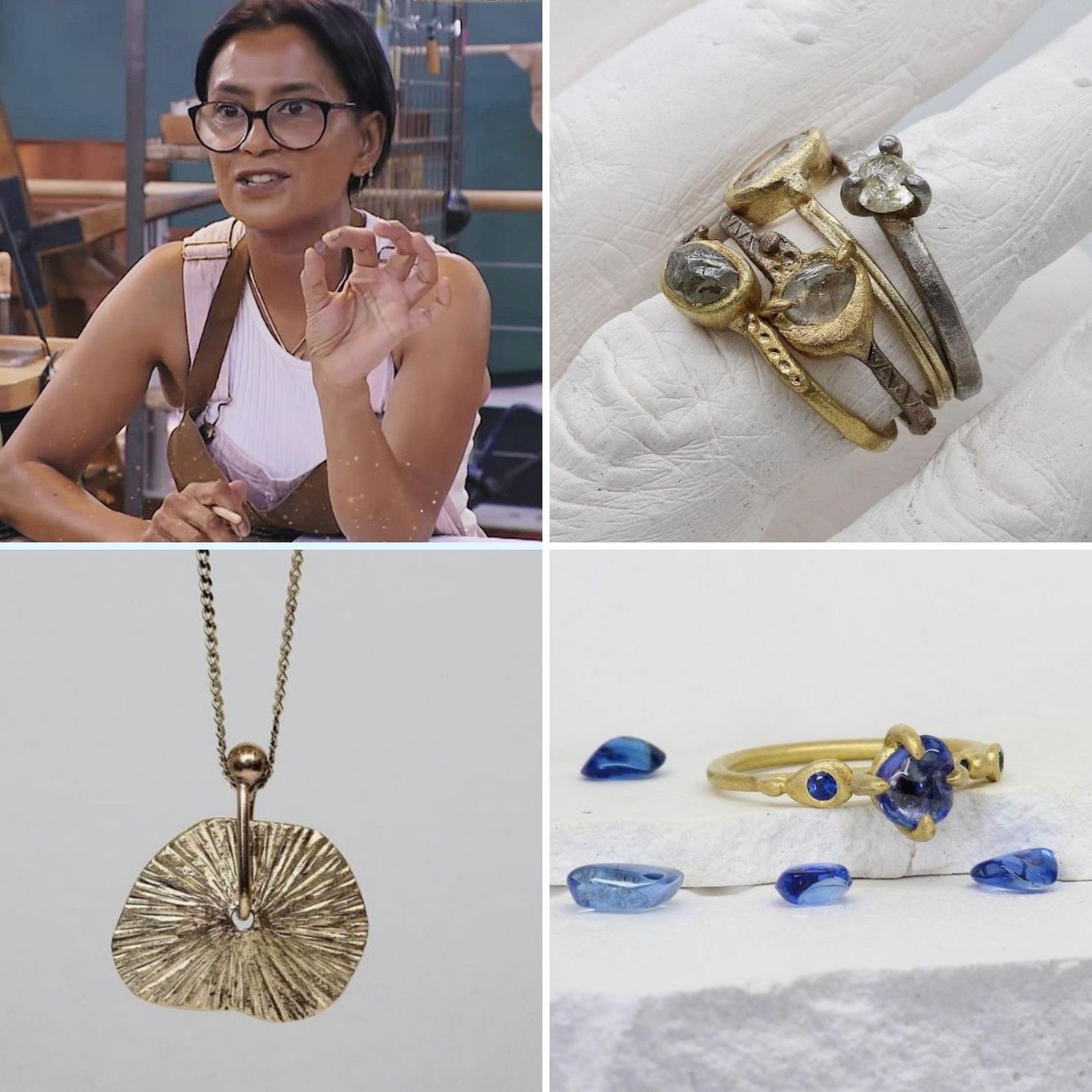 Tamara Gomez
Rooted in creativity and artistry, Tamara Gomez designs bewitching fine jewellery for anyone who feels a connection to the magic and beauty of the earth. Designed to celebrate curiosity and wonder, each piece captivates with distinctive details. Uncut diamonds and ethereal gemstones are set in an organic and textural style reminiscent of the earth from which they came.
Rough diamonds call to those who find beauty in individuality. Tamara Gomez transforms precious stones into captivating fine jewellery inspired by the magic and spirit of the world. Each piece is unique in every detail, soulful fine jewellery for people who are like no other.
Designer Tamara's intuitive and personal process makes commissioning bespoke jewellery a joy. Connecting over stories and sentiment, your uniquely designed and hand-crafted jewellery will be filled with spirit. Whether a gift for self-celebration or engagement and wedding rings, every piece is crafted with wonder and love.
I loved every minute of the show even when we were really up against the clock and stressed to the hilt, it was exhausting but exhilarating. Being on the show really helped highlight my strengths and weaknesses and since being on the show I am trying to work on the weaknesses. I got hang out with and meet jewellers I would never come into contact with normally and it was a refreshing experience. I have made friends for life with the other jewellers and I wish them all every success.
Instagram: @tamaragomezjewellery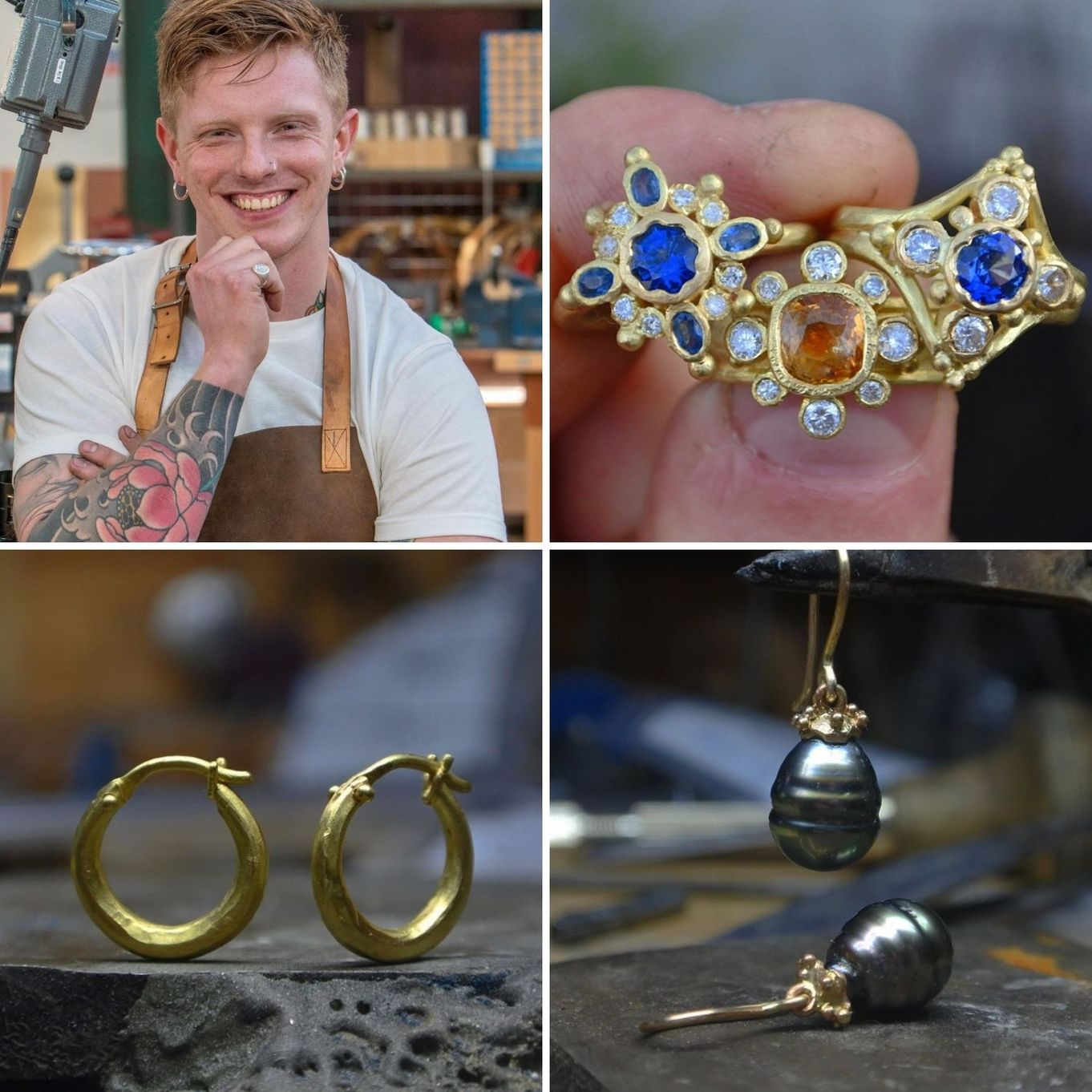 Sonny Baileyaird
I'm a totally self-taught goldsmith but I started my professional life as a personal trainer after suffering injuries in the youth set up at Tottenham Hotspur. I taught myself jewellery as a hobby which grew from there into my career. My style is rustic with a "precious flare".
My experience on All That Glitters was such an amazing learning curve, I learned so much about myself and my craft, it also taught me the limitless potential of jewellery and art form. It has to no end impacted my work for the better and I feel I'm now producing the best work I've ever done. The show has also given me some great friends!
Instagram: @sonnybaileyairdjewellery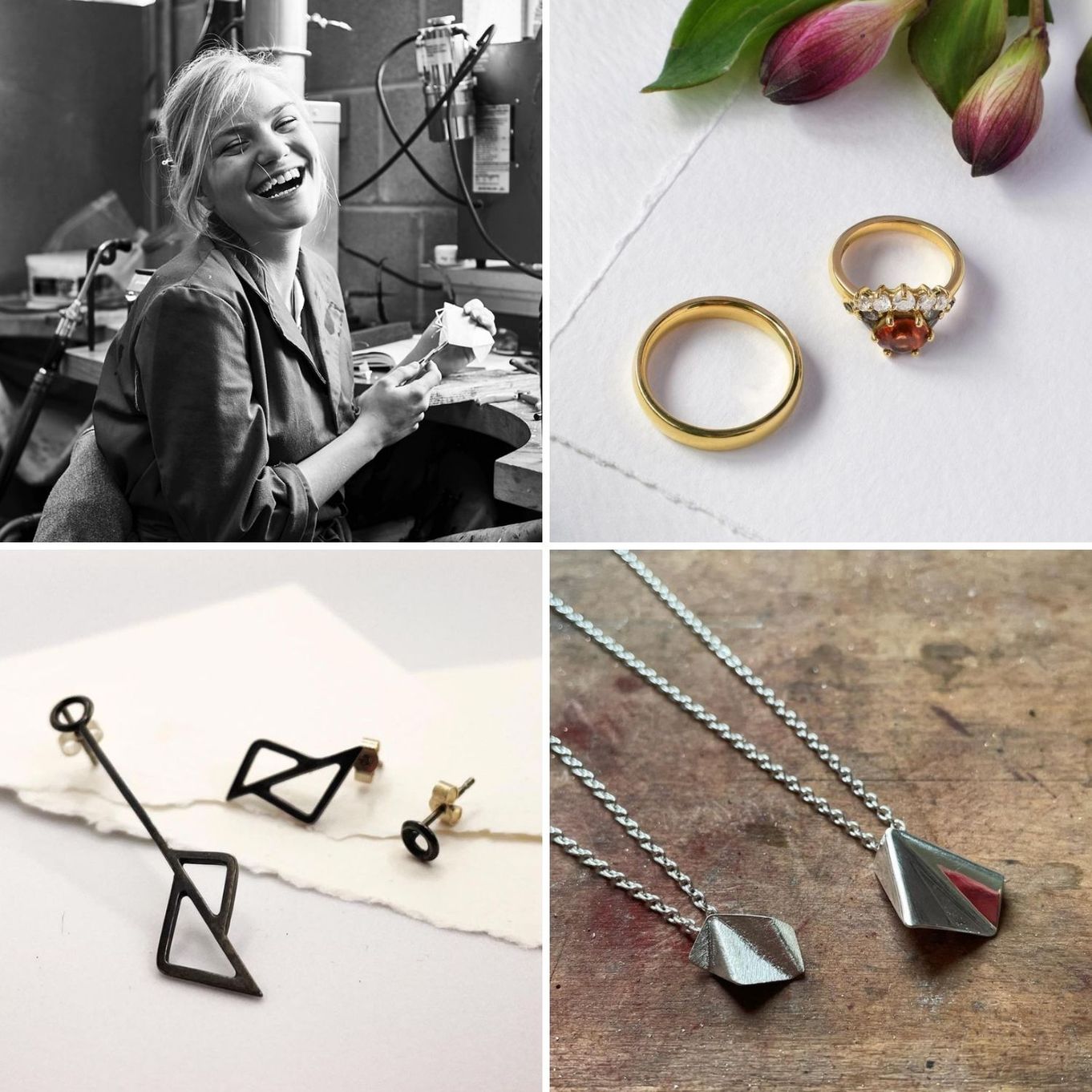 Nicola Lillie
I am a contemporary jeweller based in Herefordshire, UK. I work in precious materials and use them and their preconceived cultural significance to explore ideas of space and value through the visual influence of architecture. I have a particularly geometrical style which explores three-dimensional form and I thrive most when working with concept-lead design to inform my pieces.
The time I spent participating on All That Glitters really challenged me; it pushed me to the limit of design creativity, resourcefulness and getting to experiment. I have grown both professionally and personally in resilience, drive and skill and look forward to further development in the future!
Instagram: @nicolalilliedesign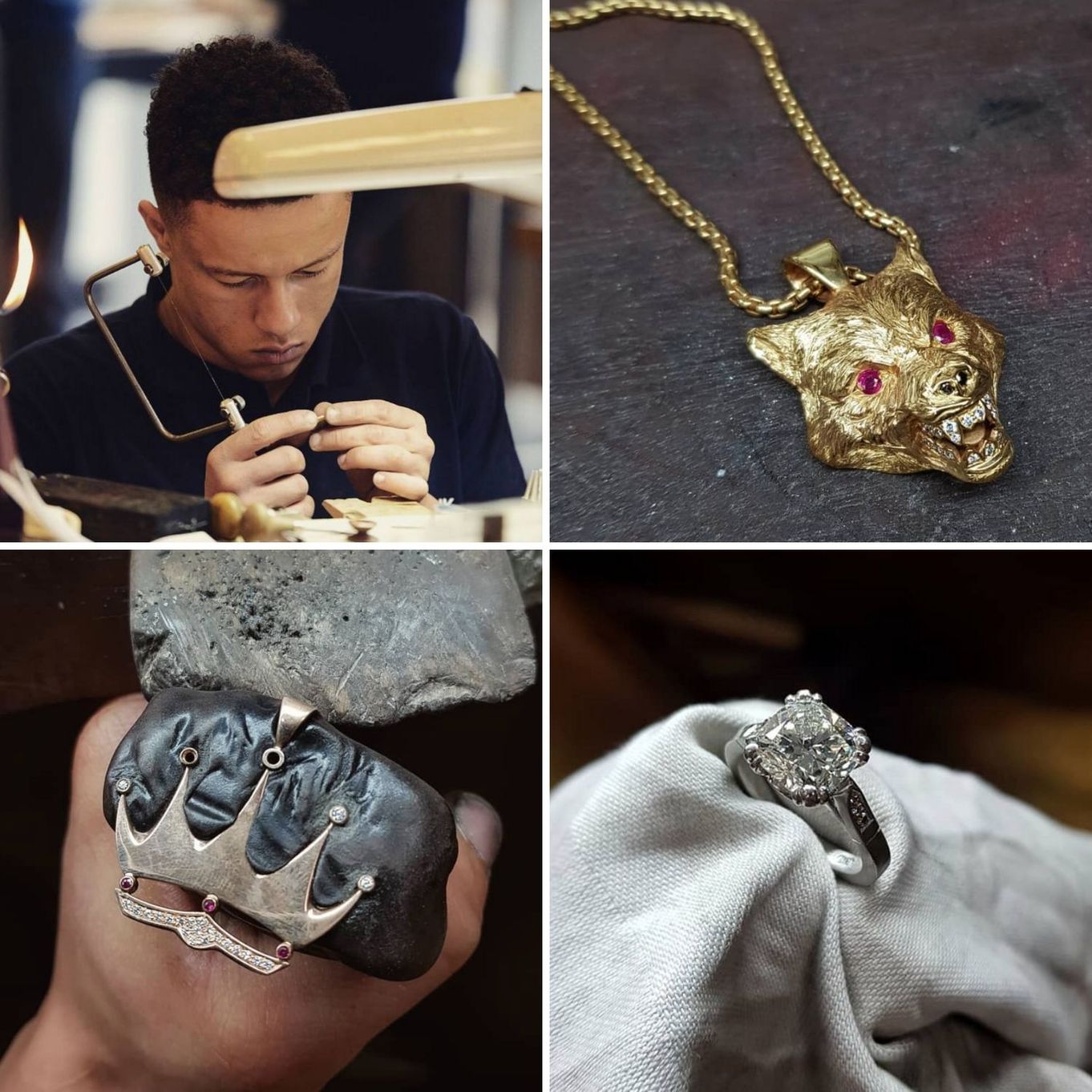 Hugo Johnson
I was first introduced to the world of handmade jewellery at the age of 15 by Goldsmith Richard Talman (RTFJ). At 16 I then enrolled in the newly founded pre-apprenticeship programme started by the Goldsmith's Company. During the year I was taught all the different aspects of the jewellery trade that would help me on my journey to becoming a goldsmith. After completing the required year at the goldsmiths centre, I left with distinction and deep love for the craft. Having absorbed as much knowledge as possible, I returned to Richards company RTFJ to be classically trained and complete a 5-year indentured apprenticeship. In March of 2018, I finalised my indentured apprenticeship at the age of 22 earning the Freedom of the City of London by service and was admitted into the Worshipful Company of Goldsmiths. From then until now I've always looked ahead for new opportunities to put my hand skills to the test and expand my knowledge and understanding of the art of jewellery.
Where better place to do this than the All That Glitters workshop competing alongside 7 highly skilled fellow makers? I can easily say this has been the most exciting yet challenging stage of my career so far. Working on a variety of challenges, filled with so many emotional ups and downs where I was pushed to my limits. Having had the opportunity to spend the time I did working alongside the other talented contestants, the knowledge I picked up from them along with the highly skilled and respected judges was worth more than anything.
Instagram: @hugoluisjewellery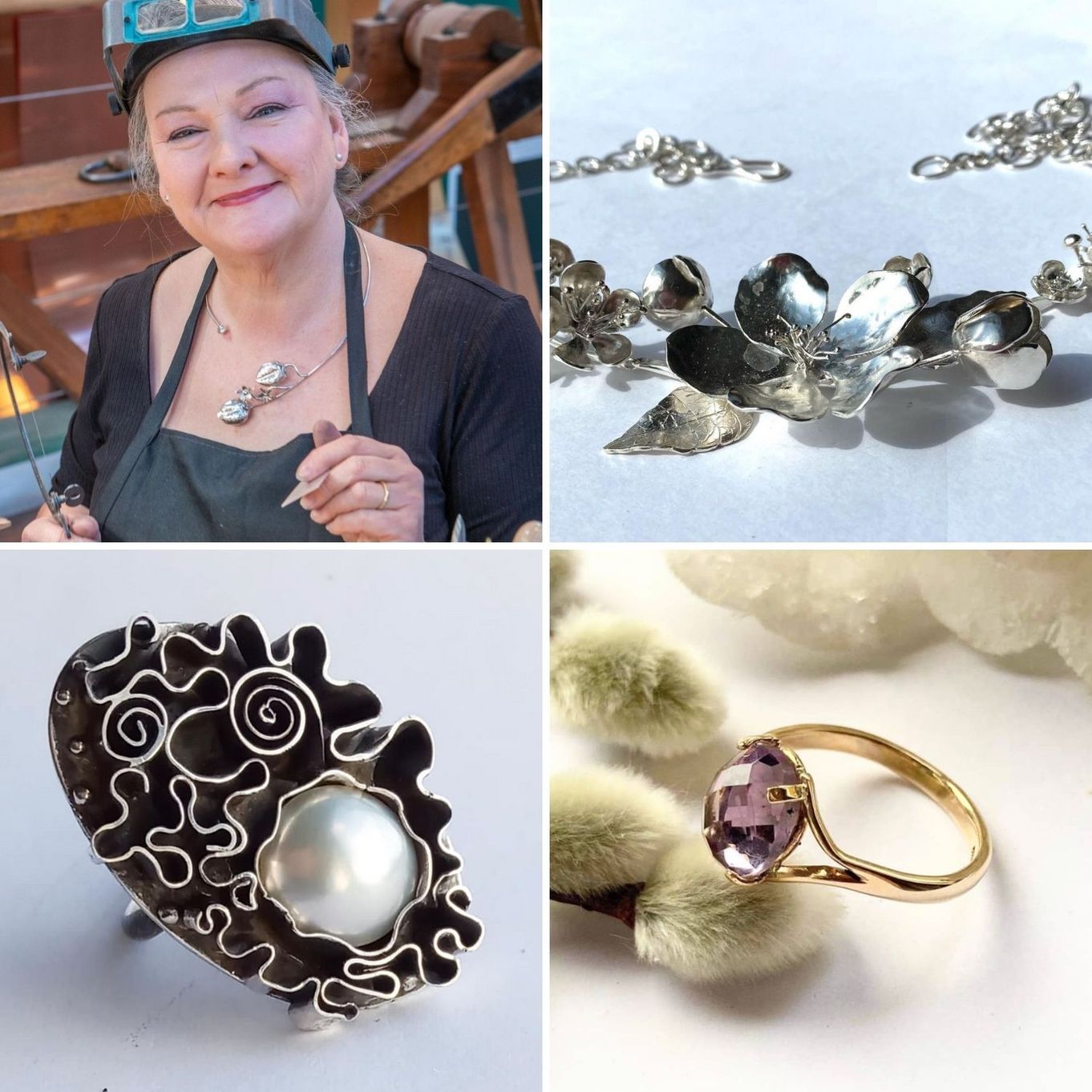 Kim Styles
I trained at sir John Cass in the City of London, worked for a couple of manufacturing jewellers before setting up my own small business.
I find natural, floral shapes and forms to be very inspiring, my pieces reflect the irregularity yet balance of nature.
Being in the show has been an amazing experience, it pushed me way out of my comfort zone and I found it very personally rewarding to work with the other talented jewellers in a shared experience.
Instagram: @kimstylesjewellery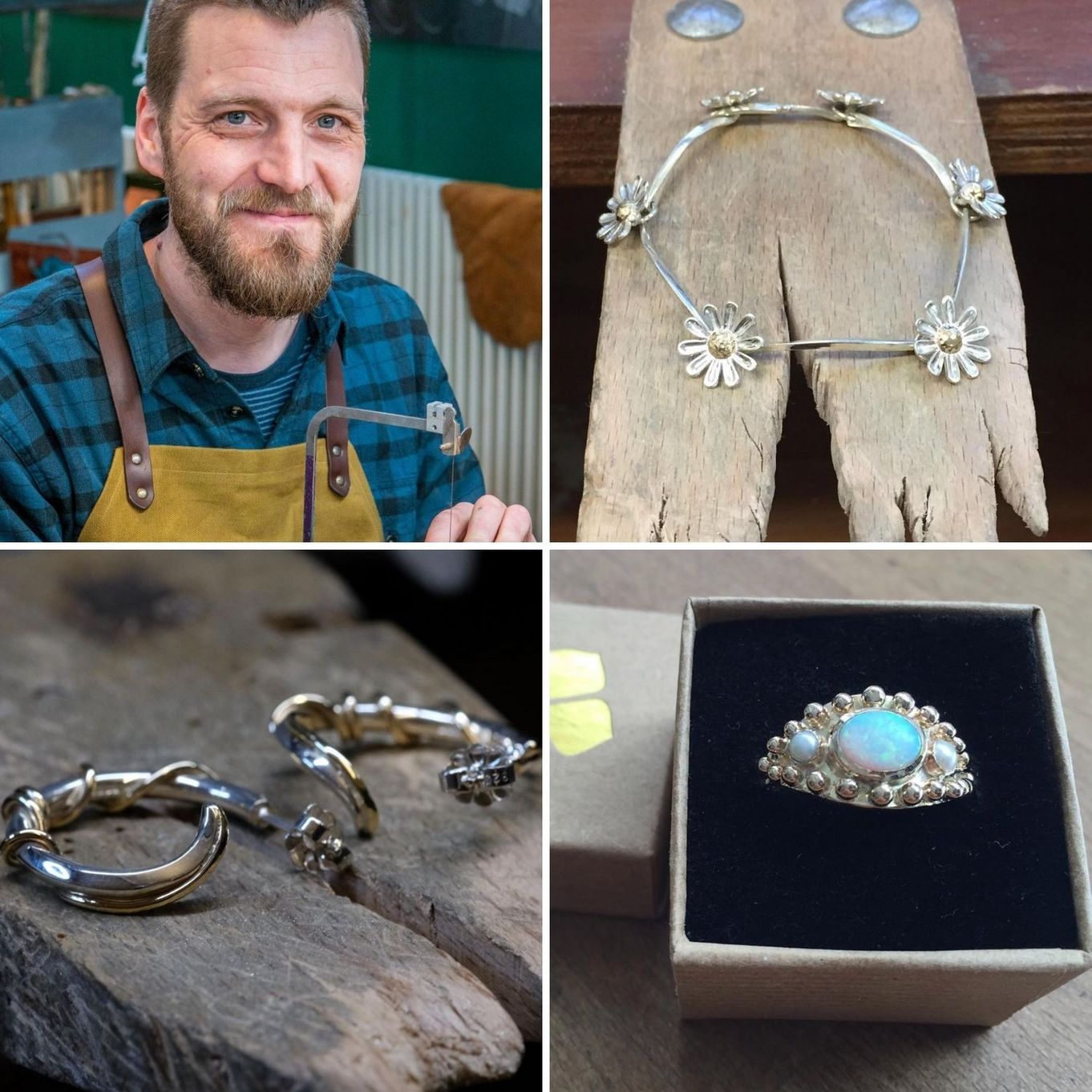 Daniel Mussel White
Daniel has been making and designing jewellery for over 25 years, training to be a jeweller from the age of 16! Based in the Black Swan Arts Centre in Frome, Daniel's work is inspired by his surroundings and appreciation of Eastern culture. Creating contemporary designs which have a natural simplicity and fluid of movement.
Instagram: @danielmusselwhitejewellery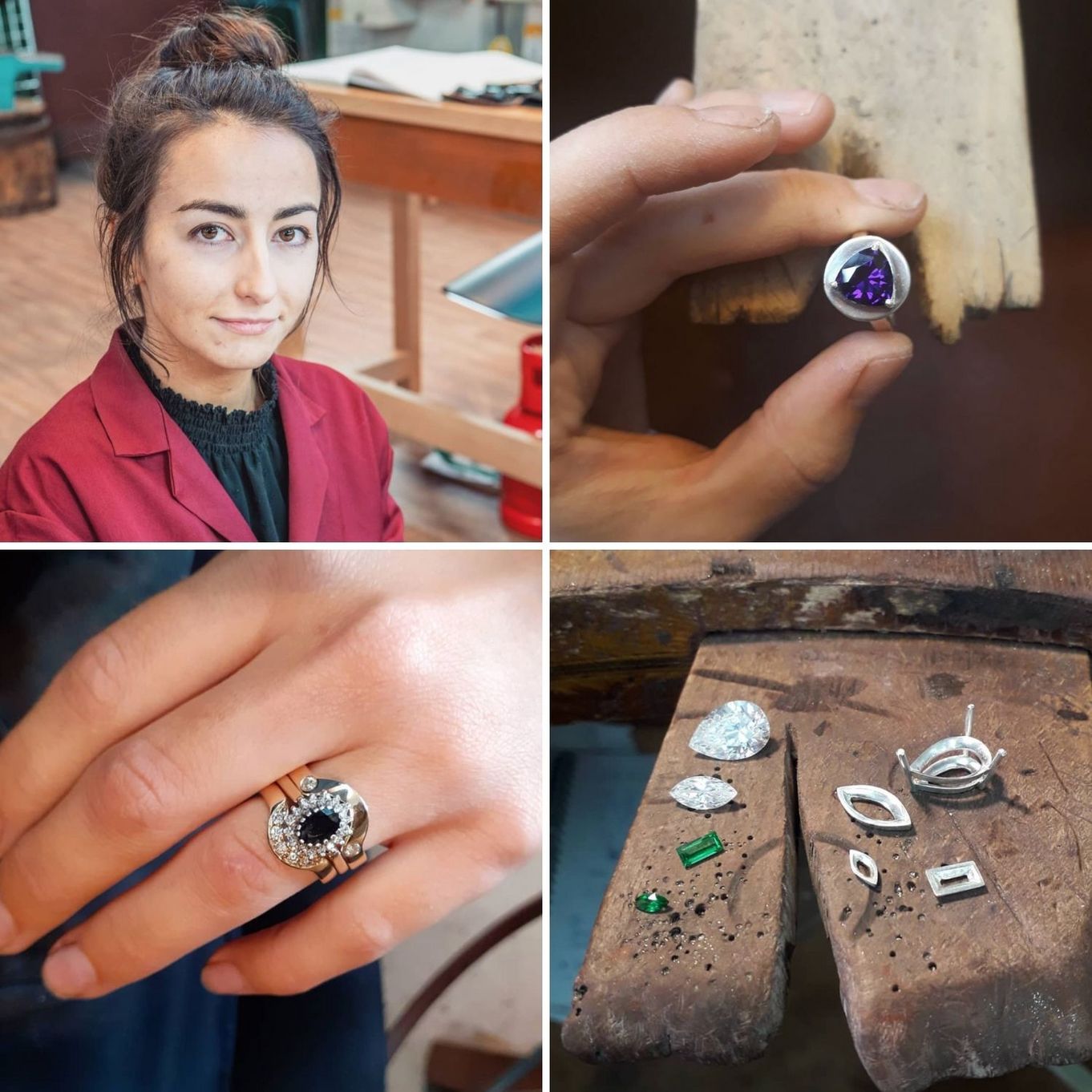 Naomi Smith
My background in jewellery is very arty but I have always had a strong affinity with traditional techniques and really wanted to pursue a career in fine jewellery. At art school I felt a little like a fish out of water but I am super fortunate to have the opportunity to train and learn those traditional skills now. I moved all the way from Scotland to West Sussex to pursue this career after graduating from art school in Scotland.
Instagram: @missnaomi_jewellery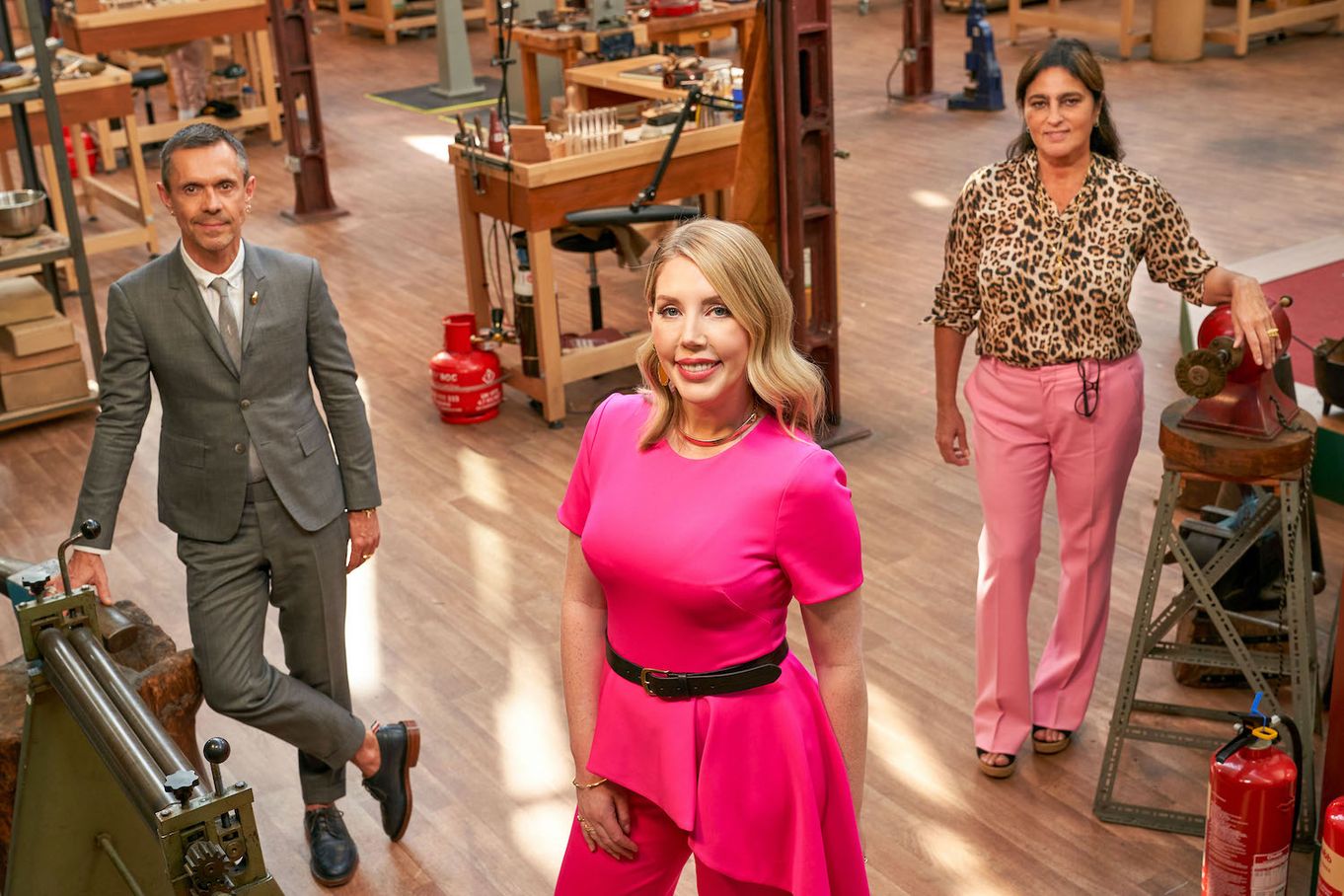 Judges Shaun Leane and Solange Azagury-Partridge with Presenter Katherine Ryan.
Photo credits: BBC/Twenty Twenty Productions Ltd/Mark Bourdillon
---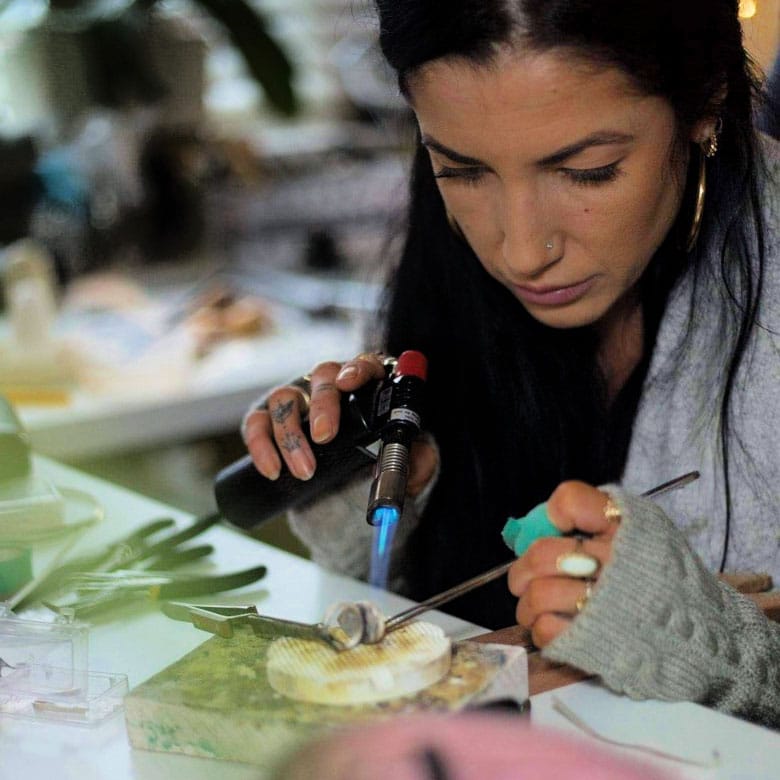 Our Meet The Jeweller series gives you the chance to meet creatives like you! Hear their stories, how they discovered jewellery making, discover their designs and enjoy their top tips.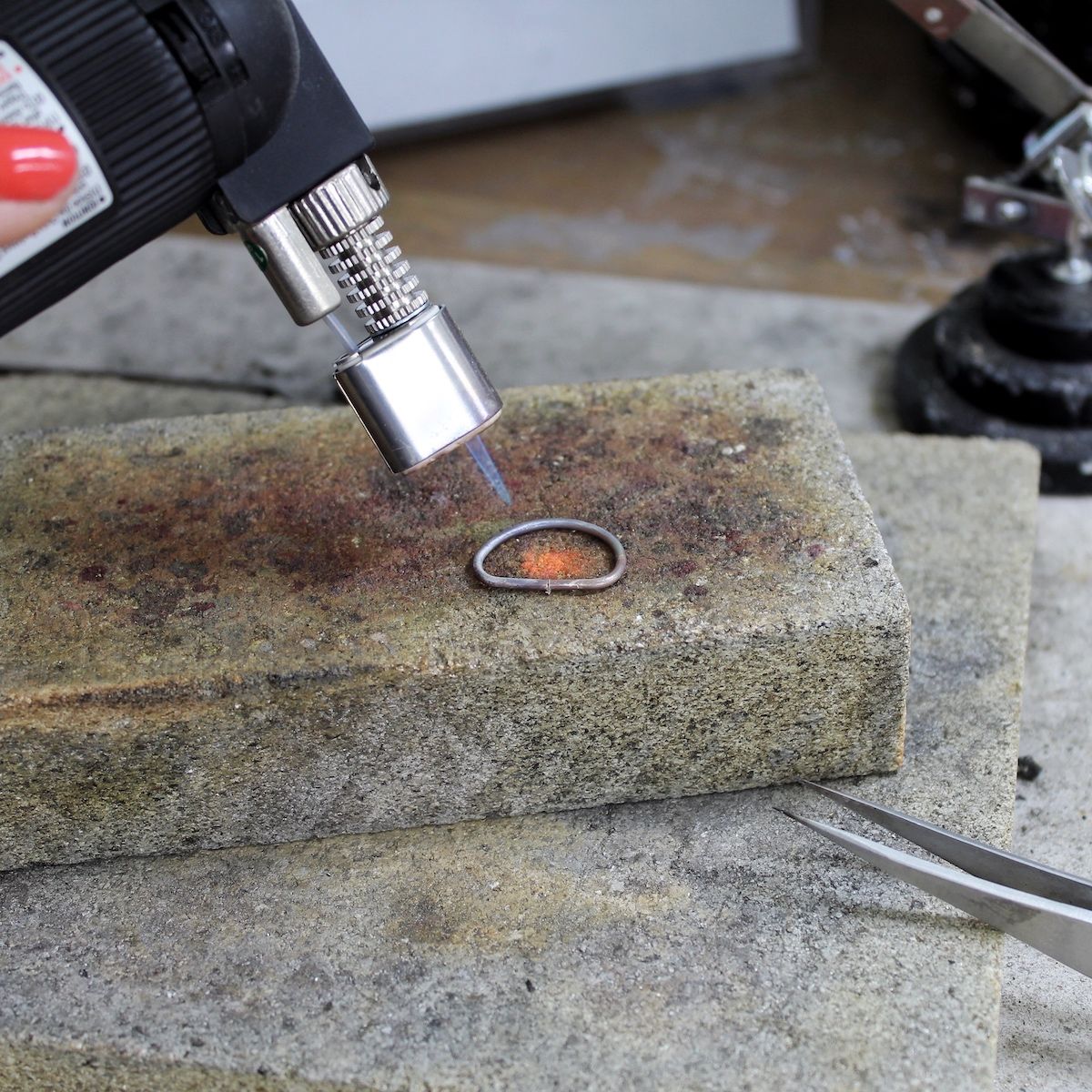 Whether you want to start at the basics, learn wire wrapping, soldering or stone setting. We have free tutorials and guides for everyone eager to learn jewellery making.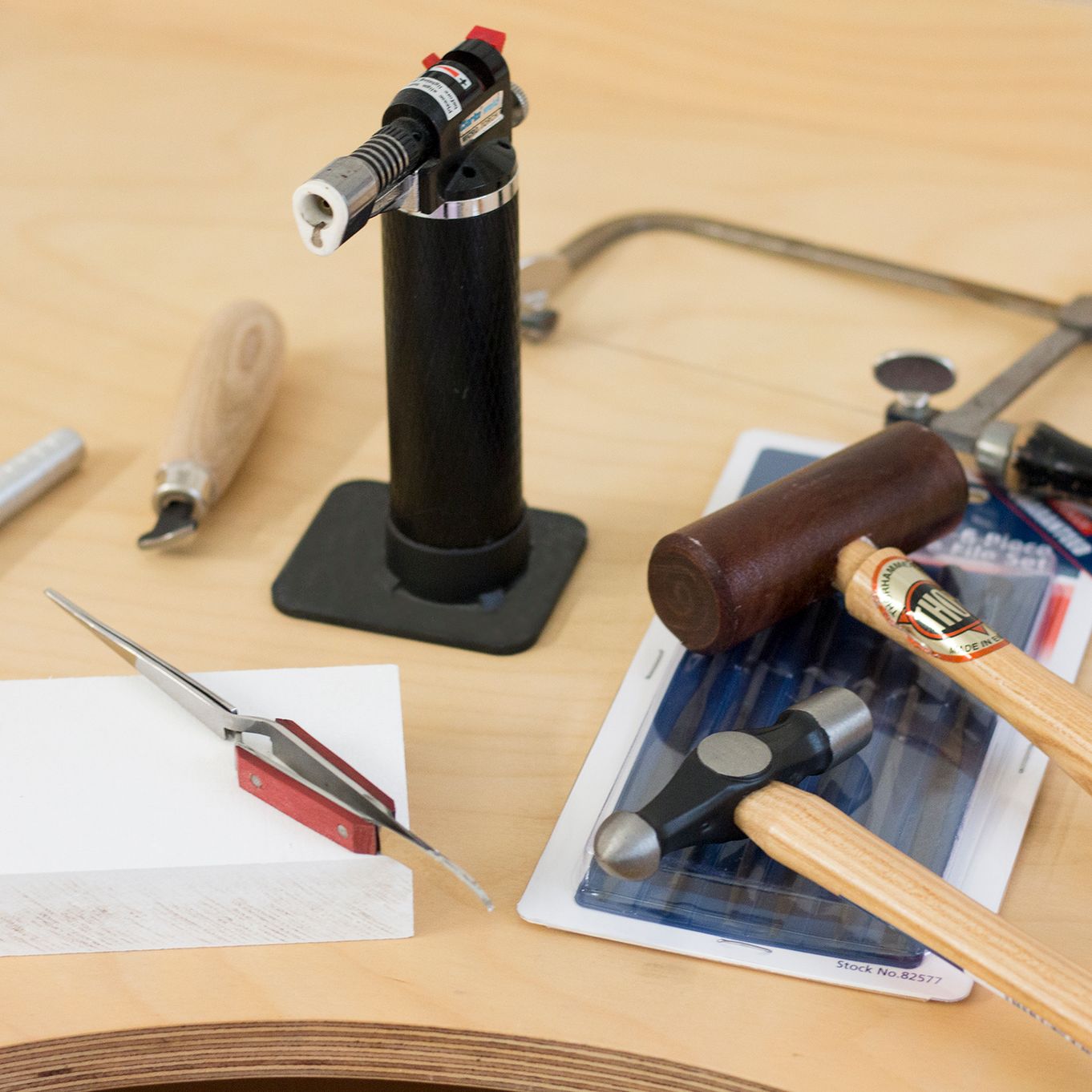 Feeling inspired? Shop all the tools and jewellery making supplies you need with Kernowcraft and give this craft a go for yourself! We have tool kits on various areas of jewellery making aimed to inspire you - easily customise them to suit your needs and budget.