Chatting Beads, Etsy & Social Media With Emma From Evren Blue
"Lockdown hit, and I think I was inspired, along with many others, to start igniting lost passions again..."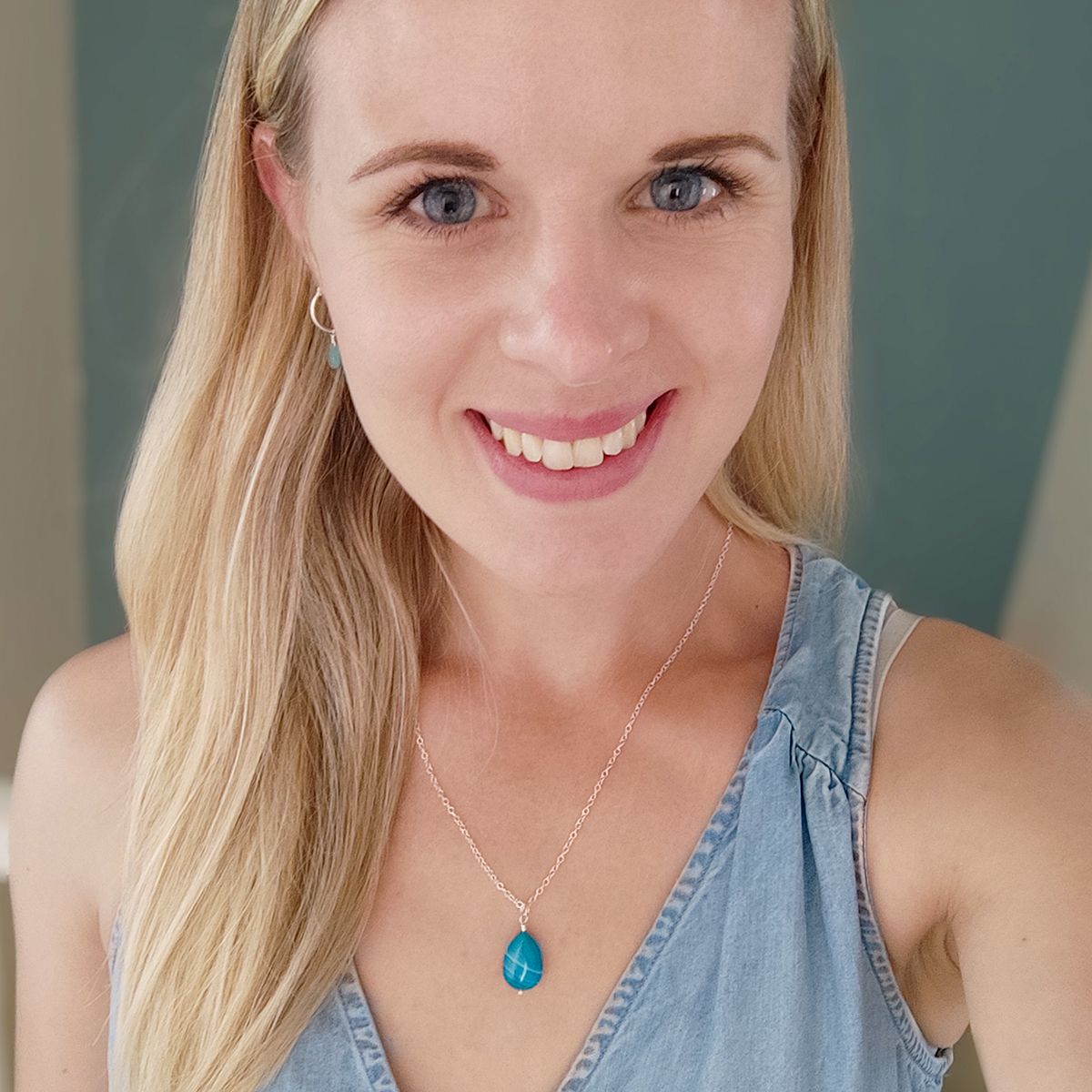 Hi Emma, tell us where your love for jewellery came from!
I have always loved jewellery, my mum has an inspirational collection of beautiful jewellery, so I grew up surrounded by sparkly things, I loved trying it on as a little girl and going with mum to jewellery shops was like walking into an Aladdin's cave!
I remember the first opal silver ring I was given by a friend and I never took it off, I was mesmerised by the colours in the opal.
What gave you the inspiration to start making your own jewellery and how did this progress into selling your creations?
A few years ago I did a silver jewellery making course with my mum and sister and I was inspired from that moment. However, 2 children later and I'd pushed that longing to make jewellery deep into the recesses of my brain and continued pursuing my career in the probation service. Then, lockdown hit, and I think I was inspired, along with many others, to start igniting lost passions again.
It started with me just researching courses and materials, but I soon found a wealth of online tutorials and courses and a whole world opened up to me! I just thought, "why not?" I love this and if not now, then when? I started practising and making, and friends and family encouraged me to take the plunge and set up my Etsy shop! That was almost exactly a year ago!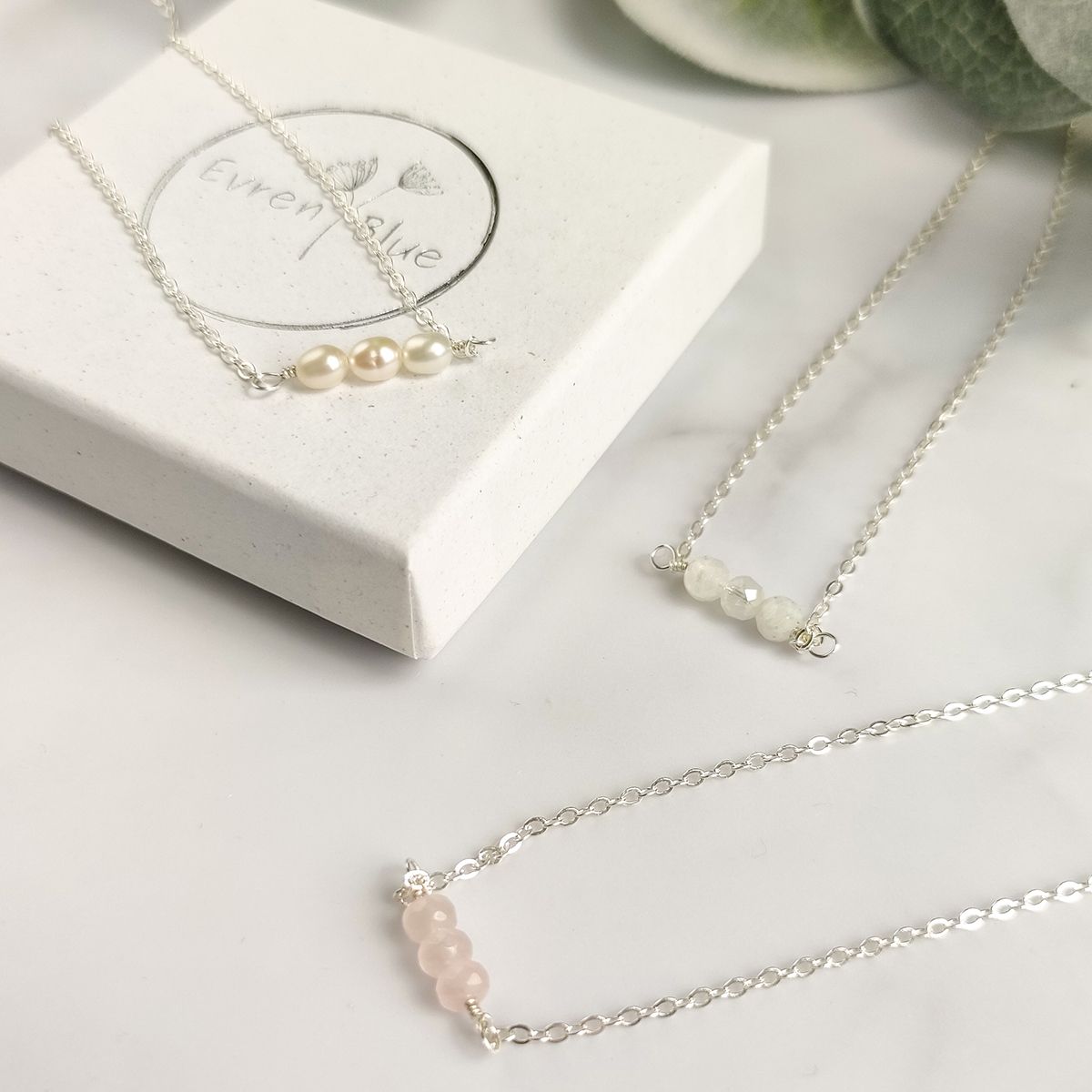 Do you run your small business part time or full time? If part time, what are your tips on staying organised?
I currently run my business part-time, in and around my 3 days as a Probation Service Officer and looking after 2 young children, it is very busy and I never seem to stop, but I stay organised by keeping a plan for the week in mind. I try to plan some posts on Instagram in advance, I try to not over stretch myself, but sometimes I'm giving my daughter lunch while doing a quick photoshoot of some new pieces or updating my Etsy shop! It's a juggle!
What's the meaning behind your business name?
I wanted a name that was personal but wasn't brave enough to use my own name!
My husband is half Turkish, so "Evren" means "universe" in Turkish which is also the meaning of my name "Emma" ("of the universe"), and I chose "Blue" because it's my favourite colour and features heavily in my designs!
What resources do you use to continue growing your skills?
I have found so many useful recourses from Kernowcraft, so many tutorials from other makers which is still used today as I learn more skills and take my jewellery making further. I also use courses from Jewellers Academy and YouTube, I highly recommend Andrew Berry's "At the Bench" series.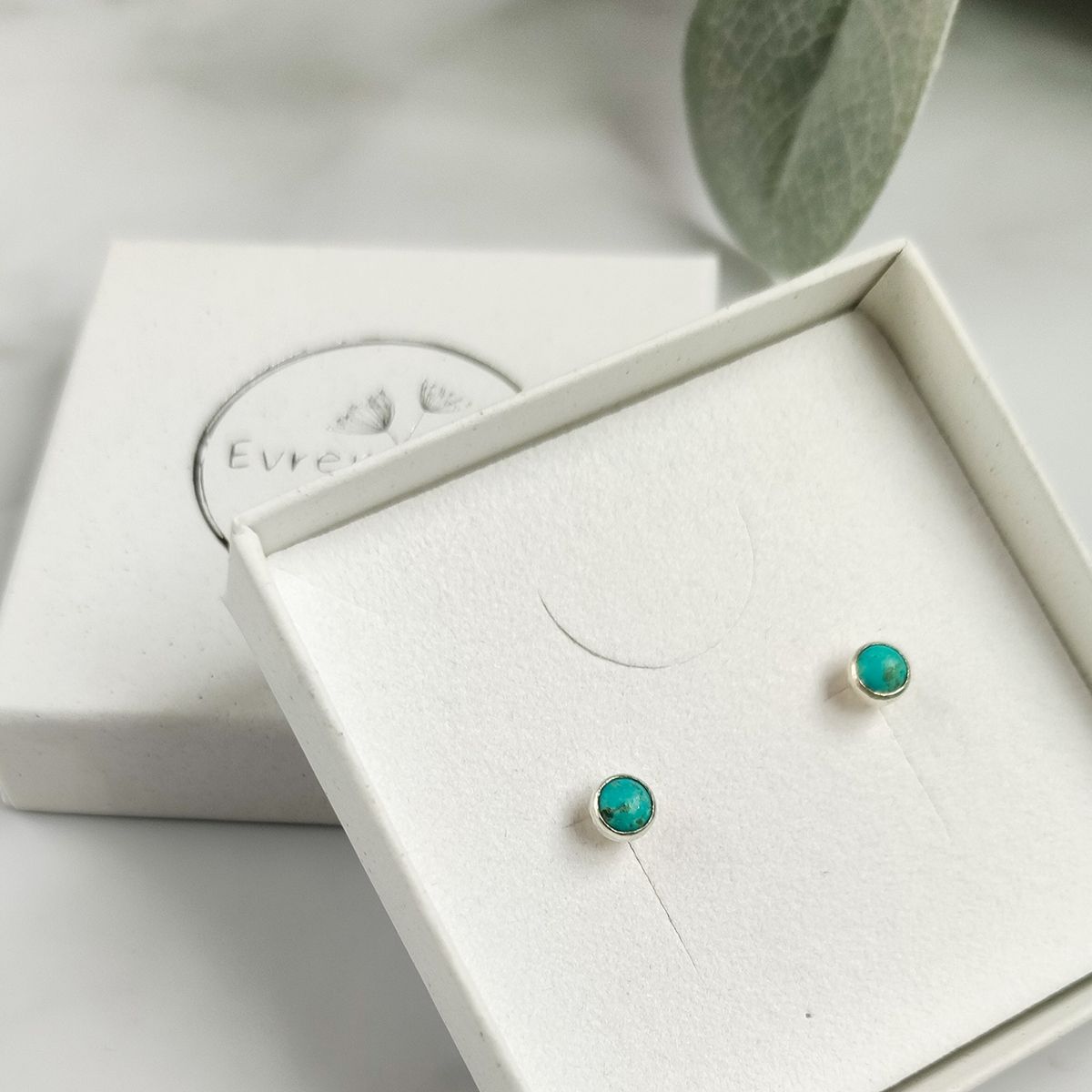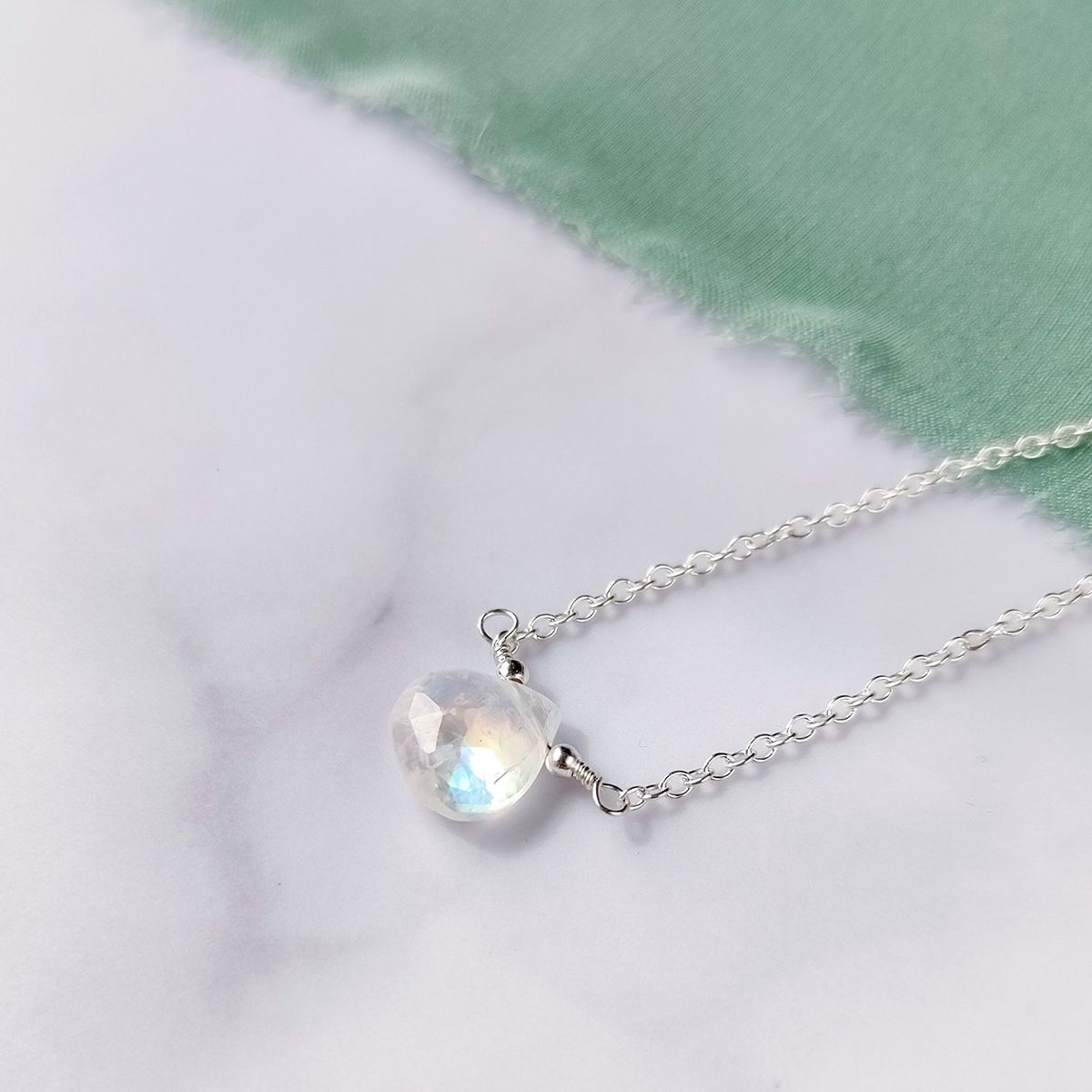 What are the essential beading tools you couldn't be without and why?
I love my pliers! I have quite a collection now and love my bail making pliers for making different sized loops.
I also highly recommend a beading mat, some clear storage containers to store your beads and wire, a good light and I use a ring mandrel to form round shapes, but actually, my kids' felt tip pens work well as well!
What's your most popular design and why do you think this is?
My most popular designs are my simple briolette ones, either as necklace or wrapped earrings, I think this is because they're simple but so eye catching with the gemstone as the central focus.
"Especially now videos are becoming vital to any online presence - I like to create fun reels as I like a bit of humour and try not to take myself too seriously all the time..."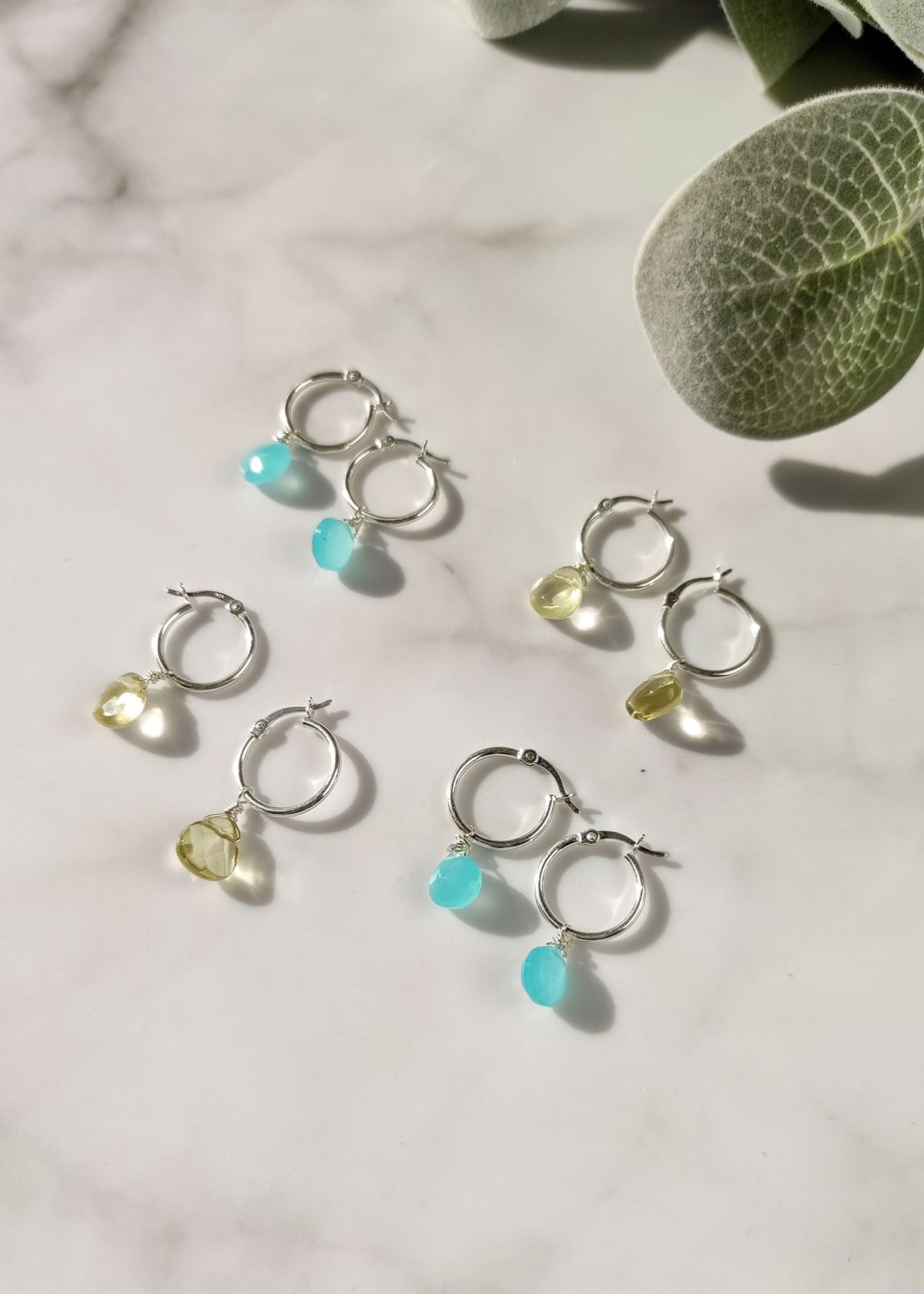 We love your briolette bead jewellery, what's your favourite thing about using these in your designs?
I love briolette beads as I love that you can see the whole gemstone in your designs. I love making the gemstone the star of the show, and by wire wrapping a briolette into your design you make it the central focus. You can make them by simply threading some silver wire through them, or wrapping silver or gold fill/plated wire around the top slightly to give a more glamourous look.
We love your fun reels! How important is social media for your business?
Social media has been the lifeline for my business as I am purely online at the moment! I mainly use Instagram, but that links directly to Facebook. I've just ventured into the world of Pinterest and TikTok as well, especially now videos are becoming vital to any online presence. I like to create fun reels as I like a bit of humour and try not to take myself too seriously all the time. I do also try and make "behind the scenes videos" or videos showcasing my latest pieces.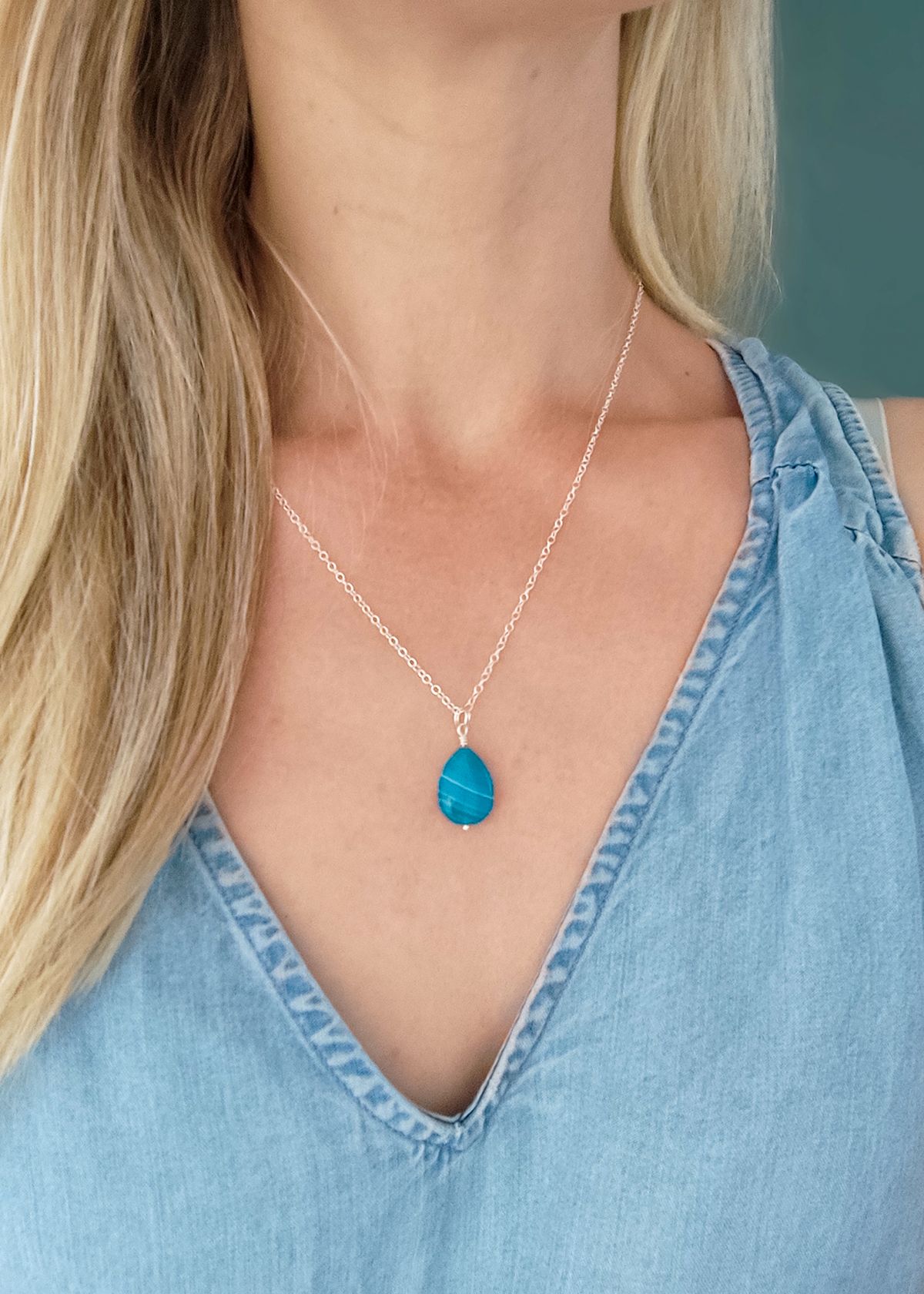 Tell us about the last piece of jewellery you made!
The last piece of jewellery I made is a piece called "Big Blue" as the focus is a gorgeous blue Botswana Agate stone that looks like you're wearing a piece of the sea!
One creative you're loving right now!
I have been loving the work of Cat from Angharad May Jewellery. Cat has been creating a stunning new collection, so dainty, romantic and she puts her heart and soul into each piece. She's also such a lovely person!
Tell us about your workspace!
My workspace right now is either my coffee table or kitchen table! The dream is to one day have my own workbench and space to work!
"There's a huge community ready to support you online so just go for it!"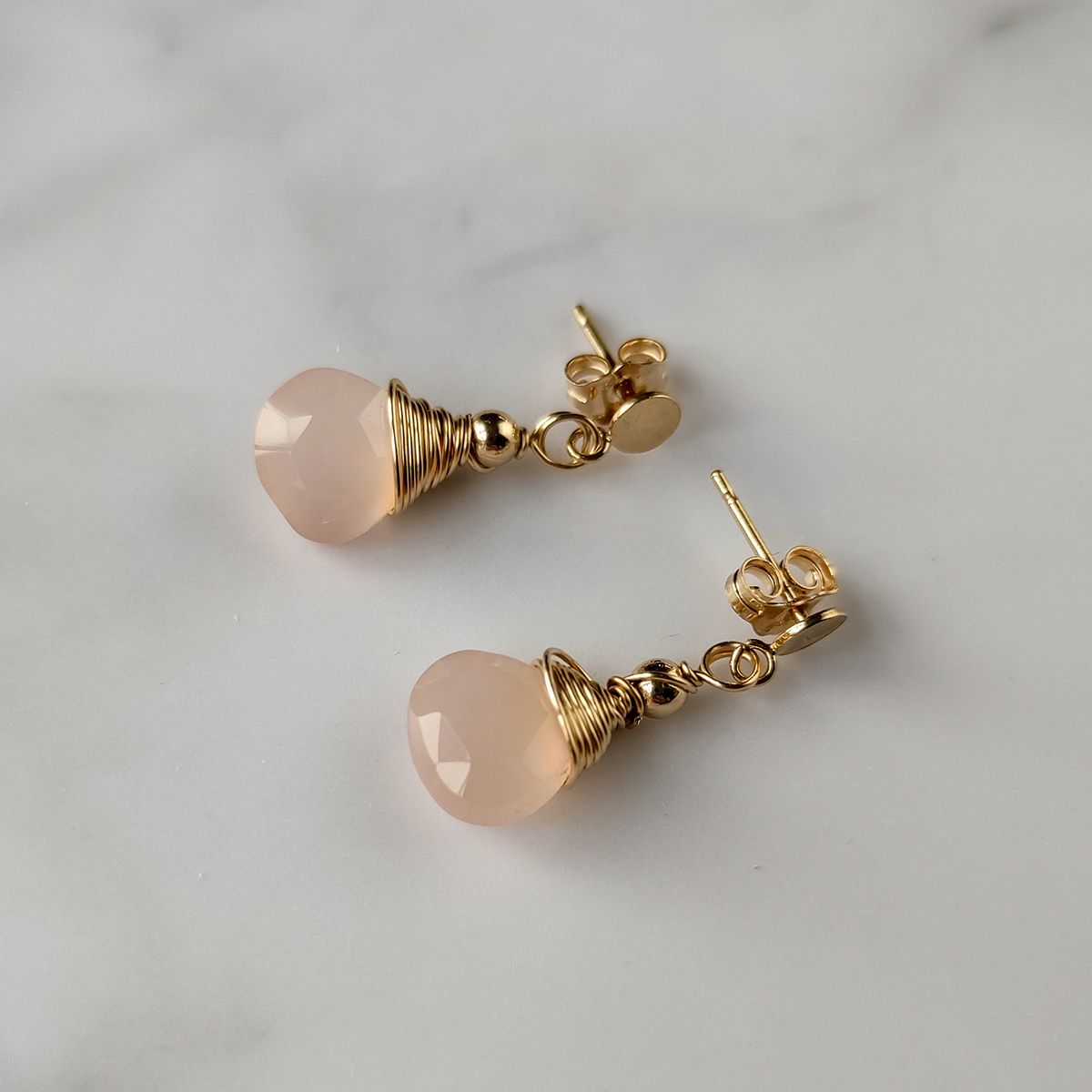 How have you found Etsy as a selling platform?
I use Etsy because it was a great way to start selling without having to set up your own website (I know nothing about website design!). It instantly gives you a customer base so long as you know how to maximise your listings to get them in front of customers, it also produces all your emails to customers about invoices, when you've dispatched their items etc, it also keeps a record of income and how much has been deducted for listing fees etc, so it makes end of year accounts a bit easier.
It's relatively straightforward to list your items and edit them, you can create discount codes and sales and the Etsy app is really handy on your phone. However, the cons are that you can't personalise it as much as your own website, and the fees are quite high; there are listing fees, listing renewal fees (every couple of months your listings are renewed for a small fee), transaction fees plus they deduct the VAT separately for all those fees as well. All in all, I think it's between 15% - 20% that gets deducted from your sale price so make sure you accommodate for that in the prices of your items.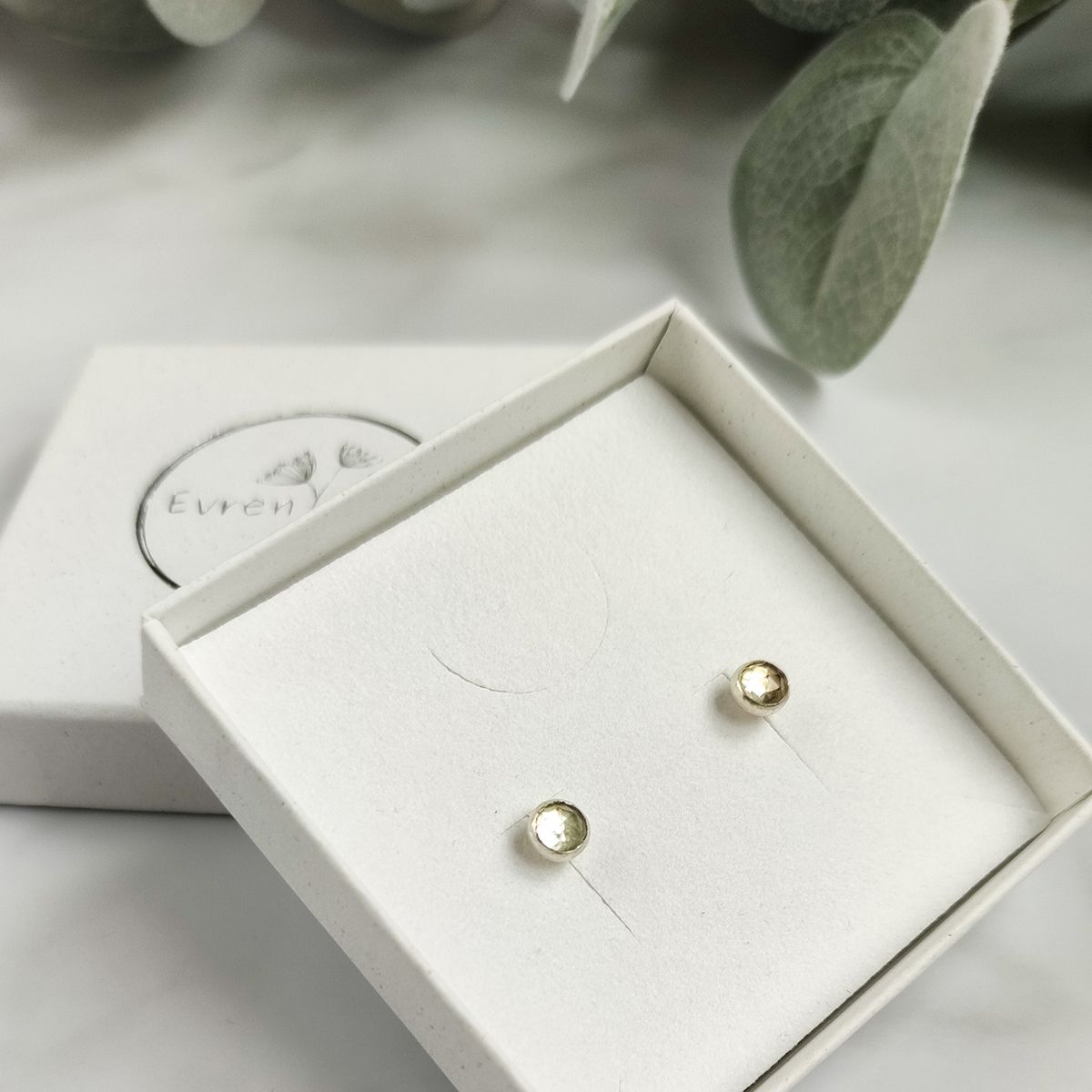 What advice would you give to those wanting to start selling their jewellery but hesitant to get started?
I would say, don't think about it for too long or worry about making "mistakes", nothing is set in stone in your business and I have changed in so many ways over the past year, my business has evolved, my skills have evolved, my packaging has changed, my photography style has changed, but it's still Evren Blue! There's a huge community ready to support you online so just go for it!
You've been dipping your toes into the world of metalsmithing & stone setting! What has your experience been like with learning these new skills and what can we expect to see from you in the future?
It has been a huge step for me as this has always been my dream to start metalsmithing; it's been a sharp learning curve, but I love a challenge! I adore rings so I will definitely be making those in the future and have my gemstones all ready to be made into some beautiful stacking rings. Just wish I had more hours in the day to practice, make and create!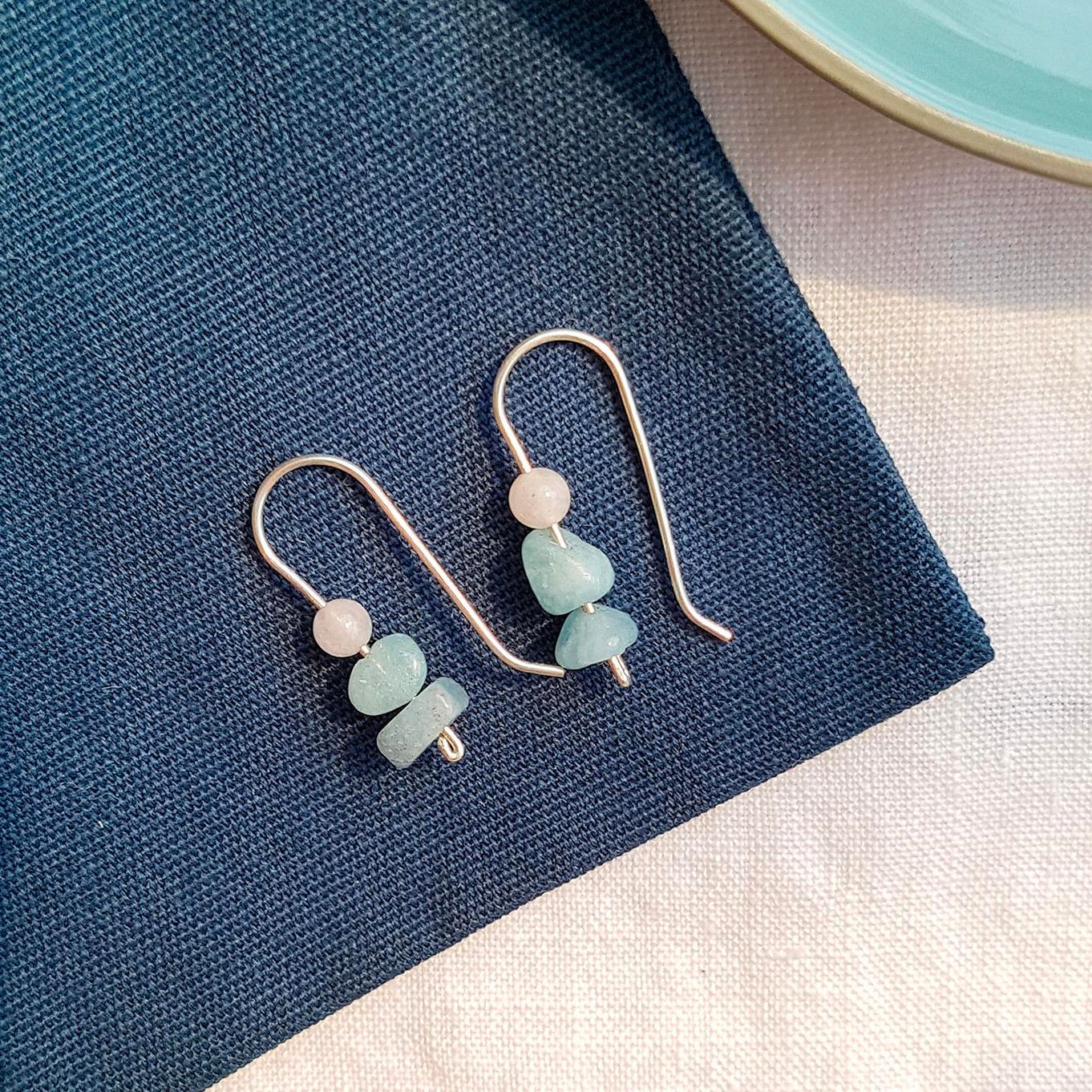 Emma shows you how to make these pretty earwires featuring gemstone beads. With step by step photos, plus the page includes our recommended tools and supplies needed for the project.
This project requires minimal tools and you can easily customise this design using your favourite gemstones! Browse our selection of gemstone beads here.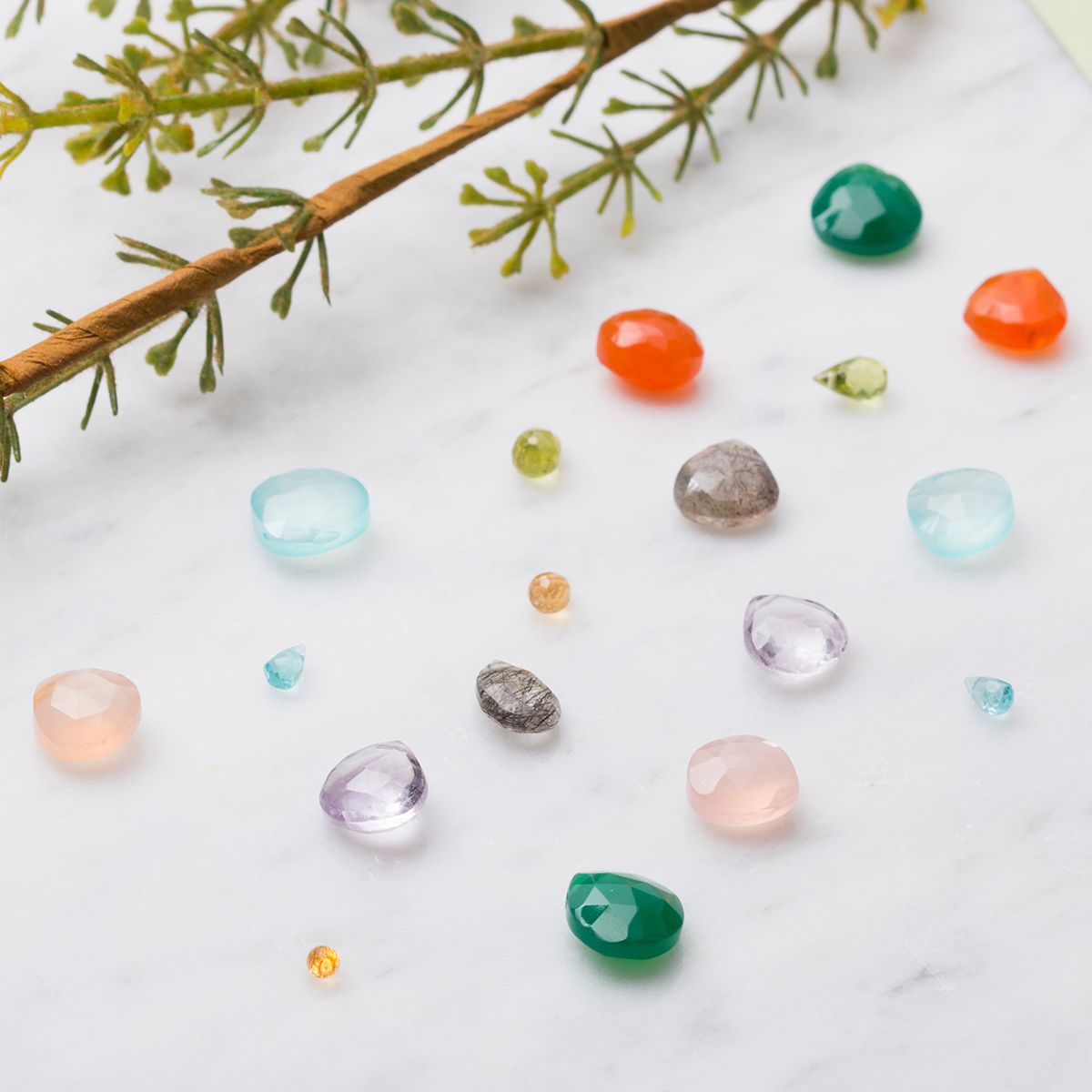 We stock a large range of gemstone beads to use for jewellery making! Including round, faceted rondelles, briolettes, top drilled, half drilled, metal beads and more to inspire you.
Many beads are sold individually, as a pack of 10 or as a strand.