How To Set Faceted Stones In Snaptite Settings
Snaptite settings for faceted gemstones are extremely popular due to their versatility and ease of setting. Supplied in a range of options for pendant, earrings or bracelets they are a quick and easy way to make beautiful gemstone jewellery. Simply choose the matching sized faceted gemstone to your settings and 'snap' them into place.
Snaptite settings require no specialist tools, so all levels of jewellery making can make jewellery with these settings! We supply these wonderful settings as pendant settings that can easily be incorporated into necklace and bracelet designs, as ready to go earrings in a range of styles, as well as on as in loose settings ready to solder onto any design for the more advanced jewellers.
Find the pictured step by step instructions on how to set faceted gemstones in snaptite settings below, in the photos you'll see we are holding the earring with pliers - this is simply to make the photo much clearer, you will find it easier to hold the setting in your fingers to support the setting better.
Step By Step Instructions: How To Set Snaptite Settings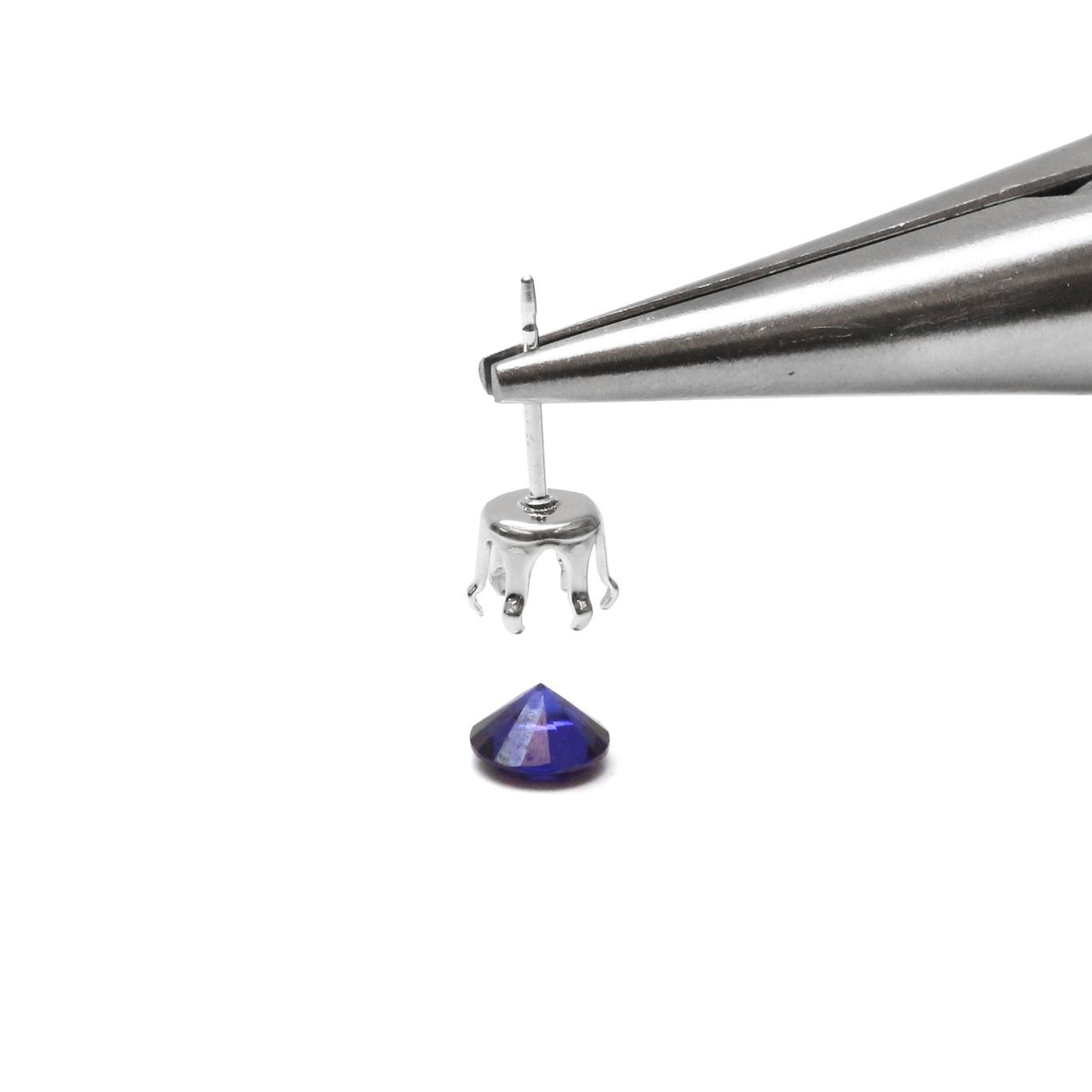 Step 1
Select your snaptite setting and faceted gemstone in the same sizes. Place the faceted stone face down (flat side down) onto a firm surface such as a magazine placed on your work surface.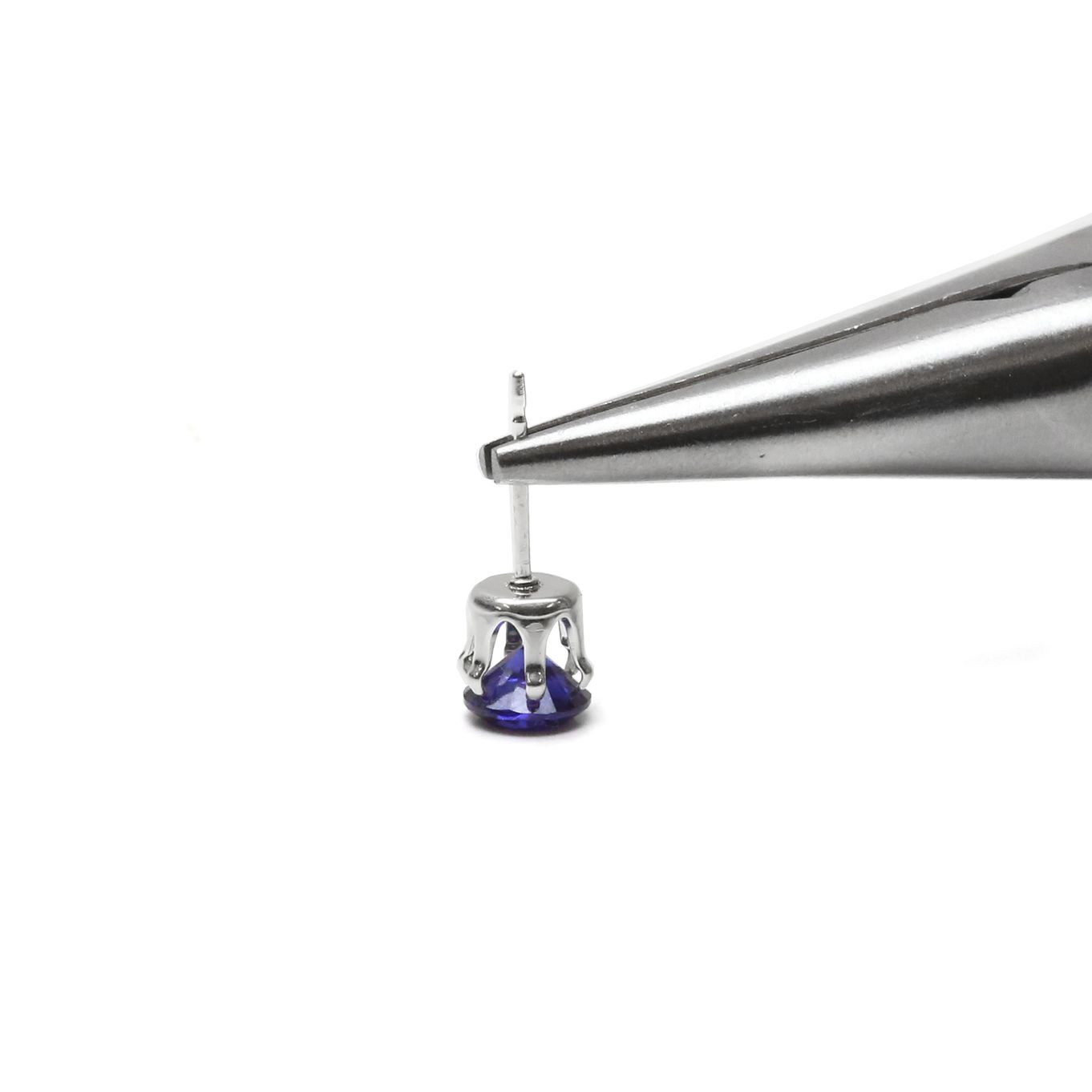 Step 2
Place the mount over the stone and apply gentle pressure to 'click' the stone into place.
(Star and square shaped snaptite settings are slightly trickier to set, so you may find a stone holder helps. The claws should sit on the points of the star).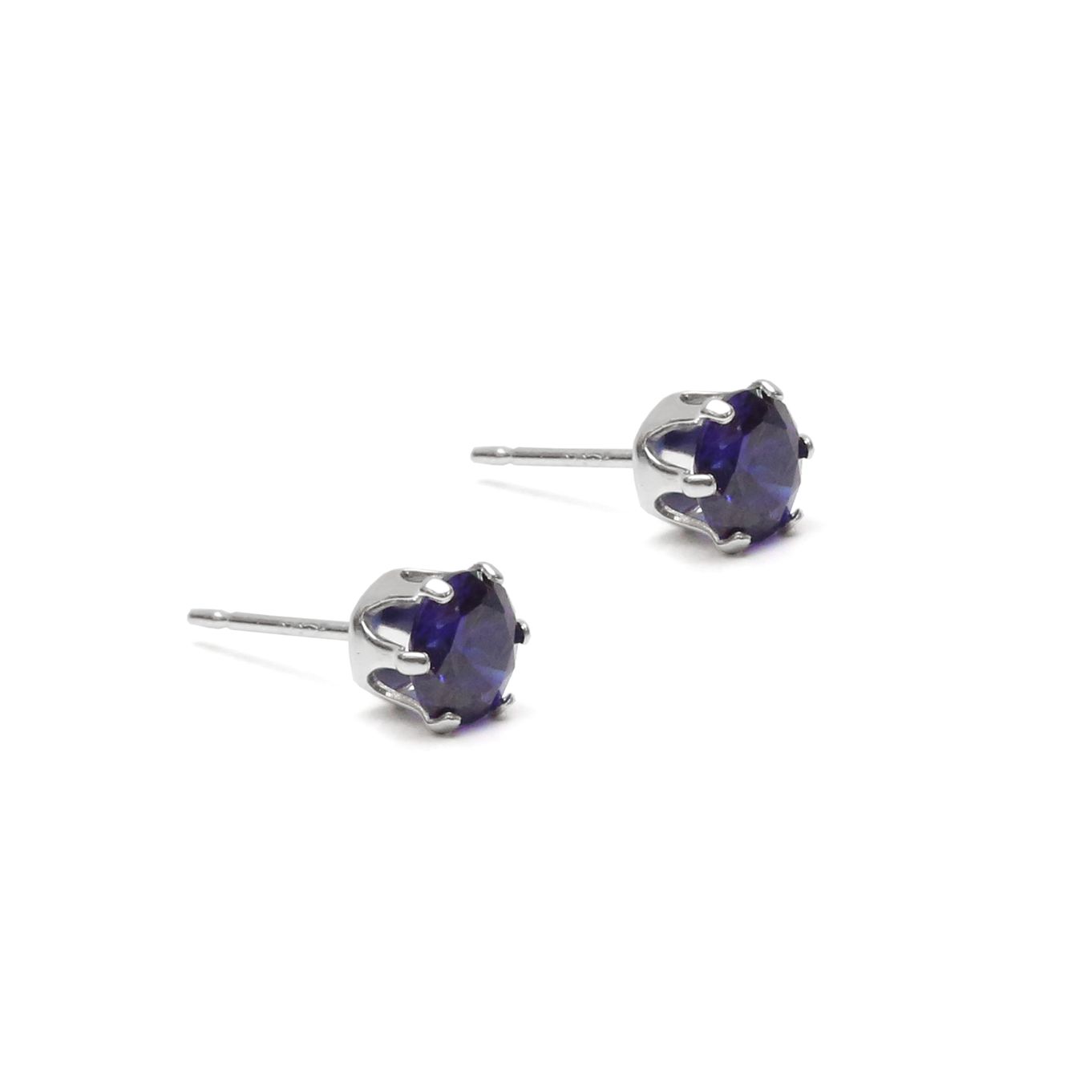 Step 3
Check that the claws are firmly in place - it may be necessary to gently adjust the claws to ensure a secure fit. If you notice any claws are slightly raised and could catch on clothing you can use a pusher tool to push down the claws a little.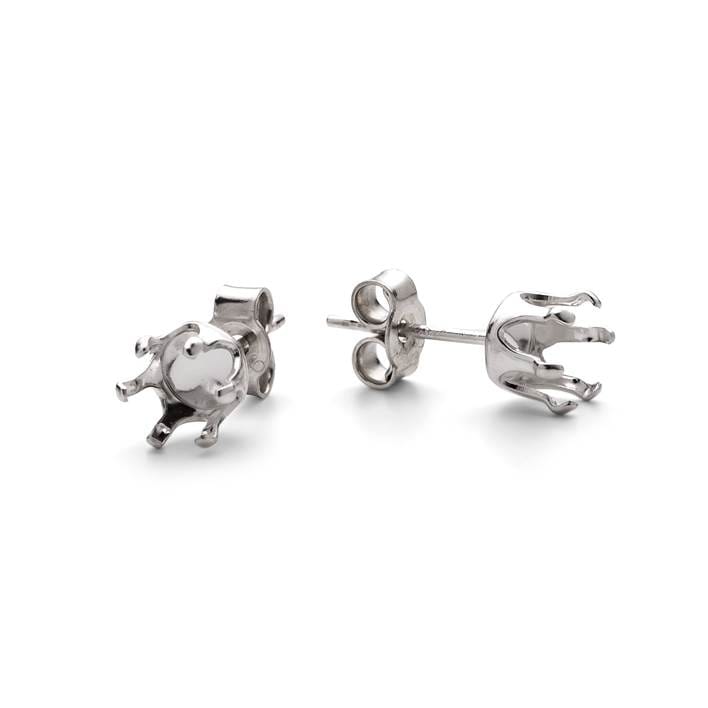 A classic style, perfect for everyday wear! Choose from a range of round, oval and star shape sizes. Comes with earring backs.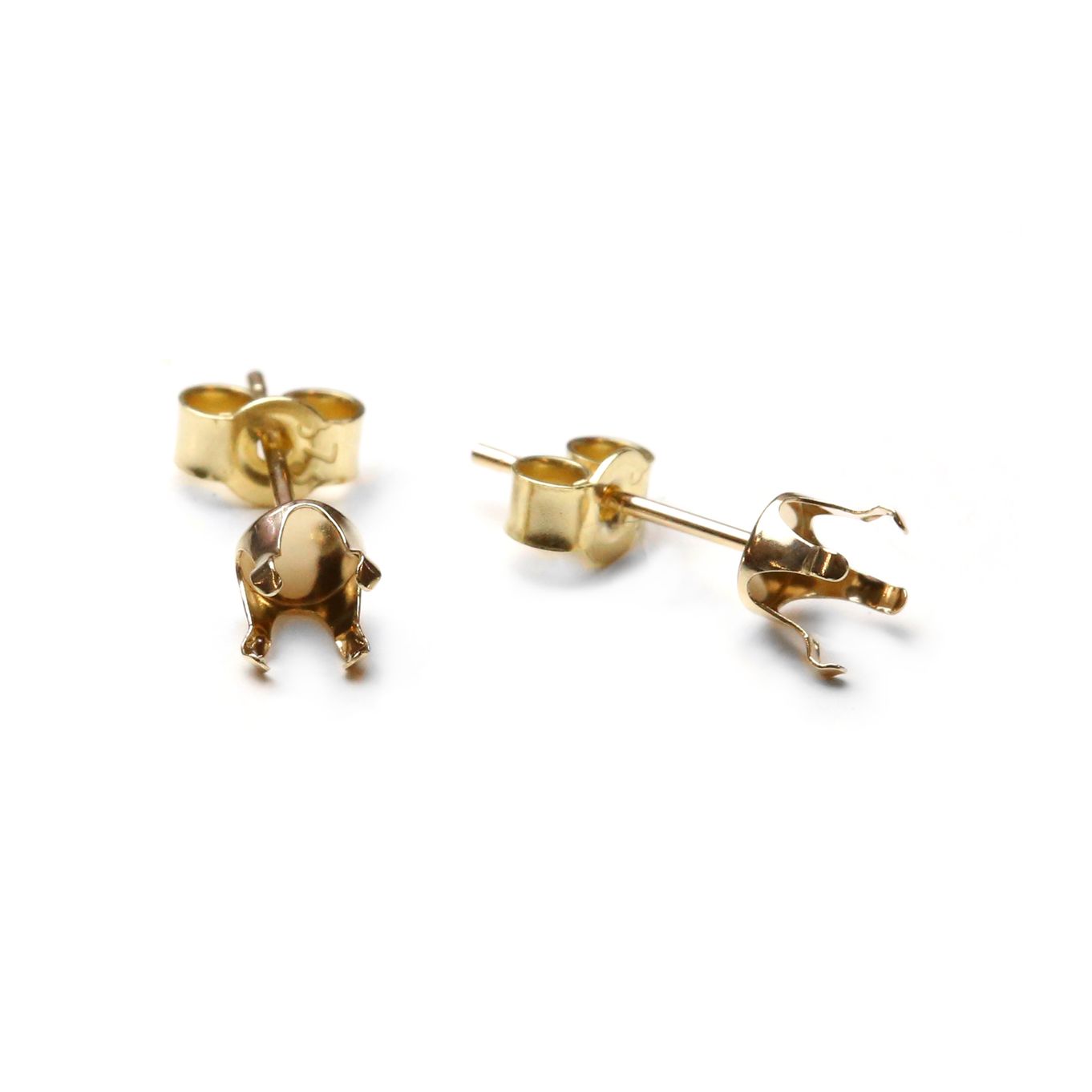 Another classic style, for gold lovers! Available to use with 4mm round faceted stones. Comes with earring backs.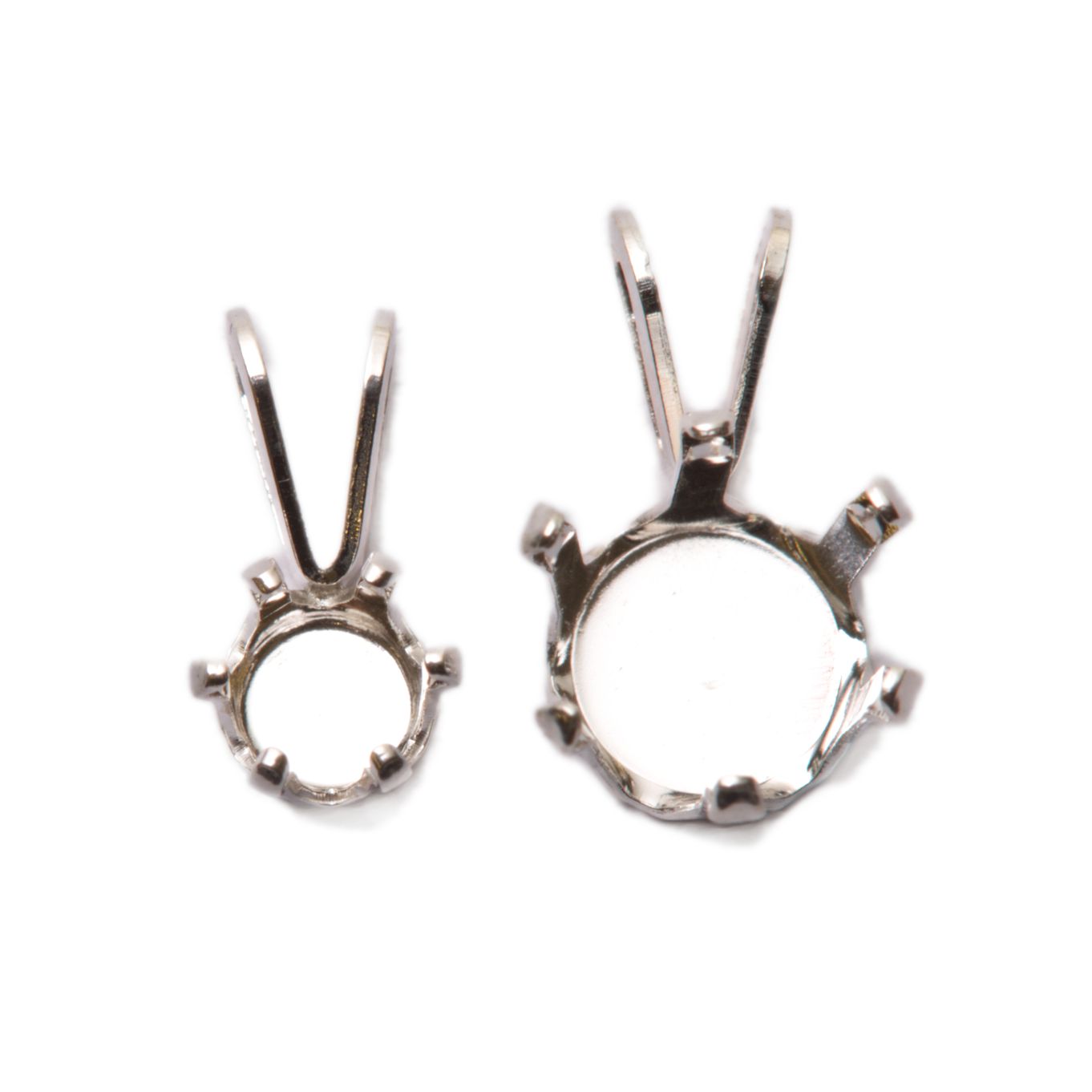 Choosen from round and oval sizes to create a beautiful necklace design - simply slide on your favourite necklet chain to complete the look.
Choose from a range of shapes and sizes in these loose settings! They can be used in a variety of ways such as threading onto a wire, onto cords to make necklaces and bracelets, gluing onto designs as well as soldering onto your design.
Pick from our stunning range of faceted gemstones in a wide range of shapes and sizes - just make sure you choose the same size as the setting you're using!
Looking to make a handmade birthday gift? Why not use their birthstone to make it extra special!
Birthstone Gemstones:
---
A few things to consider when using snaptite settings
The round snaptite settings have 6 claws, whereas the oval snaptites have 4 thicker corner claws, which makes them a little stiffer when setting. If you are using the setting method we have described above, do be aware of the hardness and properties of the stone you are setting and that you don't press too hard with the setting as you don't want to scratch or damage the stone. If you are using a very delicate stone, do adjust your setting method appropriately.
If you are soldering loose settings to your own design, be aware that the settings are quite fine so don't over heat them. The metal will likely anneal (soften) whilst you are soldering so the claws can lose some of their tension. If you can work harden them a little or tumble them in a barrelling machine this will help to harden the silver again and make setting easier.
---
Discover Our Snaptite Projects
All of our beginner-friendly jewellery making kits come with step by step instructions, a recommended tool list and a handy one-click shopping list that you can customise yourself.
Shop our full range of jewellery settings especially for faceted stones to make beautiful pieces of jewellery.
Great for jewellery making beginners, we have a high-quality range of ready-made settings including rings, earrings and pendants where you need minimal tools to set your stones. We also have loose and mounts for faceted stones, where you can thread wire, glue or solder onto your designs.