Advice On Knotting Elastic Stretch Magic Thread
Stretch magic is a fantastic, clear, strong and stretchy elastic thread. It won't crack or harden over time and is ideal for beaded bracelets and necklets without the need for a clasp.
It is important to knot this thread well to avoid the risk of slipping or the knot coming undone and ruining all of your hard beading work! Here we provide pictured step-by-step instructions for a simple overhand knot (or a double overhand knot) recommended by the manufacturers to ensure your design is secure.
Recommended Supplies For This Project
Watch Our Tutorial Below
Follow Step By Step Photos On How To Knot Elastic Thread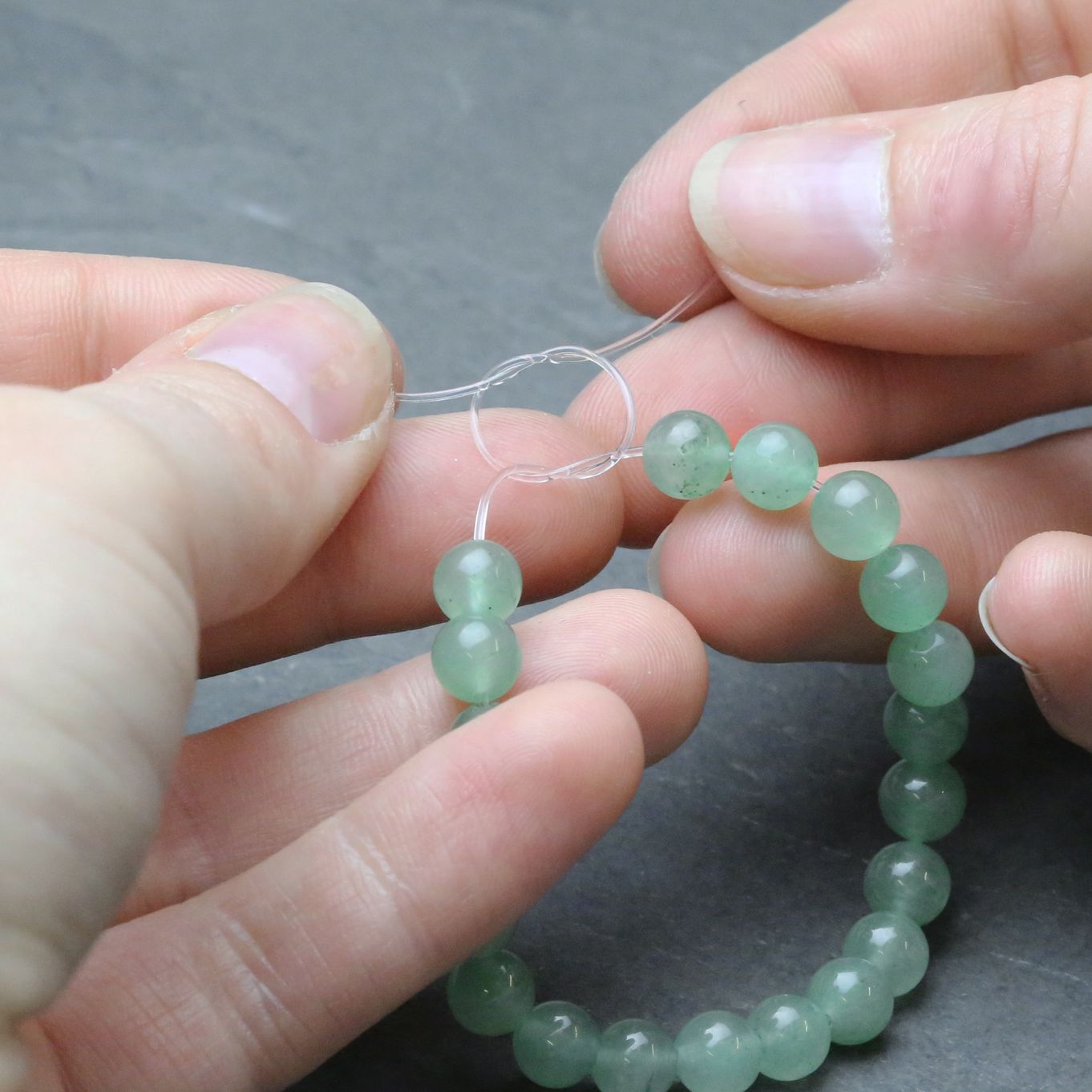 Step 5
Repeat step three and folding one end of the Stretch Magic under the other to double up your overhand knot.
At this point you can do as many overhand knots as you like - if your design is heavy it might be worth doing a few more - however be aware of how big the knot is going to look once your design is finished.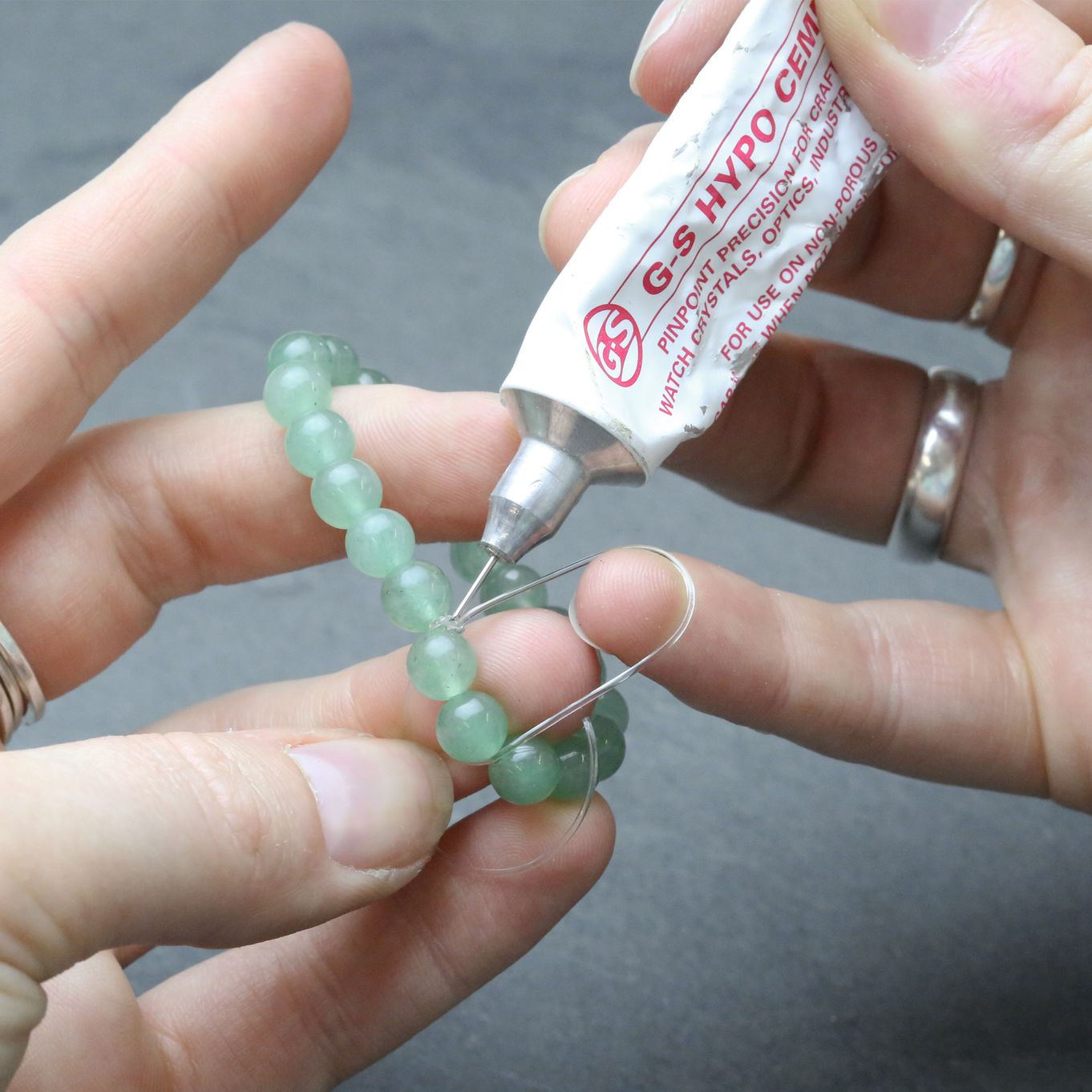 Step 7
For extra security you can add a dab of glue. Whilst the knots should not work loose - there is a risk after lot's of wear - the glue will ensure the knot does not work loose.
Ensure you allow the glue enough time to dry before wearing your jewellery design.
This knot should be secure and not slip. Alternatively you could crimp the stretch magic, but if you are doing this, be careful not to squeeze the crimps too tight or it could damage or cut into the Stretch Magic - we would recommend sticking with a trusty knot!
---
Elastic Thread Troubleshooting
When making elastic jewellery for the first time, you may find that your designs are not holding or perhaps the elastic snaps. Follow our troubleshooting tips below to make sure you have secure jewellery designs every time!
Use good quality elastic cord made for jewellery making
There are many elastic cords available for many crafts, Stretch Magic is a popular choice among jewellers and one which offers high strength and durability for your designs.
Stretch the cord before using
Always pre-stretch your elastic cord to prepare and loosen the cord before you start stringing your beads, this means your design will stay the same size and won't stretch and distort.
You're probably not pulling tight enough!
If you're finding that your jewellery designs are coming apart and the knots are not holding, you're probably not pulling your knots tight enough and in all directions! Keep practising your knots and pull as tight as possible to secure your knots.
Use G S Hypo Cement Glue on your knots and don't use Super Glue
Cement glue is our recommended glue for jewellery making for precision application. It has a fine nozzle, making it easy to apply for intricate work and for using small amounts of glue to be applied such as on your elastic knots to add strength. Avoid using super glue as this goes brittle over time and is thought to corrode the elastic over time.
Store your elastic thread in a cool, dry place
Storing your elastic cord where it is exposed to sunlight and warmth can damage the strength of your cord and cause it to go soft and likely snap when tieing your knot. Try to always keep your jewellery making tools and supplies in a cool dry place.
If using crimps, avoid crimping too hard
The beauty of elastic cord is that there really is no need for using crimps and other findings which could potentially cut and damage the elastic! A simple knot does the job but if you choose to use crimps do not crimp too hard.
Take care when wearing your elastic bracelets
Always roll the bracelet onto your wrist rather than stretching and remember to keep your bracelets away from chemicals, oils, perfumes and sunlight as this can deteriorate the elastic over time.
---
Shop Tools & Supplies With Kernowcraft
---
In need of some inspiration? Check out these kits
The products used in this project are suggestions to inspire you. Products used were compatible at the time of making but do be aware that stocks can vary, so do use your own judgement as to the compatibility of each item when making.
---