Peridot: The August Birthstone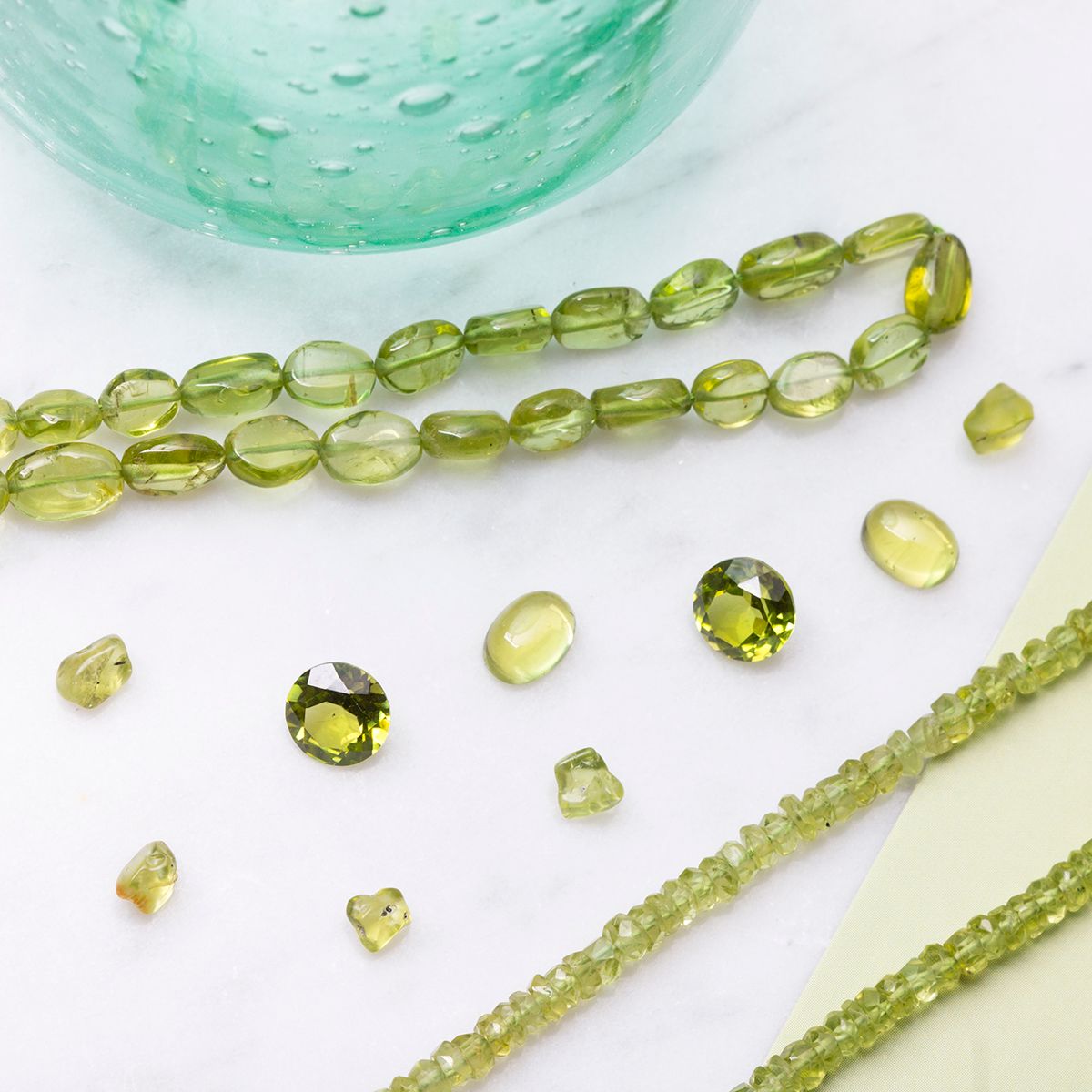 Peridot is the vibrant birthstone of August. A unique stone with a striking colour and such interesting properties.
In this blog post, we delve into the history, formation and properties of peridot, as well as showcase some peridot jewellery designs you can easily make yourself to give as a gift.
As big fans of peridot, we supply the stone in a range of cuts, shapes and sizes for jewellery making, you can view our whole range of peridot here.
Peridot Facts
Colour: Yellow-green, olive green, brownish, honey, bottle green. Ideally a rich rich 'oily' green.
Appearance: Opaque - clear crystal when faceted and polished.
Rarity: Easily obtained - high-quality crystals are rare.
Moh's Hardness: 6.5 - 7.
Sourced: China, Brazil, Egypt, Ireland, Russia, Australia, Hawaii, South Africa.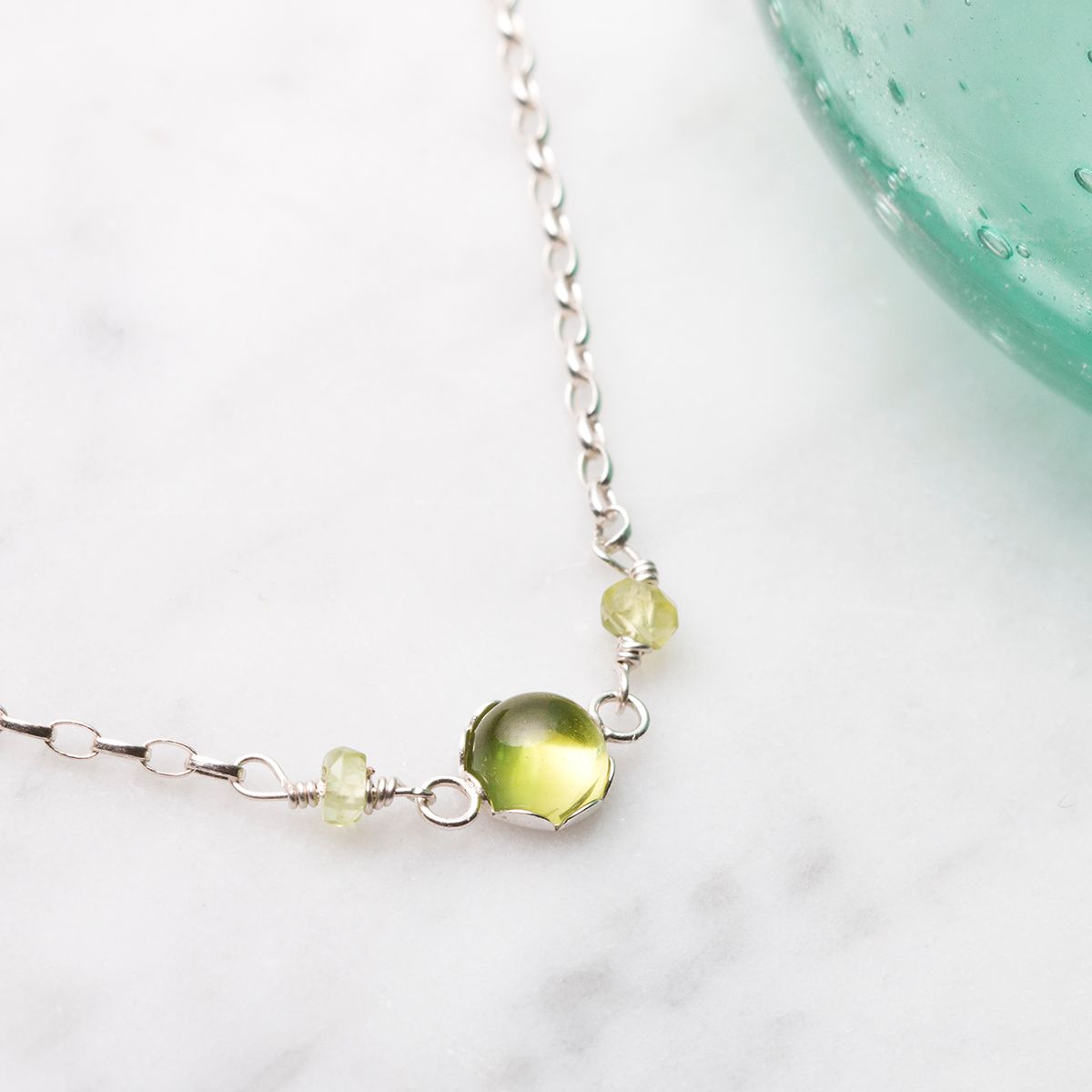 History & Formation Of Peridot
Peridot is a variety of the mineral olivine. It is a magnesium iron silicate mineral and occurs in basalts and peridotite rocks. Iron causes the colour within this gemstone and the amount present determines the shade and depth of the green.
Peridot was brought to Europe by 'The Crusaders' in the Middle Ages. It came from St. Johns Island (Egypt) in the Red Sea where it had been mined for over 3,500 years. In Europe the stone was often used for religious purposes.
The meaning of the name Peridot is uncertain. Some believe it derives from the Greek language, however it is also said to be a French word that possibly derived from the Arabic word 'faridat' meaning gem.
Peridot Properties & Uses
As a highly spiritual stone, peridot used to be believed to keep away evil and spirits. It is a protective stone and one that is particularly helpful for healers. It is believed to be a visionary crystal that helps you to understand your destiny and your spiritual purpose.
The stone is known as a powerful cleanser that neutralises toxins on all levels. It is an excellent source of high-frequency vibrations that is said to help multiply your wealth and increase your health.
In The Crystal Bible by Judy Hall, peridot is described as a stone that alleviates jealousy, resentment, spite and anger and reduces stress. It is believed to enhance confidence and assertion without aggression.
Peridot Healing
Peridot is a strong healing crystal, said to heal and regenerate tissues. Placed on the abdomen, many believe that it aids giving birth by strengthening the muscle contractions and reducing the pain!
---
Jewellery Designs Using Peridot
We love peridot here at Kernowcraft and think it is a beautiful and very versatile stone. It has a strong unique colour that looks good when used with both gold and silver.
As a faceted stone it can create a very classic, timeless look, yet as a cabochon or bead it can create a very pretty and fashionable design. We supply peridot in a range of shapes and sizes, click here to view our collection.
Visit our jewellery making kits section for beginner inspiration! With online step by step instructions and a handy one click shopping list
Watch How To Make These Peridot Earrings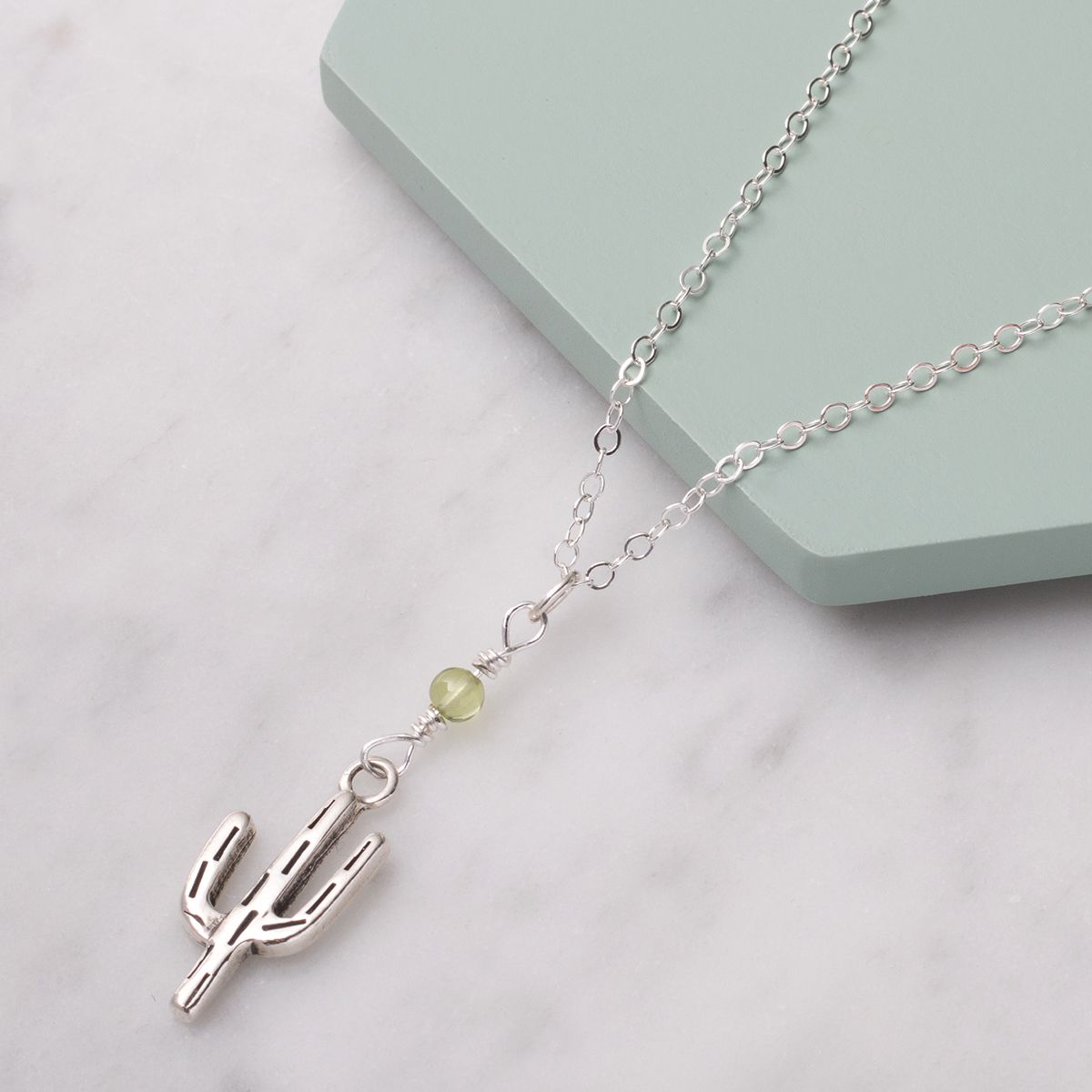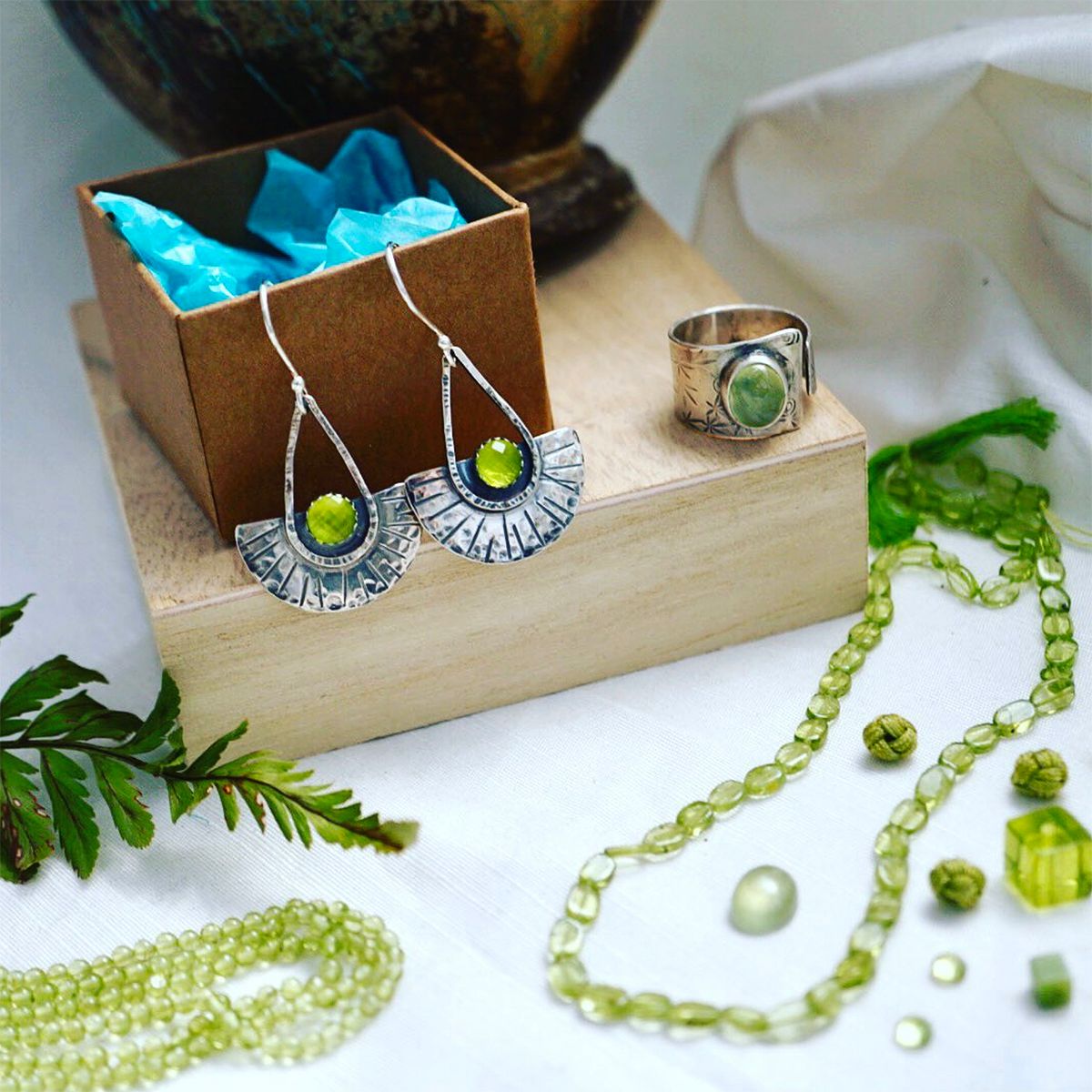 Silver Dragonflys: "Peridot for August birthstone, one of my favorite colours. The earrings are peridot, the ring has a prehnite stone with some lovely strands of peridot surrounding."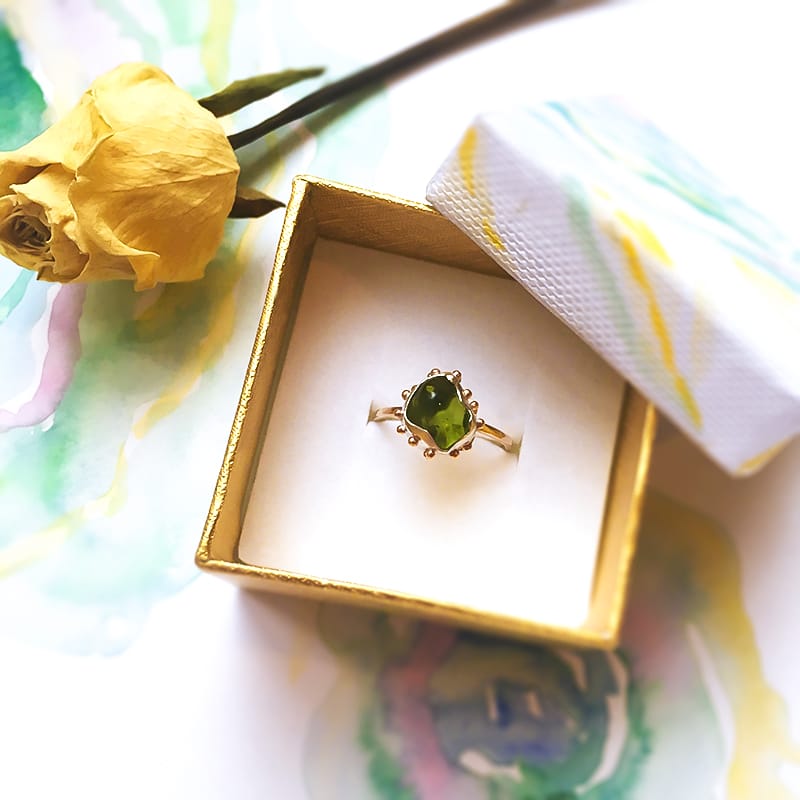 ---
Shop Gemstones & Jewellery Making Supplies With Kernowcraft
---
Resources:
The Crystal Bible - Judy Hall
Gemstones - Woodward, Oldershaw, Hearding.
The Illustrated Dictionary of Healing Crystals - Cassandra Eason
Gemstones of The World - Walter Schumann
---