What Is A Boulder Opal & How Do We Source Them
The freeform boulder opal cabochons that we often supply here at Kernowcraft are a great example of how we pride ourselves on providing high-quality gemstones from suppliers we trust. On this page, we share the amazing story of our boulder opal suppliers as well as lots of interesting and useful information about the stones themselves.
Explore our opal category and see whether there are any Australian boulder opals available - be quick because they usually don't hang around for long!
What Is A Boulder Opal?
Boulder opal is a beautiful stone that comes from the opal fields in Western Queensland. Here the opal fields cover a huge inland area of Queensland.
The term 'boulder opal' covers three subcategories of opal which are all formed in sandstone and ironstone:
Boulder Matrix
The most common is Boulder Matrix, which comes from the fields of Yowah and Koroit in the South West of the state where beautiful 'pictures' are created between the matrix (the host rock) and the opal that entwines around it creating little works of art.
Boulder Opal
Then there is what is termed as Boulder Opal, which comes from a seam of coloured opal in the rock which is cut and polished to reveal opal with colours that flash and move together in one band of colour or colours.
Opalised Wood
The rarest of all three is Opalised Wood (this is the cutter's favourite type of boulder opal). This forms in roots of wood where the matter decomposes leaving gaps where the opal, a combination of silica and water, trickles into it. Over a process that takes millions of years, unique patterns are formed between the opal and the fossilised wood.
---
Below is a video showing an example of how a boulder opal is found in its host rock before it is cut for making jewellery or other uses
Hand Cut Into Boulder Opal Cabochons
Once mined, the rough opal is hand-cut into freeform cabochons ready to be set into precious pieces of jewellery. The cutter takes pride forming the cabochons into shapes that follow the natural flow of the stone, keeping in mind how the piece will look once set in a piece of jewellery. Each piece is unique - no two stones are the same unless they are cut from one larger piece of opal or from one piece which has a natural split down the middle. It is because of this that they will cut pairs or sets with matching pieces whenever possible.
---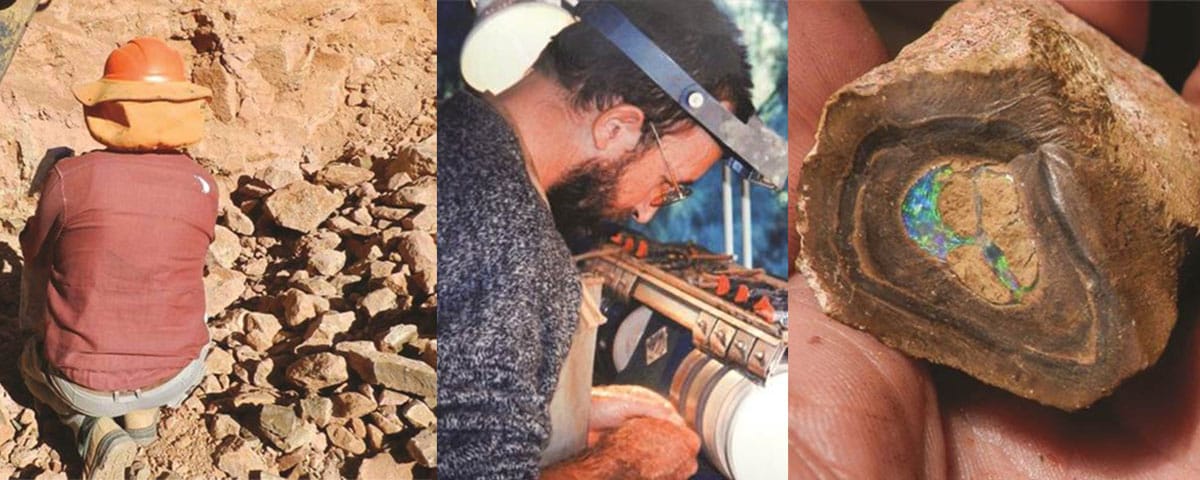 About Our Boulder Opal Suppliers
With a relationship built by our Managing Director's mother dating back over 20 years, we have the privilege of hand-selecting each and every opal we get from our boulder opal supplier! We pick them with our customers at the forefront of our mind. They are a truly ethically sourced gemstone that our suppliers - a husband and wife team from Australia mine, cut and polish the stones themselves.
Most years, we meet up with Debbie to find you the most magical opals to create something magical. This is our chance to discover brand new unique gemstones, and cherry pick the best ones just for you. We've so proud to have a long-standing relationship with Debbie and her husband and that we have the chance to support another small, family business just like ours.
Life In The Opal Fields
Our supplier is a husband and wife team who live in Australia and have spent over 22 years in the opal industry - travelling through and living in the opal fields, gathering material to cut into beautiful cabochons to take to Europe, the UK and USA to show to jewellery designers and opal collectors. The opal fields they work on include Coober Pedy in South Australia which produces the white based opal, Lightning Ridge in Western New South Wales which produces the black opal and grey opal and Queensland – the home of the Boulder Opal which is the opal they love the most.
---
Behind The Scenes Of Sourcing Boulder Opals
Go behind the scenes with Kernowcraft's Managing Director, Hannah Lake and our Buyer Hayley as we chat for hours, drink lots of tea and ensure we pick you the most beautiful yet affordable Australian boulder opals to use in your jewellery designs.
We always lookout for the best quality opals, at a great price for our customers while also searching for opals that have an even surface that can be easily set.
With over 200 opals to choose from, you'll be spoilt for choice! Discover the opal category, bursting with variety and amazing pieces to suit your taste and budget.
Explore our opal category and see whether there are any Australian boulder opals available, be quick because they usually don't hang around for long!
Cherry Picking Opal Cabochons Especially For Our Customers
A visit from our opal supplier always causes quite a stir in the Kernowcraft office! As opals are best viewed in good, natural daylight, we'll take a seat by a window and delight in trays full of exquisite opals! As we cherry-pick each and every boulder opal, we ensure the quality of the stones is of the highest standards in terms of marks, cracks etc.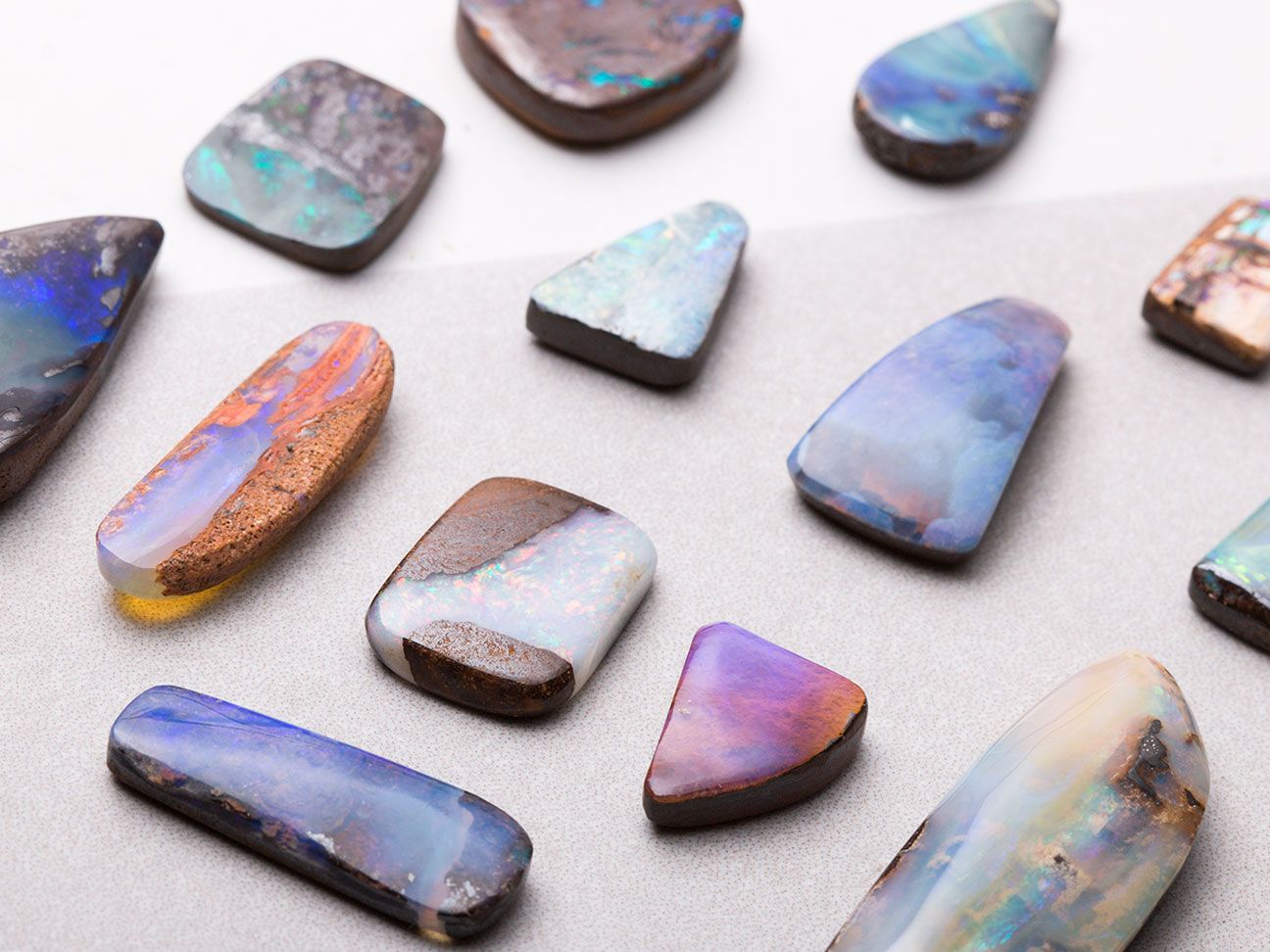 Our supplier brings a range to suit any budget and whilst we always ensure we pick opals that we know are within the budgets of our customers, we do get the privilege of seeing boulder opals worth over £10,000 wholesale! The image below is an example of some of the very expensive opals found and cut by our suppliers.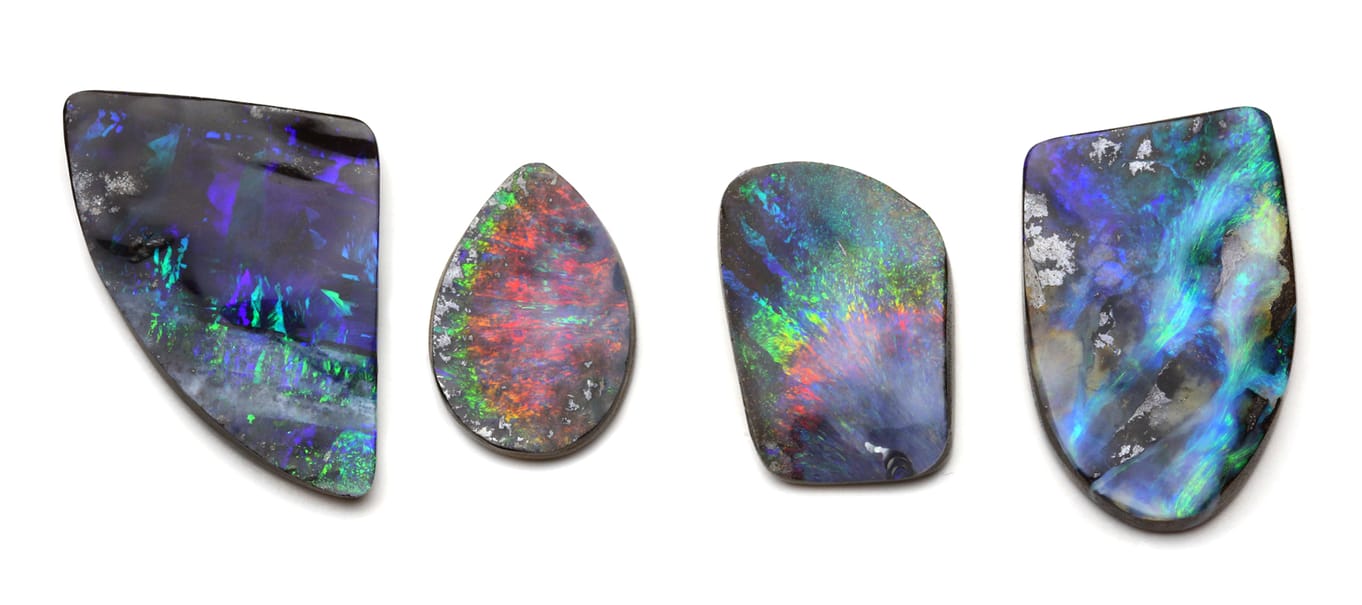 How Is Boulder Opal Valued?
There is no standardised or set method for valuing opals as each one is so unique. However, there are a number of elements that make a boulder opal of higher quality than others.
The pricing of an opal is judged on the brightness of colour and pattern; the brighter and clearer the colours, the more expensive an opal can become, the rarest and most expensive of all opals are the reds.
The following specifications are used to price a boulder opal:
The Play of Colour: A brilliant range of the full spectrum of colours adds to the quality. Red fire is generally the most valuable - rarer than any other colour. Green is more valuable than blue.
Brilliance: The brightness and clarity of the colours displayed, this can range from brilliant, bright to subdued or dull.
Pattern: The pattern in which the colours are displayed and its distinctiveness.
---
An Example Of Our Varied Boulder Opal Collection
When picking opals we try to ensure we select something for everyone. We are constantly shocked by the variations between opals and how different they can be. Below is an example of some of the amazing boulder opals we have supplied in the past.
---
Find out more about how to work with free-form gemstones in your jewellery designs
We teamed up with Basia from Stardust Mine to bring you this exciting collaboration. Basia shows you how she transforms one of our boulder opals into a stunning pendant design, you won't want to miss it! Read more about the project here.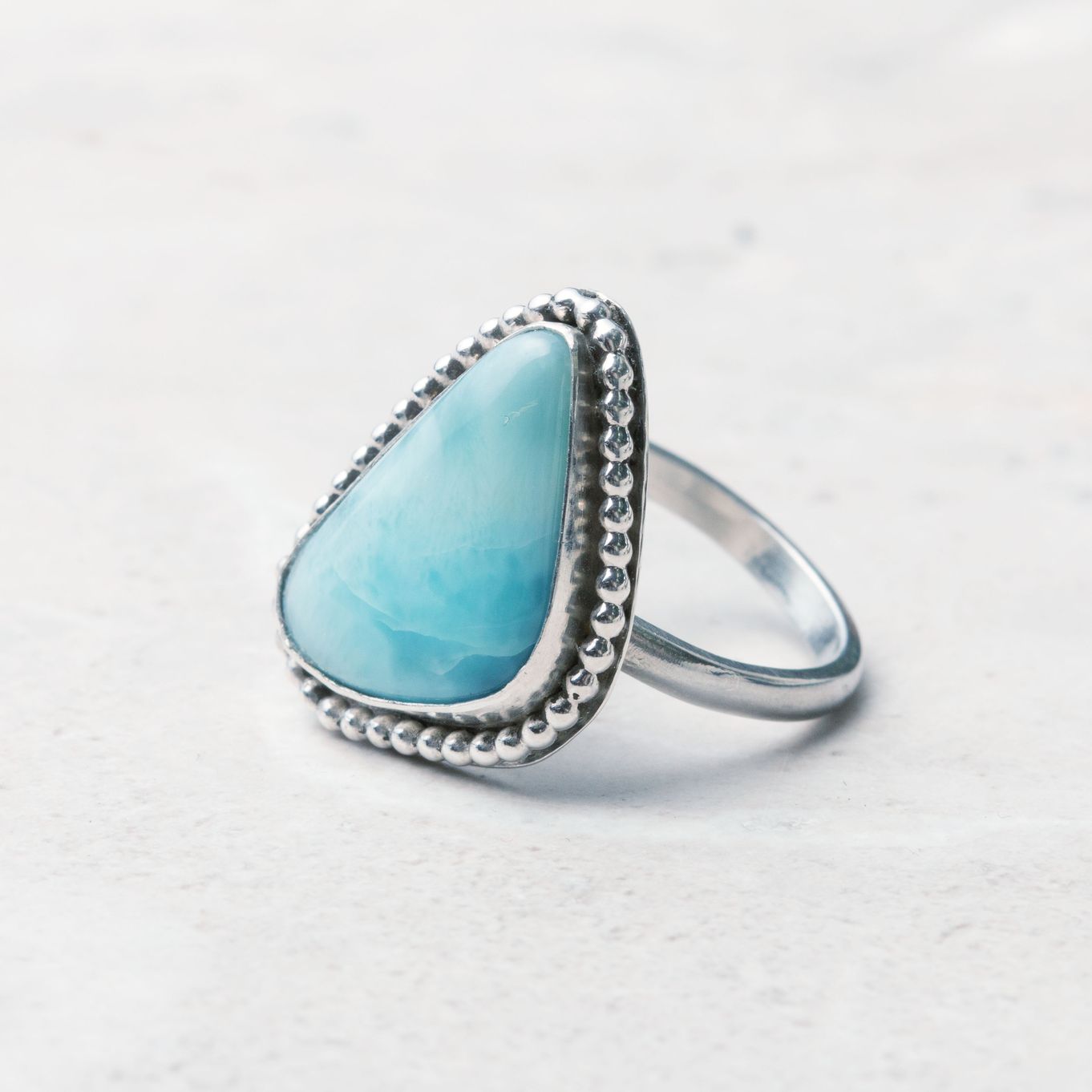 Discover a range of inspiring stone setting tutorials, with many projects focusing on creating settings for freeform shapes such as boulder opals!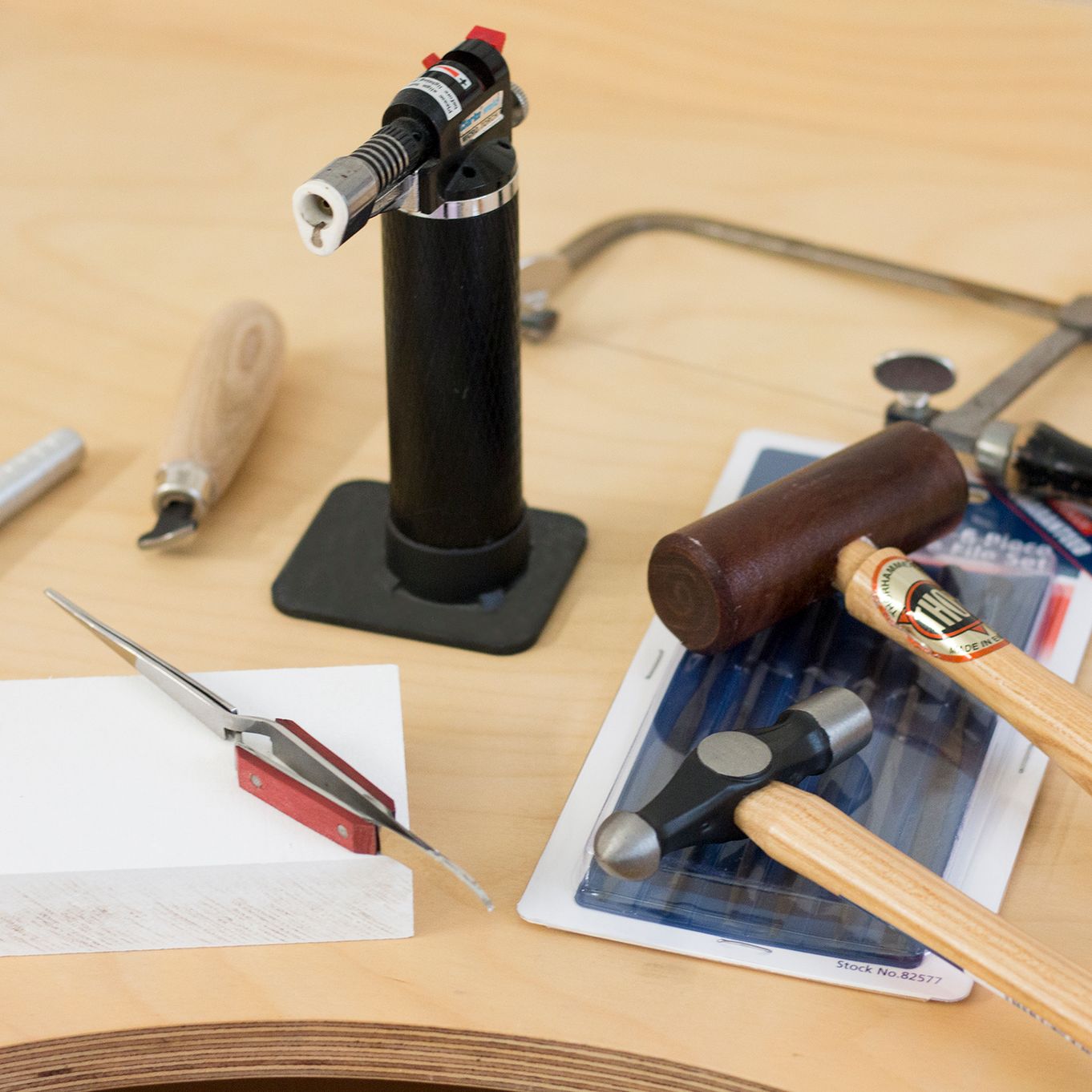 Wondering what tools and supplies you need to make your own jewellery? Whether you're interested in wire wrapping, metal clay, soldering or stone setting we have a tool kit to suit all levels.