How To Use Doming Block & Punches For Jewellery Making
Doming, also known as 'dapping' is a popular jewellery making technique used for creating curves and domes in soft metals.
You will be amazed at the professional results you can achieve with a little practice!
Recommended tools & supplies for doming
What is doming?
Doming is a jewellery making technique used to create gentle curves and domes in a piece of flat metal sheet. This process is done using a doming block and punch. As you will see on this page, creating domes in metal gives you so many possibilities for designs and offering a professional finish. You can create a range of designs including disc jewellery, spheres, bead caps and hollow beads. Perfect if you want to add three-dimensional elements to your designs.
What is a doming block and punch?
A doming block has a range of various-sized indentations that you can choose from depending on the design you have in mind. Doming punches are available in a range of sizes and the most suitable sized punch is used alongside a hammer to strike the metal to start doming the piece.
Watch Kim's tutorial on how to use a doming block & punches
This video is part of the 12 Months of Metal series we collaborated on with metalsmith Kim Thomson. The series features a range of video tutorials on many areas of jewellery making, all available to watch for free on our blog. Watch the free series here >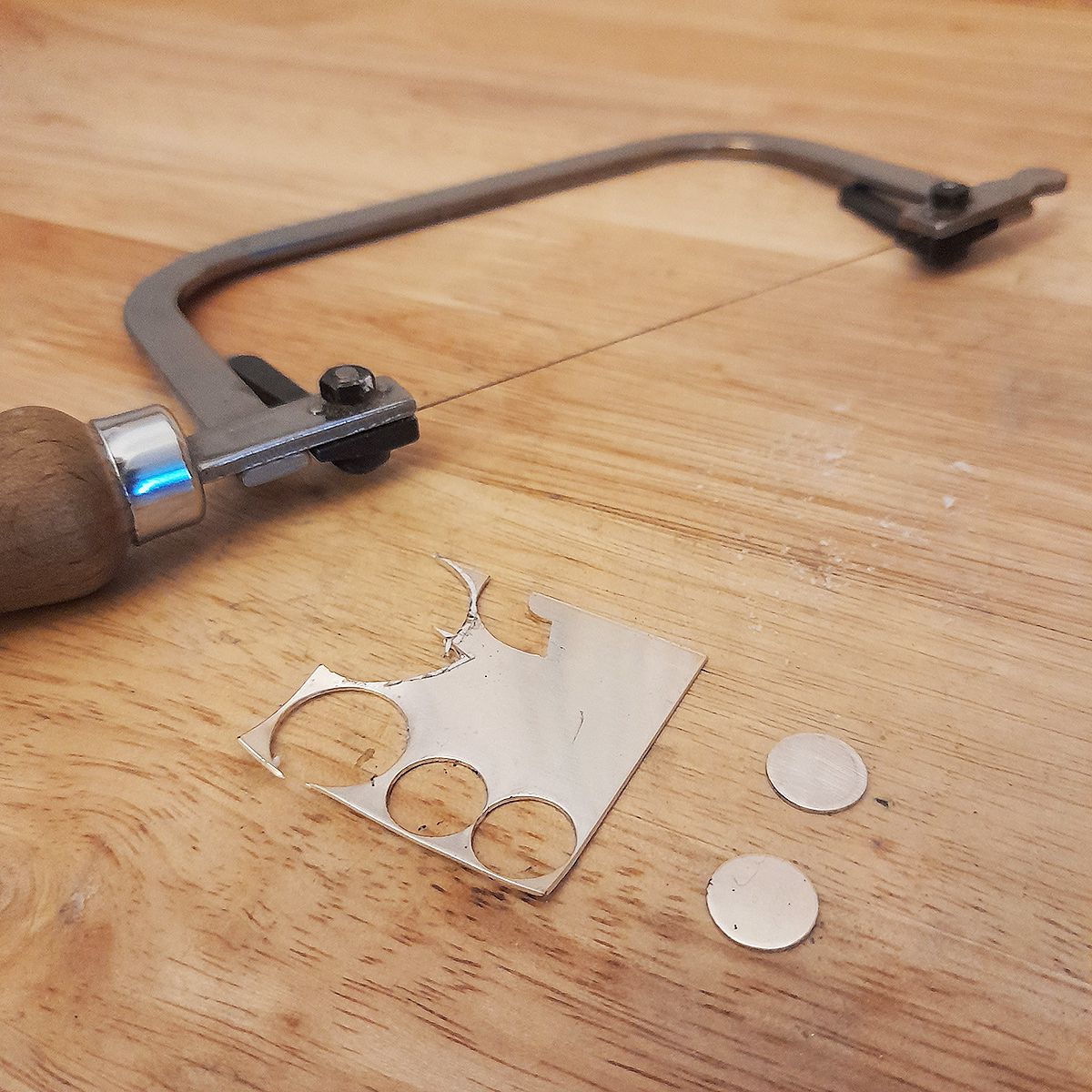 Creating Discs
You have a few options for creating discs ready for doming. One of the most popular ways is by using dividers to draw a circle onto metal sheet and pierce out the shape using a jewellers saw. If you find that you'll be using discs regularly in your designs, a disc cutter is a great investment for cutting fast and effective discs every time. Use a file to smooth any rough edges on your discs before moving onto the next step.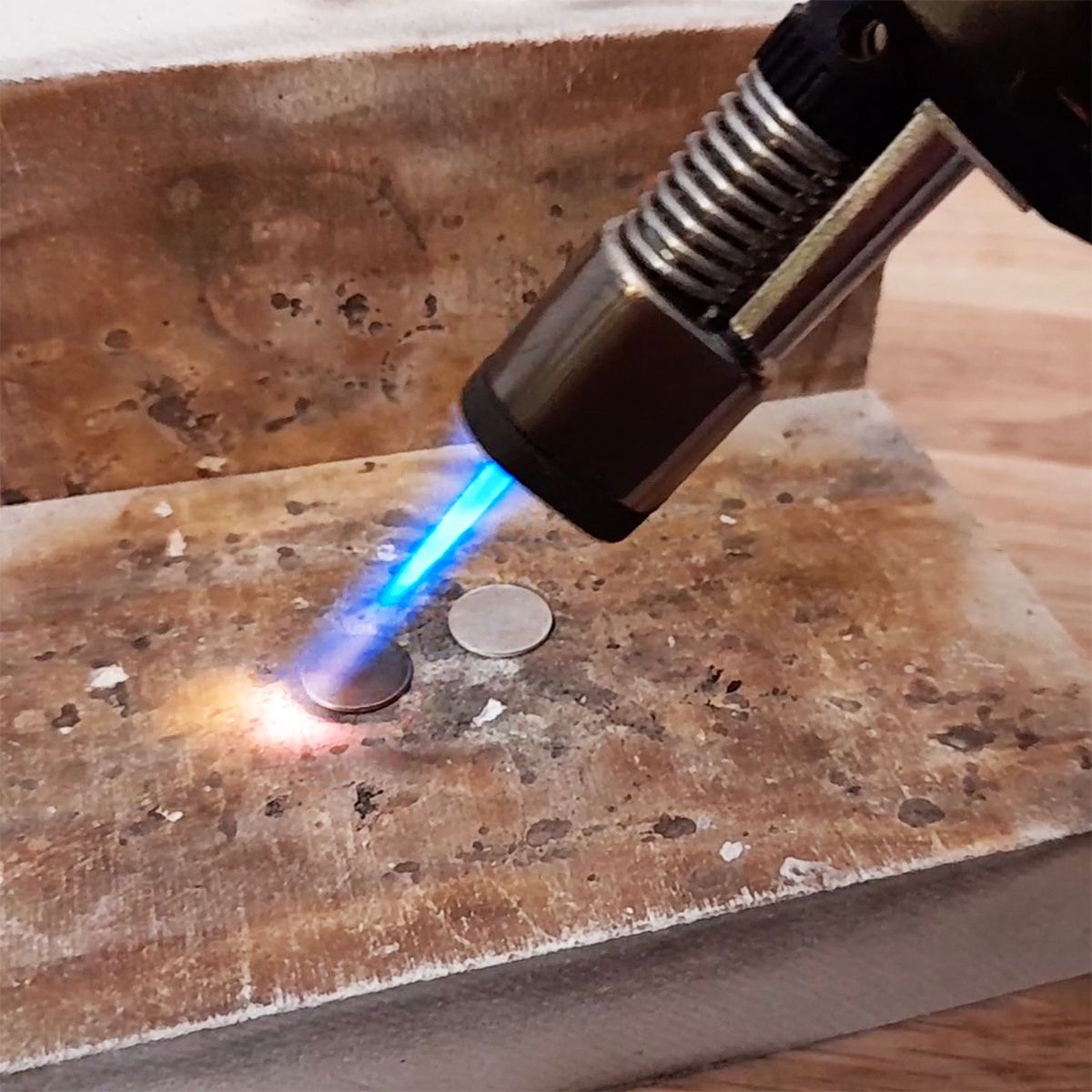 Annealing
Annealing is the process of heating metal with a gas torch to soften it so it's easier to manipulate into shape. You may find that your disc may need annealing to make it easier to dome, once you begin shaping your piece you will find that your metal will work harden and strengthen once again. Once annealed, pickle your disc, rinse and dry ready to move onto the doming process.
Choosing The Correct Indentation & Creating Domes
Take your disc and place it into the indentation of the doming block that is the most suitable size for your disc, the whole piece should fit inside the indentation and not overlap.
We like using a rawhide mallet for striking, however we recommend experimenting with a range of hammers to find the best fit for you. A heavier hammer will give you the weight you need to easily and effectively create a dome in your metal.
You will need to place the doming punch on top of the metal and use the hammer to strike the piece. Holding the punch at an angle and working in a circular motion, while also turning your metal after every few taps will help you have more control over the dome you are creating.
If you would like to dome your piece further, you can then place your disc into a smaller indentation on your doming block to deepen it even more. Repeat this until you have achieved your desired design.
If you find that your dome is a little uneven, you can place it onto a steel block and use a hammer to gently correct this.
These photos are from our guest tutorial by JAS Jewellery on creating domed disc earrings.
Shop Doming Essentials
Shop doming supplies plus all the jewellery making supplies and tools you need online with Kernowcraft
Wondering how to prepare perfect circles? If you're using a jewellers saw to pierce your discs, dividers are a must-have for marking out a circular shape ready for piercing.
The points are sharp enough to mark the metal, so you can easily create a template to follow while piercing for accurately sized discs.
Dividers are also brilliant for measuring distances on surfaces and for accurately marking out repeated measurements. This makes creating a pair of earrings much easier!
A disc cutter is a great investment for creating a range of different sized discs, saving you precious time and leaving you with perfect circles every time.
Create large discs to use as pendants, small discs for charms, bead caps or even a cheats way to cut small, neat circles! You can use this tool with a range of metals and materials, including any soft metal such as silver, gold, copper, brass, aluminium, gilding metal, bronze, pewter and tin as well as on leather, card and paper.
This tool is so easy to use, simply remove all of the cutters and insert your sheet metal with a maximum thickness of 2mm into the centre slot and ensure it lines up with your chosen size. Add the cutter and strike firmly with a heavy hammer for a smooth disc.
---
Follow Doming Tutorials With Our Guest Tutors
With step by step photos, instructions and a handy tool list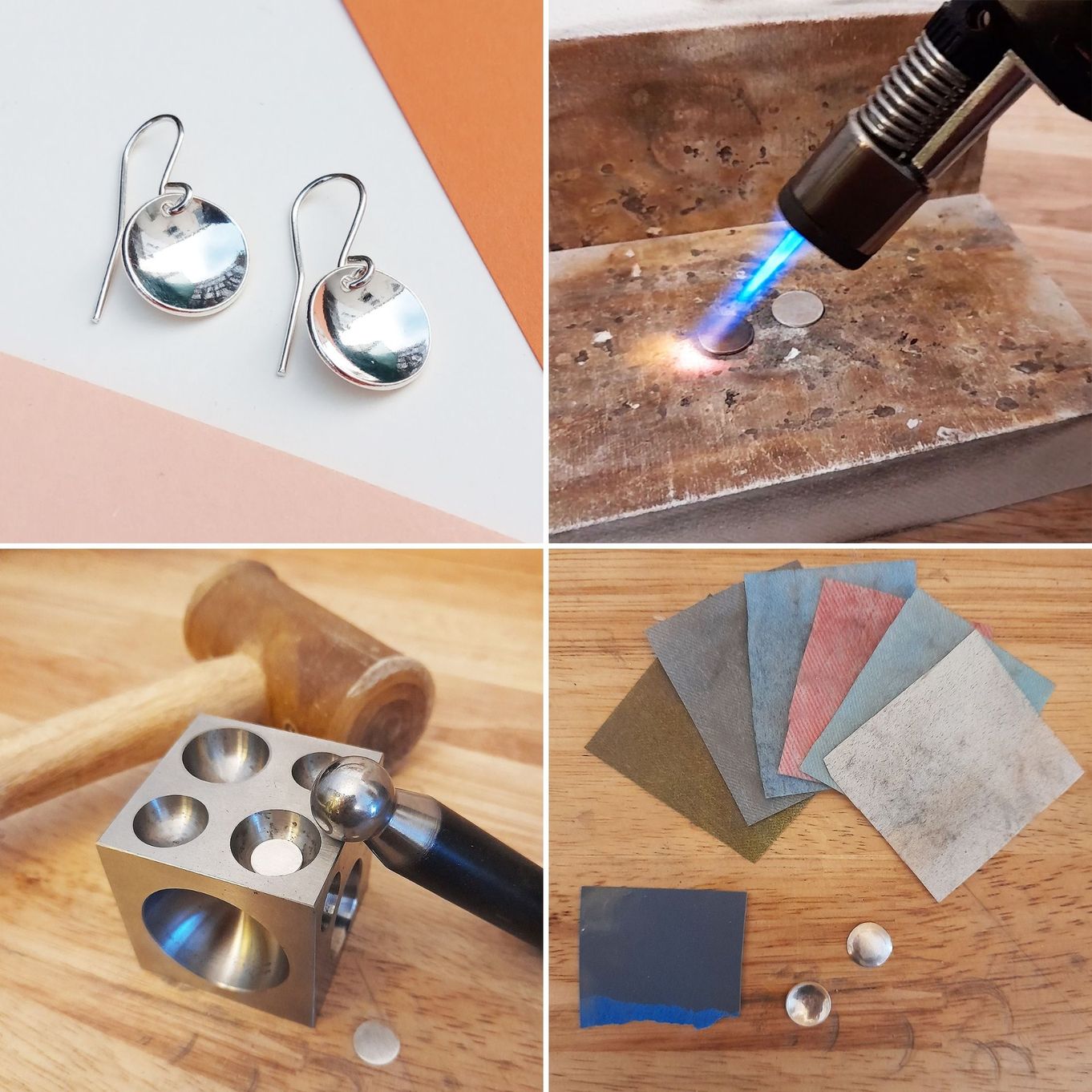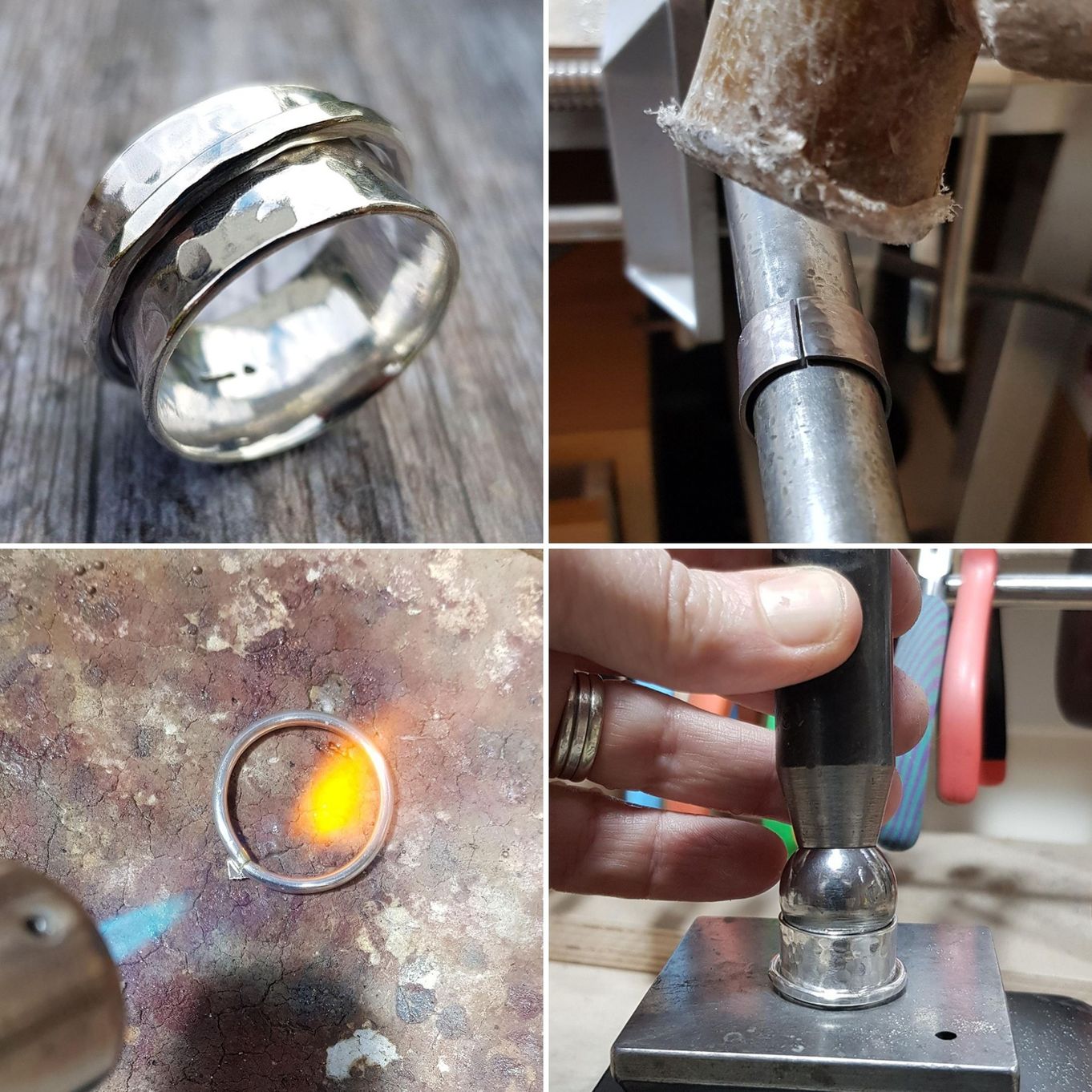 ---
Discover More Dome Creations By Jewellers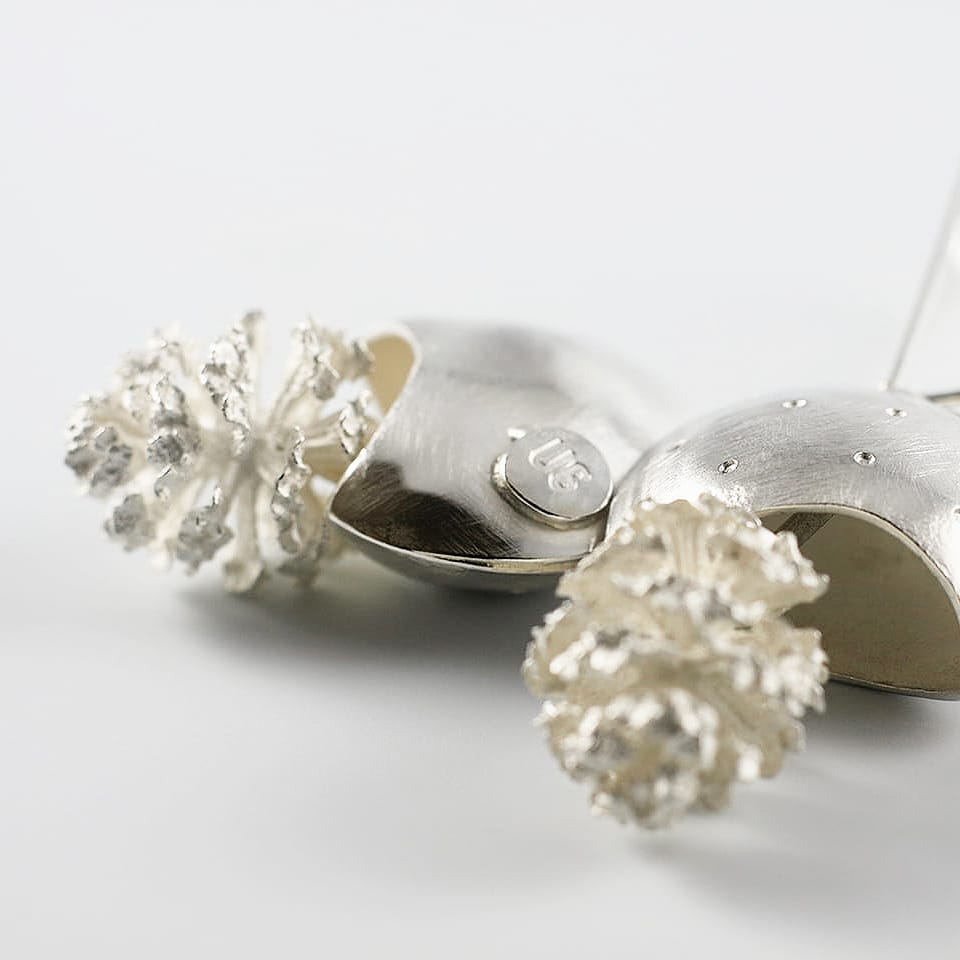 5igna Designs: "Alder tree cone earrings in sterling silver. I used the doming block to form the hollow half moon shapes."