Textured Washer Bracelet Tutorial With Guest Jeweller Laura Grey
Create this beautiful washer bracelet with guest writer Laura Grey from MMM Jewellery!
This statement project is a great way to experiment with texturising your handmade jewellery pieces.
Recommended Tools & Supplies
Click the links above to shop with Kernowcraft!
Follow Laura's Step By Step Instructions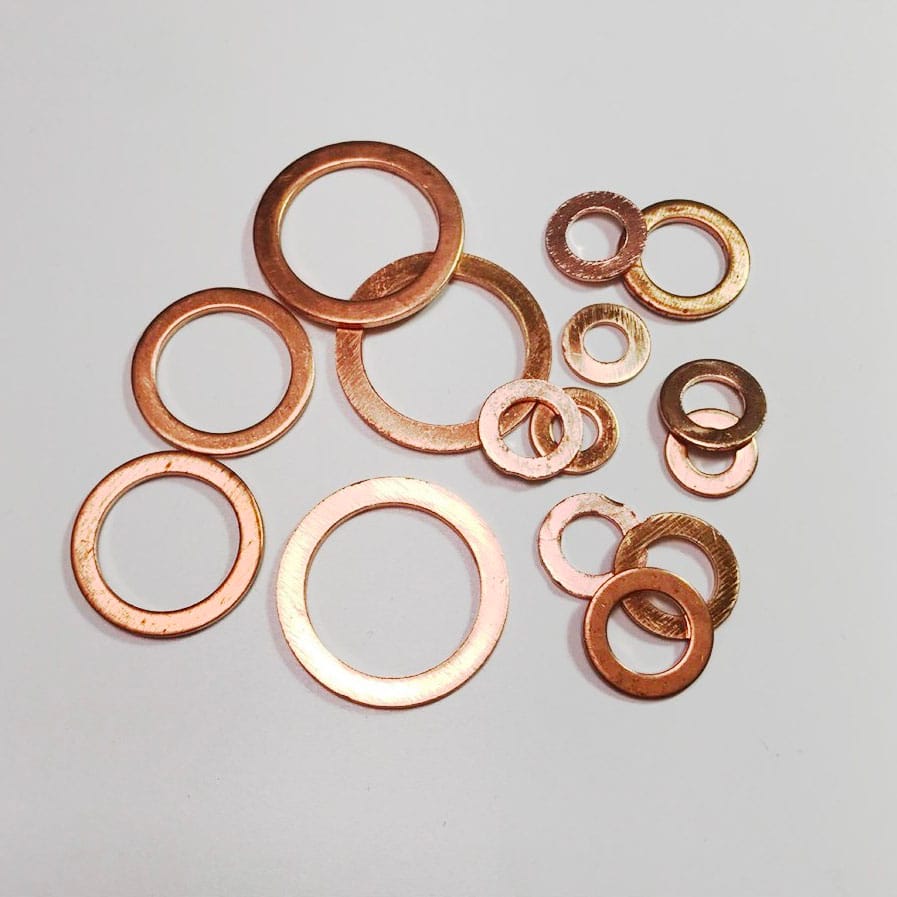 Step 1
Firstly, select your washers. You'll need enough to fit your wrist comfortably - if you have a disc cutter you can cut your own from metal sheet. Make sure that you have one smaller than the rest to form part of your clasp.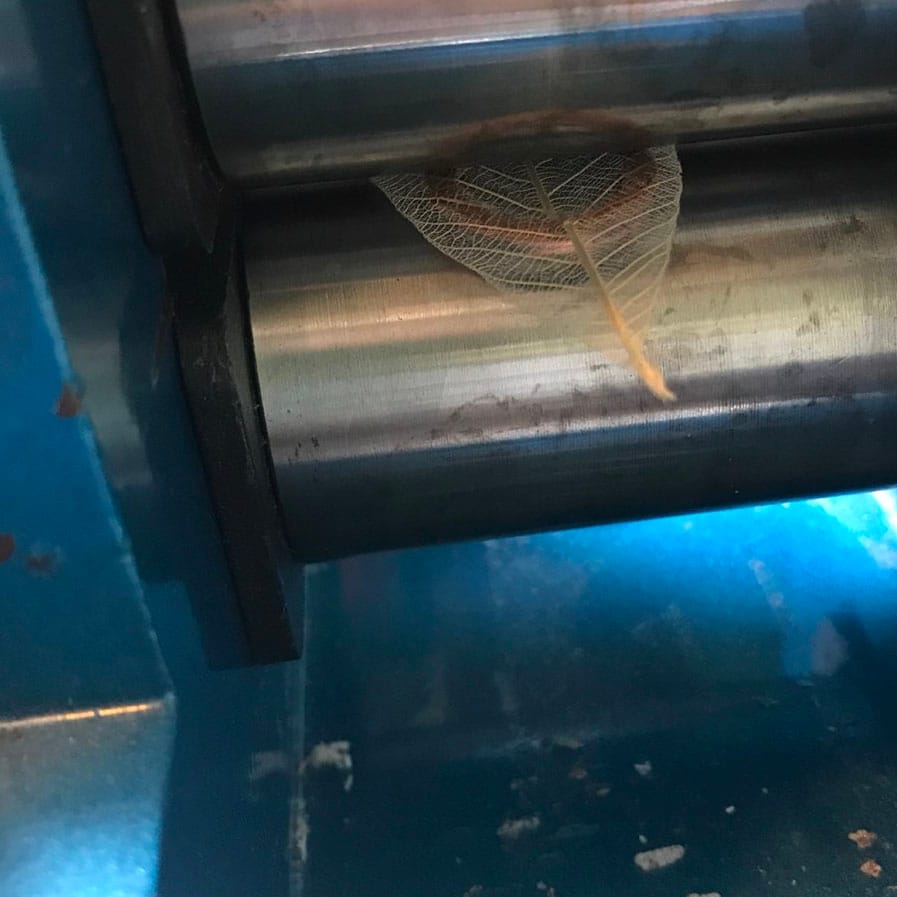 Step 2
Choose your texturing method - in this tutorial I used a rolling mill and a skeletal leaf, but you can use texturing hammers.
To texture with a rolling mill, sandwich your metal and texturing media in some normal paper (this protects your rollers) set your roller gap to the same depth as your metal then roll away! Setting your roller gap like this means you still get a great impression, but you get less distortion.
Apply your chosen texture and check the sizes of your washers again - texturing metal will alter the shape and size.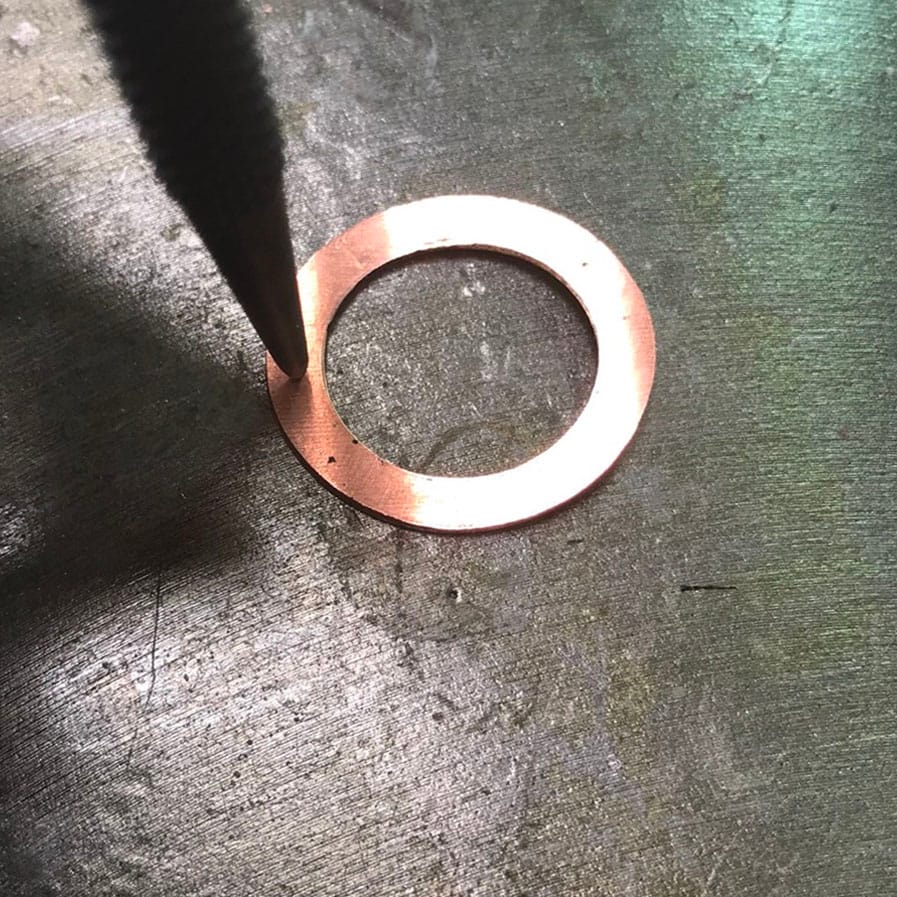 Step 3
Move your washers to your steel block. Using a centre punch and hammer to mark each washer where you'll drill for attaching your jump rings - this will stop your drill from skittering across your metal when drilling the hole. Remember you only need one hole in the small washer as it's for your clasp.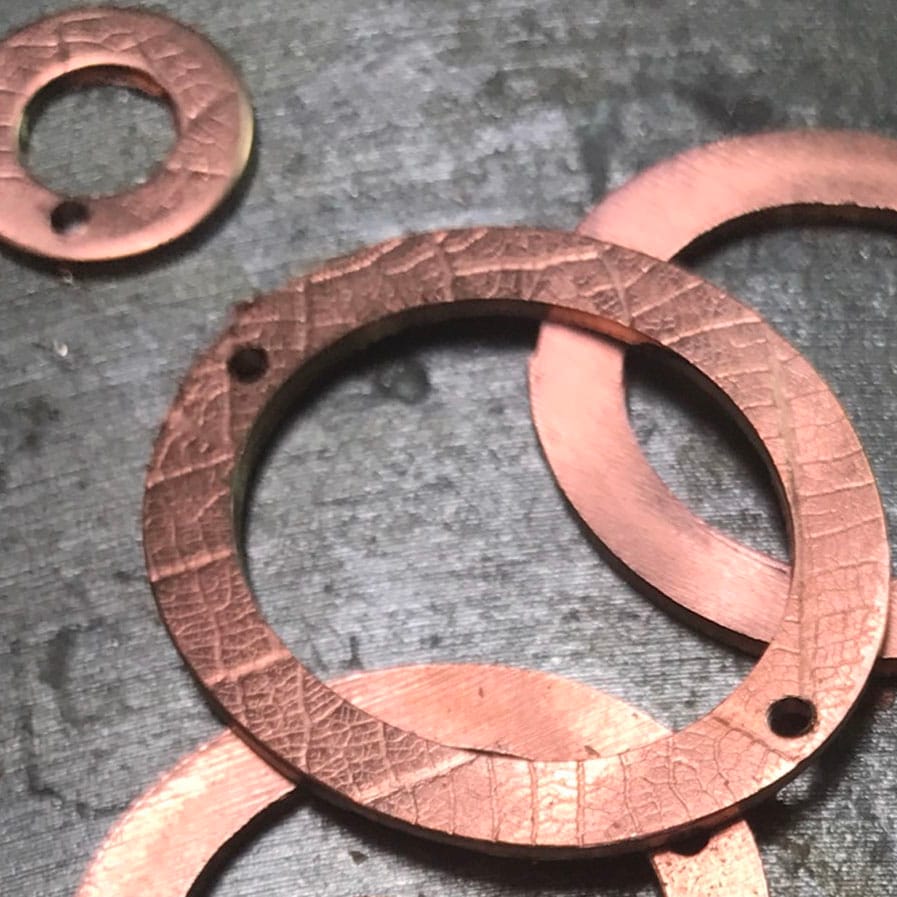 Step 4
Move your washers to your bench peg and drill your holes - you can use a ball burr to remove any sharp metal or if you don't have one, use needle files. Now is also a good time to remove any sharp edges from your washers with a sanding stick.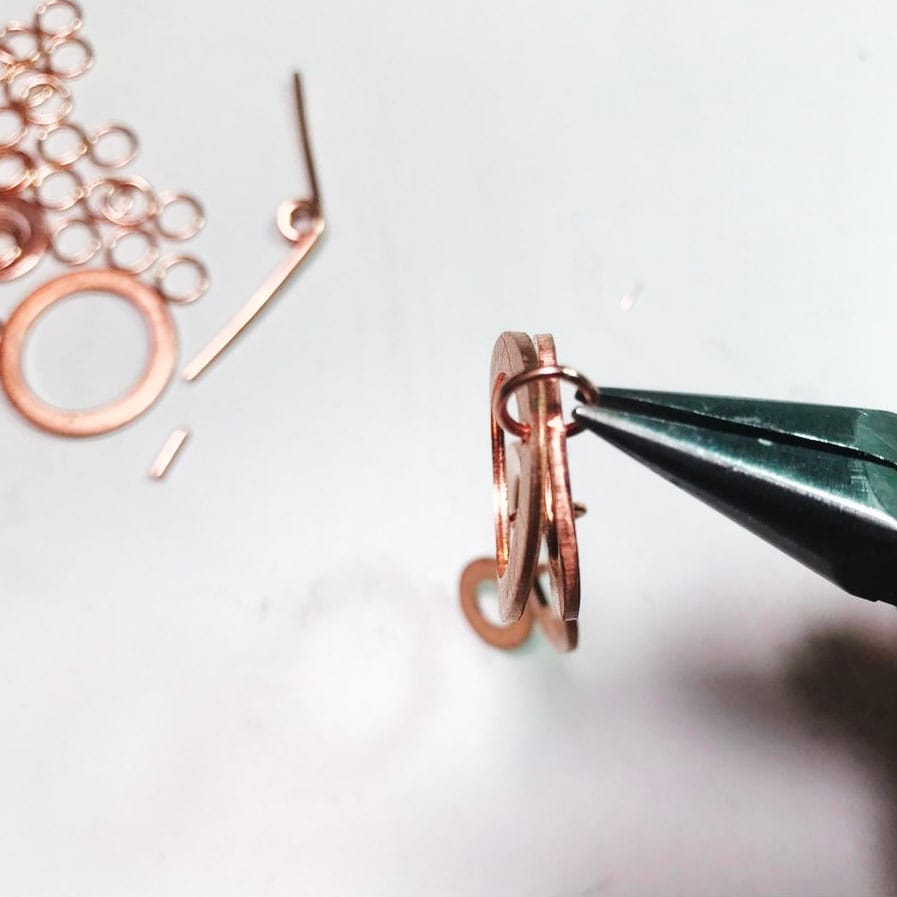 Step 6
Connect your washers together with your jump rings to create your bracelet.
You can darken your finished bracelet with liver or sulphur to bring out the gorgeous texture or leave it with a bright finish.
If you would like to, you could also tumble your bracelet to finish it further or polish it using polishing papers - this will give a sparkling finish to your bracelet. Other options are to mix and match sterling with copper or brass, set small cabochons in bezel cups onto the washers or add wire wrapped dangling briolettes to your jump rings - the only limit is your imagination! You can also make a necklace in the same way - just make a section of washers then add chain to your desired length.
---
Shop Copper With Kernowcraft
---
Protect your copper washer bracelet
Copper is a really popular metal and used throughout jewellery designs but it can cause your skin to go green without adding a protective coating. Using the following products from Kernowcraft ensure the quality of your copper is maintained and you also protect your skin in the process.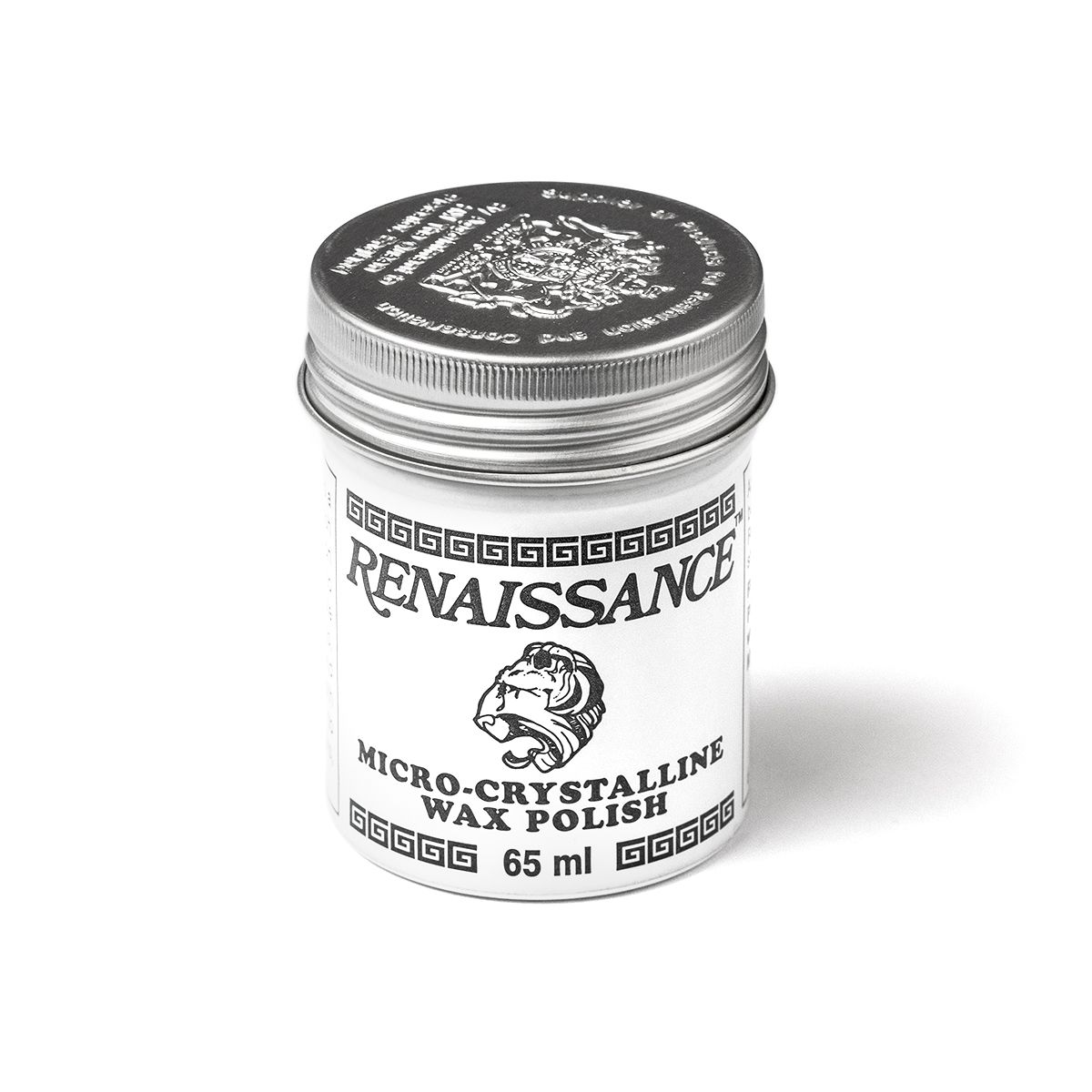 Use Renaissance Wax to protect your jewellery against tarnishing. When you apply this wax with a cloth it will reveal a clear surface, and with a natural PH, it won't damage materials.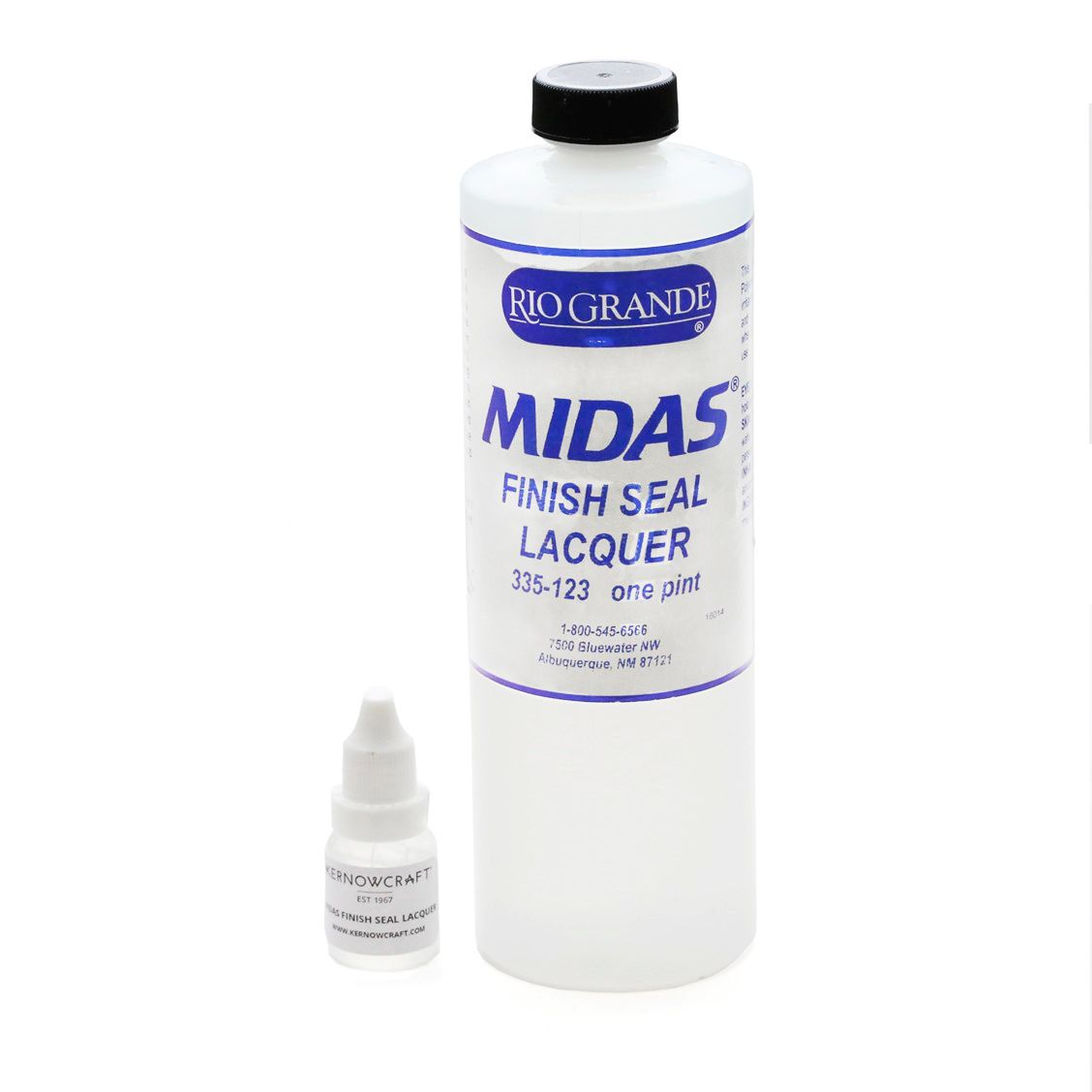 You can also use Midas finish seal lacquer to create a clear, protective finish to your jewellery and will prevent your copper from oxidising over time.