Top Tips For Designing A Business Card For Your Handmade Jewellery Business
Read our top tips below on how to create the perfect design for your handmade jewellery business. Plus hear from the jewellers, sharing their advice and insight into their business card designs.
Why is a business card important?
Having a business card is a great way to build upon your business and increase brand awareness. Business cards are cost effective and can be taken anywhere – at craft fairs, delivered to your local shops or to have handy for friends and family.
Your business card is the first impression of your brand and your chance to connect with someone you've only just met. It also shows you mean business – it's professional and people will take you seriously when you pass them that little card which can ultimately grab you a sale!
Photo: Jordan Lily Designs, read her interview in our Meet The Jeweller series to find out more about her wonderful handmade business.
Keep it simple
One of the most common mistakes in designing a business card is by overcomplicating the design - using too many colours, text and photos. Keeping it minimal will make it easier for someone to read and take action. The most common recommendation from jewellers, as you'll read below is to keep it simple!
Know the purpose of your business card
Do you want to boost brand awareness, land that second sale or maybe drive people to engage with your business on social media? Think hard about what you want to use your business card for and who you will be giving them to.
You will probably want to include a business card alongside any sales – whether at a craft fair or alongside orders you're sending through the post. This is a great way to grab another sale as those who like your jewellery will hold onto your card with intention to make a future order. This means you want your logo, business name and website/shop prominent on the card.
Maintain your brand
Creating a brand is so important for your business as it keeps all of your platforms consistent in style and tone of voice, making your brand recognisable. So, you need to consider your brand when designing your business card by keeping the colours, fonts, logo and style consistent.
Read our blog post: Creating a brand for your handmade jewellery business
Include the important information
The most important information to include is your business name, website or shop url and relevant contact information such as your email. This information needs to be clear and easy to read, making it easy for them to get in contact with you or to visit your shop quickly. If you have too much information on your cards, it can be hard for someone to find the information they are looking for.
Social media handle
For many jewellers, social media is a huge part in marketing their business. This is a chance to be discovered and engage with existing customers by showing behind the scenes action! You can keep it simple on your business card by including social media icons alongside your username (for example - @Kernowcraft).
Read our blog post: 10 reasons your jewellery business needs social media
Read our blog post: How to use Instagram for your handmade jewellery business
What makes you stand out from the crowd?
What sets you apart from your other competitors? Include this on your business card, for example, 'lovingly handmade in Cornwall' or 'personalised jewellery' - these are great points to attract interest into your business, especially if someone doesn't know much about your business yet.
Triple check
We all make mistakes! When your business cards get delivered, having a spelling mistake or the wrong email address is a nightmare. Double check, no – triple check your design and information, then get someone else to read it.
Be creative
As a creative business, you want your business card to reflect this. There are so many material options when it comes to making a business card - from foiling, silky smooth card, recycled paper to tactile cards. Remember – you need to make sure that it suits your brand! It can be fun to add a silver foil effect, but does this really compliment your designs and brand?
Make it double sided
Having designs on both sides of the card is a great choice. If someone places your business card on a table, when they next see it they will be reminded of your business and not just looking at a blank card which will probably end up in the bin!
Perhaps you might choose to have all the relevant information on one side, then a high-quality image of your logo, one of your jewellery designs or your workshop on the other side. People love to see behind the scenes of how their jewellery is made and more about the person behind the business, so this is a great way to add a personal touch.
Think of the future
Once you're business cards have been printed – that's it! You don't want them going to waste, so ensure that you are not making any plans to re-brand your business or change any contact information anytime soon. If you do, your cards will not be consistent with your other platforms and could make you look unprofessional.
Good luck on designing your business card! Tag @Kernowcraft in your business card photos and use the hashtag #Kernowcraft for a chance to feature on our social media platforms!
Be Inspired By Our Customer's Business Cards & Read Their Top Tips Below...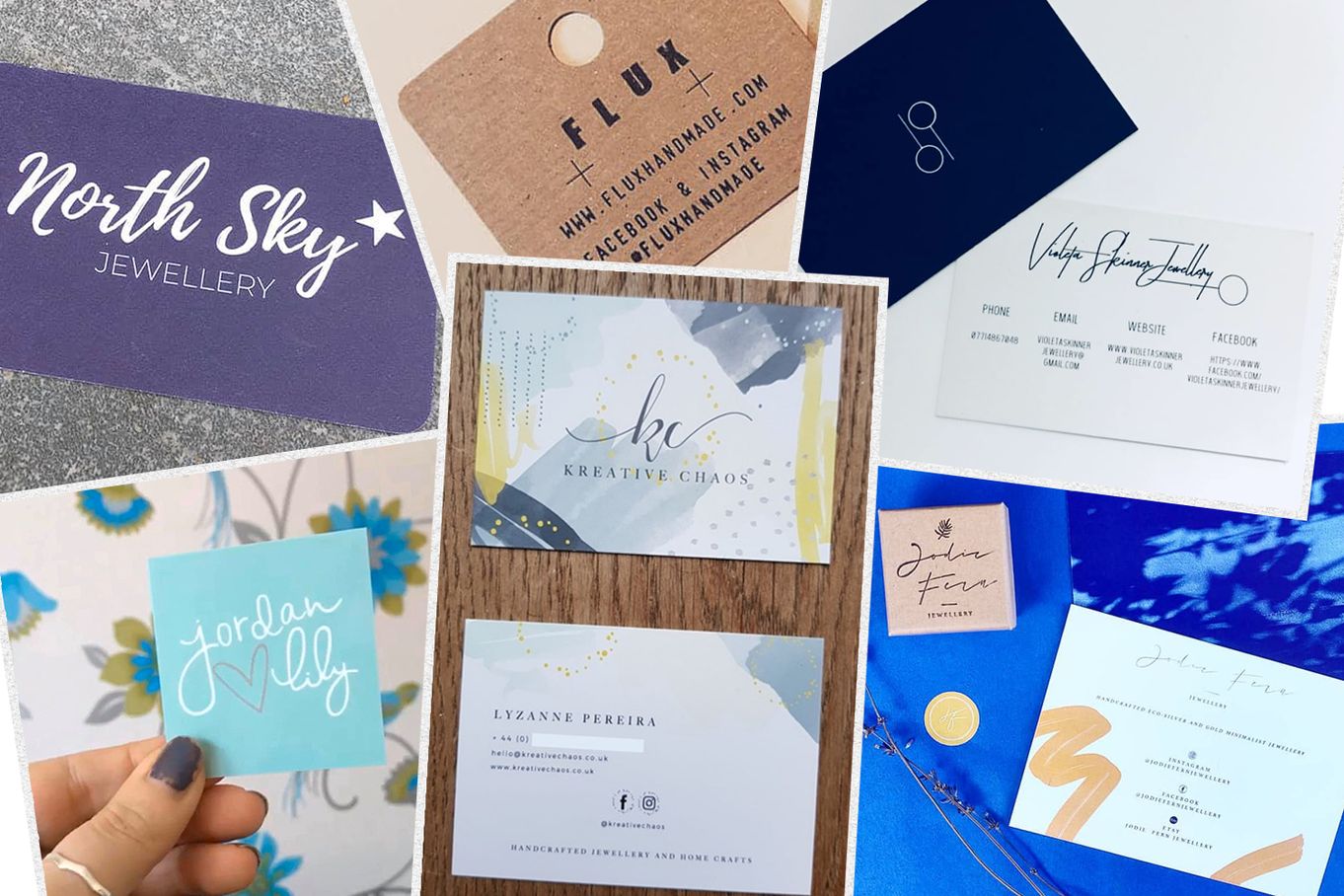 North Sky Jewellery
"Mine arrived this week just in time for my first craft fair, I used Canva to design it, a lot of people said to keep it simple when I was designing it and not to many colours - I love my little star."
Jordan Lily Designs
"Keep it simple and recognisable!"
Caroline Meyer | Bumblebeads
"Simple logo, simple message - but with a flash of gold, for glamour! And my contact details on the back, of course."
Lyzanne Pereira | Kreative Chaos
"Something that brings together your brand name and contains essential information."
Elissa Burton Wood | Eliaura
"I wanted my logo, for my brand, elegance with the essential information."
Becca Langsford | Flux
"I hand stamp mine - I brought some recycled earring cards but they were too big for what I wanted - so I repurposed them, and I'm happy they're not going to waste! The stamps mimic my logo and branding and I like the fact that I can say everything is handmade (it doesn't actually take too much time if you stick something on the telly to watch while you're doing it!)"
Alicia Arlene Bilawka
"Keep it simple and on brand with your brand and style!"
Victoria Reed
"Keep it simple... My logo goes with all my packaging and table display."
Ali Norman | HazelCollin Designs
"Keep the card in colours of your logo."
Alda Rosa | Gemiprecious Jewellery Designs.
"Clean lines, nothing too busy and something that reflects your brand and personality (all my cards have different quotes on the backs, I think there's 8 quotes in all."
Jodie Blackwell | Jodie Fern Jewellery
"Mine are postcards!"
Anne Green | Erranim
"Keep it simple! Website and social media information on the back."
Laura Jayne | Small Dog Silver
Keep them simple and easy to read - oh and don't forget to have a few in your bag!"
Jill Philip | Simply Stylish Silver
"Keep the front view simple and put contact and social media details on the back."
Samantha-Jane Jackson | Samantha Jane's Jewellery
"Something that represents you."
Violeta Skinner Jewellery
"Simplicity."
5igna Designs
"Keep it simple."
Sara Tibbs | Tia Jewellery
"Plain and simple."
Ilona Hodes | Restrung For You
"Nice and clear. Just say what you do! If you pay for embossing with your own design get them to send the embossing stamp to you when they complete the order!)"