21 Tips For A Successful Craft Stall
Always wanted to showcase your handmade jewellery at a craft fair but not sure how to start?
Follow our guide, sharing easy tips to follow to make your craft stall stand out from the crowd and get your jewellery noticed! Jewellery making is such a wonderful hobby and it gets even more exciting when others want to buy from you. Craft fairs are a great way to find what works, seek out the competition, meet other creatives and make some impressive sales!
Unfortunately, it's not as easy as just making jewellery and showing up with your designs, it takes a lot of time and effort to make your day a success - and we're here to help you.
Huge shout out and thank you to Lana Betty for letting us share her beautiful photos of her craft stall set up throughout this blog post.
Do your research
There are so many craft fairs to choose from, so it's important to do your research before applying or submitting your application.
The best thing you can do is find out as much as possible about the craft fairs you are interested in. Find out what time of year the craft fair is on and who this type of fair attracts, whether that's jewellery lovers, craft enthusiasts or foodies! You will also want to find out whether the venue provides electricity for lighting, provision and the size of the table, whether there is wifi and any other factors which could affect you on the day.
Some people may be there to simply mooch, whereas others might be keen to spend a large amount of money for presents or on a special treat for themselves. Don't be afraid to ask the organisers more about the event, who they expect will be attending, how busy it usually is and whether there will be similar stalls to yours.
If you know the fair won't attract high spenders, this is an indicator to choose jewellery designs which are more affordable and most likely going to sell on the day.
Plan plan plan!
One thing you don't want to do is leave everything until the last minute. Planning is vital in ensuring that your day runs smoothly, so it's always a good idea to practice the layout of your stall the night before and take a photo so you can look back at it on the day.
Create a checklist of everything you need and pack what you need the night before so you can relax and rest before the big day. Know the directions to the fair and give yourself enough time to get there to park and carry your bags to the venue - we recommend a trolley!
Create clear labels & prices
Make it easy for the customer with your labelling and pricing. You want this experience to be a simple and straightforward process, so ensure that all your items are priced and you provide useful information about the types of designs you are selling.
This avoids any potential customers walking on because they're unsure on a product or aren't confident in asking questions.
Think recycling
If your packaging or silver is recycled, create a sign and make it obvious! Recycled products are extremely popular, with consumers becoming much more eco-aware. These products are greatly received, so don't forget to mention information such as this by providing a sign.
Get public liability insurance
Make sure you have public liability insurance for when you attend craft fairs. This will ensure that you will be covered for legal action or compensation claims made against your business, when a third party is injured.
Have a hallmarking notice
Showcase your Dealers' Notice. The poster needs to be printed in black and white, be clearly legible, printed in its entirety and printed a minimum of A4. Don't forget to check whether your items need to be hallmarked before selling them at any craft stall.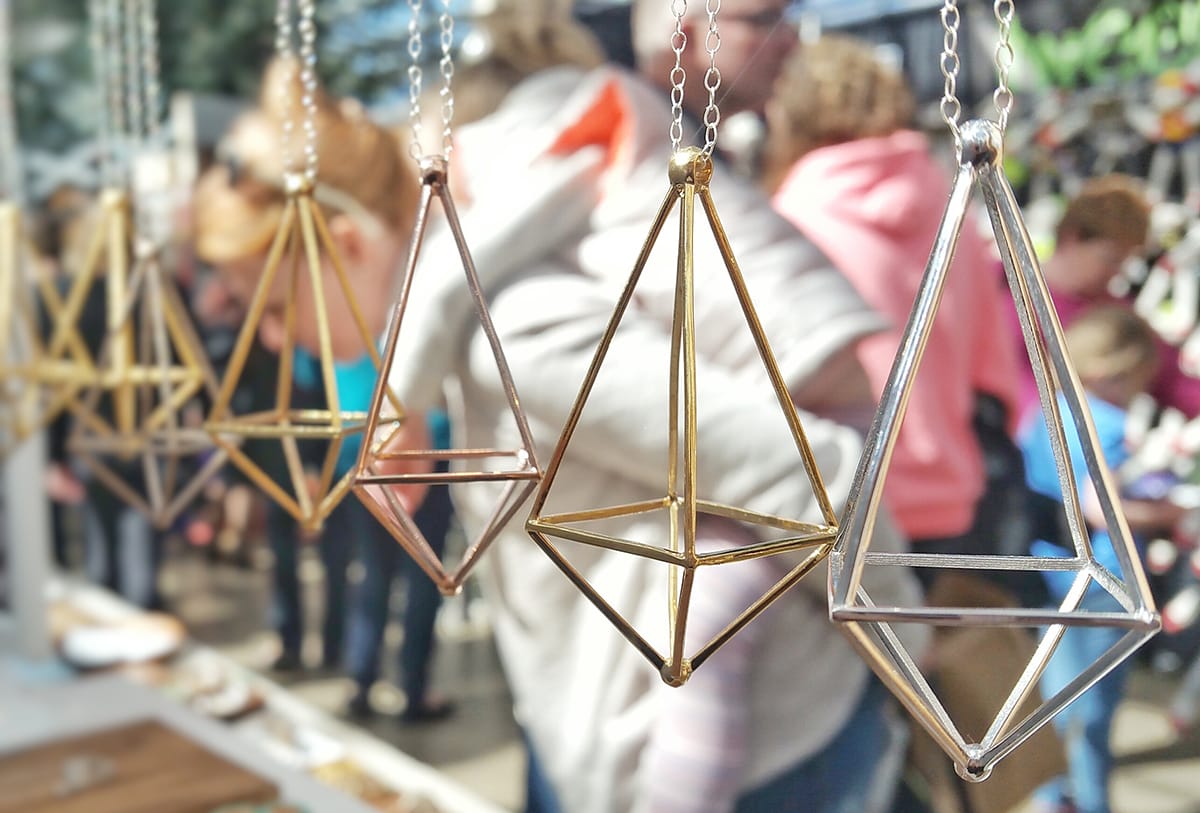 Add lighting
When arriving at the venue you may find that there isn't much lighting - which isn't ideal when you're selling jewellery! Be prepared with your own lighting as this will attract more people as they will be able to see your handmade jewellery clearly and be mesmerised by all those sparkling gems. This could be a standing light, lights that can be clipped to your table or even string lights. You could also add fairy lights to your table, not only does it look inviting it will also improve how your designs look and make your stall welcoming.
Keep your brand in mind
Make sure that your stall layout is eye-catching and that it matches your branding. You want your overall stall layout to resemble your overall brand - if you were to walk up to your own stall would you instantly know it was your handmade jewellery being sold? This is your goal!
There are many ways to showcase your brand, such as having a hanging banner providing your business name, logo and any other useful information such as your website or social media handles. Have a pile of business cards on display too - making it more likely that a passersby will pick one up and visit your website or recommend your jewellery to a friend.
Packaging & special touches
You have a few options when it comes to packaging. You could present each piece already in their own box or have simple gift bags behind your table ready to pop your designs into. Always pop a business card in with your sales, as most people will forget your name and may want to check you out online. Why not go the extra mile and make some thank you notes that you can pop in their bag too? These special touches make all the difference to your customer.
Promote the event
It's brilliant that you are showcasing your jewellery but what if no one knows you are there? You can ask the event what promotion they are already doing and share their social media posts, post in the Facebook event and join in with the conversation online. Create a post on your own social media platforms about what craft fairs you will be attending, along with useful information such as times, prices and locations. Why not create your own imagery for events, adding that personal touch can grab people's attention. Word of mouth is also a powerful tool, so don't forget to tell your friends and family about where they can see you next.
Stand out from the crowd with your stall layout
This can be harder than you think! With so many beautiful craft stalls to compete with, it can be easy to get lost among the crowd. Think outside the box and experiment with the layout and design of your stall, this could be playing with height, adding texture, hanging fairy lights, colour or even a sweet bowl to get people over!
You probably won't get this right the first time and you will want to try new things with each event, but with every craft stall you go to you'll learn what works best with shoppers. Most of the time less is more, so make sure you have plenty of designs on display but not too much that it's a bit overwhelming for the customer. You want to be able to catch their eye and draw them in, rather than give them too much so they just keep on walking.
People are often attracted to symmetry as it looks organised and pleasing to the eye. Avoid the jumble sale look and place your designs neatly, with enough space between them. Having dimension and height to your stall is a great way to stand out, this can be achieved in a number of ways such as using hooks, wire trees, shoe racks, bookcases etc.
Be approachable and smile!
Have you ever been to a craft fair where the seller doesn't give you eye contact and looks pretty down in the dumps? This is a big turn off to customers. You don't want to be too pushy but a smile always works wonders. Make eye contact with people as they walk past and if they approach you, ask them how their day going rather than jumping in with a sales pitch.
Increase your email list
If you send newsletters this is a great chance to build your subscriber list with potential customers. You can either keep a little book for people to leave their email address or maybe provide a tablet that will store the information directly to your mailing list securely.
Take a mirror
How can you expect anyone to buy your jewellery if the customer doesn't know what it looks like on them! A mirror (the bigger the better) will give you a better chance of selling your jewellery and make the customers stick around at your stall for longer.
Wear your own jewellery
What better way to market your jewellery than wearing it yourself! Wear your most popular or unique pieces of jewellery - hopefully then you'll have a few people asking about them.
Take a camera
Always pack a camera for your events. You can take photos of your stall before the event starts and lots of behind the scenes shots. It's always great to look back on and see your progress, picking up on the areas you could improve on and get opinions of close family and friends.
Not only this, you can use your snaps to post on social media too - this is a great way to spread awareness of your jewellery and update people about the events you go to - you never know, after seeing your post, someone may want to visit you at the next craft fair.
Keep warm
Always bring extra clothing along with you to a craft stall, there's nothing worse than cold feet. We'd recommend a scarf, extra socks, thick boots, jacket and of course a flask of tea along with a few snacks to keep you fueled during the fair. Don't forget a chair too for when it gets quiet and you need some rest.
Take a notebook
Make notes! A notebook and pen will allow you to make notes about the craft fair, as well as a handy document to keep a list of the items you have sold.
Run a competition
Attract those walking past by offering them something they can't ignore. Everyone loves a competition, so why not run a little promotion alongside your stall to start a conversation. Maybe you'd like to give away a piece of jewellery or a gift voucher? This is a brilliant way to spread awareness of your business.
Take a DIY survival kit
Always pack extras or supplies that may help you during the day. Scissors, sellotape, string, pegs, blue tac, glue, pens, extra pricing labels, extra bags, bags, ring sizers... you name it! You could also bring an extra little table in case you have some more room for displays.
Use a card machine
You want to make as much money as possible and with a card machine, you will be able to maximise those sales. With a sign saying you accept card, this will attract more customers to your stall - especially those who are wanting to spend a little more.
Having a card machine makes it easy for your customer and will stop them claiming that they're running off to the ATM machine to never return... We would recommend doing your research into the best card machine for you and your business.
Don't forget your cash box and extra change too so you don't run into any problems.
What The Jewellers Say...
We asked our Facebook community to share their top tips on having a successful jewellery craft stall
"Practise set up before and be ready to go the night before. Engage with folks and be smiley always. Take water, emergency chocolate and wear really comfy shoes! But most of all remember to have fun... you do this because you love it!"
"

Be confident in what you do and enjoy yourself! After all, it's your passion!

Try not to take things too personally, you can't be everything for everyone.
Find out what size space you will have and practice setting up beforehand.
Have everything priced so your not put on the spot if you can't remember because you have a sieve for a brain like me!
Have a book you can write down sales and any orders.
I now have a card reader and get way more sales, as most people don't carry cash anymore and I was losing sales as most folks want to buy on the spot and not off of your website later, make everything as easy as possible for your customers."
Jenn Faulks -
"Smile and look happy! I am always shocked by the amount of people who stand there at craft fairs looking miserable. I know it can be cold, it can be boring, and it can be a lot of hanging around but your body language is part of your marketing and no one wants to buy anything of someone who looks like they don't want to be there. Smiling also releases happy chemicals and makes you feel better - even if you'd rather be cosy at home with your slippers on."
Cristine Sparrey -
"Be friendly & show you're passionate about your skill."
"Always bring more light than you think you need!"
Jules Dickson Scrappo Worko -
"Make your stand attractive and eye-catching to encourage people to take a closer look and smile warmly :) xx"
Jackie Moore -
"Practice setting up a few times beforehand and get there with plenty of time to spare. It always takes longer on the day than you think."
Davidica Morris -
"Be organised! Make sure you have everything ready the night before. Take drinks and snacks. Wear warm clothes with plenty of layers so you can adapt to changing weather and don't forget warm socks and shoes. Remember your float and a card reader if you have one. Take a stock list and cross things off as you sell them so you keep track. Be friendly, but don't scare people off!"
Joanne Dean -
"Enjoy yourself we put our heart and soul into the handcrafted items we make let it show every time you set up your stall, use different heights to show off your items offer free gift bags or boxes over a certain price or as I do, free pearl earrings with every sale over £25.00. Finally, chat to your customers and form a bond..."
Natasha Smith -
"Stand at the front and chat to people as they come along. Be happy and don't do any hard sale. They like your work or they don't. Have some height on your stand and have lights too... it attracts folk in. Also have low, mid and high priced goods so everyone can afford something."
---