July: Riveting & Cold Connections For Jewellery Making
Learn all about cold connections!
This month is all about cold connections! Kim shares with us easy ways to make jewellery designs without the use of heat.
Kim covers the following topics:
Overview of riveting & cold connections
How to create a beach pebble rivet ring
How to create a fancy rivet sea glass spinning necklace
How to make tab set gemstone earrings
How to make a tab set gemstone pendant
---
If you try any of the techniques featured in the series, please tag us in your designs - we would love to see and share! Find Kernowcraft & 'Make It With Kim' on Instagram and use the hashtags #12monthsofmetal & #Kernowcraft
What is a cold connection?
A cold connection is the term given to different ways to attach metal or mixed media without the need of any heat. This is great if you don't have access to soldering tools or soldering just isn't possible for you or your design.
What are rivets?
One of the most popular cold connection techniques are rivets. Rivets are a decorative and popular way of joining materials together and can be made from hollow tube or solid wire. The technique is the same but wire will create a solid rivet and a tube will create a rivet with a hole through the middle.
The most important thing to remember is to make sure that the hole you drill through the pieces that you want to rivet together is the exact same size of the wire or tube you're making the rivet from. If in doubt, you can make the hole a bit smaller and file it until your rivet fits perfectly. It is also very important to cut your rivet the right length. Kim makes them 2mm longer than the height of the materials that are riveting together.
What hammer to use?
In the video tutorial below, Kim uses a cross pein hammer but many other jewellers may use a ball pein hammer or a flat face of a hammer. It's more about getting the fit and length of the rivet right than your choice of hammer.
---
Project: How To Make A Pebble Rivet Ring
In this video tutorial, you may have watched Kim's brilliant demonstration on using a cold connection to rivet a beach pebble to a silver ring. When it comes to drilling sea glass and pebbles, it's important that you drill them under water to keep it cool and use a diamond coated drill bit. Heat created by the friction of drilling can easily make stone, ceramic or glass crack so ensure that you are wearing goggles and your environment is safe, with power cords out of reach and away from the water.
---
Project: How To Make A Fancy Rivet Sea Glass Necklace
Sea glass is becoming such a popular material to work with for jewellery making. Kim shows you how you can use a cold connection to create a beautiful spinning pendant using a piece of drilled sea glass.
In this video, you'll see Kim preparing the jewellery layers, making a ball, followed by a nail head rivet. She also shows you how to create texture, how to rivet the other side and transform it into a pendant.
---
Watch Kernowcraft's tutorial on how to drill sea glass
Watch our video tutorial on how to drill sea glass - the same technique can be used for gemstones, pebbles, glass, pearls or ceramics.
---
Project: How To Make Tab Setting Gemstone Earrings
In this video, Kim shows you how to make a tab settings for blue goldstone cabochons and how to transform them into earrings. Plus Kim shares a quick tutorial on how to make earwires using 0.8mm wire.
---
Project: How To Make A Internal Tab Setting Pendant
Kim shows you how to make an internal tab setting to hold a cabochon stone. Kim also shares a handy tutorial on how to make a bail from her pendant and how to add patina using liver of sulphur.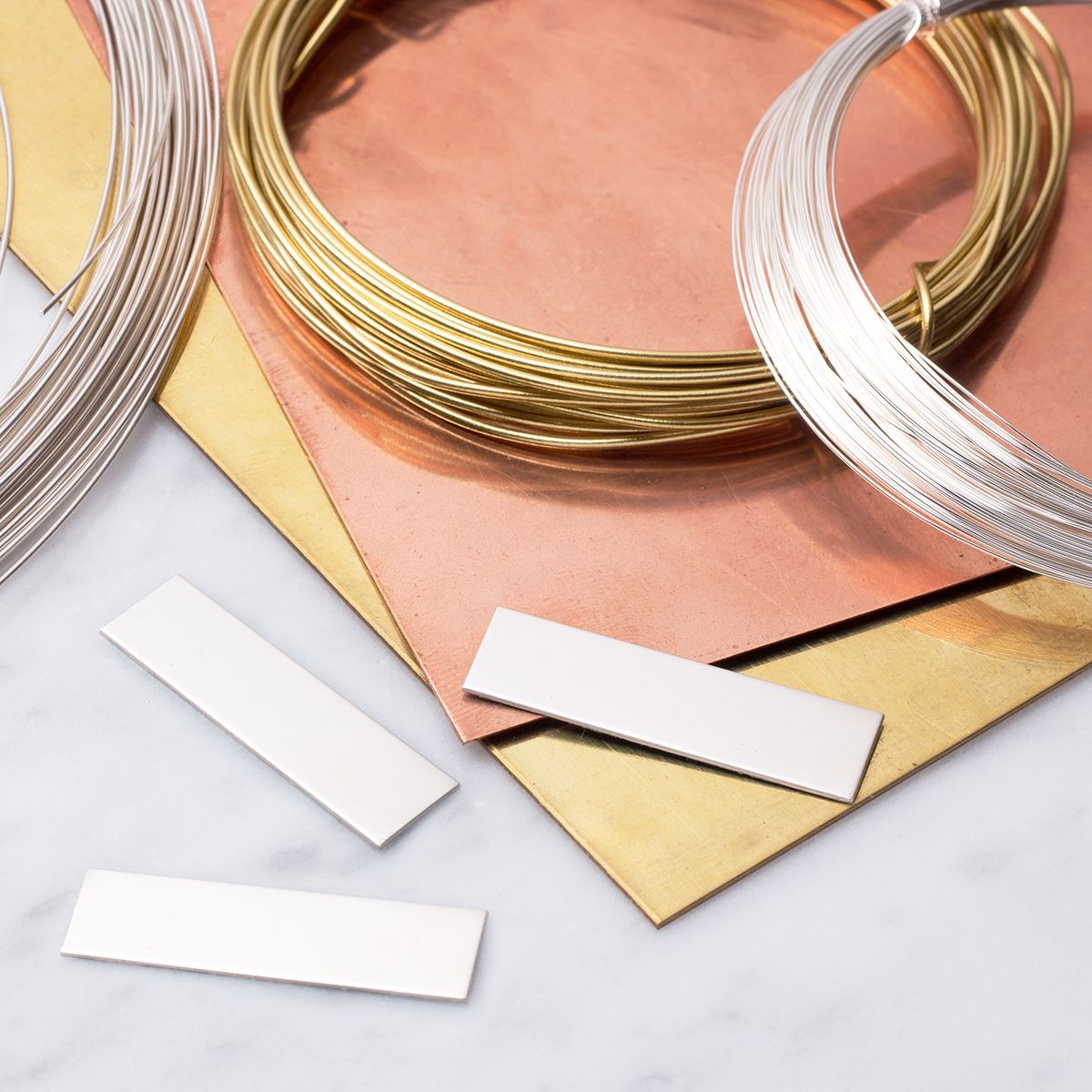 Shop our wide range of metal sheet and wire in a range of metals and thicknesses to create your jewellery designs.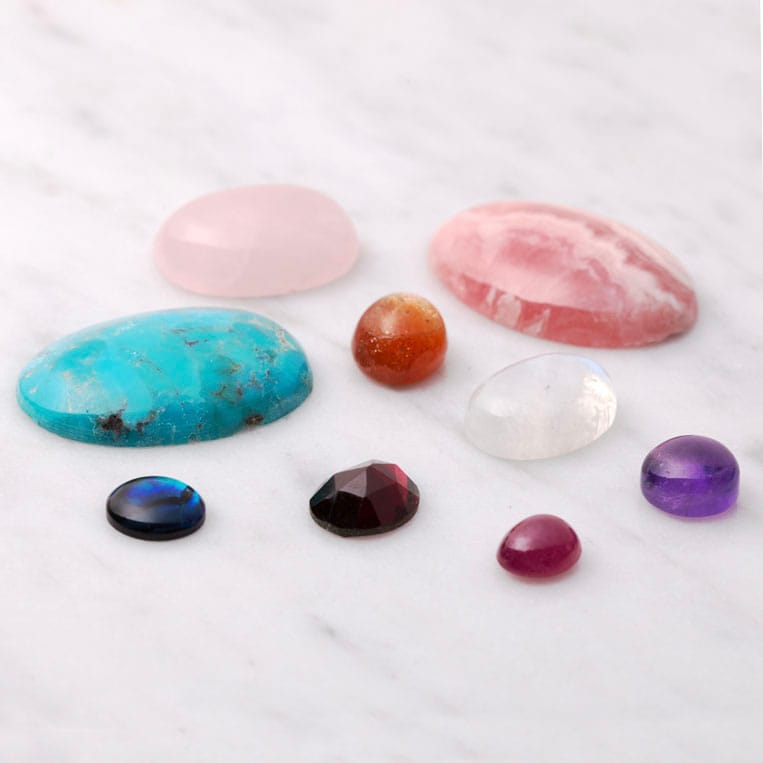 Kim created beautiful jewellery designs featuring gemstones during the month! Discover our wide range online now with so many gemstones, shapes and sizes to choose from.
Creating a necklace from a beer can
Kim never disappoints us when it comes to experimenting with fun and interesting designs!
These photos show you how Kim took her can of Bombay Dazzler by True North Brewery and turned it into a necklace using cold connections.
Kim also completed the look with wire-wrapped tiger's eye beads and created a patina using liver of sulphur.
You can watch Kim's tutorial on using liver or sulphur here.