May: Cabochon Setting Tutorials
Learn how to set cabochons!
Kim covers the following topics:
---
If you try any of the techniques featured in the series, please tag us in your designs - we would love to see and share! Find Kernowcraft & 'Make It With Kim' on Instagram and use the hashtags #12monthsofmetal & #Kernowcraft
Watch Kim's tutorials throughout May below and find all the supplies including cabochon stones and the tools you need for stone setting with Kernowcraft.
Watch Is A Cabochon Stone?
A gemstone cabochon is a gemstone that has been shaped and polished to be a dome shape on the top and is usually flat on the bottom. Cabochons can come in a range of sizes and shapes, which makes them great fun when creating new handmade jewellery designs. At Kernowcraft, we offer a huge range of cabochons in shapes such as round, oval, hearts, marquise, squares, hexagons and more.
---
What Is Bezel Strip?
Bezel strip is used for making bezel settings for cabochon stones. Fine silver is slightly softer than sterling silver and it is flexible and easy to rub over the stone. It's available in two depths depending on the size of your chosen stone.
---
Using Pre-Made Cabochon Settings
While it's good to be able to make your own settings from scratch, pre made settings allow a quick and easy way to add stones to your designs. Pre made bezel cups can be found in a selection of popular sizes and shapes but you'll find the biggest selection in small, round, sterling silver cups.
The height of the cups 'wall' will differ from manufacturer to manufacturer. Some have extremely shallow walls and require you to glue the stone into them. Most have walls that you will need to push/rub over the curve of your stone to hold it in place. Either way, the stones are always added right at the end after all soldering has taken place as the majority of stones, won't survive the heat from the blowtorch.
The pre made cups tend to be machine made and accurately sized but stones tend to be cut by hand so the sizing can differ by half a mm either way. Because of this, it can be a good idea to purchase your stone and setting from the same supplier so you can ask them to check the stone will fit.
At Kernowcraft, we have a 'special instructions' box in the basket so you can ask us to check your stone fits the bezel.
---
Making A Ring With A Bezel Cup
To bezel set a cabochon, you push the wall of the setting over the curve (dome) of the stone. If the wall is high, it could cover a lot of your stone. The wall needs to be at least 1mm taller than the point where the edges of your stone starts to curve but you don't want it so high, it covers the majority of your stone.
If your wall is too high, you could file it lower. Or, you could pop something into the setting to make your stone sit higher up. People sometimes do this to make the stone appear larger than it actually is. You can use anything to make the stone sit higher. Some people use cardboard, plastic, sawdust etc as providing the stone is opaque, you won't be able to see what is under it.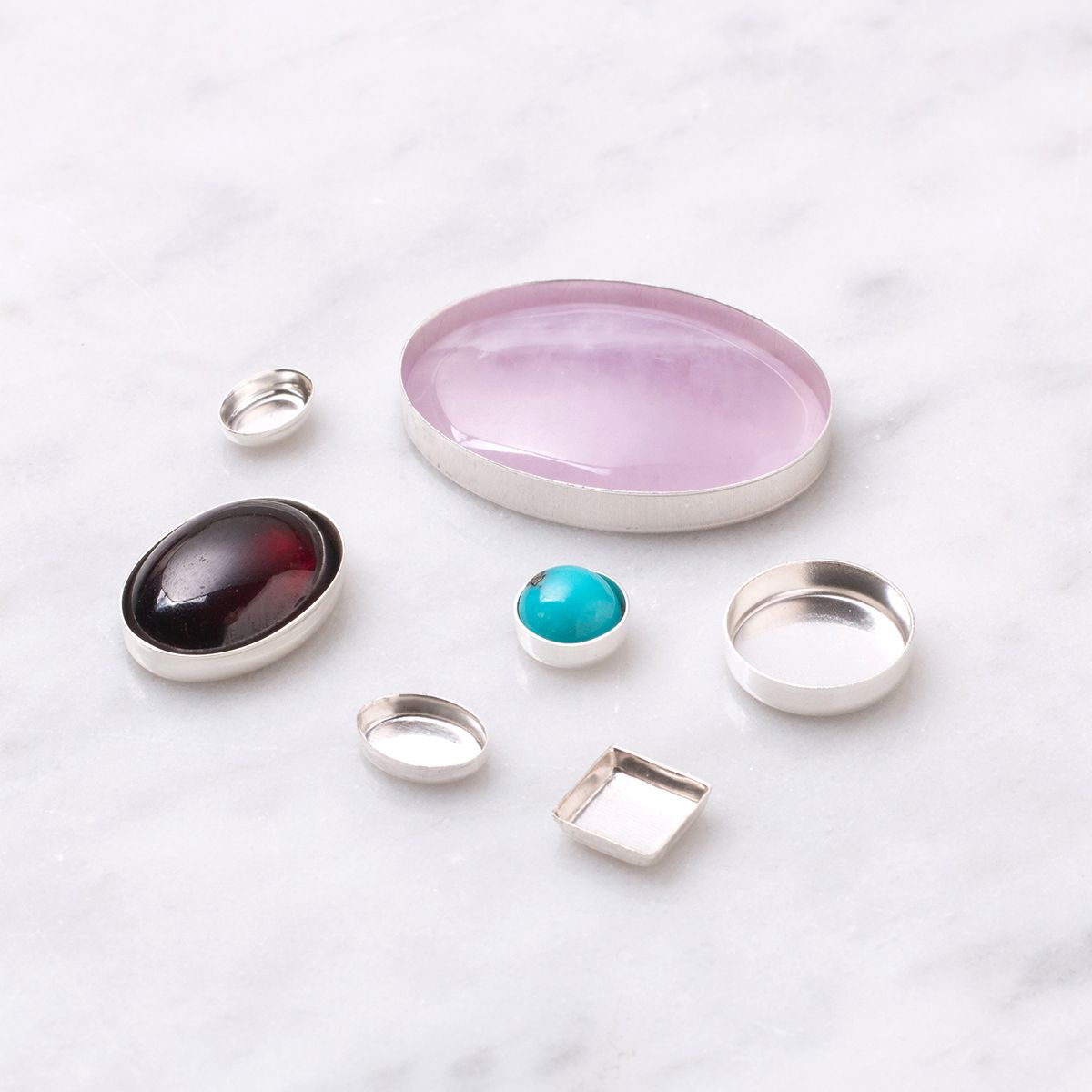 Shop our full range of bezel cups in a range of sizes and metals to suit you. These pre-made settings offer a professional finish and allows you to work quickly and efficiently! They are also a great way for beginners to practice their soldering and stone setting skills before making their own settings.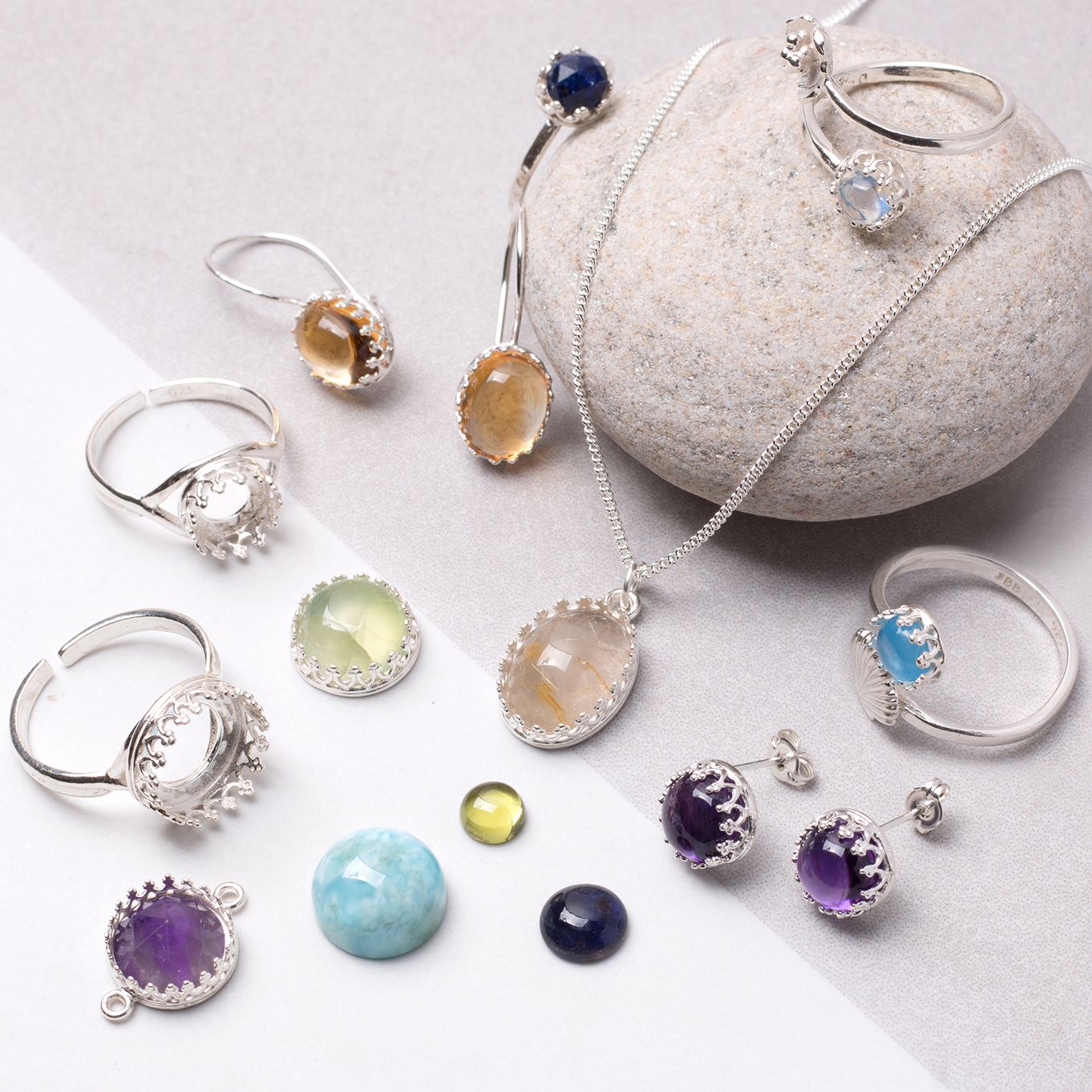 They are so many beautiful settings for cabochon stones available which make it easy to create your own handmade jewellery designs. Discover gallery wire, flat plate and claw settings on our website.
Bezel Setting Tools
There are 2 main tools. A pusher, which is usually made from a long, straight, square piece of steel. A pusher is used to push the wall of the setting over the curve of the stone and also used when setting stones in a prong setting which Kim will look at later in the year. A rocker is usually a curved piece of steel that resembles the bottom of a rocking horse. It is used to rock the wall of the setting over the curve of the stone. It is doing the same job as the pusher so you don't necessarily need both. It partly comes down to personal preference and partly different designs mean different shapes of tool can get in and push more ergonomically than others. For example, a rocker is usually the easiest to use on larger stones but a pusher is usually easier to use on small stones as it's a smaller tool. If you don't have any of the tools yet, you can use a teaspoon!
How To Make A Bezel Setting For A Cabochon Stone
Kim shares a brilliant tutorial on how to make your own bezel setting using bezel strip. Bezel strip is usually made from fine silver which is softer than sterling silver. It's available in two main heights. 5mm and 3mm. The height you choose is dependent on the height of your stone.
The main tips are...
Make sure you wrap the bezel strip snugly around your stone - if it's too big, your stone will be loose and rattle around.
Make sure you reshape your bezel to the nice curve of the stone before soldering it to your base. If you solder it on when it's a bit wonky, it will be wonky forever more and there's a chance your stone won't fit in it.
It's really important your bezel sits completely flat on your base. No daylight or gaps.When soldering, angle the flame of your torch so you can heat as much of the base as possible without pointing the flame directly at the bezel walls. Once you've soldered your bezel to your base, you need to cut the excess base away and file it until it looks like a solid cup.
Top tip - push, push, push, rub, rub, rub! Basically keep going!
---
Project: How To Make Cabochon Bezel Set Earrings
Kim walks you through each step you need to make your own bezel setting and create a beautiful pair of earrings! Kim also shows applying liver of sulphur, which gives your finished piece a lovely antique look.
---
Make Fancy Bezel Wire With Craft Scissors!
Everyone has gone crazy for the scissors! Did you know you can make your own fancy bezel wire with children's paper scissors? Kim shows you how it's done in this brilliant tutorial. She also shares the process of setting a cabochon with fancy bezel and how you can use liver of sulphur to add a patina to your design.
Did you know if your setting is a bit small you can stretch it and if it's a bit big, you can flood it with solder? There are a few different ways to stretch bezel. Two of the most common are to roll it on a flat surface or to hammer it on a bezel mandrel.
You can cut away some of the base of your setting if you wish. This is sometimes done to allow light to shine through the stone and sometimes it's done for decorative effect to add interest when seen from behind. This can be done before or after soldering your bezel wall to your base.