Silver & Rose Gold Bead Anxiety Ring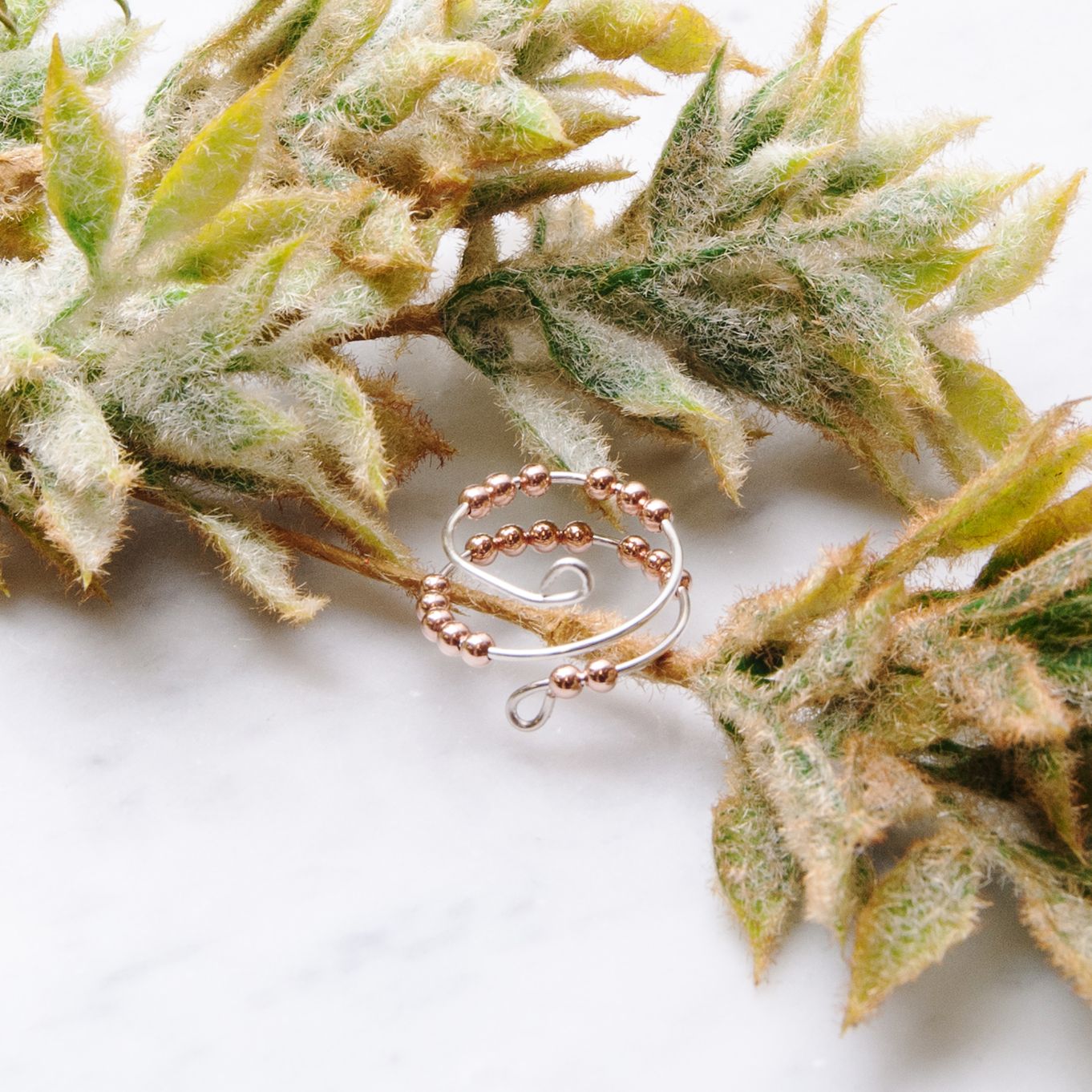 Anxiety rings, also known as fidget rings or worry rings are traditionally designed to calm the mind and help relieve stresses or anxieties. This wire ring features small rose gold filled metal beads that you can use your fingers or thumb to spin to relax you.
This ring project is beginner friendly, requiring only a small amount of tools - plus no metalsmithing knowledge or soldering is needed.
STEP BY STEP INSTRUCTIONS
1. Using a saw or heavy duty side cutters, cut approx 16cm of sterling silver wire. If the ends are rough, use a file to smooth the ends.
16cm is suitable for ring size N, so you may need to adjust the amount needed if necessary - you can wrap the wire around your finger as a guide - we have added 20cm of wire to the shopping list to give you more wire to work with.
2. Using the tips of round nose pliers, form a loop on one end of the wire and use snipe nose pliers to adjust if needed.
3. Wrap the wire around the mandrel using the size you require as a guide. Use a rawhide mallet to gently tap the wire while placed on the mandrel to form the shape, this also work hardens your wire, making it stronger.
4. Thread on as many rose gold filled metal beads as you like to your anxiety ring.
We have included 2 packs of 10 metal beads but you can adjust this if you would like.
5. Finish your ring by forming another loop at the end of the wire and your ring is complete.
You can easily customise your ring by adding texture with a hammer, adding charms to the loops of the wire, adding gemstone beads or experimenting with other mixed metals. Have fun getting creative!
Recommended Tools
Heavy duty side cutters or saw
CUSTOMISE YOUR KIT
Make the design your own
HELPFUL PAGES
Your guide on choosing wire for jewellery making
Explore all wire tutorials & guides
---
Kernowcraft's jewellery making kits are aimed to inspire you - therefore the step by step instructions are available online only with a shopping list, where you can easily customise the design to suit you. We recommend printing or bookmarking this page ready to follow.
The suggested products used in this project are suggestions to inspire you. Products used were compatible at the time of making but do be aware that gemstones are natural and hand cut stocks can vary, so do use your own common sense as to the compatibility of each item when making.
Your Shopping List
You can buy all the products in this collection at once by clicking the button below or add individual products by clicking the button beside each one.