Family Birthstone Charm Bracelet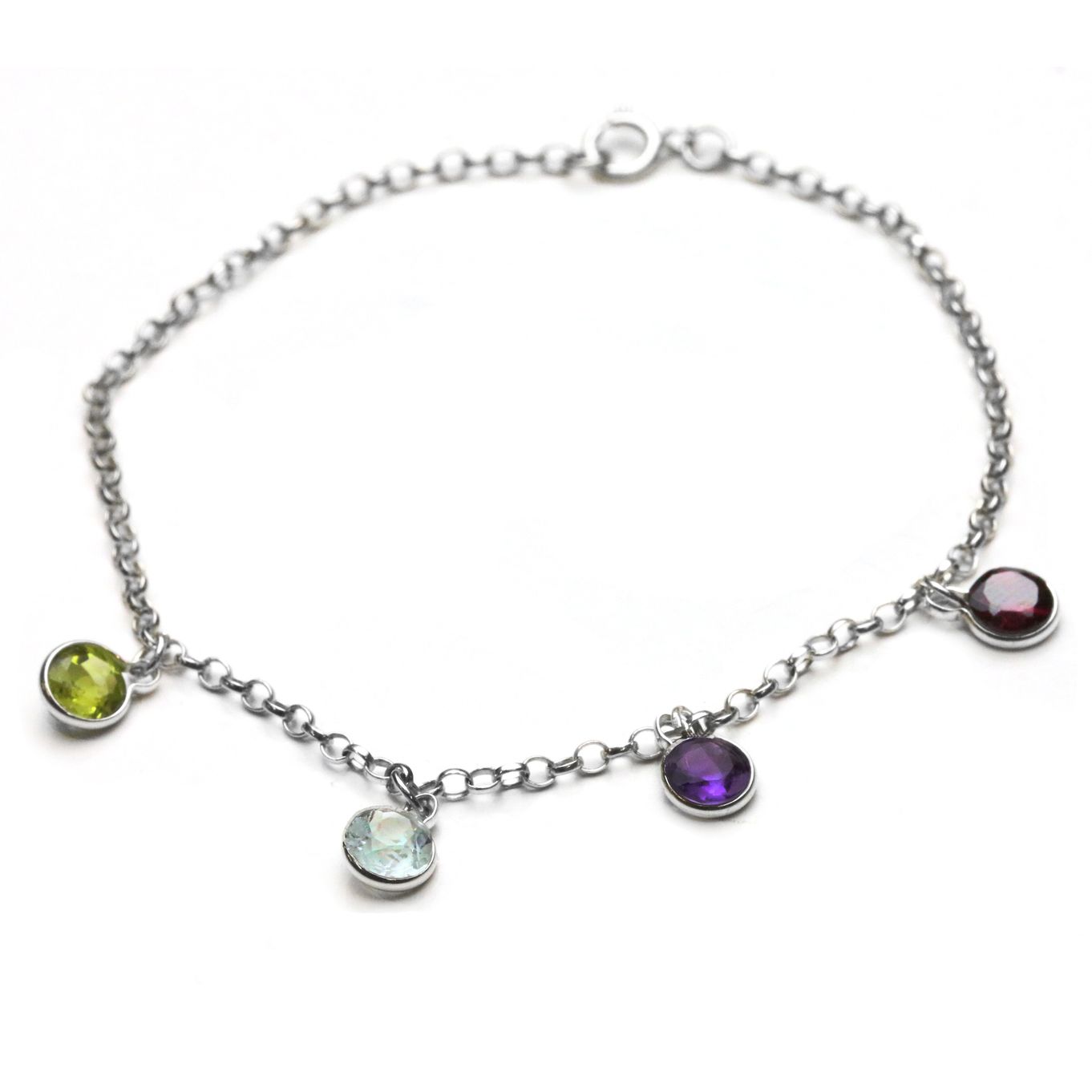 Create a beautiful bracelet with meaning for a special occasion with the birthstones of your family members.
Each month of the year has its own birthstone linked to it - some months actually have two! Each gemstone has a different meaning and properties that have been attached to them throughout history. Adding one stone to represent each family member would make a really lovely and personal gift.
We have made our bracelet using wraptite settings and the following round faceted gemstones, aquamarine (March), peridot (August), amethyst (February) and garnet (January).
You could also create a similar look with cabochons and gallery wire settings.
Step By Step Instructions
Set The Stones In The Wraptite Settings
Firstly you will need to work out the birthstones for each of your family members, if you need help you can Shop by Birthstone here.
You will need one wraptite setting per stone, to secure the stones within the wraptite setting simply pop the stone in and use a pair of round nose pliers to squeeze the connector loop at the base to tighten.
TIP: Be careful not to close the top loop up as you will need to thread your jump rings through this to connect it to your bracelet chain. Use a piece of wire to thread through the loop and use round nose pliers to squeeze the loop to tighten, leaving a gap.
Attach Your Gemstone Charms To The Bracelet Chain
Now take your 19cm mini belcher chain and measure out where you want to hang your gemstone charms.
Use snipe or flat nose pliers to twist open the sterling silver jump rings to attach to the loop of your gemstone charms and link onto your chosen links of the bracelet chain, before twisting closed the jump rings to secure. Check that the gemstones are all facing the same way!
The great thing with this design is that you can add to it whenever you like, we sell a large selection of sterling silver charms that would look great on this too.
Why not view our selection of presentation boxes to complete the look and make a beautiful gift.
Suggested Tools For This Project
Snipe nose or flat nose pliers
Customise Your Kit
Make the design your own by using your favourite jewellery supplies.
Helpful Pages
How to set gemstones in wraptite settings
How to open and close a jump ring
---
Kernowcraft's jewellery making kits are aimed to inspire you - therefore the step by step instructions are available online only with a shopping list, where you can easily customise the design to suit you. We recommend printing or bookmarking this page ready to follow.
The suggested products used in this project are suggestions to inspire you. Products used were compatible at the time of making but do be aware that gemstones are natural and hand cut stocks can vary, so do use your own common sense as to the compatibility of each item when making.
Your Shopping List
You can buy all the products in this collection at once by clicking the button below or add individual products by clicking the button beside each one.