Anti Tarnish & Cleaning Kit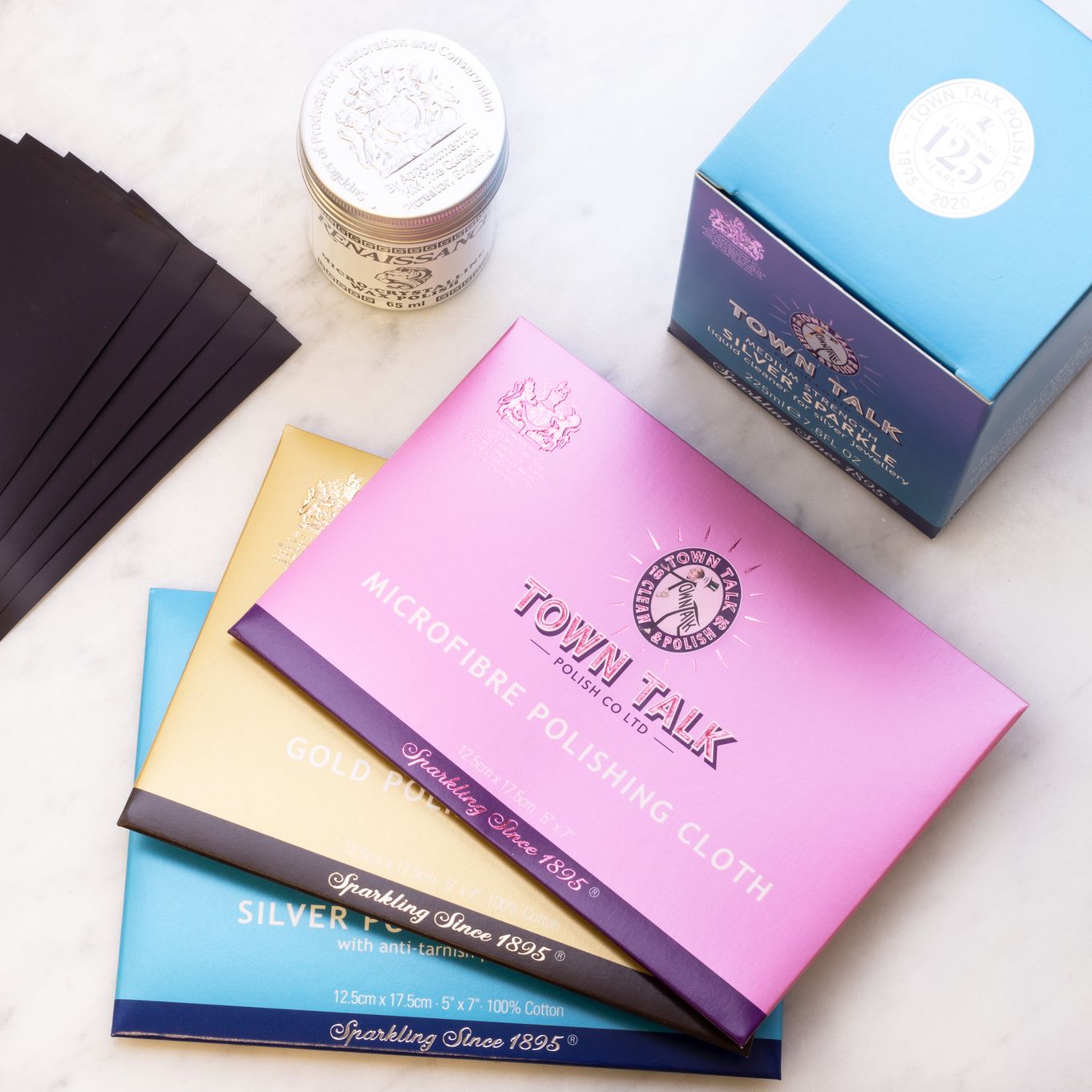 This jewellery kit contains everything you need to remove and prevent your jewellery from tarnishing.
Don't forget you can add individual products to your shopping basket!
For Removing Tarnish & Cleaning Jewellery
Town Talk Polishing Cloths: These polishing cloths are perfect for getting that sparkle back in your jewellery! Choose the most suitable cloth for you and with a gentle rub, your jewellery will be looking clean and bright. They're pocket size, making them ideal to keep in your bag.
Town Talk Silver Sparkle: This silver dip is a brilliant product and a quick fix for renewing the sparkle on your jewellery. All you have to do is dip your jewellery into the cleaning fluid and it will be as good as new.
Town Talk Exquisite Jewel Sparkle Wand: One of our favourite items to keep in our handbags! Gently cleans your jewellery and removes small particles of ingrained dirt, leaving your precious jewellery sparkling.
For Preventing Tarnish
Renaissance Wax: Renaissance wax is a clear protective wax that you can use to protect silver, copper and other metals from tarnishing. Simply apply with a soft cloth and buff gently.
Watch how to use renaissance wax below
Anti Tarnish Paper Strips: Simply pop an anti tarnish paper strip and your metal item in an air tight container, such as our plastic bags to prevent tarnishing. You can always trim the strips down to store them with smaller pieces of jewellery. These strips will protect silver, gold, copper, bronze, nickel, tin and plated metals.
Grip Seal Bags: We sell a range of sizes of grip seal bags. They are great for storing beads, findings and finished items of jewellery in. Unlike most plastic bags, these don't contain any sulphur which means items stored in these are less likely to tarnish. Pop an anti-tarnish strip in with your plastic bag to add that extra protection.
---
Our Jewellery Making Tool Kits showcase our top tools and supplies for various areas of jewellery making. They are aimed to inspire you, so you easily customise your tool kit to suit your needs and budget. Check out our jewellery making tutorials for free guides, browse our full selection of tools and if you have any further questions please get in touch.
Your Shopping List
You can buy all the products in this collection at once by clicking the button below or add individual products by clicking the button beside each one.