Sterling Silver Raindrop Earrings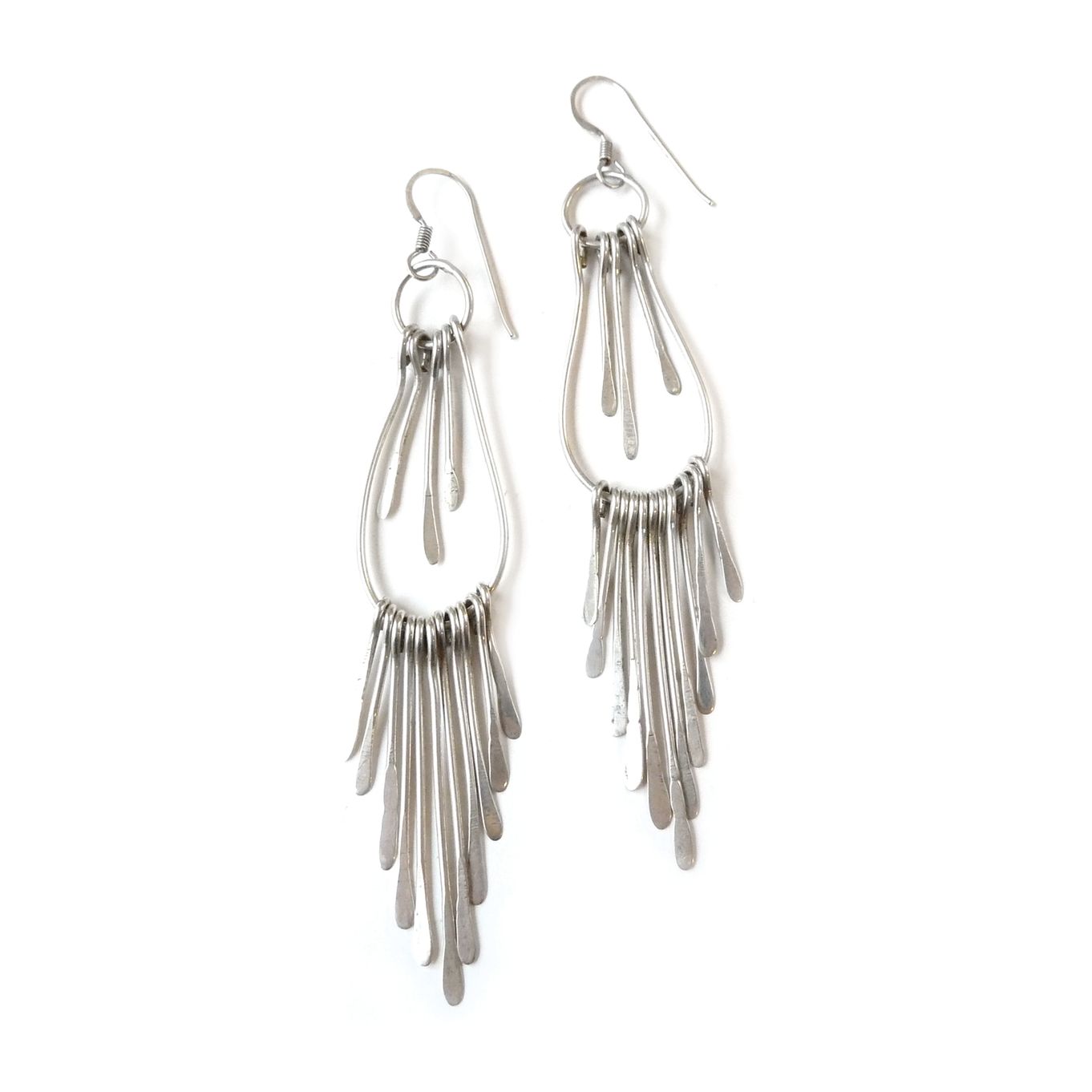 These striking earrings will stand out and get everyone asking if you made them yourself!
Step by step instructions
Start by using heavy duty side cutters to cut the 1mm wire into two lengths for the main earring components which the drops will hang from.
You can choose which length you would like depending on how low you want your earrings to sit.
Now cut 11 matching pairs of graduated lengths for the bottom drops and 3 matching pairs of graduated lengths for the top drops.
Using a repousse hammer on a steel bench block hammer the end of each wire to create the hammered flat effect. It does not have to be perfect as when they are hanging you won't notice.
Wrap each end of the wire around round nose pliers to create a loop.
Loop on the 6 matching pairs of the bottom drops onto one of the main earring components so they hang with the longest length at the bottom.
Wrap each end of the main earring wire component around round nose pliers to create a loop.
Attach the 3 of the shorter wire lengths on the 10mm sterling silver jump ring for the top drops then loop on either side of the main earring component to the jump ring.
Using snipe or flat nose jewellery pliers open an earwire and attach your earring by the 10mm jump ring so your earring is hanging nicely.
Repeat with the other earring and you are complete!
Suggested tools for this project
Repousee hammer - ideal for forming and raising shapes in metal and the rounded end can achieve a hammered texture, it can be used with a brass doming block and doming punches
Snipe nose pliers or flat nose jewellery pliers
Heavy duty side cutters - perfect for use with stronger wires
Steel bench block - ideal for using to hammer wire or metal on
Round nose jewellery pliers - for bending loops in wire
You may like to get our pack of pliers & side cutters which is an economical way of buying all the pliers you will need for every project!
Customise Your Kit
Make the design your own by using your favourite jewellery supplies.
Helpful Pages
Texturing, patina and finishing advice & tutorials
Books which may interest you
'The Encyclopedia of Wire Jewellery Techniques' by Sara Withers
'The Basics of Bead Stringing' by Debbie Kanan
'Beading Design' by Kim Glover
---
Kernowcraft's jewellery making kits are aimed to inspire you - therefore the step by step instructions are available online only with a shopping list, where you can easily customise the design to suit you. We recommend printing or bookmarking this page ready to follow.
The suggested products used in this project are suggestions to inspire you. Products used were compatible at the time of making but do be aware that gemstones are natural and hand cut stocks can vary, so do use your own common sense as to the compatibility of each item when making.
Your Shopping List
You can buy all the products in this collection at once by clicking the button below or add individual products by clicking the button beside each one.