Sparkling Garnet Feather Necklace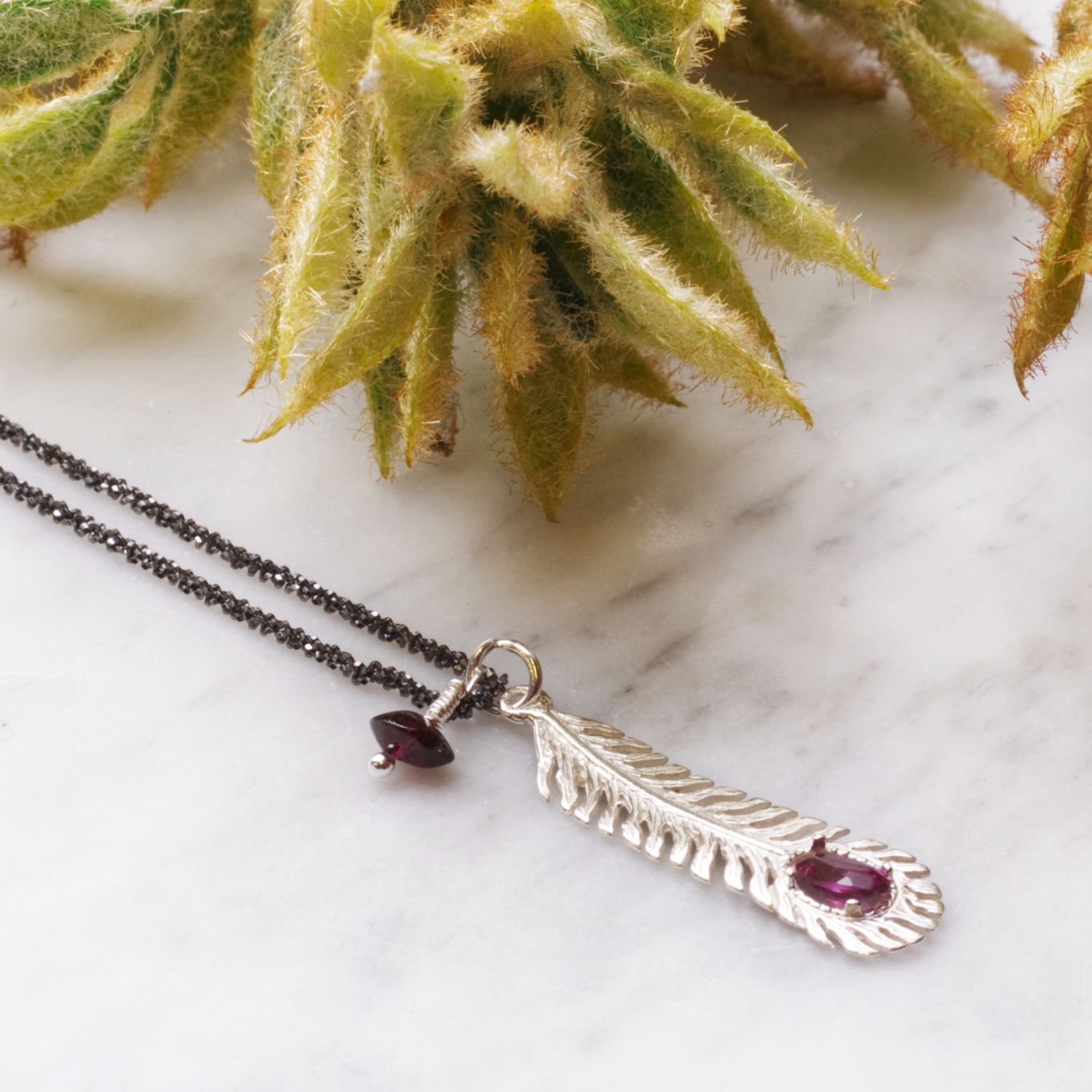 This eye catching feather pendant features our juicy rhodolite faceted stones, with a beautiful rondelle bead.
Did you know that garnet is January's birthstone? This would make a lovely handmade birthday gift that you could pop into one of our gift bags or boxes.
With the products listed in the shopping list, you will receive more headpins, jump rings and beads than needed which you can use for even more projects!
STEP BY STEP INSTRUCTIONS
1. Begin by placing the rhodolite garnet faceted stone into the feather pendant setting (pointed side at the bottom) and use a pusher tool to gently push the claws over the top of the stone to hold it in place. (Photo for example only, with claws not set).
2. Thread a garnet rondelle bead onto a headpin so that it sits on the head and create a loop with the headpin by wrapping it around the tip of round nose pliers. As this kit contains a pack of 10 beads and headpins, you could choose to add more garnet drops or thread more than one garnet onto the headpin - get creative!
3. Use snipe nose pliers or flat nose pliers to hold the loop flat whilst you wrap the remaining headpin wire around itself and down towards the bead. You can use round nose pliers or your hands to wrap the wire. Once you're happy with the wrap, you can use side cutters to trim the headpin. For a neat finish use snipe nose pliers to squeeze the end of the headpin close into the coil.
You can view step by step of the technique on our advice page here.
4. Use a pair of snipe nose or flat nose jewellery pliers to twist open a jump ring and attach it to the loop of the feather charm pendant, attach the loop of the headpin and add the necklet chain before twisting closed to secure.
Your necklace is complete!
SUGGESTED TOOLS FOR THIS PROJECT
Flat nose pliers or snipe nose pliers
Or pack of pliers & side cutters which is an economical way of buying all the pliers you will need for every project!
CUSTOMISE YOUR KIT
Make the design your own by choosing your favourite jewellery supplies.
HELPFUL PAGES
How to open and close a jump ring
JEWELLERY MAKING BOOKS
'The Basics of Bead Stringing' by Debbie Kanan
'Beading Design' by Kim Glover
---
Kernowcraft's jewellery making kits are aimed to inspire you - therefore the step by step instructions are available online only with a shopping list, where you can easily customise the design to suit you. We recommend printing or bookmarking this page ready to follow.
The suggested products used in this project are suggestions to inspire you. Products used were compatible at the time of making but do be aware that gemstones are natural and hand cut stocks can vary, so do use your own common sense as to the compatibility of each item when making.
Your Shopping List
There are one or more items out of stock at present.