Sterling Silver Wire Scroll Earrings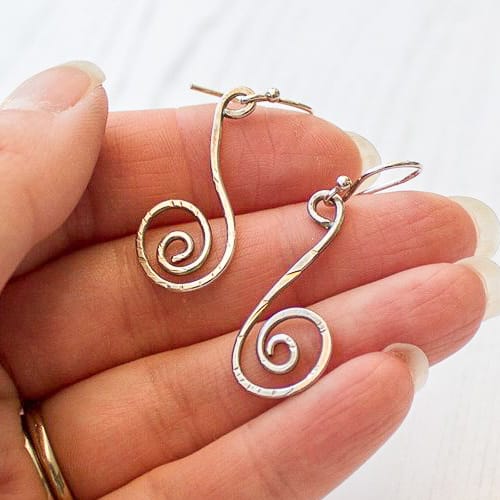 Our guest writer Alix Leeds from The Little Red Hen Jewellery shares one of her favourite designs - giving you the chance to try it out for yourself!
This is great for a beginner who hasn't done wire work before and to make it even easier to follow, you can read the full post here with images and top tips to follow along the way.
Step by step instructions
Measure 6cm of the silver wire, cut with pliers and then using your flat file, file a taper on one end about 10mm from the end of the wire.
Using your round nose pliers and create a small loop with the tapered end and turn once. Swap to your square nose pliers then gently grip the scroll and continue to turn until you have a scroll shape.
Gently bend the long end back on itself and using your round nosed pliers, make a small loop in the end.
Using a steel bench block and the flat face of a planishing hammer, hammer the wire to flatten the scroll. I like to angle the hammer to strike the wire with the side of the hammer, to create a texture which catches the light and really sparkles. Next, turn the scroll over and gently tap the reverse side to straighten the earrings.
Add some sterling silver ear hooks and give them a polish! I polish my silver earrings in a barrel polisher, but you can also polish them using a silver or jewellery polishing cloth.
The tools you may need for this
Customise Your Kit
Make the design your own by using your favourite jewellery supplies.
Helpful Pages
Wire working advice and tutorials
Suggested books
The Encyclopedia of Wire Jewellery Techniques - Sara Withers
---
Kernowcraft's jewellery making kits are aimed to inspire you - therefore the step by step instructions are available online only with a shopping list, where you can easily customise the design to suit you. We recommend printing or bookmarking this page ready to follow.
The suggested products used in this project are suggestions to inspire you. Products used were compatible at the time of making but do be aware that gemstones are natural and hand cut stocks can vary, so do use your own common sense as to the compatibility of each item when making.
Your Shopping List
You can buy all the products in this collection at once by clicking the button below or add individual products by clicking the button beside each one.