Christmas Berry Bracelet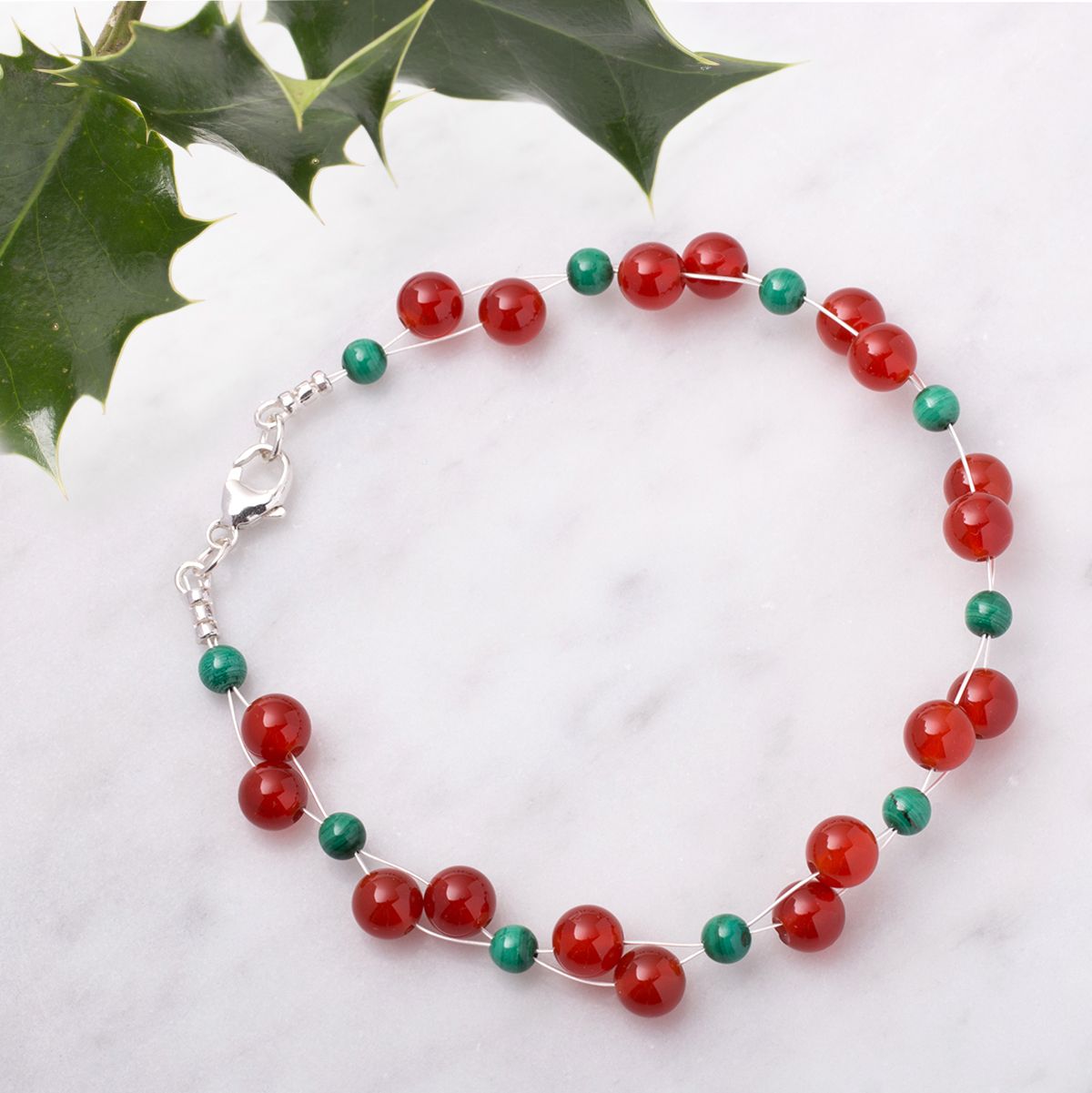 This simple carnelian Christmas berry bracelet is a modern, easy to achieve design, which would be a perfect gift for someone special.
If you like the design but fancy using alternative beads, browse our collection of gemstone beads here.
Remember to ensure your wire size is appropriate for the beads you are using and check your bracelet size before completing your bracelet. In this project we have used 0.35mm wire.
STEP BY STEP INSTRUCTIONS
1. Use side cutters to cut your desired length of Flex-rite wire. We have cut 30cm of wire x2.
2. Start by threading both pieces of wire through one green malachite bead. Leave approximately 1 cm of excess wire showing. A good tip here is to clamp the ends of the wires above the malachite bead with a clip or laundry peg to stop the beads coming off during threading.
3. Next, thread a carnelian bead to one wire and another to the other wire.
4. Hold the wire together and thread on a malachite bead, continue to add a carnelian bead to each single strand and then a malachite bead repeating this process until all 10 malachite beads have been thread on.
5. At this point, check the bracelet against your wrist for size allowing extra room for the crimp and clasp. If needed, use side cutters to shorten the length ensuring you allow room to attach the crimps.
4. At the end of the wire thread on the crimp with loop and squeeze gently with snipe or flat nose jewellery pliers.
5. Open a jump ring with snipe nose pliers and hook in the end of the crimp. Close the jump ring.
6. Add the other crimp with loop to the other end of the bracelet that had been held with the peg or clamp and squeeze gently with snipe or flat nose jewellery pliers.
7. Open a jump ring with snipe nose pliers and hook in the end of the crimp and the end of the clasp. Close the jump ring.
8. Fasten the bracelet and your design is complete!
RECOMMENDED TOOLS FOR THIS PROJECT
CUSTOMISE YOUR KIT
Make the design your own by using your favourite supplies.
HELPFUL PAGES
JEWELLERY MAKING BOOKS
The Encyclopedia of Wire Jewellery Techniques by Sara Withers
The Basics of Bead Stringing by Debbie Kanan
Beading Design by Kim Glover
---
Kernowcraft's jewellery making kits are aimed to inspire you - therefore the step by step instructions are available online only with a shopping list, where you can easily customise the design to suit you. We recommend printing or bookmarking this page ready to follow.
The suggested products used in this project are suggestions to inspire you. Products used were compatible at the time of making but do be aware that gemstones are natural and hand cut stocks can vary, so do use your own common sense as to the compatibility of each item when making.
Your Shopping List
You can buy all the products in this collection at once by clicking the button below or add individual products by clicking the button beside each one.