Stone Setting Tool Kit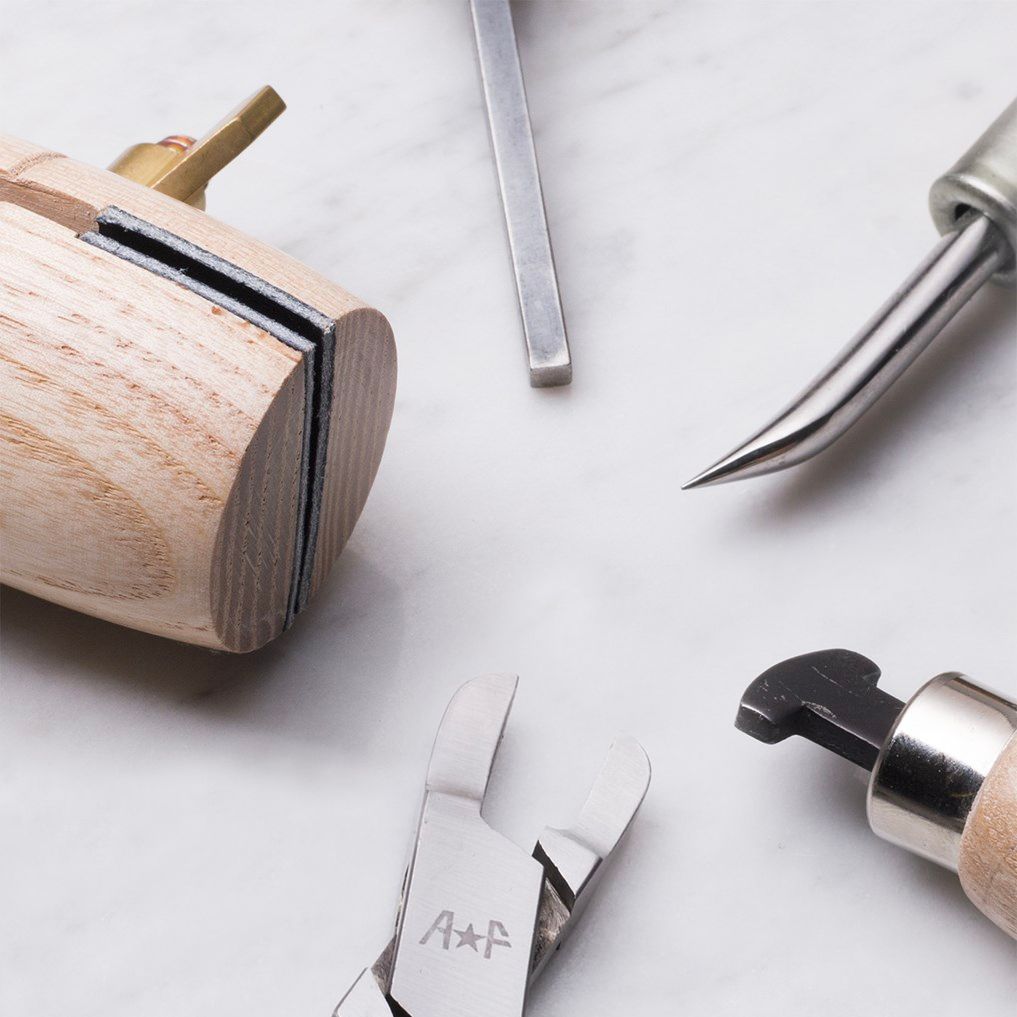 Discover our recommended tools for setting gemstones in your jewellery designs!
The Kit Features:
Bezel Rocker: A bezel rocker is used for creating a neat and even result when setting a stone with a bezel. Once the stone is in the bezel, simply use the bezel rocker to push the metal over the stone, working from all sides and gently rocking back and forth with downward pressure until the stone is nice and secure.
Pusher: Use a pusher for pushing claws and bezels over stones during the setting process. It has a square, metal rod that is slightly rounded on the corners and polished on the end to minimise any marks during setting.
Burnisher: A burnisher is used to create a high shine and a professional finish on your jewellery after the setting process. It can be rubbed over metal to smooth and shine as well as removing marks that have been caused by the setting process.
Ring Clamp: This is such an essential workshop tool! Use this ring clamp to set rings and other small pieces which are difficult to hold.
Stone Setting Pliers: The jaws on these clever pliers are shaped and grooved so that they fit over the prongs on a setting to provide a fast, safe and controlled way to tighten most claw type stone settings.
You can click on any of the products on the shopping list to find out more about the item.
---
Helpful links for beginners
Shop Gemstones: Don't forget to check out our vast range of cabochons and faceted stones so you can select your favourites to make into beautiful pieces of jewellery.
Stone Setting Advice Pages: If you're a complete beginner, we would recommend reading our stone setting tutorial pages. Filled with useful information about different settings as well as how to make your own.
Shop Ready Made Jewellery Settings: You can choose from our huge range of ring, earring, pendant, brooch, cufflink and bangle settings, available in sterling silver, 9ct gold, brass, silver plated and gold plated.
If you already have soldering skills, we have a great range of loose settings ready to solder onto your own design. Take a look at our selection of loose settings and mounts.
Jewellery Making Kits: Explore our range of jewellery making kits to inspire your designs. They all come with a handy one-click shopping list.
---
Our Jewellery Making Tool Kits showcase our top tools for various areas of jewellery making. They are aimed to inspire you, so you easily customise your tool kit to suit your needs and budget. Check out our jewellery making tutorials for free guides, browse our full selection of tools and if you have any further questions please get in touch.
Your Shopping List
You can buy all the products in this collection at once by clicking the button below or add individual products by clicking the button beside each one.