Wire Wrapping Tool Kit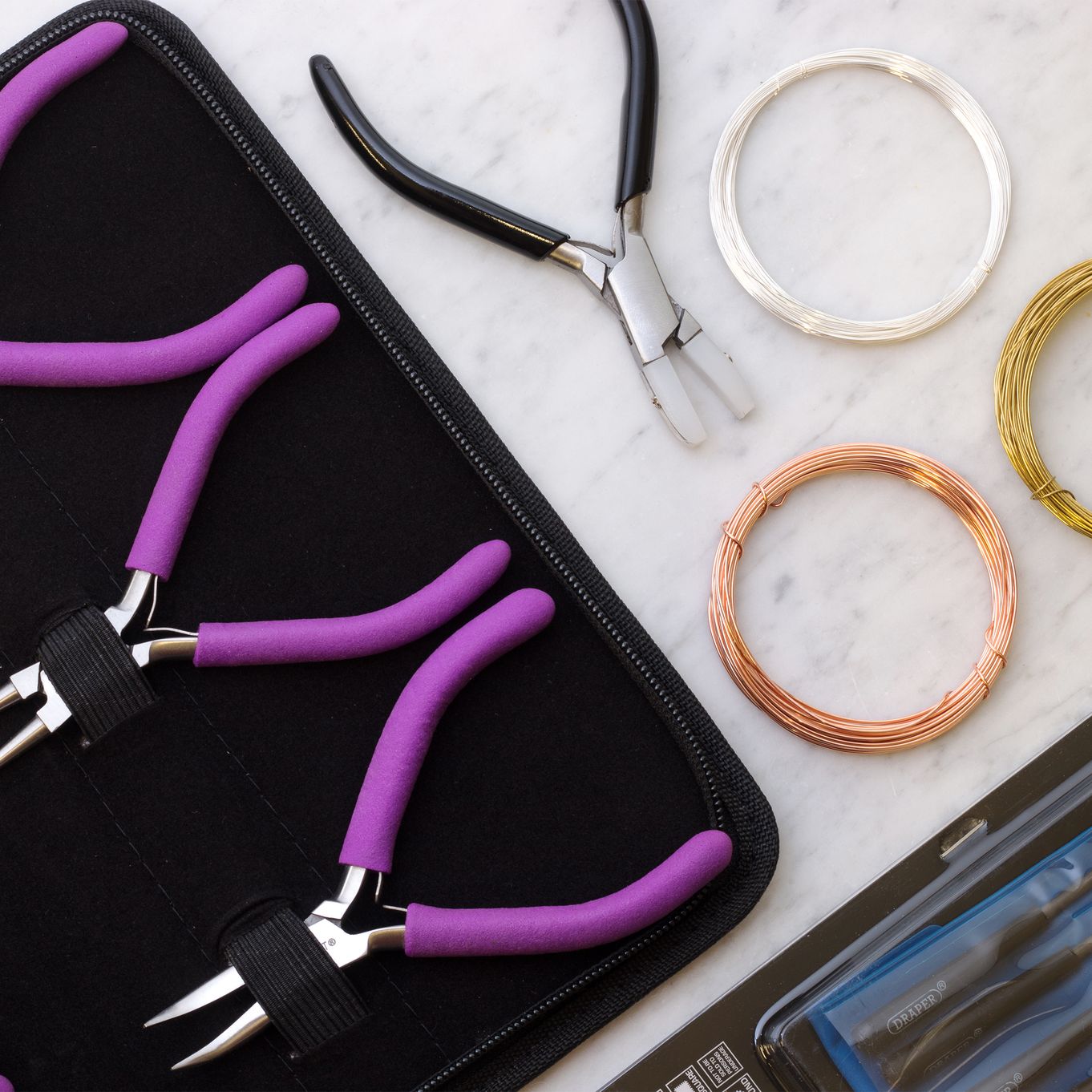 This tool kit is perfect for anyone wanting to try their hand at creating wire wrapped jewellery designs.
The kit contains a range of brass, copper and plated wire, needle files and all of the essential jewellery making pliers you will likely need to get started. Don't forget you can add individual products to your shopping basket!
This kit features:
Pack Of Jewellery Pliers & Side Cutters:

Side cutters for cutting and trimming wire, headpins, eyepins etc.
Round nose pliers for bending loops and curves in metal wire.
Snipe nose pliers for holding and bending metal wire.
Flat nose pliers for gripping wider surfaces and bending angles.
Nylon Jaw Flat Nose Pliers: Nylon jaw pliers will protect your wire from scratches, great for opening and closing jump rings, work hardening and straightening out your wire.
Wire Packs: Plus we've added brass, copper and silver-plated wire packs for experimenting and creating jewellery designs! These are great budget-friendly wires for practising before you move on to sterling silver and 9ct gold wire.
Needle File Pack: Needle files are great to have in your tool collection, especially for wirework where you can smoothen any sharp edges of your work.
Book: The Encyclopedia Of Wire Jewellery Techniques: We've also included the option to add this brilliant book to help you in your wire wrapping journey. Great for beginners right up to more advanced makers! Filled with lots of step by step techniques and easy to follow projects.
You can click on any of the products on the shopping list to find out more about the item.
Watch how simple it is to make wire wrapped earrings
Get all the supplies to this earring kit here
Find Inspiration
For more inspiration, take a look at our wire wrapping tutorials and jewellery making kits featuring lots of beginner friendly designs.
Don't forget to check out our wide range of beautiful gemstone beads to include in your designs too.
---
Our Jewellery Making Tool Kits showcase our top tools for various areas of jewellery making. They are aimed to inspire you, so you easily customise your tool kit to suit your needs and budget. Check out our jewellery making tutorials for free guides, browse our full selection of tools and if you have any further questions please get in touch.
Your Shopping List
You can buy all the products in this collection at once by clicking the button below or add individual products by clicking the button beside each one.