Onyx Bead Bar Necklace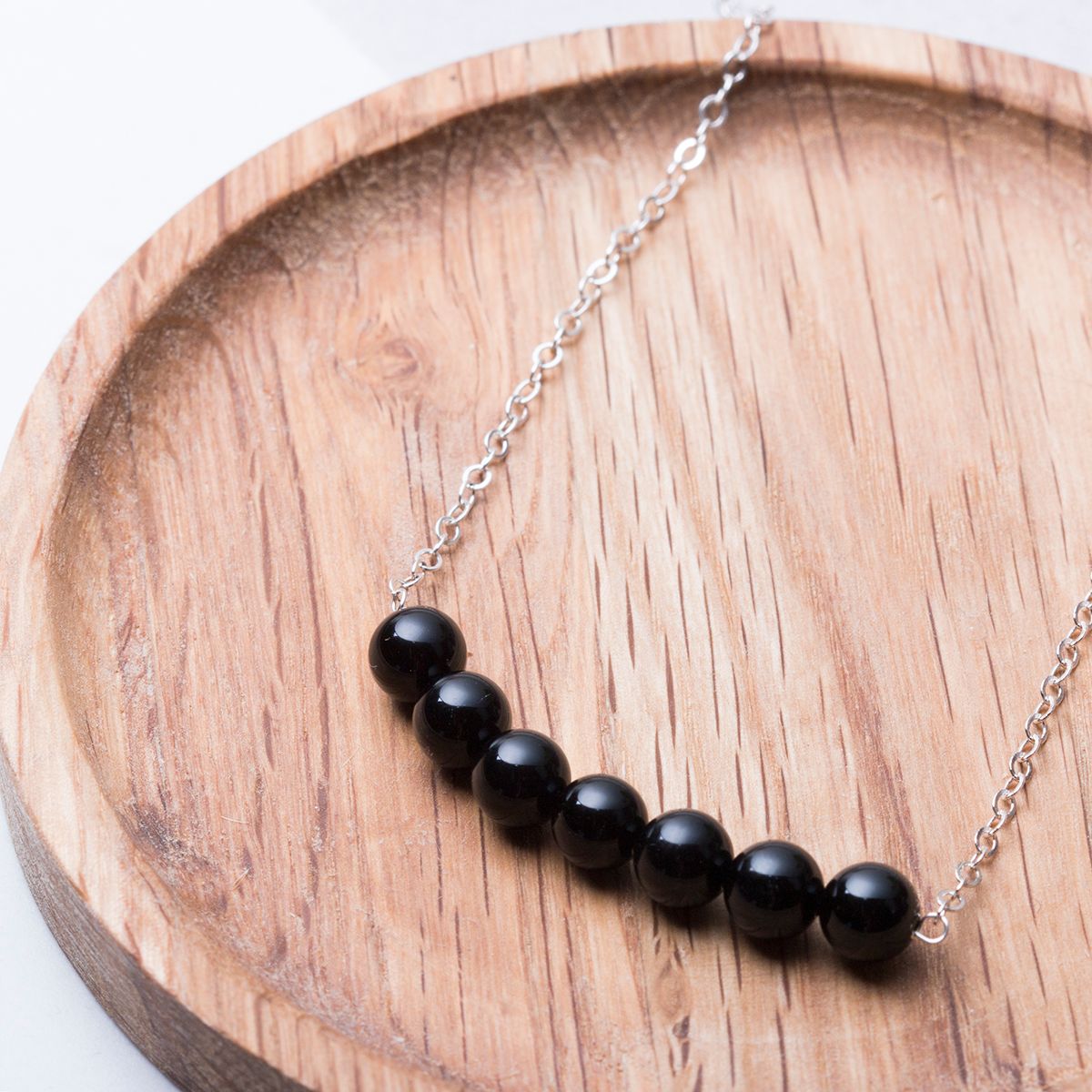 Onyx is such a popular gemstone so we've created this modern design which really shows off the beauty of this stone. The design is really easy and needs only some pliers and snips for the wire work - a great project to practice basic wire wrapping skills!
Remember to ensure your wire size is appropriate for the beads you are using. In this project, we have used 0.3mm wire.
STEP BY STEP INSTRUCTIONS
1. Firstly, find the half way point in your chain and cut it in half using side cutters.
2. Next, take about 10cm of 0.3mm round wire. You may wish to harden the wire a little before use as it is quite fine and flexible. An easy way to do this is to hold either end of the wire with snipe or flat nose pliers and twist gently in opposite directions, you will notice after twisting a few times the wire will feel a little stiffer.
3. Now use round nose pliers to form a loop about 2cm down from one end. Thread one end of the chain into the loop and then create a tight neat coil with the wire by wrapping the shorter end around itself. For a detailed step by step instruction including clear photographs to help you learn the technique click here.
4. Next, start to thread the beads onto the wire. You can decide on the length of the bar that you want for your design, you can either use the full amount of beads or a shorter length which would leave you some spare beads that you could make into some complimentary earrings or perhaps a bracelet (this project also has more wire than you need for just this necklace design, so you will have some spare to create other designs with).
5. After threading on your onyx beads, leave enough wire on the other end (about 2cm) to complete the necklace by using the same wire wrapping technique to attach the wire onto the other side of the chain and wrap around the wire neatly to secure.
Your necklace is now finished!
Watch our video tutorial on how to create a bead bar necklace below
SUGGESTED TOOLS FOR THIS PROJECT
Snipe nose pliers or flat nose pliers
You may like to get our pack of pliers & side cutters which is an economical way of buying all the pliers you will need for every project!
CUSTOMISE YOUR KIT
Make the design your own by using your favourite jewellery supplies.
---
Kernowcraft's jewellery making kits are aimed to inspire you - therefore the step by step instructions are available online only with a shopping list, where you can easily customise the design to suit you. We recommend printing or bookmarking this page ready to follow.
The suggested products used in this project are suggestions to inspire you. Products used were compatible at the time of making but do be aware that gemstones are natural and hand cut stocks can vary, so do use your own common sense as to the compatibility of each item when making.
Your Shopping List
You can buy all the products in this collection at once by clicking the button below or add individual products by clicking the button beside each one.