Mother & Child Birthstone Ring: Garnet & Opal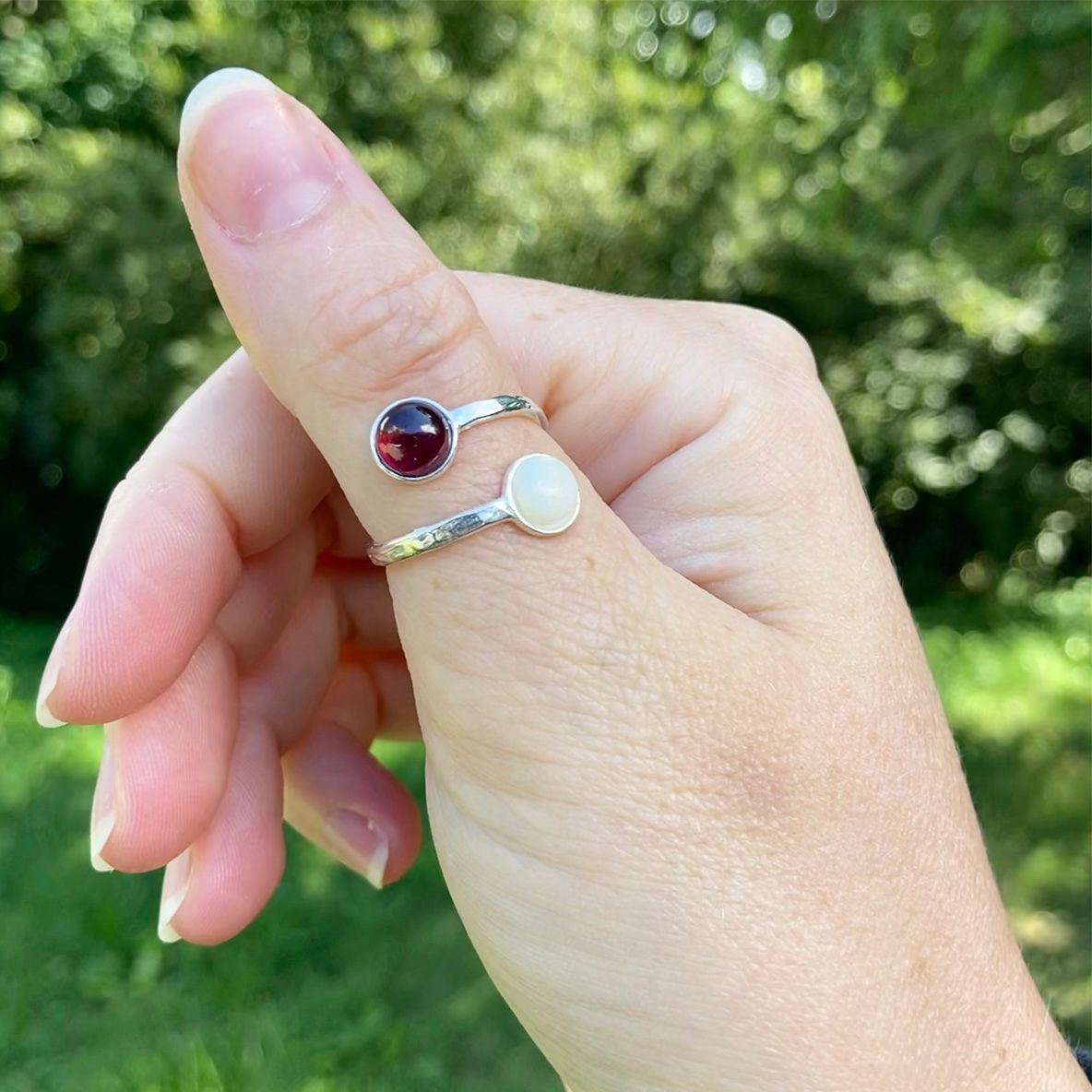 The connection between a mother and child is like no other. This year why not make your mum a unique, simple and striking ring that represents the bond you have by incorporating both of your birthstones. This is also a fun project to combine with you and a friend's birthstone for a sentimental gift idea for a birthday or special occasion.
This Mother and Child birthstone ring is an adjustable style so there is no need to worry about finding out a size!
The ring setting used to make this ring takes two 6mm round cabochon gemstones, we have used garnet which is the birthstone of January and an opal, the birthstone of October.
To find out what your birthstones are, Shop By Birthstone here - you can click on each month to see all the products we provide in that particular gemstone.
Step By Step Instructions
1. Choose your two desired 6mm round gemstone cabochons.
2. You may find it easier to hold the ring band in a vice or a clamp to keep it still and leave both of your hands free to apply the glue and gemstones neatly.
3. Firstly make sure the flat base of your cabochon gemstone is nice and clean. Take the ring and make sure that the flat plates are also nice and clean, apply a small amount of Devcon 5 Minute Epoxy Glue onto one of the flat plates of the ring, then place your first stone onto one of the plates making sure is nice and central.
Apply a little pressure to make sure the glue has coated the bottom of the stone and leave it in place until it feels secure. Wipe off any excess glue that may have spilt out with a damp cloth before it dries.
6. Repeat this again for the second gemstone onto the other flat plate then leave this to fully dry before wrapping it up nicely ready for your mum.
CUSTOMISE YOUR KIT
Make the design your own by using other gemstone cabochons or another ring setting.
HELPFUL PAGES
How to use Devcon Epoxy Glue for jewellery making
---
Kernowcraft's jewellery making kits are aimed to inspire you - therefore the step by step instructions are available online only with a shopping list, where you can easily customise the design to suit you. We recommend printing or bookmarking this page ready to follow.
The suggested products used in this project are suggestions to inspire you. Products used were compatible at the time of making but do be aware that gemstones are natural and hand cut stocks can vary, so do use your own common sense as to the compatibility of each item when making.
Your Shopping List
There are one or more items out of stock at present.