Black Diamond Bracelet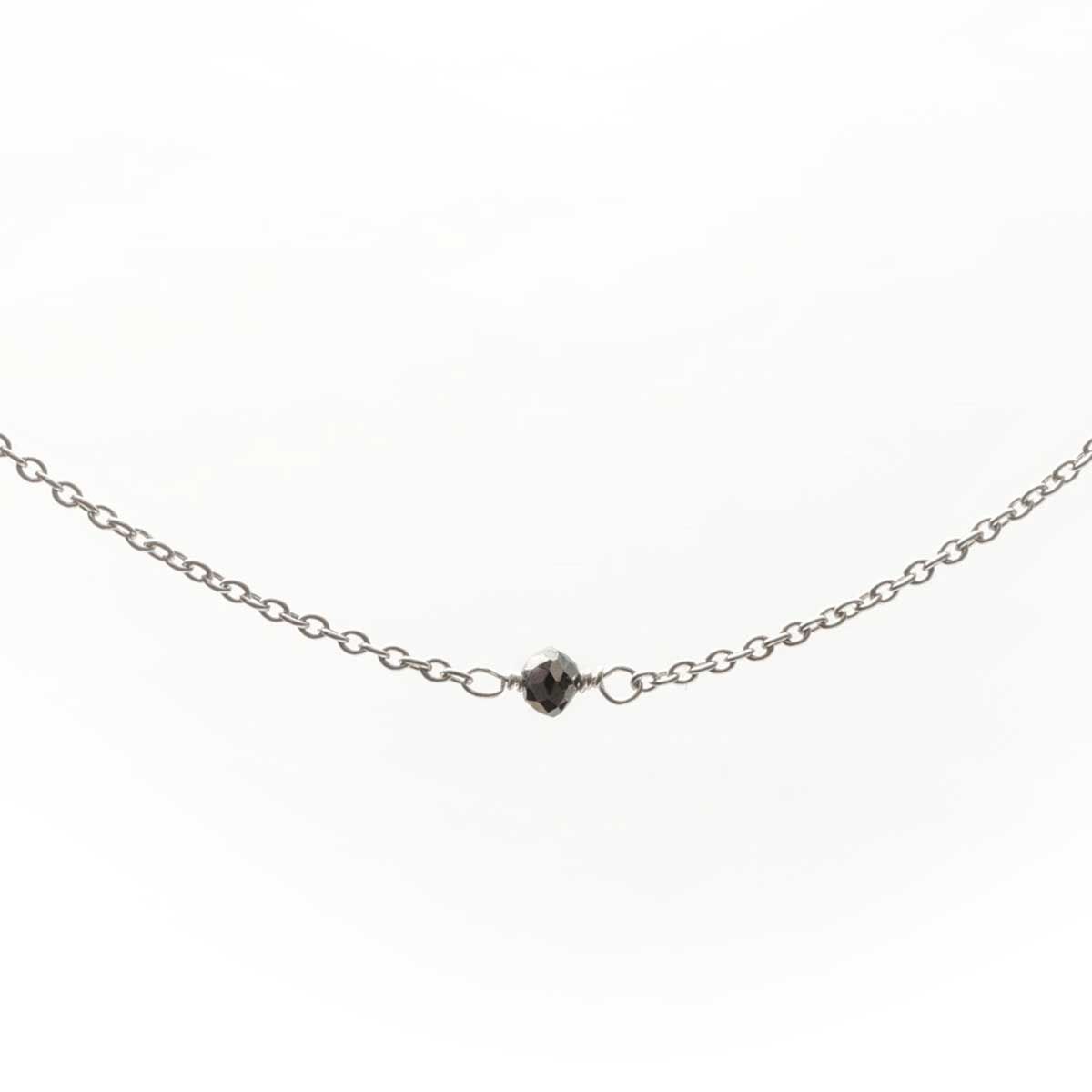 A minimalistic design using a stunning diamond. This tutorial can be used for both a bracelet, necklace or choker to create a beautiful result and is a great way to practice wire-work.
In this particular design we used the largest of our black diamond faceted rondelle beads but you can use any size you like.
Step By Step Instructions
Begin by cutting your chosen chain in half by using side cutters. Ensure that the chain is cut exactly at the half way point from the chain's clasp.
Using 0.2mm wire, cut a 5cm piece and use your round nose pliers to carefully bend the wire around them to form a loop.
Slip one side of the chain onto the wire, making sure that it is the end link and that it sits within the loop of wire.
Next wrap the short end of wire you used making the loop around the longer side. Continue doing so until you form a spiral around your loop. Use snips to cut off any remaining wire and tuck it in so it won't catch.
Now you can thread your diamond bead onto the wire.
Grab your round nose pliers to then create another loop at the other end of the 5cm piece of wire.
Slip the other end of the chain onto the wire and within the loop.
Repeat the process of wrapping the wire around the loop and cut off any access wire.
Tip: If you'd like an antiqued look, use liver of sulphur on your chain.
Recommended Tools For This Project
You may like to get our pack of pliers & side cutters which is an economical way of buying all the pliers you will need for every project!
Customise Your Kit
Make the design your own by using other supplies.
Helpful Pages
Jewellery Making Books
'The Encyclopedia Of Wire Jewellery Techniques' - Sara Withers
---
Kernowcraft's jewellery making kits are aimed to inspire you - therefore the step by step instructions are available online only with a shopping list, where you can easily customise the design to suit you. We recommend printing or bookmarking this page ready to follow.
The suggested products used in this project are suggestions to inspire you. Products used were compatible at the time of making but do be aware that gemstones are natural and hand cut stocks can vary, so do use your own common sense as to the compatibility of each item when making.
Your Shopping List
You can buy all the products in this collection at once by clicking the button below or add individual products by clicking the button beside each one.