Amethyst Teardrop Necklace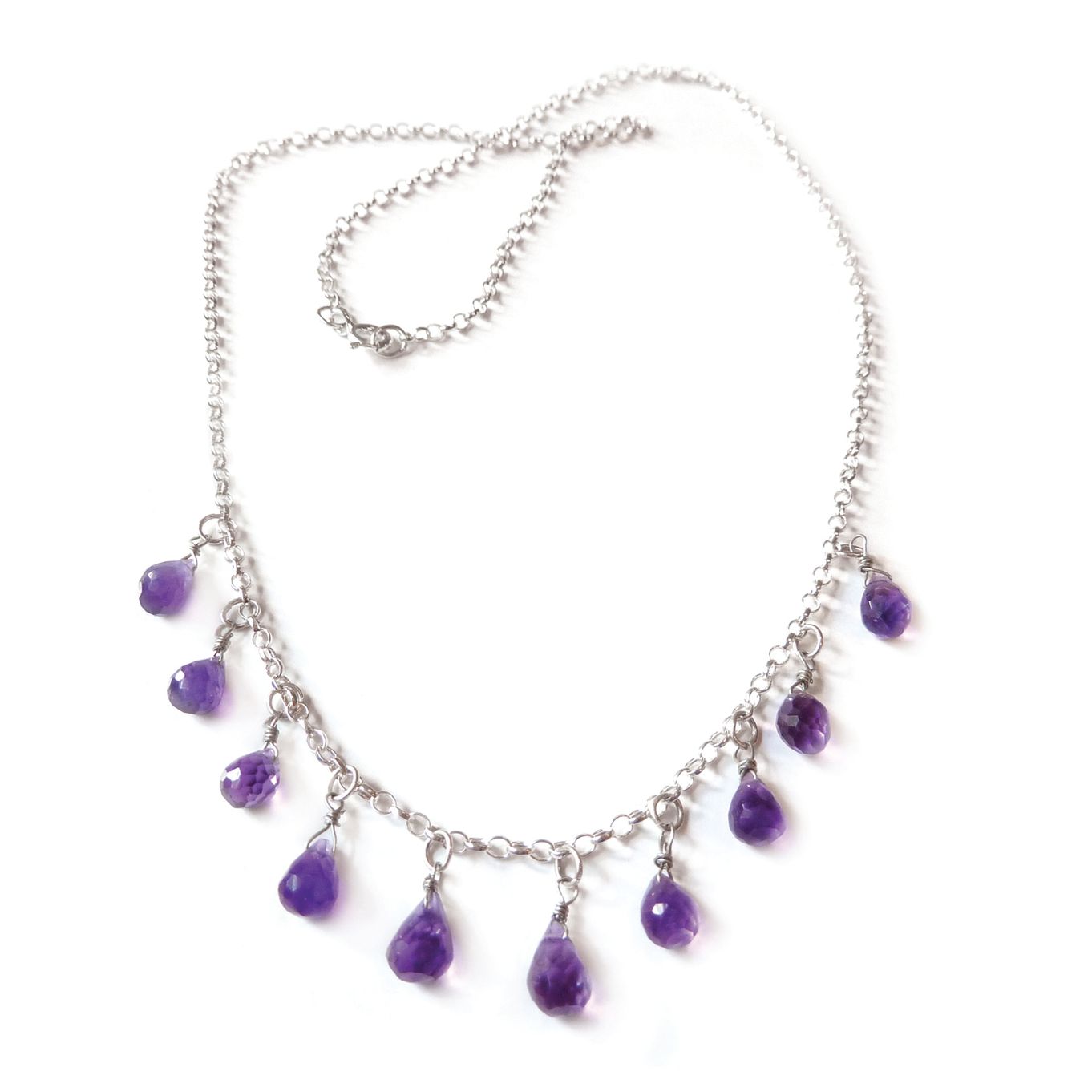 This amethyst teardrop necklace is so pretty! The design really showcases the pretty shade of the purple amethyst briolettes and their facets which glisten in the light beautifully.
To make this necklace you get to try a new technique of wire wrapping briolettes, an invaluable skill you will use again and again!
Are you thinking of making this as a gift? Why not add a presentation box or gift bag to your order.
Step by step instructions
Start by using side cutters to cut the 0.3mm wire to 6cm lengths.
Wrap your briolettes with your 0.3mm sterling silver wire, using the side cutters and round nose pliers.
To learn how to wrap briolettes, click here.
Now you are ready to attach your briolettes to your chain with the 5mm sterling silver jump rings.
In order to get as even length as possible between each briolette, start by attaching the briolettes from the bottom of the chain then working your way up.
As you have an even number of briolettes attach one to the left and one to the right of the longest part of the chain then work up attaching five to the left and five to the right of the longest part of the chain until they are all attached.
Use flat nose or snipe nose pliers to open and close your 5mm sterling silver jump rings.
For tips on opening and closing jump rings neatly click here.
There you have it, a beautiful handmade necklace ideal for a unique present that no-one else will have.
Suggested tools for this project
Side Cutters - an essential and affordable tool for cutting and trimming precious metal wire, headpins, eye pins etc.
Round nose pliers - for wire wrapping
Flat nose jewellery pliers or snipe nose jewellery pliers - for opening & closing jump rings
Or pack of pliers & side cutters which is an economical way of buying all the pliers you will need for every project!
Customise Your Kit
Make the design your own by using your favourite jewellery supplies.
Helpful Pages
How to wire wrap a briolette bead
How to open and close a jump ring
Jewellery Making Books
'The Basics of Bead Stringing' by Debbie Kanan
'Beading Design' by Kim Glover
---
Kernowcraft's jewellery making kits are aimed to inspire you - therefore the step by step instructions are available online only with a shopping list, where you can easily customise the design to suit you. We recommend printing or bookmarking this page ready to follow.
The suggested products used in this project are suggestions to inspire you. Products used were compatible at the time of making but do be aware that gemstones are natural and hand cut stocks can vary, so do use your own common sense as to the compatibility of each item when making.
Your Shopping List
You can buy all the products in this collection at once by clicking the button below or add individual products by clicking the button beside each one.