Pink Amethyst Briolette Necklace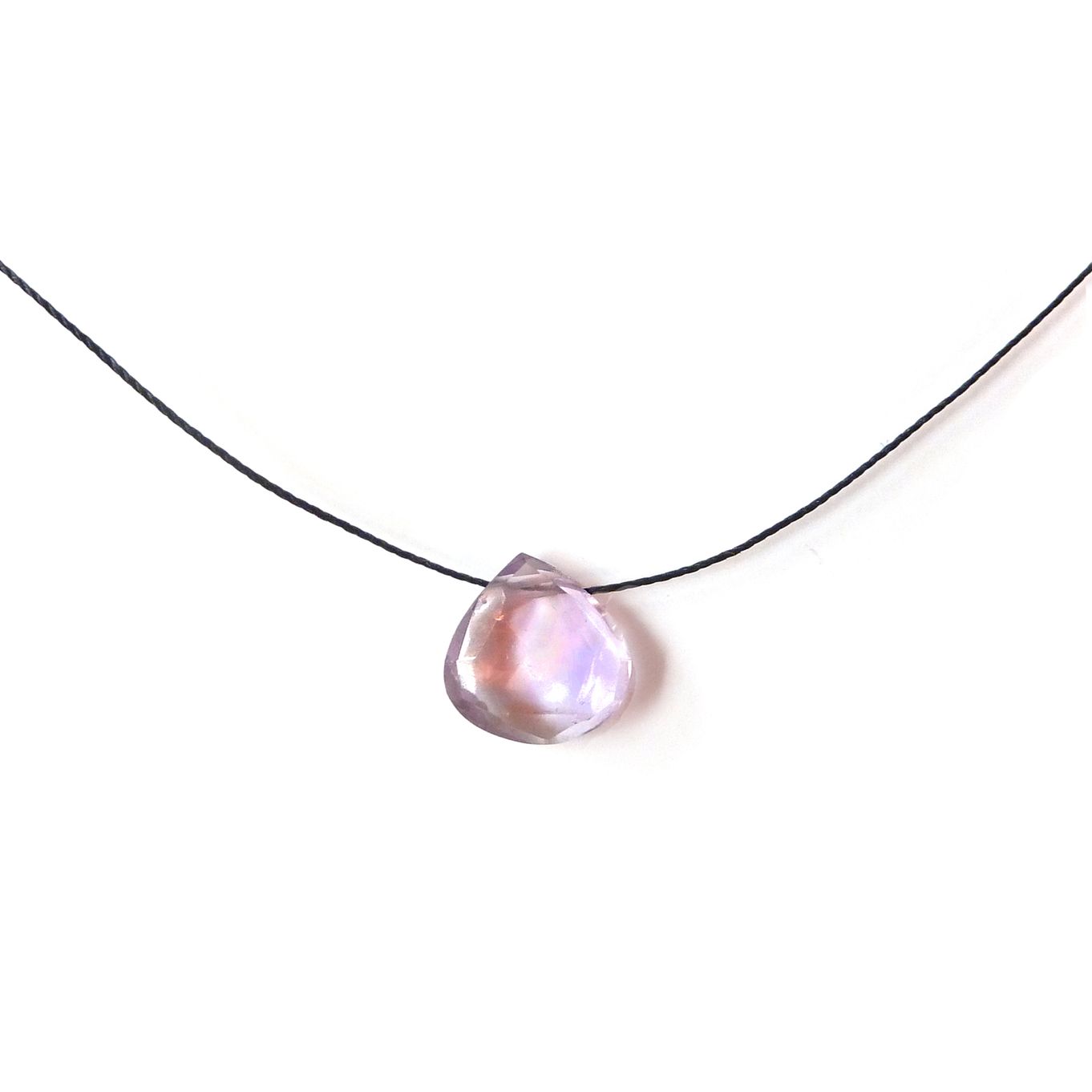 We love the contrast of this design with its black thread and pretty pink briolette. However, both components come in various colours, so if you don't quite like these colours, you can choose others.
Are you thinking of making this as a gift? Why not add a presentation box or gift bag to your order.
Step by step instructions
Start by deciding the length you want your necklace.
Using side cutters, cut the silkon thread to very slightly longer than the desired length, this will give you extra for doubling back the thread and crimping while maintaining the desire finished length
Thread one end of the silkon through a 2x2mm crimp, the thread protector and the ring of a bolt ring before threading back through the crimp.
Use snipe nose pliers to flatten the crimp or for a neater finish use magical crimping pliers to gently squeeze both sides of the crimp together (this will create a little round bead instead of a flat crimp).
Thread on the briolette bead.
Now take the other end of the thread and add a 2x2mm crimp, the thread protector and a split ring before threading back through the crimp as before and crimping closed with your chosen pliers.
Your necklace is now complete!
To choose a briolette of your choice from our large range of semi-precious gemstone briolettes click here.
Suggested tools for this project
Magical crimping pliers - fantastic pliers which quickly transform 2x2mm sterling silver crimps into little round beads
Or Pack of Pliers & Side Cutters which is an economical way of buying all the pliers you will need for every project.
CUSTOMISE YOUR KIT
Make the design your own by choosing your favourite briolette bead to use.
Jewellery Making Books
'The Encyclopedia of Wire Jewellery Techniques' by Sara Withers
'The Basics of Bead Stringing' by Debbie Kanan
'Beading Design' by Kim Glover
---
Kernowcraft's jewellery making kits are aimed to inspire you - therefore the step by step instructions are available online only with a shopping list, where you can easily customise the design to suit you. We recommend printing or bookmarking this page ready to follow.
The suggested products used in this project are suggestions to inspire you. Products used were compatible at the time of making but do be aware that gemstones are natural and hand cut stocks can vary, so do use your own common sense as to the compatibility of each item when making.
Your Shopping List
You can buy all the products in this collection at once by clicking the button below or add individual products by clicking the button beside each one.