Aquamarine and Geo Charm Earrings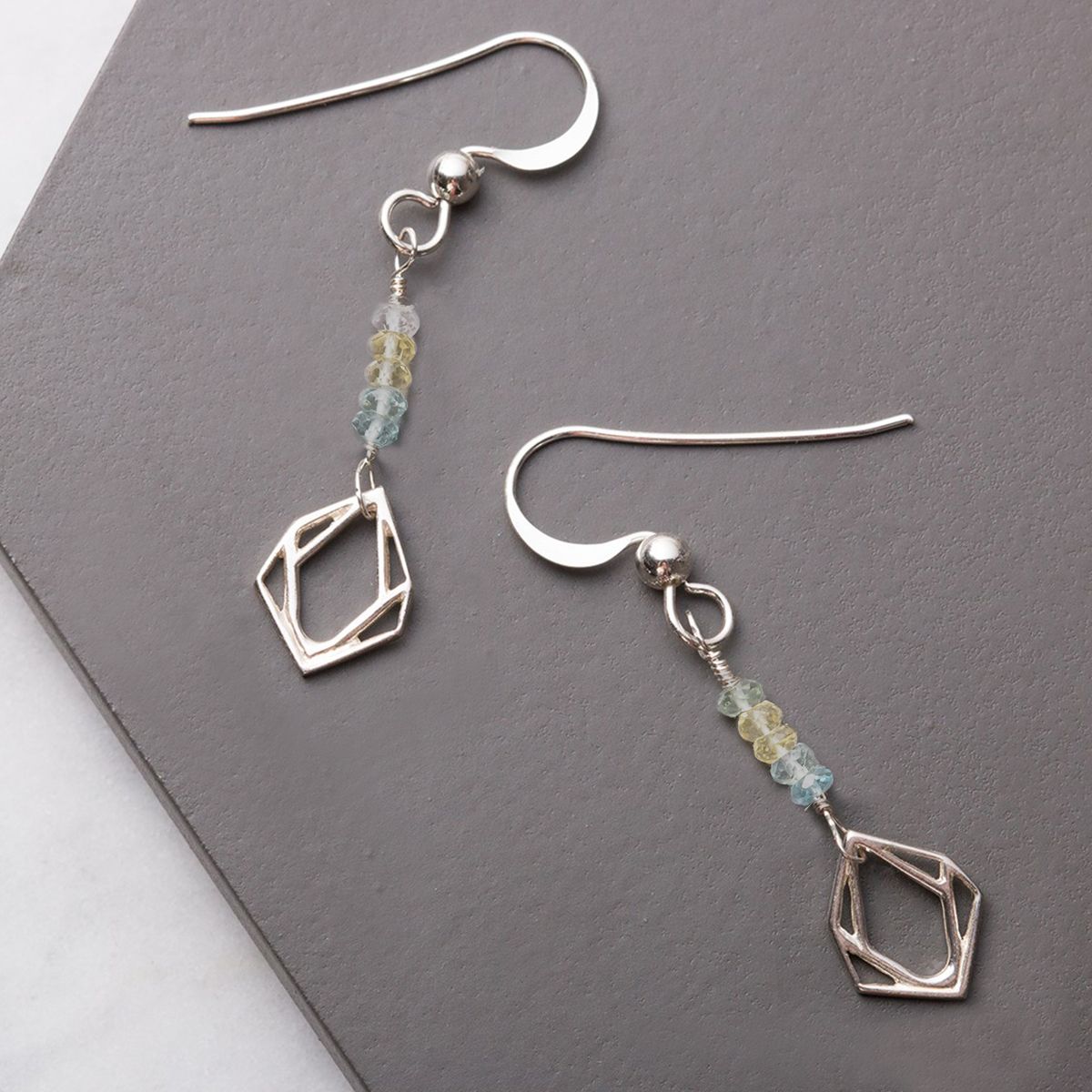 These beautiful charm and bead earrings are perfect if you want an on trend and colourful design. This design is a great choice for a fashion follower or why not customise the look with different charms of your choice?
Please note that no longer stock the larger size of these beads pictured in the photo - the beads listed in this kit measure approximately 2.5x1.5mm.
Step By Step Instructions
You can see the technique used to wire wrap a bead in step by step photos here.
To start, create the wire wrapped beads and charms.
Simply cut a length of wire about 15cm long and form a loop with round nose pliers.
Twist the wire around to form a loop and catch in the loop at the base of the ear wire. Fix the loop in place using the technique shown here, you will need to snip off any excess wire with side cutters and squeeze the end of the wire for a neat finish.
Thread the 5 of the beads onto the wire in the order of your choice and start to form another loop.
Now it's time to add your charm before you secure the loop.
Wrap the wire around the loop to secure it in place, and again trim any excess wire. You can see the technique used in step by step photographs here.
Repeat this process for the second earring.
*Please note that due to current stock, we have added slightly different earwires to those featured in the photo to the shopping list.
Tools You May Need
Snipe nose pliers or flat nose pliers
You may like to get our pack of pliers & side cutters which is an economical way of buying all the pliers you will need for every project!
Customise Your Kit
Helpful Pages
Read our wire wrapping advice pages with tutorials
Jewellery Making Books
The Basics of Bead Stringing by Debbie Kanan
Beading Design by Kim Glover
---
Kernowcraft's jewellery making kits are aimed to inspire you - therefore the step by step instructions are available online only with a shopping list, where you can easily customise the design to suit you. We recommend printing or bookmarking this page ready to follow.
The suggested products used in this project are suggestions to inspire you. Products used were compatible at the time of making but do be aware that gemstones are natural and hand cut stocks can vary, so do use your own common sense as to the compatibility of each item when making.
Your Shopping List
You can buy all the products in this collection at once by clicking the button below or add individual products by clicking the button beside each one.