Intermediate Jewellery Making Leisure Course: My Experience
Hi, I'm Sarah, the product photographer here at Kernowcraft. I love jewellery making and in 2005 I completed a one year silversmithing and jewellery making course at Truro college. My focus soon changed as my first child was born in 2006 and the jewellery making was put on hold. Working at Kernowcraft with amazing jewellers and being surrounded by beautiful gems and crystals, I decided it was time to give it another go.
I enrolled on a 10 week beginners and intermediate jewellery class at Truro College that started at the beginning of January and as a surprise Christmas present my husband bought me a jewellers workbench from Kernowcraft. I was all set and couldn't wait to get started. I already had all of the tools but you don't need any of your own as the college supply everything.
The 10 week evening class from 6.30pm to 9pm was just right for me but there are many part time courses at Truro College, Cornwall College and small independents here in Cornwall if you look around.
Weeks 1 & 2: Rings
I arrived at the class and was greeted by our tutor Emma. There were about 12 people and everyone was chatty and friendly.
The class I booked also caters to complete beginners with the main emphasis on beginners and intermediates to work on their own projects but dip in and out of demonstrations if they want to. I opted for both choices as I wanted to refresh my basic skills and try some new things such as making a cabochon setting. I decided I'd watch all of the demonstrations and then opt in or out of the making if I wanted to work on something else.
Emma began with health and safety and a tour of the room and tools and then we moved swiftly on to making a ring.
We were shown how to texture our silver with different hammers. Some people chose to use a ball pein hammer which gives nice round circles of texture. I chose to use a cross pein hammer as I wanted textured lines.
We measured our ring sizes and then worked out the length of silver required using a formula provided.
I had my measurement but my silver wasn't flat so I used a rawhide hammer to flatten it. I didn't want to lose the texture or leave further hammer marks so this worked perfectly.
I drew a line at a right angle on the end of my silver and began to cut the rough end off. Emma showed the beginners how to put the blade into the saw and lubricate the blade with wax. Here at Kernowcraft we use bees wax. You can see a tutorial here of how to use a jewellers piercing saw.
After measuring my length of silver I repeated the sawing at the other end.
Weeks 1 & 2: finishing my ring & creating a sea glass bezel setting
My silver was very hard at this point so I annealed it by heating it up with the gas torch and then quenched it in water and put it in the pickle pot for 5 minutes to clean it. Once clean I used half round, half flat pliers to bend the ends in and create a tight join. At this point I applied flux to the join and added my solder pallions to the top so that when heated, the solder would flow down and seal the join. I heated the whole ring with the flame and then quenched in water and put it into the pickle pot to clean.
I looked at the clock and the time was 8.45pm already! Time to tidy up. The time had flown by and we'd all had a great evening.
Week 2 - The plan for tonight was to finish our rings. My ring needed to be shaped so I placed it on the ring triblet and began to hammer it round with the rawhide hammer. Every few hits I'd take the ring off and flip it over to ensure it would be even all around. Once it was round, neat and the correct size that I'd measured at the start I used a fine file to file over the solder join and remove any excess solder. I used sanding sheets to smooth both sides of the ring and then worked through my emery papers from medium to fine to remove marks and rough areas. The inside edge of the ring was still sharp so I used the round side of a file to take off the inside edge and then used the emery papers again.
My ring was almost finished and went into the barrelling machine to be polished.
At this point, I decided to make a start on something that I'd wanted to try. I've seen lots of sea glass jewellery around and as we sell fine silver bezel strip at Kernowcraft I thought I'd make a backless bezel setting. I followed the instructions on a tutorial we have how to make a sea glass backless bezel setting and was pleased with the results. I think I picked a tricky-shaped piece of glass as a first attempt and look forward to trying out more.
Week 3: Jump rings
I couldn't believe how quick and easy it was to make jump rings!
We simply wrapped the wire around a shape to make a coil, masking taped the coil tightly together and then simply sawed down from top to bottom. I then used snipe nose pliers to open and close them. I soldered a few together closed for future projects and then began making jump ring chains. There are so many things you can make with jump rings. Emma gave us further information sheets and showed us how to change shapes, create chains and transform them.
Week 4: Bangles
In week 4, we were shown how to make bangles. The process was the same as making a ring, but bigger. 21cm is the standard size for a bangle and 19cm is small. If you want to twist your wire in the mill it is best to go for 25cm. I decided I wanted to match my bangle to the ring I made in the first 2 weeks so followed the same hammered lines texture and used 2mm wire. Making the bangle was quite fast so I decided to add some details. I drew a heart onto a piece of 0.3mm silver and used the piercing saw to cut it out. Next I filed the edges and smoothed them with sanding sheets.
I used a Dremel drill to create a small hole in the top corner. I liked the idea of putting my children's initials on the heart. I placed the heart on a steel block and selected the letters I needed and positioned the first stamp in place. Using a flat round head hammer I gave it one hit and the letter embossed. I continued to stamp the required letters. Next, I threaded one of the small jump rings I made through the hole and used snipe nose pliers to close it. I cleaned the area to be soldered with the flux and positioned the solder on top. It was very fiddly to keep the jump ring in one place and not touch the heart or bangle. I then used a large jump ring to join the bangle and small jump ring together. Once soldered, the whole bracelet went into the pickle to be cleaned.
Once clean I then filed any excess solder off and any edges that still needed it and then the bracelet went into the polisher.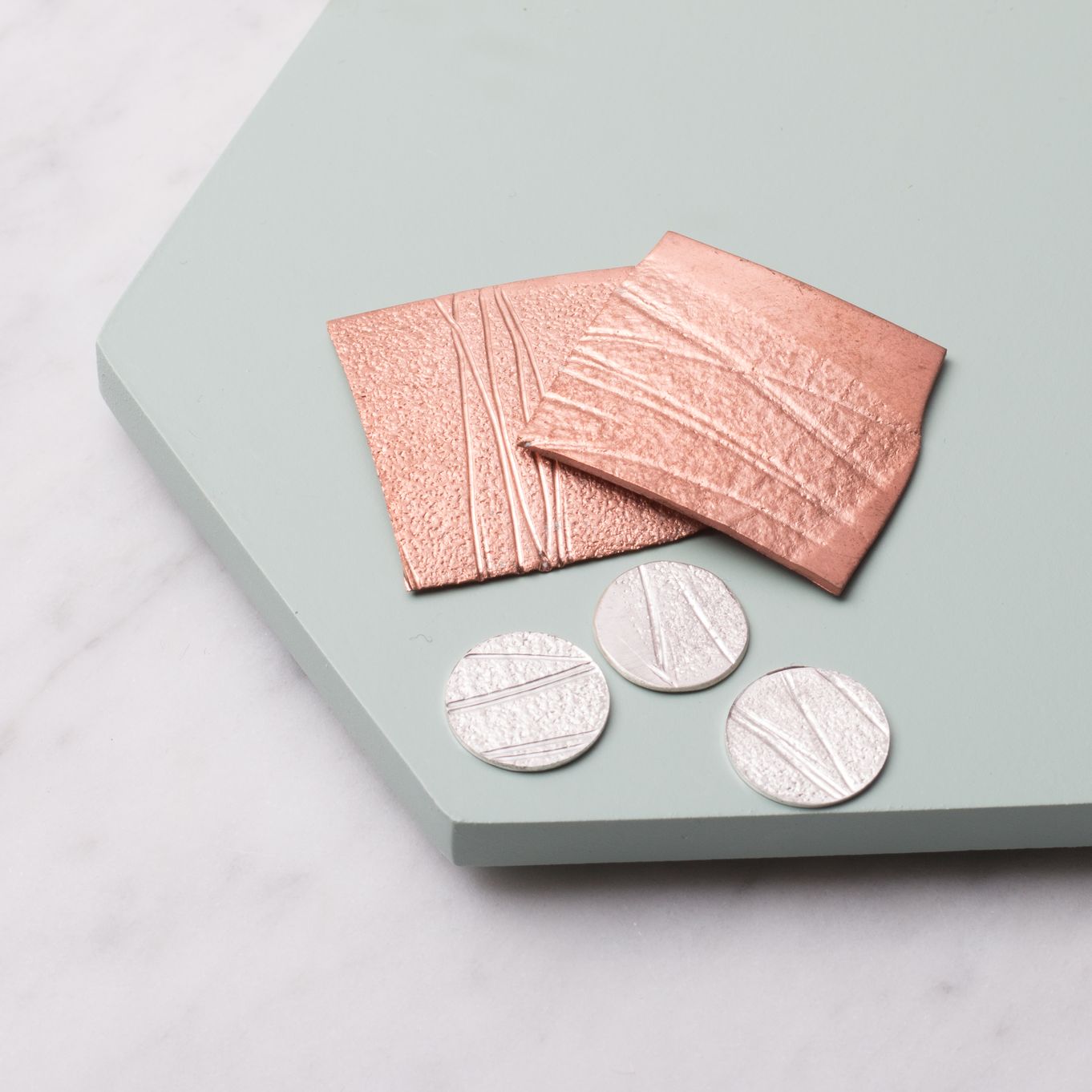 Week 5: Texture
I love texture and enjoy transferring my ideas onto a surface. During this lesson we learnt how to use the rolling mill to create our textures and then how to cut out circles with the disc cutter.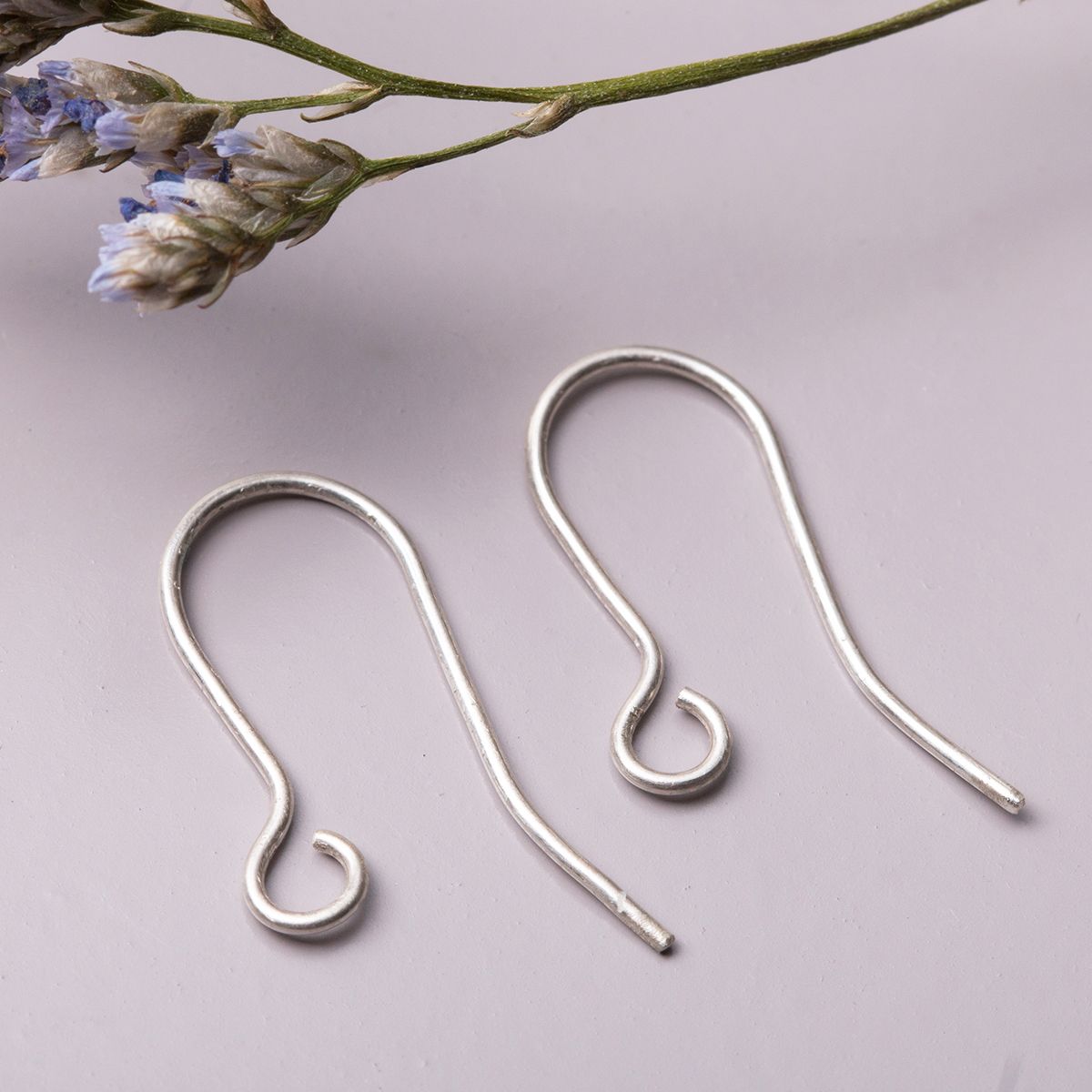 Week 6: Earwires & beads
Something I really wanted to try was making earwires. During this lesson we learnt how to make various earwires and studs. We were also shown how to turn our textured circles from the week before into domes and beads. The beads looked amazing but I didn't get to try to make one as I had to leave early.
Week 7: Granulation, Reticulation & Oxidization
Reticulation involves annealing and pickling sterling silver 11 times to make a textured surface. Emma showed us silver that had gone through this process and did the last few steps of the 11 times. Oxidization involves using a patination fluid to create darker parts in sections of the silver. We have liver of sulphur available to purchase at Kernowcraft that gives this effect. My favourite process shown this evening was granulation. This involves melting the silver into small balls that can then be applied to other pieces.
Week 8: Enamelling
Enamelling involves melting ground glass onto silver in a kiln. The glass fuses at 750 to 800 degrees. Emma used an enamelling solder to solder the post onto the back of an earring stud. The stud needs to be pickled and then cleaned with pumice. Next, I positioned the stud on a gauze or trivet and sprinkle on the enamel powder. Using the tongs, I put the gauze into the kiln for a short time for the powder to melt. When you take the piece out of the kiln it will be dark but the colour appears once cooled.
Weeks 9 & 10
For the last 2 weeks of the course we were able to concentrate on our own projects. I was on a mission to make a silver ring for the watermelon cabochon I purchased from Kernowcraft. There are many beautiful limited edition stones and I'm lucky enough to photograph them. I often end up buying one which was the main reason that I wanted to learn how to make a setting for them. I also purchased a New Lander turquoise cabochon and plan to make a necklace with this.
Time to get started. First, I made my ring using the method shown in weeks 1 and 2. I used D shape wire from Kernowcraft and was really please with how it looked. Next, I wrapped my fine silver bezel stripe around the cabochon and marked the join. I used the piercing saw to cut the strip and filed the edge gently. I then soldered the join and put it in the pickle to clean it. I put it over the stone to check the fit was ok. Once happy with the shape and fit I placed it onto a small piece of silver sheet and drew around the shape. Soldering the strip to the silver was tricky. I watched a few tutorials and noticed the solder pallions were placed on the inside of the join. During my first attempt to solder, my bezel strip moved so during the second attempt I gently held it in position with the reverse action tweezers at times. It worked and had sealed around the whole oval. Once pickled I used the saw to cut around the bezel leaving just a few mm's to be filled down. Filing the edge was satisfying as I was pleased I'd got this far. I had to be careful to not file too much away. Once I was happy with the filing it was time to solder it to the ring. This was the hardest part and it is a little wonky. Again, back in the pickle and then time to polish with sanding sheets and then polishing papers. I find the polishing takes a while and I must admit, I've still got to finish this part. As soon as I have I can pop the stone in and gently push the edges of the bezel strip over the stone with the bezel rocker. It's been a great learning experience and I can't wait to wear my finished ring.
Summary
I would 100% recommend this 10 week jewellery course to any beginner or intermediate jewellery maker. Emma is a great tutor and fitted so many different techniques into the course. There were many different abilities in the class and she was able to help everyone achieve what they wanted from the course. I tried so many things and came away with a collection of made items. I gave the first ring I made to my mum for Mother's Day and she was delighted and hasn't taken it off. The piece I'm most proud of is my silver ring with the watermelon cabochon. I really wanted to learn how to make a setting and with the help of Emma and other people in the class, I achieved this. It was hard work but where there's a will there's a way.
---
Discover our recommended jewellery making tool kits for starting out in the exciting world of jewellery making. We have carefully chosen our most useful tools and essentials for different areas of making jewellery.
Whether you want a kit to supply you with the tools you need for beading and wire work to soldering and precious metal clay, we have a tool kit for you.
The bonus of our Kernowcraft 'Build a Tool Kit' range is that you can choose whether to buy the full selection of products or customise it to suit your needs or budget.