Magenta Pink Chalcedony Briolette Silkon Thread Necklace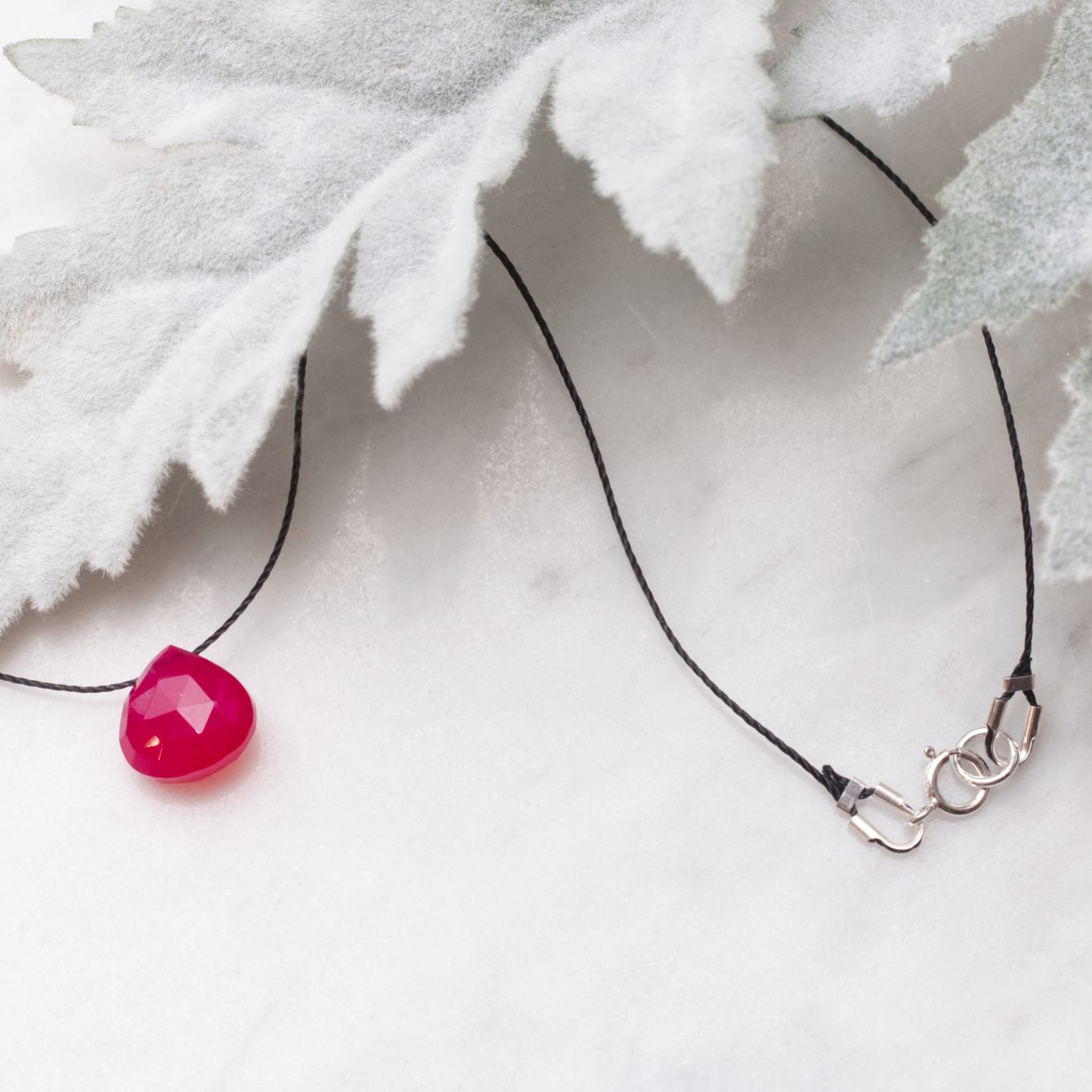 We love the contrast of this design with its black thread and pretty bright pink briolette. This is a minimal and modern design, which shows you how to use silkon thread with suitable findings including wire guardians and crimps. Our silkon thread comes in so many beautiful colours so you can get creative by customising your design, or why not choose from our wide selection of gemstone briolette beads instead!
With the products listed in the shopping list, you will receive more supplies than needed which you can use for even more projects!
Step by step instructions
Click here to view our step by step tutorial with photos.
1. Begin by deciding the length you would like your necklace - a standard length for a finished necklace is 45cm. Measure your desired length and cut the thread longer than needed as you need to ensure you have extra length for doubling back on the thread and crimping. Use scissors or thread snips to cut your chosen length and thread on the briolette bead.
2. Thread a crimp onto your thread.
3. Thread the silkon thread through the tube of one side of the wire guardian and then continue threading it through the other end and pull the thread through.
4. Thread the loop of your chosen clasp through the thread so it sits in the middle of the wire guardian.
5. Thread the short end of silkon thread through the crimp and push the crimp up towards the wire guardian, then adjust the thread so only a short amount of thread is showing through the crimp.
6. Ensuring the crimp tube is close to the wire guardian, use snipe nose pliers to squeeze the crimp to secure in place. You should only have a short amount of thread peeking through the crimp, but you can trim with scissors or thread snips if needed to tidy it up.
7. Repeat steps 2 to 6 on the other side of the thread with your remaining findings, but instead of adding a clasp, add a jump ring.
8. There's only one thing left to do! Fasten your necklace and your design is complete. Thinking of making one for a gift? Why not pop your finished necklace into one of our gift boxes or bags. We hope this project has inspired you and you can get creative with using your favourite gemstones in this style.
Suggested tools for this project
CUSTOMISE YOUR KIT
Make the design your own by using your favourite jewellery supplies
Jewellery Making Books
'The Encyclopedia of Wire Jewellery Techniques' by Sara Withers
'The Basics of Bead Stringing' by Debbie Kanan
'Beading Design' by Kim Glover
---
Kernowcraft's jewellery making kits are aimed to inspire you - therefore the step by step instructions are available online only with a shopping list, where you can easily customise the design to suit you. We recommend printing or bookmarking this page ready to follow.
The suggested products used in this project are suggestions to inspire you. Products used were compatible at the time of making but do be aware that gemstones are natural and hand cut stocks can vary, so do use your own common sense as to the compatibility of each item when making.
Your Shopping List
You can buy all the products in this collection at once by clicking the button below or add individual products by clicking the button beside each one.