Citrine Flower Charm Earrings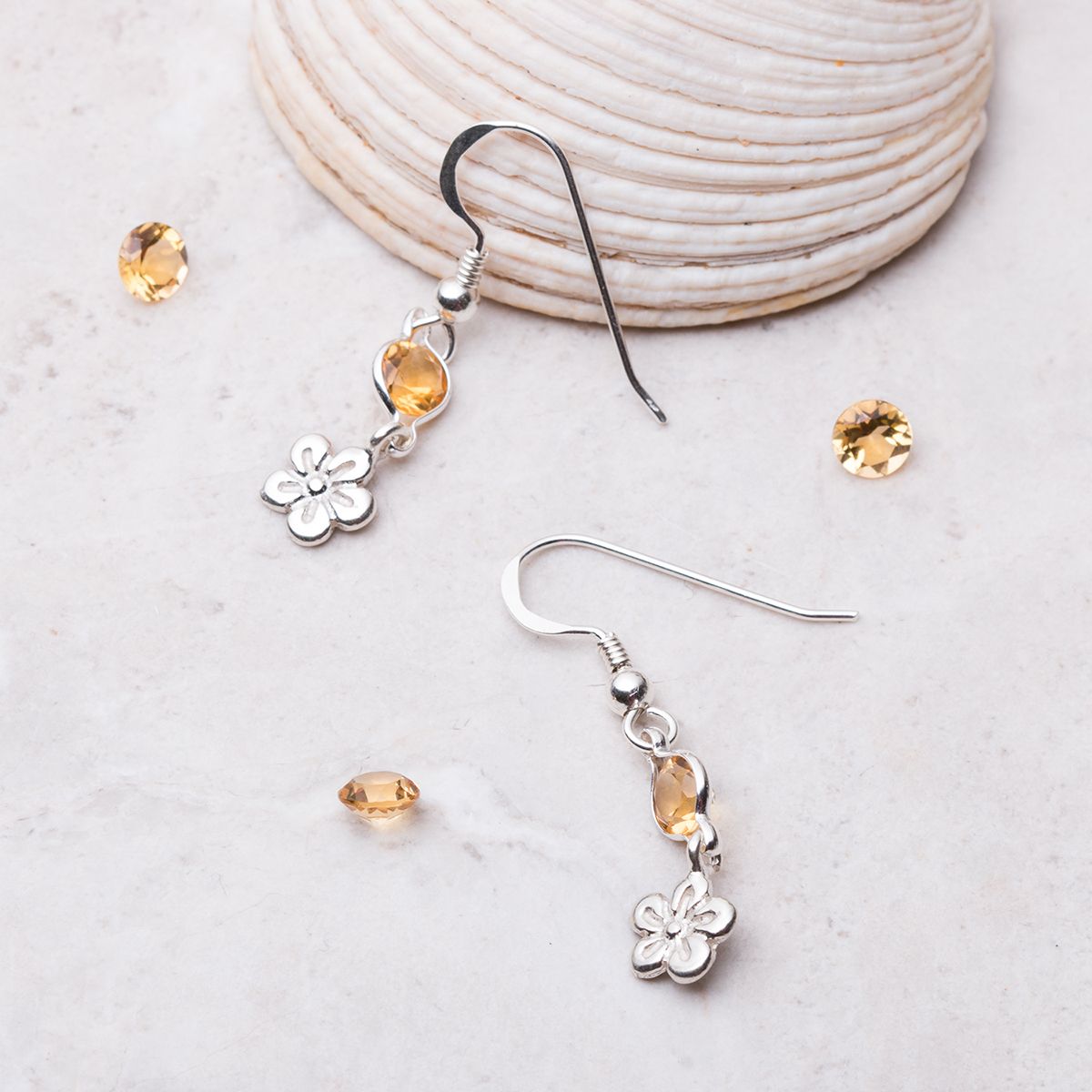 We love this spring-inspired design, featuring our bright citrine gemstones and cute flower charms.
Step By Step Instructions
1. Firstly set the faceted stone in the wraptite link setting, these are really simple to set and don't require any tools other than a pair of round nose pliers. You can see step by step photos of how to set the stone here.
Remember to ensure that you don't over squeeze the loops when tightening the setting as you need enough room to attach the earwire and charm. A good tip to avoid this is to put a piece of wire (around 0.8mm) in the loop either side of the setting before you squeeze to tighten it with your pliers.
2. Use snipe nose pliers to twist open the loop of the flower charm if it isn't already, then attach the loop of the wraptite setting, ensuring the faceted stone's pointed bottom is facing behind. Then twist the charm's loop closed to secure.
3. Next twist open the loop of the earwire and attach the other loop of the wraptite setting, twist closed to secure.
4. Repeat the previous steps for the other earrings and the design is complete!
Suggested tools for this project
Customise your kit
Make the design your own by using your favourite jewellery supplies.
Helpful pages
How to set gemstones in wraptite settings
Jewellery making books
'The Basics of Bead Stringing' by Debbie Kanan
'Beading Design' by Kim Glover
---
Kernowcraft's jewellery making kits are aimed to inspire you - therefore the step by step instructions are available online only with a shopping list, where you can easily customise the design to suit you. We recommend printing or bookmarking this page ready to follow.
The suggested products used in this project are suggestions to inspire you. Products used were compatible at the time of making but do be aware that gemstones are natural and hand cut stocks can vary, so do use your own common sense as to the compatibility of each item when making.
Your Shopping List
You can buy all the products in this collection at once by clicking the button below or add individual products by clicking the button beside each one.